You wouldn't believe how I got my Letterman auto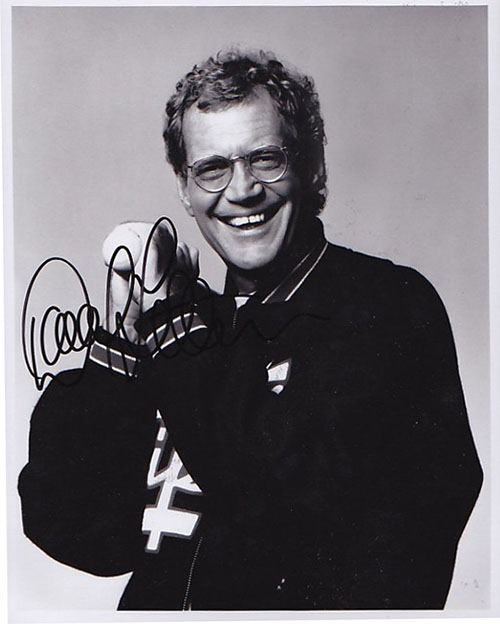 By Chris Olds | Beckett Baseball Editor | Commentary
As David Letterman prepares for his final show on Wednesday — a career that has spanned more years than I've been alive — I couldn't help but think about one autographed photo in my collection.
Exactly when I got it, I don't remember. I didn't see him sign it, either, but I'm fairly confident that it's real.
The best part? You wouldn't believe how I got it more than 20 years ago.
What did it cost me? Very little — either two stamps or a few minutes to type an email. Seriously, the guy who has pretty much worked all these years — 6,028 broadcasts and more than 19,900 guests as of tomorrow per CBS — took the time to sign autographs for fans who took the time to write a letter or send a message politely requesting one.
I really don't remember many other details about my autograph at this point. However, I do remember getting a simple 8-by-10 envelope in the mail one day with one sweet piece of baseball memorabilia inside. (I'm calling it baseball — he's holding a bat!) There are no markings on the photo other than his black-ink signature that's partly obscured by his jacket.
It's a simple black and white glossy print on photo paper with a small white border. No copyrights, no corporate logos. It's just a photo symbolic of a different time for collecting — though maybe his signing habits have never wavered. (I have no idea — my through-the-mail autograph days are long since retired.) Now that I think about it, the photo probably arrived in a Worldwide Pants envelope now that I think about it — but I didn't save that. (Five moves, four states in 20 years — envelopes aren't as important as what comes in them.)
Today, this autograph resides in my collection inside a Beckett Grading Services slab with a James Spence Authentication stamp of approval — I have few doubts that it's not legit. I'm sure there are many other Letterman guests in my collection — no Bill Murray though, but I know I have a Jerry "The King" Lawler. (Still need a Drew Barrymore.)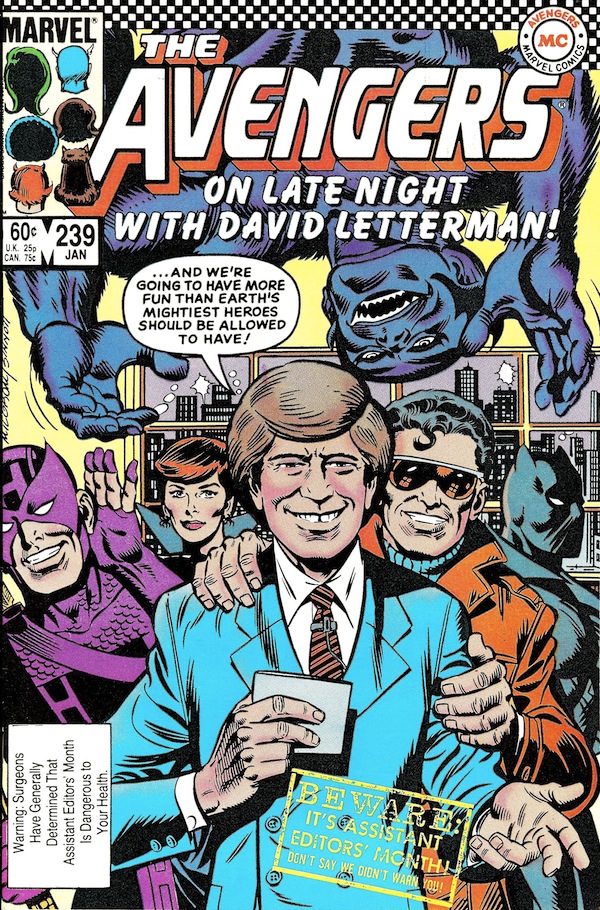 All these years later, he doesn't have a single authorized trading card appearance — or even any cut autographs — in the Beckett database. That's surprising to me. He does have an appearance in an Avengers comic. I have one of these tucked away somewhere for when they make that book into a movie. (Might happen. You don't know.)
I'm sure card companies have tried to land him for sets in the past. Maybe that's still a possibility for the future. With nearly 20,000 guests, I'd imagine an autograph checklist and highlights set might have some potential.
That's a fun idea for a collection … now I need to go find a list of past guests whose autographs need to go with my Letterman.
I have a feeling they might cost me more, too.
Chris Olds is the editor of Beckett Baseball and Beckett Sports Card Monthly magazines. Have a comment, question or idea? Send an email to him at colds@beckett.com. Follow him on Twitter by clicking here.