Kris Bryant arrives: 10 baseball cards to consider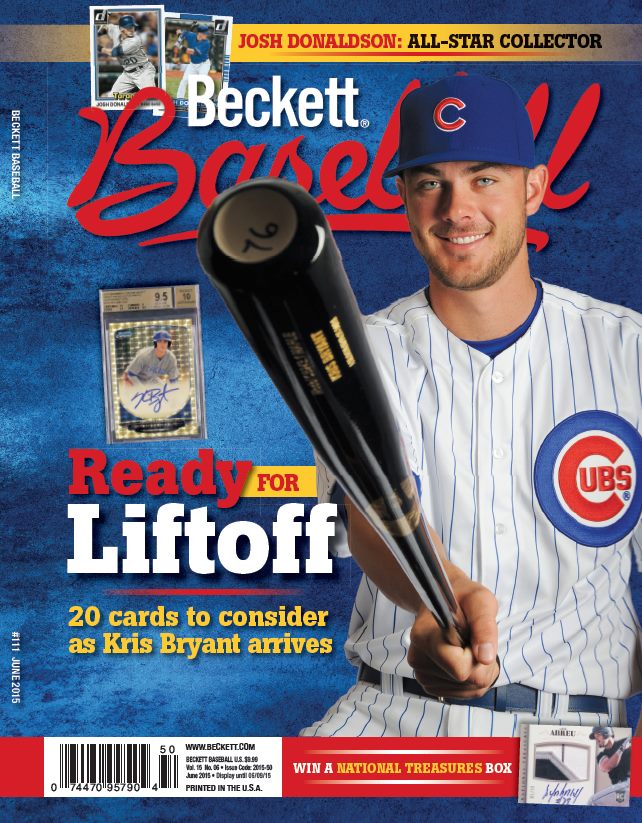 By Chris Olds | Beckett Baseball Editor
Today's the day — Chicago Cubs prospect Kris Bryant gets the call.
Heading into this spring, everybody in baseball knew that Bryant was on the verge of something big. The 23-year-old third baseman had done everything to indicate that was ready in the minor leagues. Then he came out and hit .425 this spring with nine homers and 12 RBI in 14 games — the best power marks in baseball this year. However, because of MLB's Super Two rule, a move that allows a team to keep a player under contractual lock and key for an extra year if they don't play a full first season, Bryant didn't begin this season as a Cub. That didn't thwart his dominance on cardboard, though, and he graces the cover of the next Beckett Baseball issue — his second cover in five months — because we all know he's ready for liftoff.
How good can Bryant be? He's never failed to impress in the minor leagues or college, smacking 54 homers and driving in 155 runs while hitting .353 in 172 games as an amateur and 52 homers and 142 RBI in his first 174 games as a pro where he hit .327. As the Adidas billboard across the street from Wrigley Field said, he's "Worth the wait."
His arrival in Wrigley will likely spark even more interest in his 600-plus cards already valued at more than $46,000 (excluding rarities too scarce to price). His 2013 Bowman Chrome autos were not received in time to be placed into packs, but were instead placed into several brands of 2014 Bowman. They have been the go-to cards for him — including a five-figure Superfractor headed into a repack product soon — but they are far from the only options.
The going prices for his key cards and autographs aren't low, but that doesn't mean he's not collectable. In fact, there's a bit of something for everyone — for now. Here are 10 of the cool cards to consider — you can find the 10 others in the next issue of Beckett Baseball — for a Bryant collection before we get a steady stream of his MLB Rookie Cards in products this summer.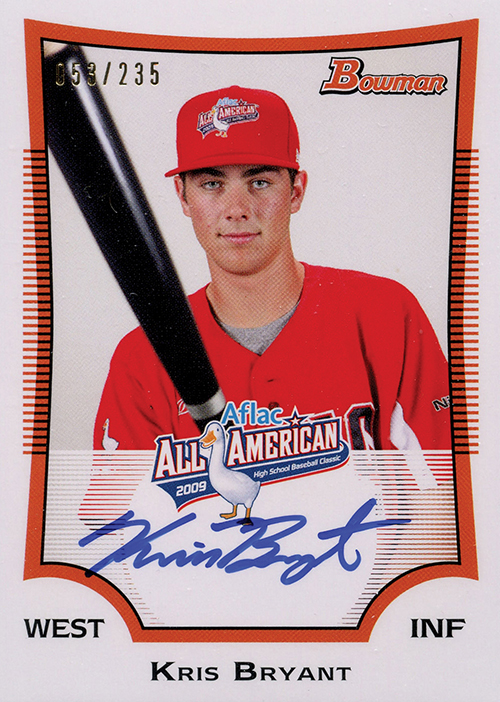 HIS OLDEST CARD
2009 Bowman AFLAC Autographs #KB /235, $600
When Bryant signed these cards back in 2009, he was a junior shortstop-pitcher for Bonanza High School in Las Vegas — a guy who went on to hit .489 with 22 home runs and 51 RBI as a senior before he was drafted by the Toronto Blue Jays in the 18th round in the 2010 draft. He opted to play college baseball for San Diego, so these cards sat in the Topps vault until they were issued in packs of 2013 Bowman Draft. (Unsigned copies of the card were given to fans at the game — so make sure your autographed version has the serial-numbering as seen here or that it has been authenticated by JSA or PSA.) His autograph has a bit more detail here compared to his current signature — but it's not unreasonable to expect that his autograph will continue to change as demands for signing continue to increase. That could make this card more appealing over time.
—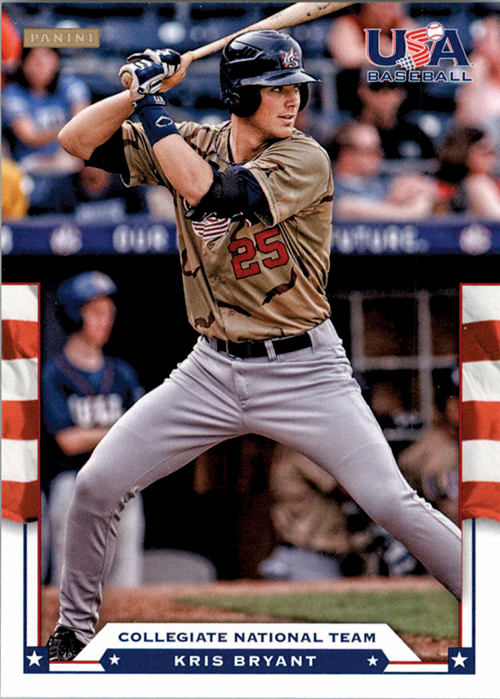 A PATRIOTIC DEBUT
2012 USA Baseball #2, $15
Bryant's first baseball cards found in products actually sold to collectors came in the 2012 USA Baseball boxed set in the first year it was released by Panini America. On the back of the card, Bryant answers five questions, admitting to being a Boston Red Sox and Barry Bonds fan. He also tells stories of running the bases backward in tee ball and getting $100 from his dad for his first home run.
—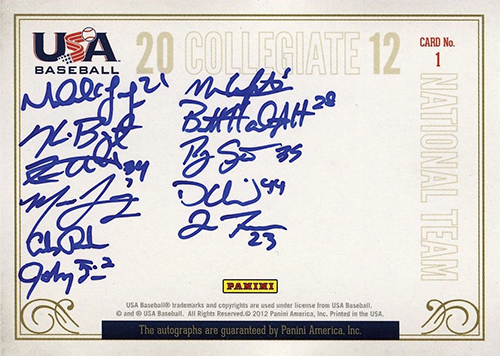 TEAMWORK PAYS OFF
2012 USA Baseball Collegiate National Team Focus Signatures /5, $N/A
Look closely at the back of this card (yes, that's the back) and you'll find Bryant's autograph. It's the second one down on the left. He's joined by the likes of Carlos Rodon (White Sox), Trea Turner (Padres-soon-Nationals) and Michael Conforto (Mets) — all guys with MLB potential. In all, there are 22 autographs on this single card and only four other copies exist. It's not the prettiest card, but it's a gem that's likely to never happen with an MLB team.
—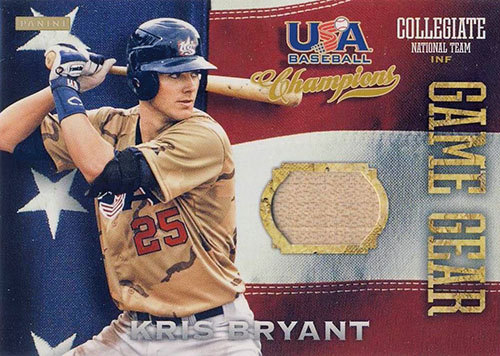 HIS FIRST BAT CARD
2013 USA Baseball Champions Game Gear Bats #1, $25
We all know the story of where one Bryant game-used bat went if we're regular readers, but the mystery of where many of his other bats have gone remains. One place they're not going — yet — is into game-used memorabilia cards. Of more than 600 cards, Bryant has just 44 game-used cards — for now — and just three of those are from game-used bats. This one is the only non-1/1 of the bunch while there's a bat knob and a bat barrel card out there somewhere.
—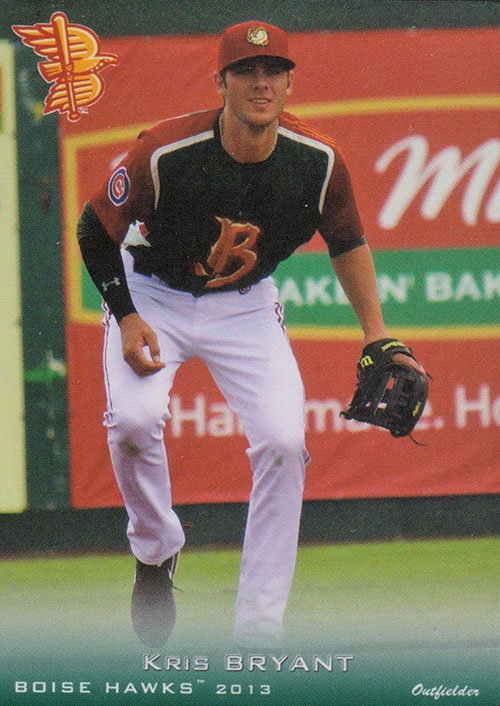 A MINOR-LEAGUE OPTION
2013 Boise Hawks Grandstand #25, $N/A
Bryant's first season as a pro meant stops in three places — Daytona, Boise and a two-game stint in Arizona. His 18 games in Idaho helped create this piece of cardboard. He hit .354 with four homers and 16 RBI in 18 games for the Hawks, a Pacific Coast League team. Team sets often aren't the easiest finds, nor are they as plentiful as the traditional brands found in packs.
—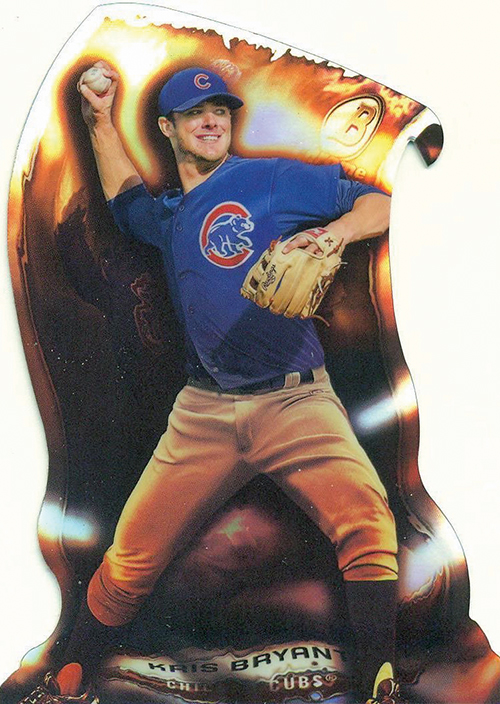 THE EXPERIMENTAL INSERT
2014 Bowman Chrome Fire Die-Cut Refractors #FDCKB, $10
Years from now, we might look back at this one and wonder "What were they thinking?" but for now we'll just take a step back at this one and say it stands out from the pack as something different. (We're glad they tried it.) Will there be more to come? We'll wait and see …
—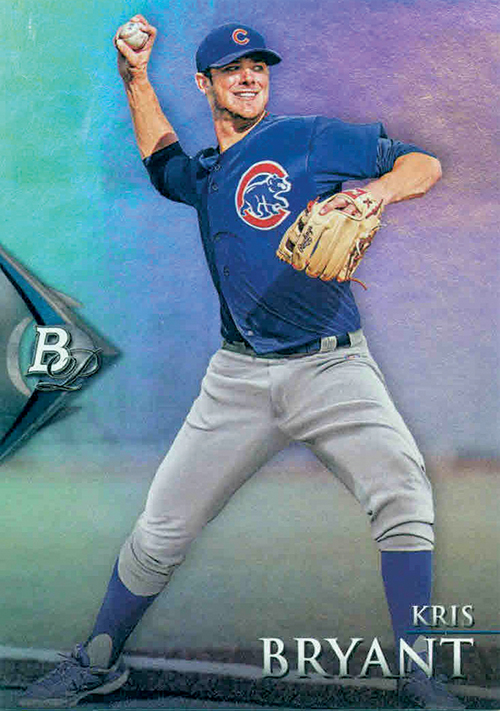 ONE SIMPLE OPTION
2014 Bowman Platinum Prospects #BPCP40, $20
Bowman Platinum won't be back for 2015 as it's headed to the bench in favor of some new Bowman blood, but last year's included a healthy dose of Bryant. He had 21 cards in the product, and, interestingly, not one of them was signed. This is a simple and clean collecting option for a fan who wants a flashy card without breaking the bank.
—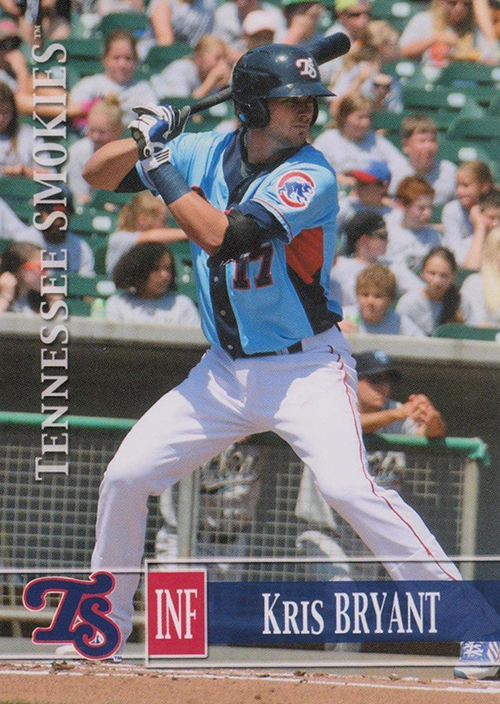 MINOR-LEAGUE CHASE
2014 Tennessee Smokies Multi-ad, $N/A
This isn't a card you'll see on the Hot List or in the price guide, but it might be rarer than many of the Bryant cards that collectors are always looking for. It's from a team set that had a twist. Every set of the Smokies cards that year had one card randomly inserted that was signed by one of the players on the team. Bryant was reportedly among the signers. That means extra collecting potential if you can find a sealed set.
—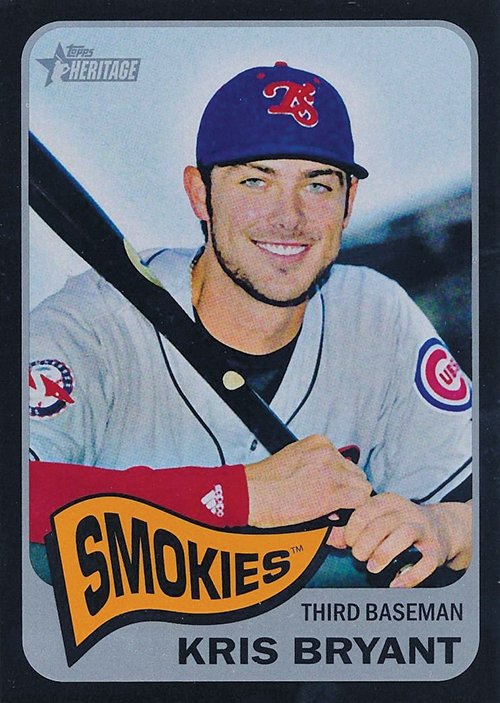 TOUGH SHADE TO FIND
2014 Topps Heritage Minors Black #30 /105, $40
This wax box probably came and went without much fanfare at your card shop, perhaps getting a glance or two with its classic 1965 Topps design. One of the key cards in this one is Bryant — and he's among many big names here. This parallel card is a tough pull. Is it undervalued? Maybe, but just finding one will be your first challenge.
—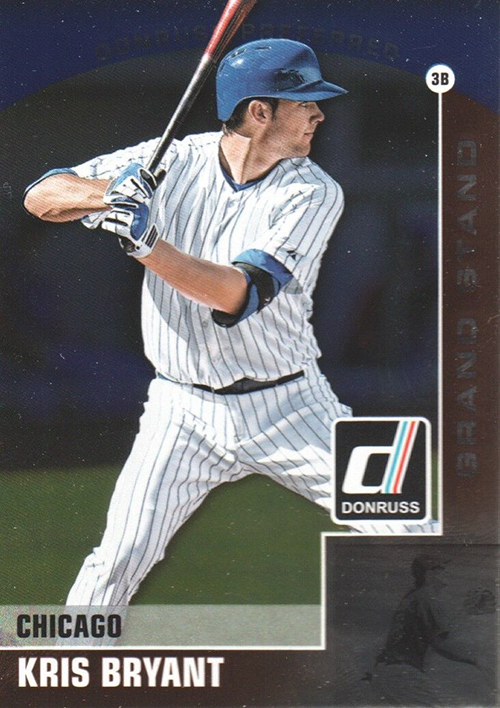 VERY CLOSE TO ARRIVAL
2015 Donruss Preferred Bronze #40, $10
Bryant doesn't appear on much cardboard so far in 2015 — but expect that to change once he's called up. He'll be in everything possible when he can be. For now, he's got a mere 12 cards found in 2015 Donruss as inserts. One of those is this card from a set that's a nod to the 1998 set. They don't scan well, but are impressive.
Want to see the other 10 cards? Look for the next issue of Beckett Baseball in hobby shops and other stores soon. 
Chris Olds is the editor of Beckett Baseball and Beckett Sports Card Monthly magazines. Have a comment, question or idea? Send an email to him at colds@beckett.com. Follow him on Twitter @chrisolds2009.