Jose Canseco's twin switcheroo wouldn't have worked on me — or many others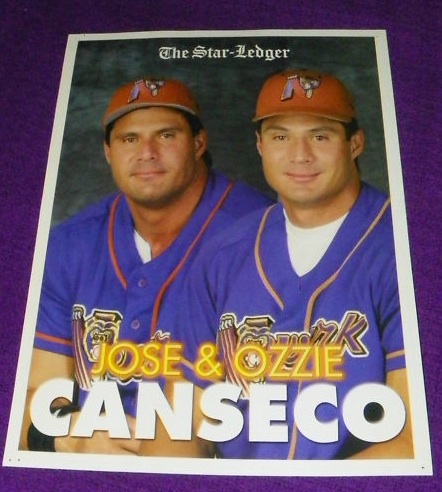 By Chris Olds | Baseball Editor
The latest torrid headline in the ongoing saga that is the life of former American League MVP Jose Canseco isn't one that would have worked on many collectors.
Canseco sent his twin brother, Ozzie, in his place for a celebrity boxing event.
Perhaps it's the fact that I've sorted waayyyy too many Canseco cards though the years — thousands — but the identical twins aren't exactly identical. Ozzie is skinnier and Jose looks more aged. You can see it in the promotional poster when the two played together in an independent league a few years ago.
But then there's the large birthmark on Jose's right hand — if you've sorted his cards, you've probably seen it.
And then there's his head twitch and rapid blinking … and his tattoos if you have seen photos in his book Juiced.
Heck, I haven't heard a lot of Ozzie interviews, but from the few I have heard they don't even sound alike.
Sure, they both played for the Oakland A's — and they appear in iconic sets like the 1989 Upper Deck and 1990 Leaf releases on cards that look a lot alike. Those might make some people do a second glance, but not many.
But most people? They wouldn't be fooled.
Well, at least not this collector …
Chris Olds is the editor of Beckett Baseball. Have a comment, question or idea? Send an e-mail to him at colds@beckett.com. Follow him on Twitter by clicking here.