2010-11 In the Game Enshrined Hockey Details
2010-11 In the Game Enshrined Hockey features legends who have been — enshrined, of course — in the Hall of Fame on  artfully-created cards, Enshrined will be distributed in 7,000 serial-numbered 6-card packs. Each pack should yield five base cards and one special insert card.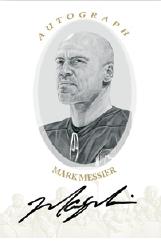 The 200-card base set features a roster of hockey history, all appearing on cards limited to 175. One-per-pack special inserts include on-card autographs, low-numbered game-used memorabilia, Enshrined cut signatures, and a healthy dose of one-of-a-kind cards.