Interest in Tim Tebow cards continues to rise
When you click on links to various merchants on this site, like eBay, and make a purchase, this can result in this site earning a commission.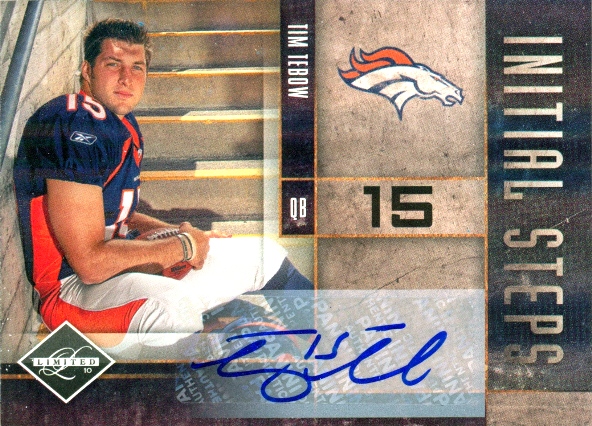 By Susan Lulgjuraj | Contributing Editor
Love him or hate him, football fans everywhere cannot stop talking about Denver Broncos quarterback Tim Tebow. All that attention and has transformed into collectors going after a number of his Rookie Cards.
Why all the fuss?
We can take a guess, but from all accounts it seems Tebow is genuinely a good person. He's engaging and is certainly a leader, based on the way his teammates have responded. But even more important to football fans is that Tebow's team is winning.
Tebow's biggest test comes Sunday against the New England Patriots and Tom Brady. It's going to be a widely popular game and probably one most football fans will turn to at 4:15 ET.
With Tebow leading the Broncos, Denver is 7-1, improving to 8-5 overall. There have been some implausible circumstances surrounding the wins with crazy long kicks and bone-headed moves by other teams, but the wins are still piling up.
For collectors lucky enough to have Tebow's cards, the question is whether to hold or sell. His cards may not get any hotter than they are right now.
On Beckett's price guide, his 2010 Exquisite Collection auto/jersey (numbered to 75) high book is $800. Those cards have recently sold on eBay for $550 and above, including silver parallel numbered to 10 for more than $1,000.
His 2010 National Treasures auto/jersey (numbered to 99) books for $600. But then we hit eBay. Recently, the same card sold for $810 and two others sold for $700. Cards going for much higher than Beckett value is usually not the norm.
But as we learned, Tebow hasn't been the normal type of player. He arrived in Denver with everyone talking about him. The fans chanted his name earlier this when Kyle Orton wasn't getting the job done. Finally, Denver coaches gave the fans what they wanted and Tebow has been a sensation ever since.
In the meantime, we'll all just be Tebowing in our hallways and offices.
Susan Lulgjuraj is a contributing editor for Beckett Media. You can email Susan here. Follow her on Twitter here.
—
Loading ...
—
Loading ...
—
Loading ...
—

For even more Tebow, here's a gallery of interesting cards. (Click on the image for an unobstructed look if needed.)