IRS & you: Can you afford the taxman's trading cards?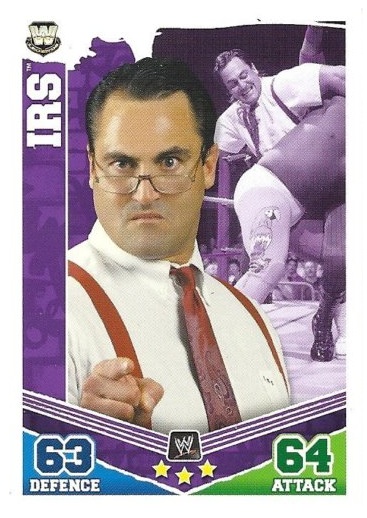 By Chris Olds | BSCM Editor
Today's normally the day one might take a hit from The Taxman, but if you're a long-time collector of pro wrestling cards then you might be familiar with another guy who probably gets a kick out of April 15 each and every year.
His name is Irwin R. Schyster, and he's a former superstar with World Wrestling Entertainment.
The taxman cometh to the ring in the past for each and every match wearing what you see above, save for the glasses. He wrestled in dress clothes, suspenders and necktie under that moniker from roughly 1991 to 1995. Fittingly, he also teamed with "The Million-Dollar Man" Ted DiBiase, a team titled "Money, Inc."
And, of course, the former Mr. Wallstreet (his alias elsewhere) also had a few finishing moves that some of us just might feel the effects of today — "The Write-Off" and "The Tax Penalty" being two that come to mind.
His real name is Mike Rotunda and he wrestled at Syracuse University before going pro and competing for more than 20 years in the WWF/WWE, AWA and NWA, a pretty successful career that included five stints as a WWE tag champ.
Fittingly, IRS appears on just 15 different wrestling cards in the Beckett.com database. But the real irony? Combined they're worth just $4.25, meaning you can probably still afford them all.
Unless, of course, The Taxman really hit you hard.
Chris Olds is the editor of Beckett Baseball. Have a comment, question or idea? Send an e-mail to him at colds@beckett.com. Follow him on Twitter by clicking here.