2016 Topps Heritage baseball cards: A journey back to 1967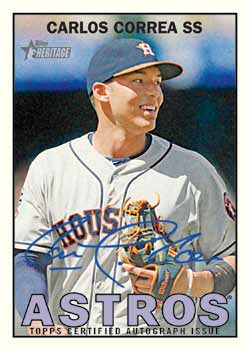 By Chris Olds
It's time to turn back the clock — and 2016 Topps Heritage Baseball does just that with the throwback product's 16th season — a year that will look back at 1967.
As usual, one autograph or relic is in every 24-pack hobby box and there are 12 boxes per hobby case.
Basic Set and Parallels

As it has been in recent years, 2016 Topps Heritage Baseball has a 425-card base set capped by 75 short prints.
Three types of variations to chase in the set were announced in advance — Throwback Uniforms, Action Images and Color Swaps. A fourth was added on the down-low, Single-Player Rookie Variations. These take five players and ditch the dual-player rookies that were in the 1967 set. Heritage is known for having Error Variations and the occasional surprise as well.
The basic set has Red Back parallels for all 500 cards. One hundred cards also have Mini (/100) and Chrome versions. Heritage Chrome cards have Refractor (/567), Black (/67) and Gold (/5) versions. Randomly inserted hot boxes also have their own Chrome parallel.
Autographs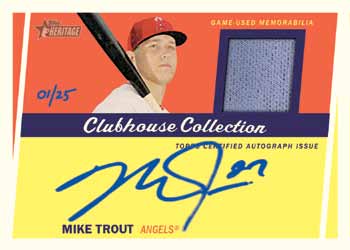 The model for autographs in 2016 Topps Heritage Baseball is the same as in past years. Real One Autographs feature active and retired players along with a Red version limited to 67 copies. There are also dual and triple autographs limited to 25 and five.
Clubhouse Collection Relics and Flashback Relics also have autographed versions. These are limited to 25 for standard cards and the duals will be limited to 10. Also to be found will be 1/1 Cut Autographs for celebrities as well as notable baseball names from 1967.
Inserts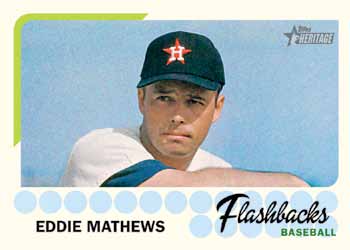 Don't expect any surprises in the lineup here. There are New Age Performers, Then & Now, Baseball Flashbacks and News Flashbacks all looking back to 1967.
Box toppers include 1967 ad panels, 1967 Topps buybacks that are foil stamped and 1967 Topps Posters that are in the style of those past cards. These are limited to only 50 copies with an autographed version limited to 10.
Also back for 2016 Topps Heritage Baseball are Punch-Out cards — this time for 1967 with jumbo patch, autographed and signed patch versions. There are just 25 of the Relics and only 10 copies per card on the autographs.
Retail packs have Bazooka inserts once again. Sticking with the retail side, Target packs have 1967 Stand-Ups inserts while those shopping at WalMart can find exclusive 1967 Discs inserts.
Memorabilia

The formula here also remains the same with Clubhouse Collection Relics for current and past players. They have a Gold parallel limited to 99. Dual Relics are limited to 67, Triples are limited to 25 and Quads have ten copies each. Also back are Mint Coin Relics and Stamp Relics. The stamps in 2016 Topps Heritage Baseball are limited to just 50 copies per card, while the coins will vary by denomination — nickel (/15), dime (/10), quarter (/5) and 50-cent-piece being a 1/1.
2016 Topps Heritage Baseball at a glance
Packs per hobby box: 24
Cards per pack: 9
Boxes per case: 12
Set size: 500
Release date: March 2, 2016
What to expect in a hobby box
Chris Olds can be found on Twitter by clicking here.