Instant PC: 10 Career-Defining Jeff Bagwell Baseball Cards
With so many different base cards, subsets, parallels, memorabilia cards and autographs, building out a collection for a single player can be overwhelming.
Luckily, the 10-Card Instant PC article series is here to help.
There are more than 8,500 Jeff Bagwell cards, according to the Beckett database.
So where does one begin putting together a Jeff Bagwell PC?
These 10 cards serve as an excellent representation of his playing career and footprint on the hobby, making them a great place to start.
1990 ProCards New Britain Red Sox #1324 Jeff Bagwell
The Boston Red Sox selected Bagwell in the fourth round of the 1989 MLB draft out of the University of Hartford. He is part of the same draft that saw fellow 1990s sluggers Frank Thoams (No. 7 overall), Mo Vaughn (No. 23 overall) taken in the first round.
Bagwell had several different minor league cards issued in 1990, spanning Best, CMC, ProCards and Star products.
Buy on: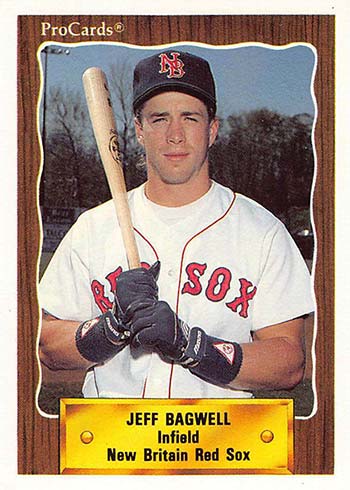 1991 Topps Traded #4T Jeff Bagwell RC
After a full season at Double-A the previous year, Bagwell began the 1991 season as the Houston Astros starting first baseman. He hit .294/.387/.437 with 15 home runs and 82 RBI in 156 games to win NL Rookie of the Year honors, beating out Orlando Merced (PIT) and Ray Lankford (STL) for the hardware.
His rapid ascent meant many of the major card companies missed on including him in their base set, though he does have Rookie Cards in 1991 Bowman, Stadium Club, Studio and Upper Deck products. The rest of his rookies came in boxed sets from Donruss Rookies, Fleer Update, Score Rookie/Traded, Topps Traded and Ultra Update.
Buy on: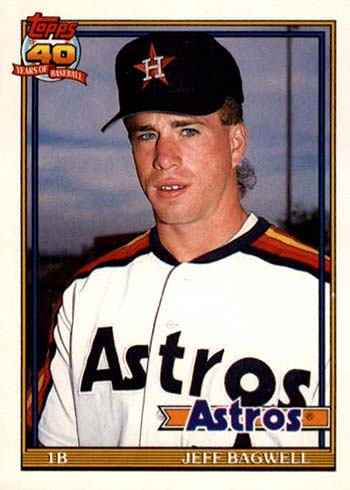 1992 Fleer Rookie Sensations #4 Jeff Bagwell
After his Rookie of the Year performance in '91, Bagwell continued his rise to stardom in 1992 when he hit .273 with 34 doubles, 18 home runs and 96 RBI to finish 19th in NL MVP voting. The Astros improved from a 97-loss team in his first year to .500 in his second season.
While his Rookie Cards are in 1992 products, one of his most sought after early cards is part of the iconic 1992 Fleer Rookie Sensations set. The cards were inserted exclusively into Jumbo Packs with 1:4 odds, and they are widely credited with kicking off the insert card boom of the 1990s. Frank Thomas was the big-money card in the set, but Bagwell was not far behind.
Buy on: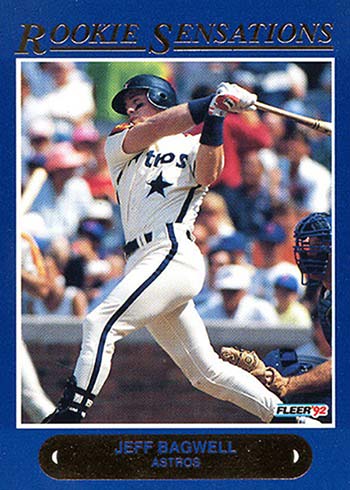 1994 Donruss MVPs #6 Jeff Bagwell
During the strike-shortened 1994 season, Bagwell took home NL MVP honors, hitting .368/.451/.750 with 32 doubles and 39 home runs while leading the NL in RBI (116), runs (104), total bases (300) and OPS+ (213).
The 1994 Donruss MVP insert set was found one per Jumbo Pack of 1994 Donruss, with 14 NL players in Series 1 and 14 AL players in Series 2 highlighting some of the league's top MVP candidates. They cast a wide net, but Donruss did hit on both 1994 MVPs, with Frank Thomas included in the AL portion of the set.
Buy on: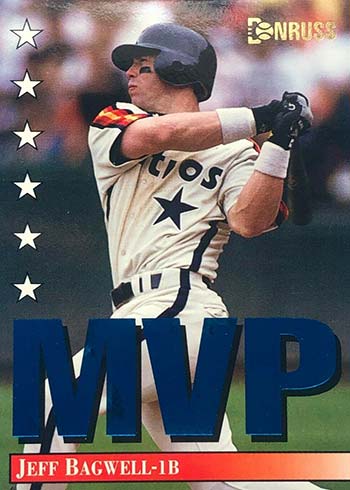 1996 Zenith Mozaics #25 Bagwell/Biggio/Bell
Younger fans might remember the "Killer Bs" as Jeff Bagwell, Craig Biggio, Lance Berkman and Carlos Beltran from the team's 2005 World Series run, but the origin of the nickname stretches back to the mid-1990s with Bagwell, Biggio and outfielder Derek Bell.
The trio is featured on a pair of 1996 insert cards, with the other being 1996 Select Team Nucleus. Both are great looking cards, but it's hard to beat that Dufex shine.
Buy on: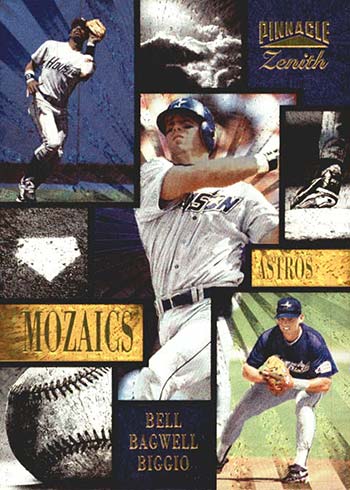 1997 Topps Chrome Diamond Duos #DD5 Jeff Bagwell/Craig Biggio
We've already touched on the Killer Bs, but it's Bagwell and Biggio who were the true faces of the franchise for the Astros throughout the 1990s and into the 2000s. Both players spent their entire MLB career in Houston, and both put together a Hall of Fame resume along the way.

There is no shortage of options for inserts featuring the two legendary Astros figures, but the 1997 Topps Chrome Diamond Duos set is as good a choice as any to commemorate the dynamic duo in a Bagwell or Biggio PC.
Buy on: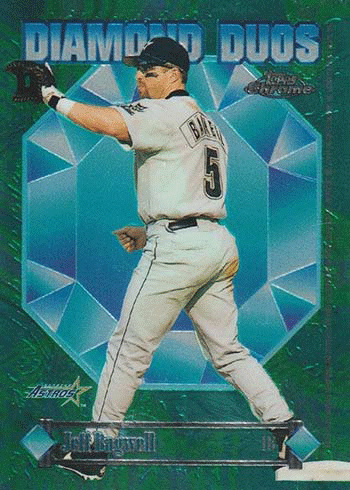 1997 Topps Sweet Strokes #SS2 Jeff Bagwell
While he won his MVP award in 1994, there's a solid case to be made that 1997 was the best season of Bagwell's storied career. He hit .304/.454/.591 with 35 doubles, 42 home runs, 126 RBI and 143 runs scored, leading the league with 149 walks and throwing in 30 steals for good measure.
I'm a sucker for shiny 1990s inserts, and the 1997 Topps Sweet Strokes set is a personal favorite.
Buy on: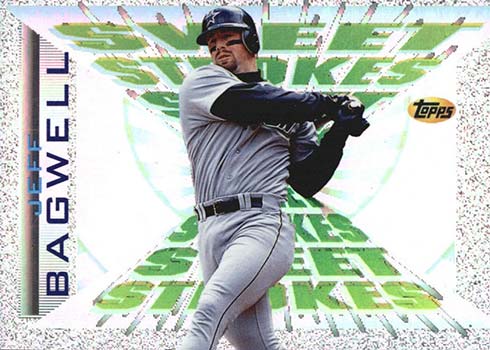 2006 Topps #573 Jeff Bagwell
Bagwell played in just 39 games while battling a shoulder injury in 2005, and while he reported to spring training the following year in hopes of filling some role on the team, the shoulder proved an insurmountable hurdle and he eventually called it quits.
As a result, he has cards in a number of 2006 products, all of which feature his full career statline on the back. Not every player has a bookend card like that to close out the playing days portion of their collection.
Buy on: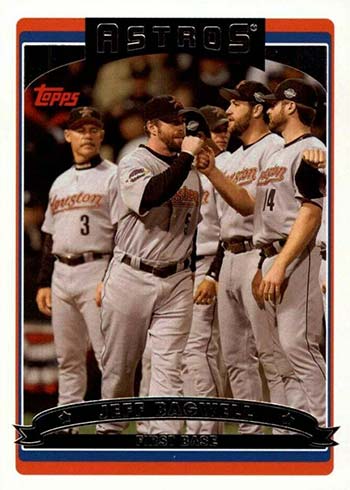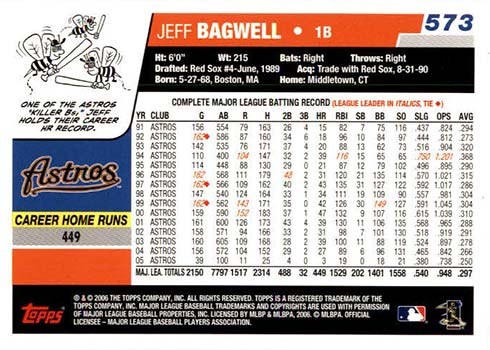 2018 Topps Gallery Hall of Fame #HOF3 Jeff Bagwell
In 2017, in his seventh year on the ballot, Bagwell finally earned induction into the Hall of Fame. He wrapped up his 15-year career with 2,314 hits, 449 home runs, 1,529 RBI and a 149 OPS+ that is good for 40th on the all-time list
His inclusion in the 2018 Topps Gallery Hall of Fame insert set makes for a great PC option to recognize his Cooperstown induction.
Buy on: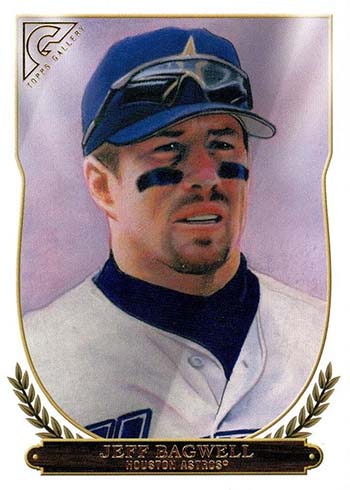 2020 Topps Archives #321 Jeff Bagwell SP
On Aug. 30, 1990, Bagwell was traded to the Houston Astros in exchange for right-handed reliever Larry Andersen. The veteran went on to post a 1.23 ERA with 25 strikeouts in 22 innings down the stretch to help the Red Sox secure an AL East title.
However, it didn't take long for the scales of that deal to tip in Houston's favor, and that trade is now widely regarded as one of the most lopsided in MLB history. It was highlighted in the 2020 Topps Archives set as an SP in the style of 1977 Topps Traded.
Buy on: