Awesome Inserts: 1992 Fleer Rookie Sensations
If you weren't collecting at the time, you might have a tough time understanding the mania that once surrounded 1992 Fleer Rookie Sensations. They were the insert everyone was clamoring for — especially if the name Frank Thomas was one the front.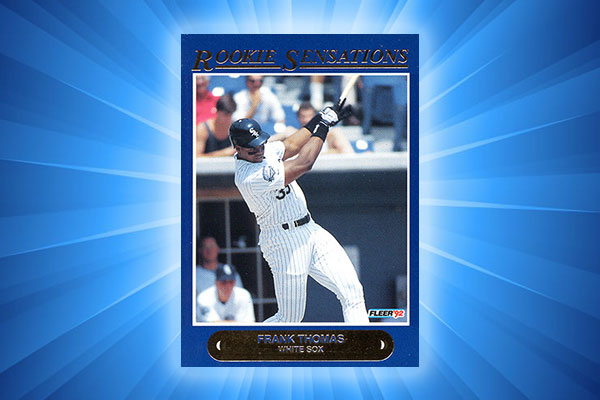 But even if you ended up with the likes of Ray Lankford, Phil Plantier or Juan Guzman, you still came out ahead.
By today's standards, 1992 Fleer Rookie Sensations still look good, but in a quaint way. They're classy without drawing much attention to themselves. It's hard to believe that back then, these were pushing boundaries.
Glossy cards were still a fairly novel idea in the collecting mainstream and not the norm. And gold foil? That was one high-end gimmick. Neither of these ideas were unique to the Rookie Sensations inserts. Upper Deck used better card stock as a cornerstone of their base sets since their 1989 debut.
As for gold foil, 1992 Topps Baseball relied on it for their new Gold and Gold Winner parallels. You could trace it back further to sets like 1991 Leaf Gold Rookies. 1991 Topps Desert Shield Baseball used it, too, for their logo addition.
But, at the time, these were still markers for special cards.
The Sensation Behind 1992 Fleer Rookie Sensations
Part of the reason for the excitement behind 1992 Fleer Rookie Sensations was the chase. Although there was no shortage of 1992 Fleer Baseball cards, Rookie Sensations weren't in regular packs. They're only in harder-to-find cello packs.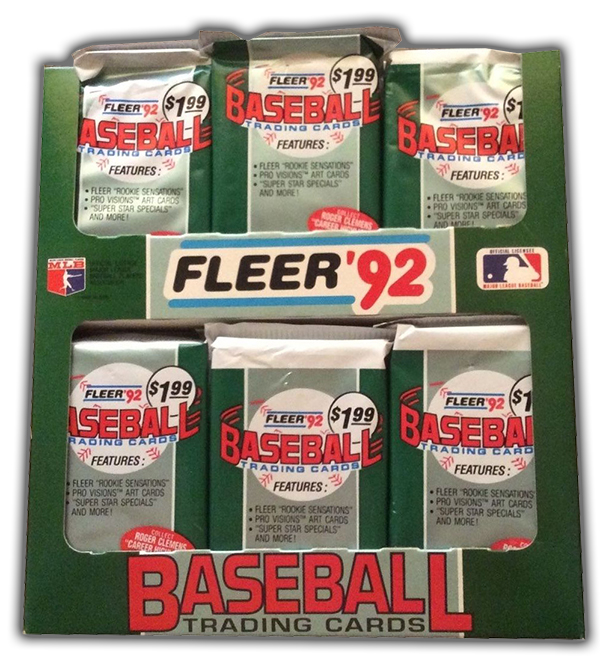 By today's standards, these packs weren't rare. But in 1992 markets were largely local. You didn't have the Internet to jump on and have dozens sellers a couple of clicks away. So if your local card shops, card show dealers, corner stores, gas stations, magazine sellers, video stores, toy stores, hardware stores, pet stores and everywhere else you could buy baseball cards back in 1992 ran out, you were out of luck.
Next, supply and demand kicked in. These cello packs may have had a $1.99 price tag printed on them, but the actual going rate used to be much higher than that. And it was pretty much all thanks to the Rookie Sensations.
Frank Thomas led the way. Early on, collectors knew the young White Sox star was something special. In his first full season in the majors in 1991, he was an American League MVP contender. 1992 brought with it similar dominating numbers in virtually every offensive category. In the hobby world, there was a good chance that if you weren't collecting Ken Griffey Jr. at the time, you were chasing the Big Hurt.
And the 1992 Fleer Rookie Sensations Frank Thomas was one of the best Big Hurt cards back then that didn't have an "RC" tag next to it in the price guide.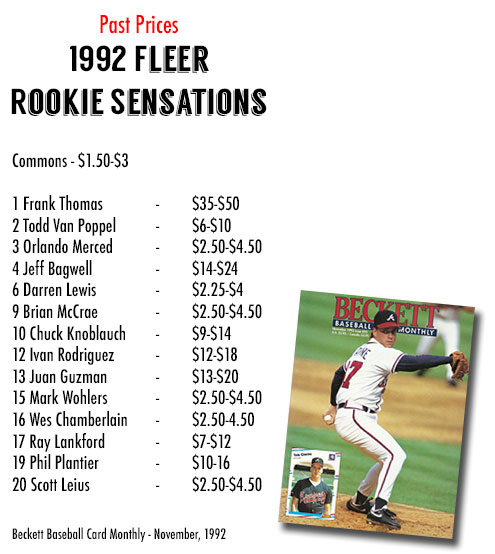 Beyond the Big Hurt
Going through the 1992 Fleer Rookie Sensations checklist today and you're going to see a mixed bag. Thomas is one of three Hall of Famers in the 20-card set, which really isn't bad. He's joined by Jeff Bagwell and Ivan Rodriguez.
At the time, there were a few other potential hobby stars in the mix. Yes, in 1992 we got excited about Phil Plantier cards. It was the same with Ray Lankford, Juan Guzman and Brian McCrae.
And who could forget this guy (the one in the Oakland Atheltics jacket)?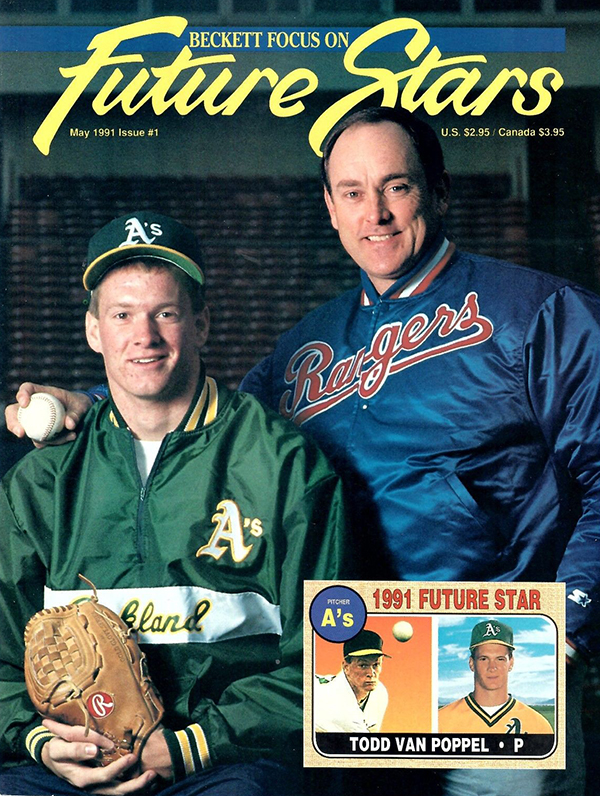 Of course, 1992 Fleer Rookie Sensations had its commons, even back then with the likes of Chito Martinez and Steve Chitren.
1992 Fleer Rookie Sensations in the Modern World
Today, you're not going to hear many collectors speak poorly of this set. Whether it's stories about the chase that didn't have a resolution, making paper route riches by selling one to your best friend's dad or landing one in the last pack of the box, 1992 Fleer Rookie Sensations are still a much beloved set.
But that doesn't translate into big money today. Once many of the era's speculators bailed on the hobby, supply caught up with demand. Other collectors moved on. It's a story you hear with just about every card of the era. Just because they're not worth as much, doesn't mean 1992 Fleer Rookie Sensations can't be enjoyed.
One thing to consider when you revisit the set is that top-condition cards are tough to come by. In particular, the dark borders make edges prone to chipping. It also makes even the smallest corner marks and dings stand out.
Mail-Away Offer
In addition to the traditional inserts, 1992 Fleer Baseball had a special mail-away offer. By sending in ten wrappers and $1.00, collectors got a "limited edition" 1992 Fleer Rookie Sensations uncut sheet.
Measuring 8 1/2 x 11, these sheets took a page from early Donruss Elite inserts and added serial numbers. The print run for these promo sheets? Just 250,000 copies. Limited edition, indeed.
The double-sided sheet featured all 20 cards in the set, ten per side.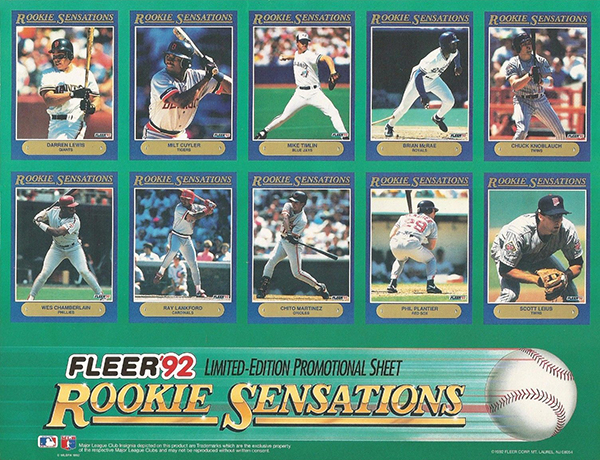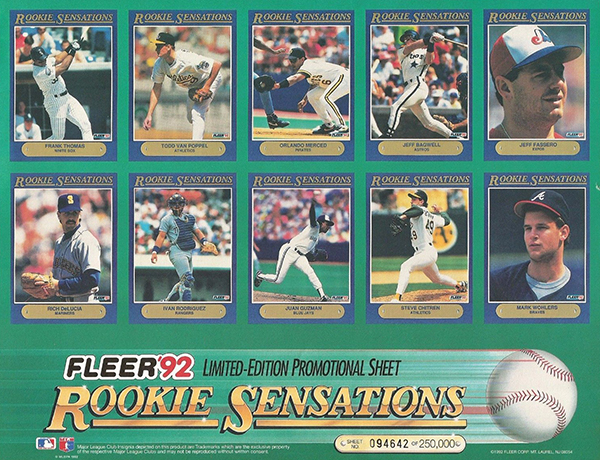 Want to add some 1992 Fleer Rookie Sensations cards to your collection? Here's what's available on the Beckett Marketplace and on eBay.
1992 Fleer Rookie Sensations Checklist
Click on the links to see current eBay lists for specific cards.
1 Frank Thomas, Chicago White Sox
2 Todd Van Poppel, Oakland Athletics
3 Orlando Merced, Pittsburgh Pirates
4 Jeff Bagwell, Houston Astros
5 Jeff Fassero, Montreal Expos
6 Darren Lewis, San Francisco Giants
7 Milt Cuyler, Detroit Tigers
8 Mike Timlin, Toronto Blue Jays
9 Brian McCrae, Kansas City Royals
10 Chuck Knoblauch, Minnesota Twins
11 Rich DeLucia, Seattle Mariners
12 Ivan Rodriguez, Texas Rangers
13 Juan Guzman, Toronto Blue Jays
14 Steve Chitren, Oakland Athletics
15 Mark Wohlers, Atlanta Braves
16 Wes Chamberlain, Philadelphia Phillies
17 Ray Lankford, St. Louis Cardinals
18 Chito Martinez, Baltimore Orioles
19 Phil Plantier, Boston Red Sox
20 Scott Leius, Minnesota Twins
1992 Fleer Rookie Sensations Gallery
Comments? Questions? Contact Ryan Cracknell on Twitter @tradercracks or by email.