10 Vladimir Guerrero Baseball Cards That Help Tell the Story of His HOF Career — Instant PC
With so many different base cards, subsets, parallels, memorabilia cards and autographs, building out a collection for a single player can be overwhelming.
Luckily, the 10-Card Instant PC article series is here to help.
There are more than 14,000 Vladimir Guerrero cards, according to the Beckett database.
So where does one begin putting together a Vladimir Guerrero PC?
These 10 cards serve as an excellent representation of his playing career and footprint on the hobby, making them a great place to start.
1995 Bowman #90 Vladimir Guerrero RC
The Montreal Expos signed Vladimir Guerrero out of the Dominican Republic on March 1, 1993. He made his pro debut the following year and hit .314/.366/.562 with 21 extra-base hits in 37 games at rookie ball.
That earned him the No. 85 spot on the Baseball America Top 100 prospect list to begin the 1995 season, and Bowman was the first card company to the party. His only true Rookie Cards are included in the 1995 Bowman and 1995 Bowman's Best sets, and both sets also feature rookies of Andruw Jones and Scott Rolen.
Buy on: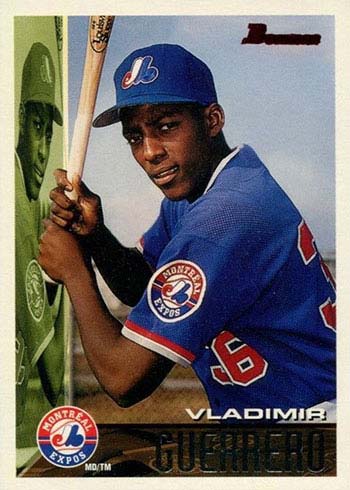 1996 Topps #435 Vladimir Guerrero/Andruw Jones
Guerrero cemented his standing as one of baseball's elite prospects in 1995 when he hit .333/.383/.544 with 21 doubles, 10 triples, 16 home runs and 12 steals in 110 games as a 20-year-old at Single-A.
He jumped all the way up to No. 9 on the Top 100 prospect list to begin the 1996 season, and he shared his first Topps flagship card that year with three other players, including baseball's No. 1 prospect at the time Andruw Jones.
Buy on: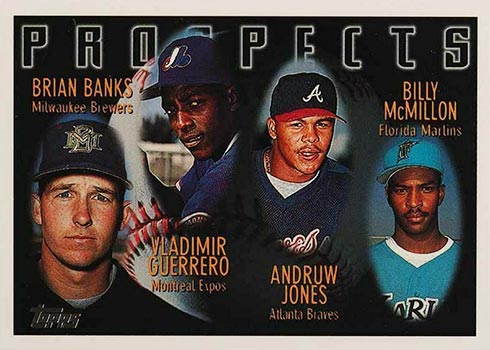 1997 Bowman Certified Blue Ink Autographs #CA33 Vladimir Guerrero
After a nine-game cup-of-coffee as a September call-up in 1996, Guerrero debuted in earnest the following year, hitting .302/.350/.483 with 22 doubles, 11 home runs and 40 RBI in 90 games. He finished sixth in NL Rookie of the Year voting, with Scott Rolen taking home the hardware.
He had already been featured on Bowman base cards in the 1995 and 1996 sets, but he had his first certified autographed card in the 1997 Bowman set. There are blue, black and red ink versions of the card, with the blue ink the most common of the trio and the red ink fetching the highest price tag.
Buy on: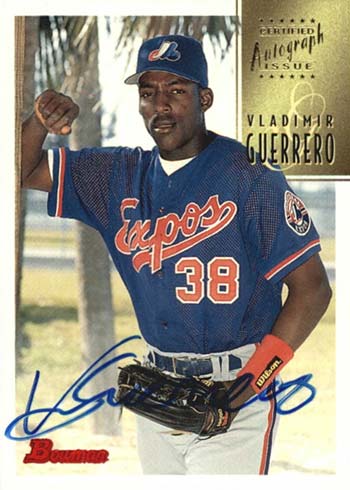 1998 Topps #5 Vladimir Guerrero
Following a strong rookie season, Guerrero announced himself as a bona fide superstar in 1998. The 23-year-old hit .324/.371/.589 for a 150 OPS+ with 37 doubles, 38 home runs, 109 RBI, 108 runs scored and 7.4 WAR for a 97-loss Expos team.
It's not particularly valuable or significant, but the 1998 Topps flagship is one of Guerrero's coolest looking cards. It was Andruw Jones, Jose Cruz Jr. and Jose Guillen who were the three outfielders chosen for the 1997 Topps All-Star Rookie Team, which means no gold cup card for Guerrero despite his stellar rookie numbers.
Buy on: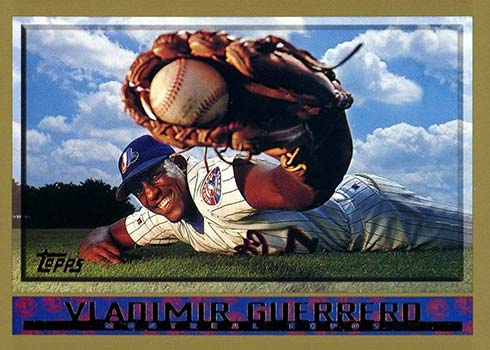 2002 Absolute Memorabilia Team Tandems Materials #TT17 Vladimir Guerrero Bat/Jose Vidro Bat
The Expos were a perennial afterthought during Guerrero's time with the team, and he was undoubtedly the face of the franchise, but the team had another star in second baseman Jose Vidro. The pair played together from 1997 through 2003, and they both started the All-Star Game in 2002.
They are featured on a wide variety of different cards together, and this memorabilia card from the 2002 Playoff Absolute set is an affordable option from the year they were both voted the best at their position by the fans.
Buy on: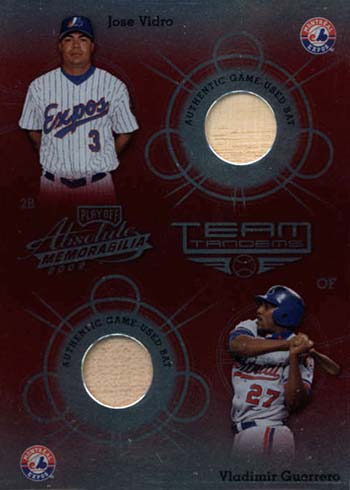 2004 Topps #380 Vladimir Guerrero
Free agency awaited Guerrero for the first time following the 2003 season. After eight years and four All-Star appearances in an Expos jersey, he departed and joined the Anaheim Angels on a six-year, $85 million contract.
He signed early enough that his first Topps flagship card in an Angels uniform is part of the 2004 base set, as opposed to needing to include him in the Topps Traded set. That would not be the case later in his career.
Buy on: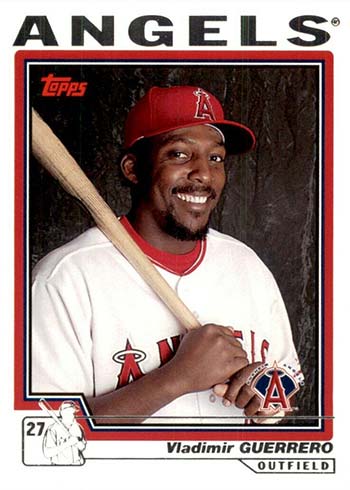 2006 Fleer Team Leaders #TL30 Vladimir Guerrero/Bartolo Colon
In his first season with the Angels, Guerrero hit .337/.391/.598 with 39 doubles, 39 home runs, 126 RBI and 124 runs scored. The Angels won the AL West title with a 92-70 record, and Guerrero edged out Gary Sheffield and Manny Ramirez for AL MVP honors.
The following year, it was teammate Bartolo Colon who took home the hardware, going 21-8 with a 3.48 ERA and 1.16 WHIP in 222.2 innings to win AL Cy Young honors. The pair were featured together on a Team Leaders insert card in the 2006 Fleer set, and it's a good representation of the award-winning duo.
Buy on: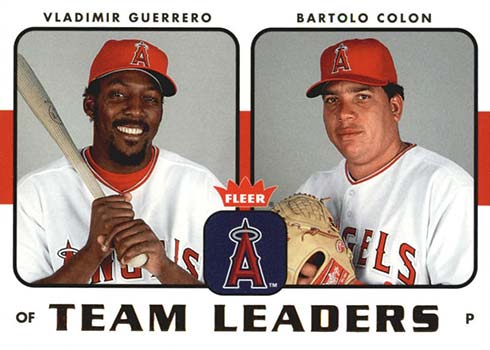 2010 Topps Update #US1 Vladimir Guerrero
After posting a 141 OPS+ with 173 home runs, 616 RBI and 22.8 WAR over the life of his six-year deal with the Angels, Guerrero hit the free-agent market again ahead of his age-35 season. The Texas Rangers took a chance on him, signing him to a one-year, $5.5 million deal to serve as their primary designated hitter.
In his lone season in Arlington, he hit .300/.345/.496 with 29 home runs and 115 RBI. He made his ninth and final All-Star appearance, won a Silver Slugger, and helped lead the Rangers to a World Series appearance.
Buy on: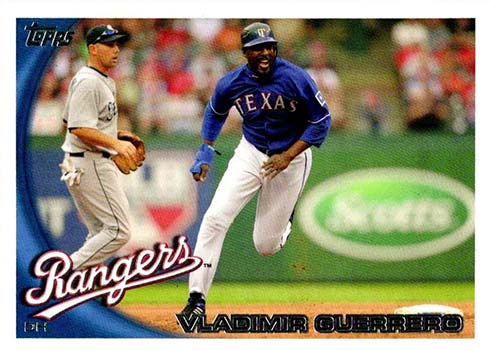 2011 Topps Update #US200 Vladimir Guerrero
Guerrero received another one-year deal and a slight raise to $7.5 million when he joined the Baltimore Orioles for the 2011 season. His production dipped in what would be his final season, but he still hit .290 with 30 doubles, 13 home runs and 63 RBI to put the finishing touches on his Hall of Fame career.
His final Topps card is technically in the 2012 flagship set honoring him becoming the all-time hits leader among Dominican-born players, but I've opted to wrap up his playing career with his first and only Orioles base card, complete with almost full statback.
Buy on: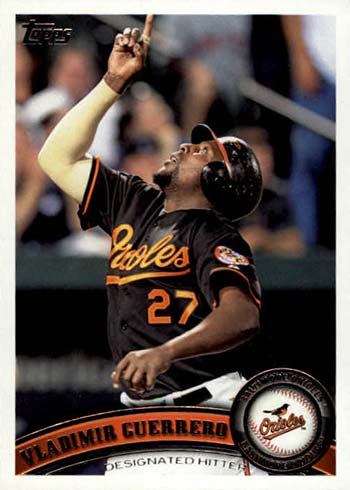 2021 Topps Archives Movie Poster Cards #MPC13 Fathers/Sons
In a strange twist of fate, former big leaguer stars Craig Biggio, Dante Bichette and Guerrero have all watched their sons grow up and become teammates on the Toronto Blue Jays.
What better way to bookend a Guerrero PC than with a card of him and his son together, along with those other two father-son tandems, and the 2021 Topps Archives set came through with this movie poster-inspired insert. There's also a companion mini poster that came as box topper.
Buy on: