Immaculate Reception press pass up for auction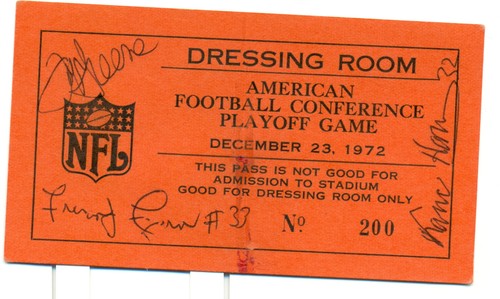 By Susan Lulgjuraj | Beckett Football Editor
The Immaculate Reception is a moment in sports that fans won't ever soon forget. Now, a collector will be able to own a special piece from that game against the Pittsburgh Steelers and Oakland Raiders.
Mike Silverstein, who covered the game for ABC Radio that day, is auctioning his locker room press pass signed by  Steelers Franco Harris, John "Frenchy" Fuqua and Joe Greene.
"I want to share this piece of history with someone else, especially if some good can come out of this and can help an organization," Silverstein told the Pittsburgh Post-Gazette.
The proceeds from the auction will go to benefit the Transitional Services Inc., of Pittsburgh, an organization that helps those with mental disabilities.
According to the report, Silverstein's brother was born with Down Syndrome and lived at one of TSI's centers for 26 years.
"We need to take a second look at mental health issues. If the government can't do anything about it, then we need to step to the plate and do something," Silverstein told the newspaper.
Click here
to view the auction, which has already surpassed $1,500.
Susan Lulgjuraj is an editor of Beckett Football. You can email her here with questions, comments or ideas. Follow her on Twitter here.