Panini VIP event offers experience beyond show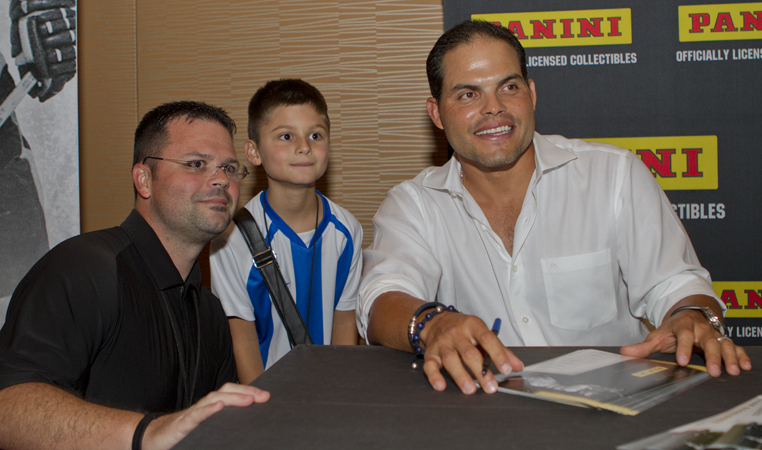 By Chris Olds | Beckett Baseball Editor | Commentary
We're about a week removed from the National Sports Collectors Convention in Baltimore and since then a couple of things have resonated with me about the hobby and its premiere event.
It's still pretty strong — but it could still be stronger.
Not stronger in practical ways like more dealers, more space, more education and more discussions. That's easy, and it's stuff that could be done — by NSCC organizers or others attending the event (some companies did). But it could also be stronger as in potentially bringing in more of corporate America, more star power in different ways and making it feel more like The Event of All Events — something that can raise the profile of the hobby beyond just those in it, a way to ensure that those who used to collect can realize that it's all still around and that the cardboard is better than it was in the past, too.
Panini America's VIP party on Aug. 4 showed how a bit of that might be possible as the company put on a show beyond the card show.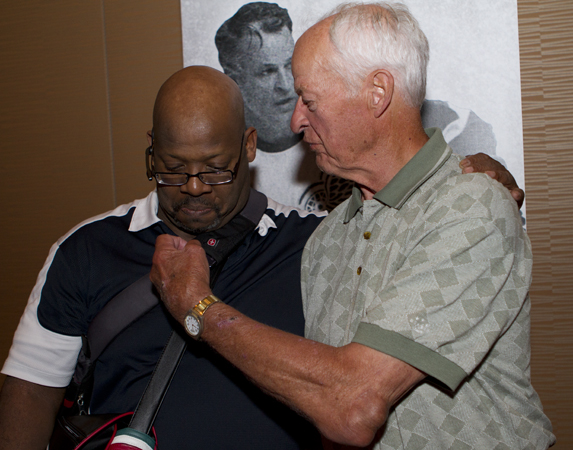 Sure, a reception like the one Panini held is an image thing — but it didn't have to be done. It was also something that helped bolster sales of its products on the show floor ($6,500 Panini Bucks had to be collected on the show floor via purchases to attend with a cap of approximately 50 attendees). That, in and of itself, is not unique — other companies did the same thing with promo cards or prizes in return — but what Panini offered was an experience for a few collectors and selected VIPs, a smaller and different environment that could have been rewarding enough to make a lasting impression with some of those who attended.
How? It was the little things like NHL legend Gordie Howe greeting each and every attendee as they walked into the door with each of them having the option of getting their photo taken with the 84-year-old icon by party photographer Brandon P. Cohen, whose work you can see here. (Even my new iPhone couldn't compete with his professional lens.) It was a leather Panini gift bag for all of the VIP attendees with an exclusive Black Box and a quantity of silver NSCC packs that would make any show-goer blush.
And that was just as you got in the door.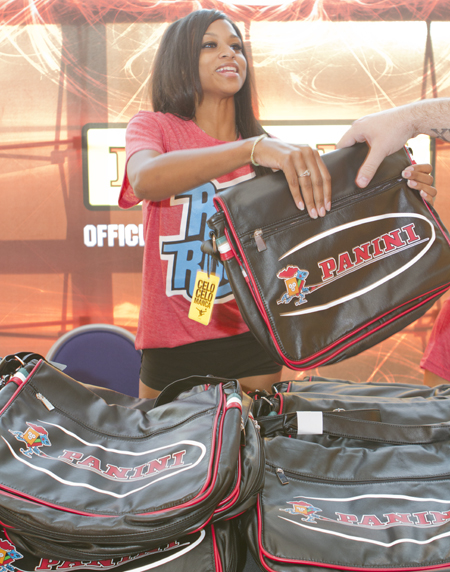 Gordie was joined by his son and fellow Hall of Famer, Mark Howe, while additional autograph guests included future baseball Hall of Famer Ivan Rodriguez, Pro Football Hall of Famer John Riggins, NBA Hall of Famers Elvin Hayes and Wes Unseld along with current Detroit Piston Brandon Knight. All signed for those who asked on event-specific photographs, while some (Pudge) also took the time to quietly sign some sticker sheets for future products once the attention on them focused elsewhere. As collectors worked the floor for signatures in a low-key fashion — without the massive lines of the autograph sessions back at the Baltimore Convention Center — music was under control by guest DJ Biz Markie (yep, that Biz Markie), who signed a few autographs, too, before helping with prize announcements and even offering to sell the Panini ice sculpture in the room to the highest bidder.
But it wasn't just the hired star power that made this event — one where Rated Rookie T-shirts and blazers were as formal as it got — but the VIPs from the hobby that were in attendance, too. Key players in the industry were there alongside shop owners and dealers talking cards, talking business, talking the hobby while producers and personalities from ESPN and myself took it all in from a slightly different perspective. Also working the room was Notorious B.O.B., Bob Shoudt, a record-holding competitive eater and collector, who presented people with his own Panini event-used memorabilia card, while the cast of ABC's Ball Boys — a reality TV show about one aspect of the hobby — soaked in the scene with Robbie Sr. acting like he won several of the prizes as winning numbers were announced. (How long until they have some cardboard?)
The surreal moments (here's where I mention Markie helped sing "Happy Birthday" to Riggins) that this meshing of worlds created showed that the hobby just might benefit from more show in the show moments — though showmanship is costly. How does something like this benefit the hobby besides making a good impression with a few insiders? An event like this one could perhaps be the start of getting the card industry, the hobby, a higher profile. The seeds of potential for the business — the possibilities — could have been planted with any one of the many there, and each of them could potentially do something in their own ways to help eschew the too-easy notion that collecting is dead (we've heard that story before) or something else to help energize their piece of the hobby, which might have a trickle-down effect.
This kind of an effort might show that at least some in the hobby are looking to expand it beyond an experience of sitting back and collecting collectors' cash — though it's never been that simple, it might seem that way to some. While it's easy for sports leagues (those atop the financial food chain) to put on bashes such as these, it's not for those further down. But this showed me it might not be a stretch to envision a sports card world with a little more influence from elsewhere in the business world, a little more star power, and maybe a little more besides cards inside that gift bag, though things such as EA Sports video games were among prizes at the party. (They are a different animal, but have you ever seen what's in an ESPY's gift bag? Corporate America right there.) But card companies have to be actively seeking those things and be in positions to make those deals. An event such as this one? To me, it shows Panini is paying attention to things like that — that it's not just about one aspect of the business and that the experience is as important as the product.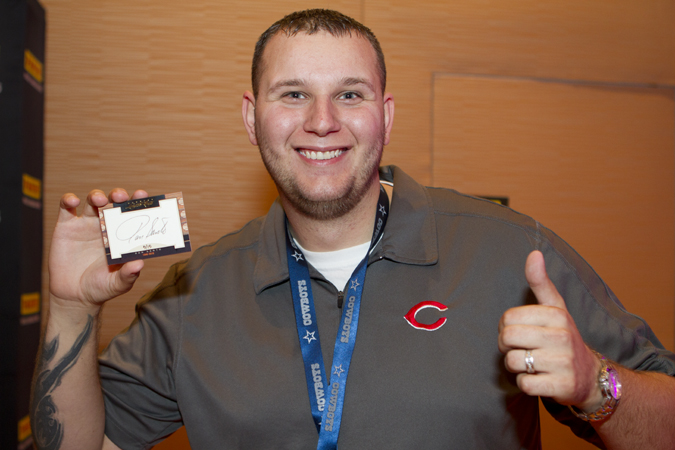 Now, while there was plenty going on at the event, ultimately it did come down to the cardboard. More than a few tables had collectors huddling around them to see what they could find inside their stack of packs — and more than a few moments were had as autographs, Rookie Premiere towel cards and more were discovered. It was a scene not unlike that of the show floor or a neighborhood card shop at times — and yet Panini was the only company that opted to create a little extra show at the show.
For some of those VIPs, it was maybe a good way to unwind or a way to help cover their costs of the week. For others, it might have been exposure to something new or a surprise that they hadn't yet seen before — something that may prompt exposure for the hobby in a different way. You never know.
For me, it was just an experience, and it was one that affirmed to me that there's still untapped potential out there in the hobby.
Chris Olds is the editor of Beckett Baseball magazine. Have a comment, question or idea? Send an email to him at colds@beckett.com. Follow him on Twitter by clicking here.