Here's what the 2015 Topps Chrome Baseball Refractor rainbow looks like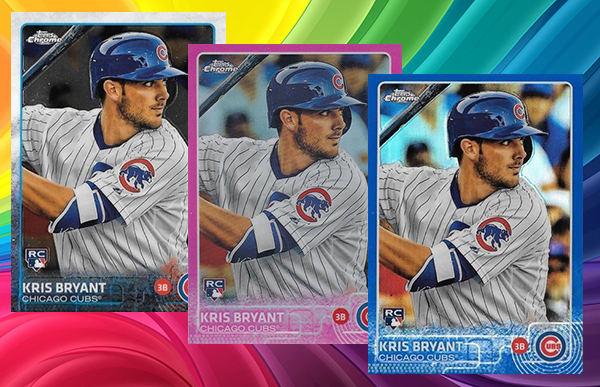 By Ryan Cracknell | Hobby Editor
Mention Topps Chrome and thoughts are likely to go to shiny card stock and an abundance of colorful Refractors. Over the past two decades, that's what the brand has carved out as its primary niche. Like recent years, the 2015 Topps Chrome Baseball Refractor rainbow presents one of the year's bigger challenges for player collectors determined to get every card of their favorite.
2015 Topps Chrome Baseball base cards have 11 different Refractors to go with them. Pink and Sepia are both retail exclusives. The rest can be found in all types of packs. In addition to these, there are four one-of-one Printing Plates — one for each color of the commercial printing process.
The rainbow gets even bigger when collectors expand into the Rookie Autographs. In addition to the regular version, there are eight types of serial-numbered Rookie Autograph Refractors plus Printing Plates. These cover all of the basic Refractor colors except for Prism and the retail-only Pink and Sepia.
Get a look at the full 2015 Topps Chrome Baseball Refractor rainbow after the jump.
2015 Topps Chrome Baseball Refractor Rainbow
Base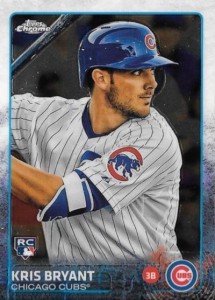 Refractor (Hobby 1:3, Jumbo 1:1, Retail 1:3)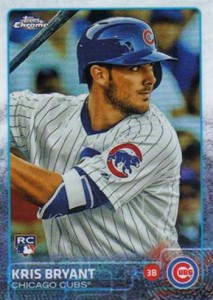 Pink Refractor (3 per Retail Value Pack)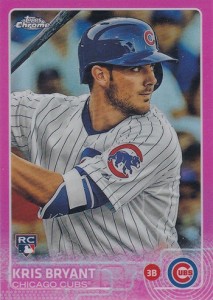 Prism Refractor (Hobby 1:6, Jumbo 1:2, Retail 1:6)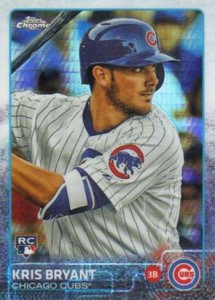 Sepia Refractor (4 per Retail Blaster)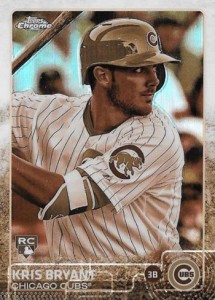 Purple Refractor /250 (Hobby 1:38, Jumbo 1:12, Retail 1:38)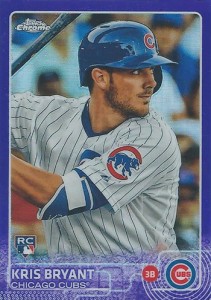 Blue Refractor /150 (Hobby 1:64, Jumbo 1:20, Retail 1:64)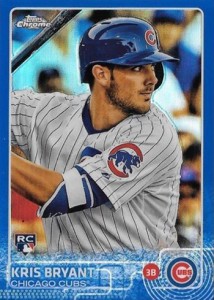 Green Refractor /99 (Hobby 1:97, Jumbo 1:30, Retail 1:97)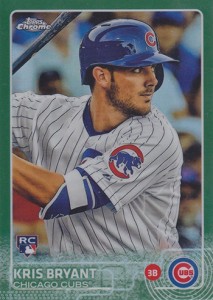 Gold Refractor /50 (Hobby 1:191, Jumbo 1:59, Retail 1:191)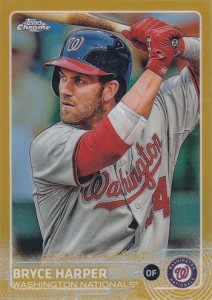 Orange Refractor /25 (Hobby 1:382, Jumbo 1:118, Retail 1:383)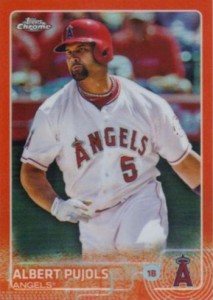 Red Refractor /5 (Hobby 1:1,915, Jumbo 1:589, Retail 1:39,522)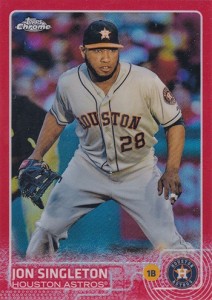 SuperFractor 1/1 (Hobby 1:9,517, Jumbo 1:2,947, Retail 1:9,581)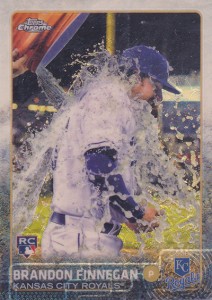 Printing Plate (Hobby 1:2,388, Jumbo 1:737, Retail 1:2,395)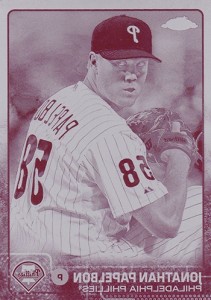 2015 Topps Chrome Baseball Rookie Autograph Refractor Rainbow
Rookie Autograph (Hobby 1:21, Jumbo 1:3, Retail 1:137)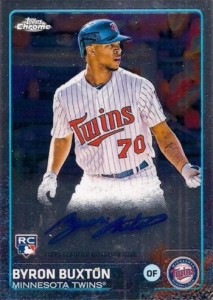 Rookie Autograph Refractor /499 (Hobby 1:54, Jumbo 1:29, Retail 1:211)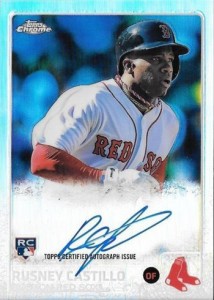 Rookie Autograph Purple Refractor /250 (Hobby 1:168, Jumbo 1:34, Retail 1:589)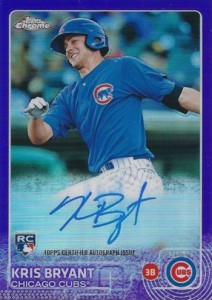 Rookie Autograph Blue Refractor /150 (Hobby 1:280, Jumbo 1:57, Retail 1:982)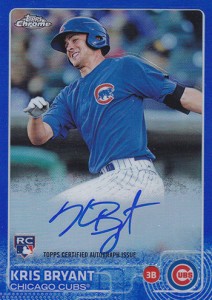 Rookie Autograph Green Refractor /99 (Hobby 1:424, Jumbo 1:86, Retail 1:1,484)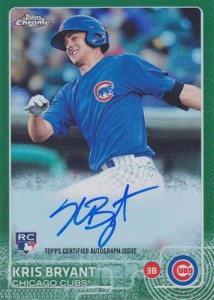 Rookie Autograph Gold Refractor /50 (Retail 1:234)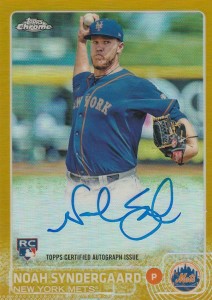 Rookie Autograph Orange Refractor /25 (Hobby 1:602)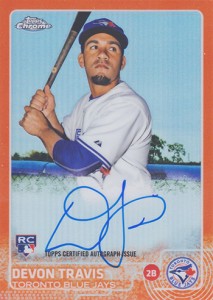 Rookie Autograph Red Refractor /5 (Hobby 1:8,405, Jumbo 1:1,705, Retail 1:28,743)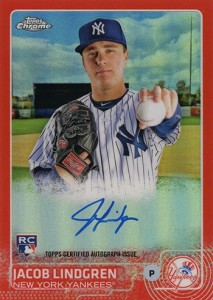 Rookie Autographs SuperFractor 1/1 (Hobby 1:20,877, Jumbo 1:15,866)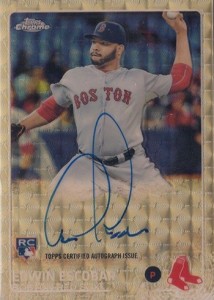 Rookie Autograph Printing Plate (Retail 1:2,955)