1991 Topps Toxic High School — a cheap and overlooked set worthy of your attention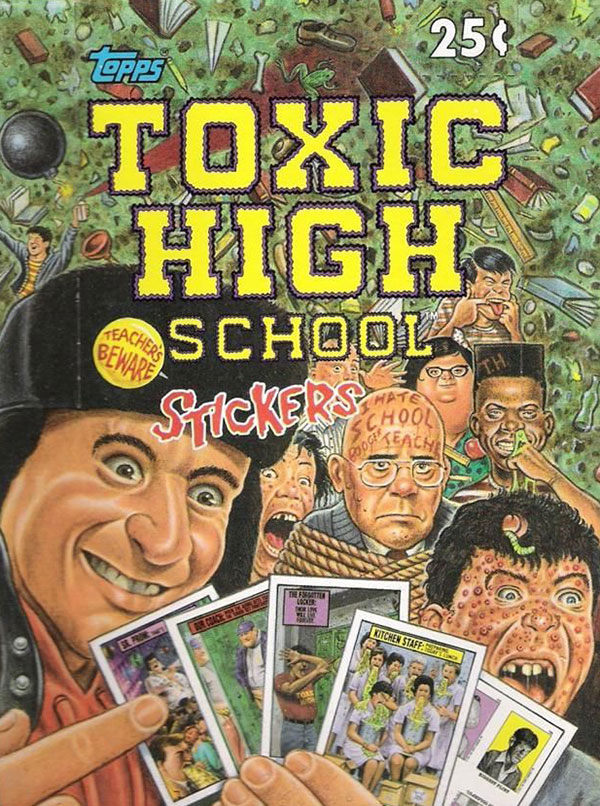 By Ryan Cracknell | Hobby Editor
Card collecting is often portrayed as a wholesome activity. You know the image — young kid sitting on his bed shuffling through a stack of his heroes.
"Got it, got it, got it, need it," is his mantra.
But if you look back on the history of the hobby, trading cards have a subversive and trouble-making side as well. You've got the dog getting zapped in Mars Attacks, the mockery of Wacky Packages where no consumer product is sacred, Billy Ripken's bat and the snotty Garbage Pail Kids to name a few. Even the early days of cards being used to promote tobacco raised some eyebrows then.
When cards caused trouble, it was often at school. Kids get their rubber band-bound stacks confiscated. A trade that seemed good at recess leads to a fight at lunch after the No Trade Backs Code of Honor is upheld.
School is also the battleground for 1991 Topps Toxic High School trading cards, perhaps the most overlooked set of entertainment cards of the early 1990s.
Although the tone of the set is similar to what you might have found a few years earlier in Garbage Pail Kids, Toxic High School's more realistic approach takes the puke and other gross bits to another level.
The 88-card checklist takes collectors through a year in the school. From field trips to prom to clubs to students and staff, all are outlined. It's not like Mars Attacks where there's a traditional sort of narrative. However, there is something of a story there that's scattered and builds up just how disturbing and disgusting things were at the imaginary place of learning (and puking).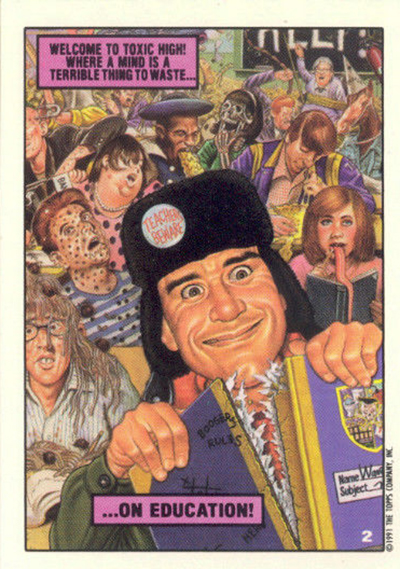 Like Garbage Pail Kids and Wacky Packages, cards double as stickers. The first 64 focus on the day-to-day of the school with detailed paintings. They're followed by 23 cards make up a Senior Stickers subset. Each of these has four smaller stickers of students, kind of like the Toxic High equivalent of Picture Day. The final card is a "school photo."
Drew Friedman designed the characters and did the pencil work for 1991 Topps Toxic High School. From there, those images were painted by Tom Bunk, Pat Pigott, John Pound, Walter Velez and Xno. Among the writers were Friedman, John Mariano and Mark Newgarden.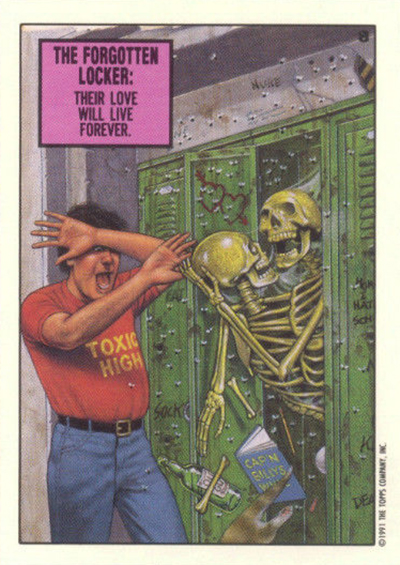 Judging by the low prices and quantity of unopened boxes still in circulation today, it's safe to say that even though the hobby as a whole was soaring in 1991, Toxic High School failed to find its intended audience. That doesn't mean the cards aren't worth checking out. If you're into the mischievous spirit the set brings, it's fantastic.
To say they're not for kids would miss the point. Now that I'm a parent myself, it's not the kind of set I'd introduce my kids to. But if this set came out now, I'd totally expect them to buy them and hide them from me. I would have done the same if I found them at my corner store back in the day.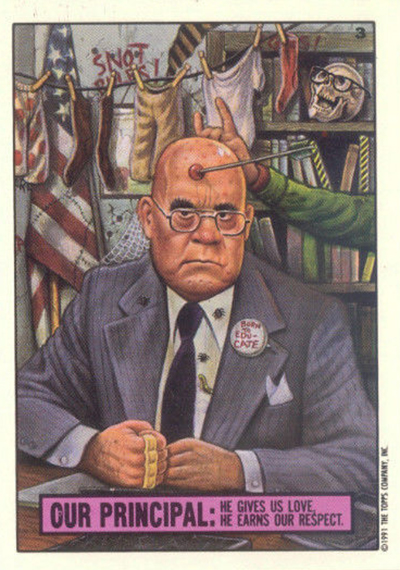 They're cards that still cost a quarter per pack at a time when the hobby was changing. Yes, they're vile. That's something that has gotten many kids into card collecting. 1991 Topps Toxic High School is just the kind of thing that kids used to hide from their parents and flip through when their teachers weren't looking. And if you can find a set or a box for a few dollars (I got one at the National for $2), it's a cheap price to pay for a little cardboard rebellion.
1991 Topps Toxic High School boxes have 48 packs of five stickers. It's not uncommon to find boxes now that have a black line drawn over the top. These simply signify returns that originally went unsold. This may create a bit of a premium for unmarked boxes, but there are still lots of those floating around too waiting for good homes.