BGS Diary: Allen & Ginter Mini Rip, Kris Bryant, Danica Patrick, Will Ferrell and even more make the grade
When you click on links to various merchants on this site, like eBay, and make a purchase, this can result in this site earning a commission.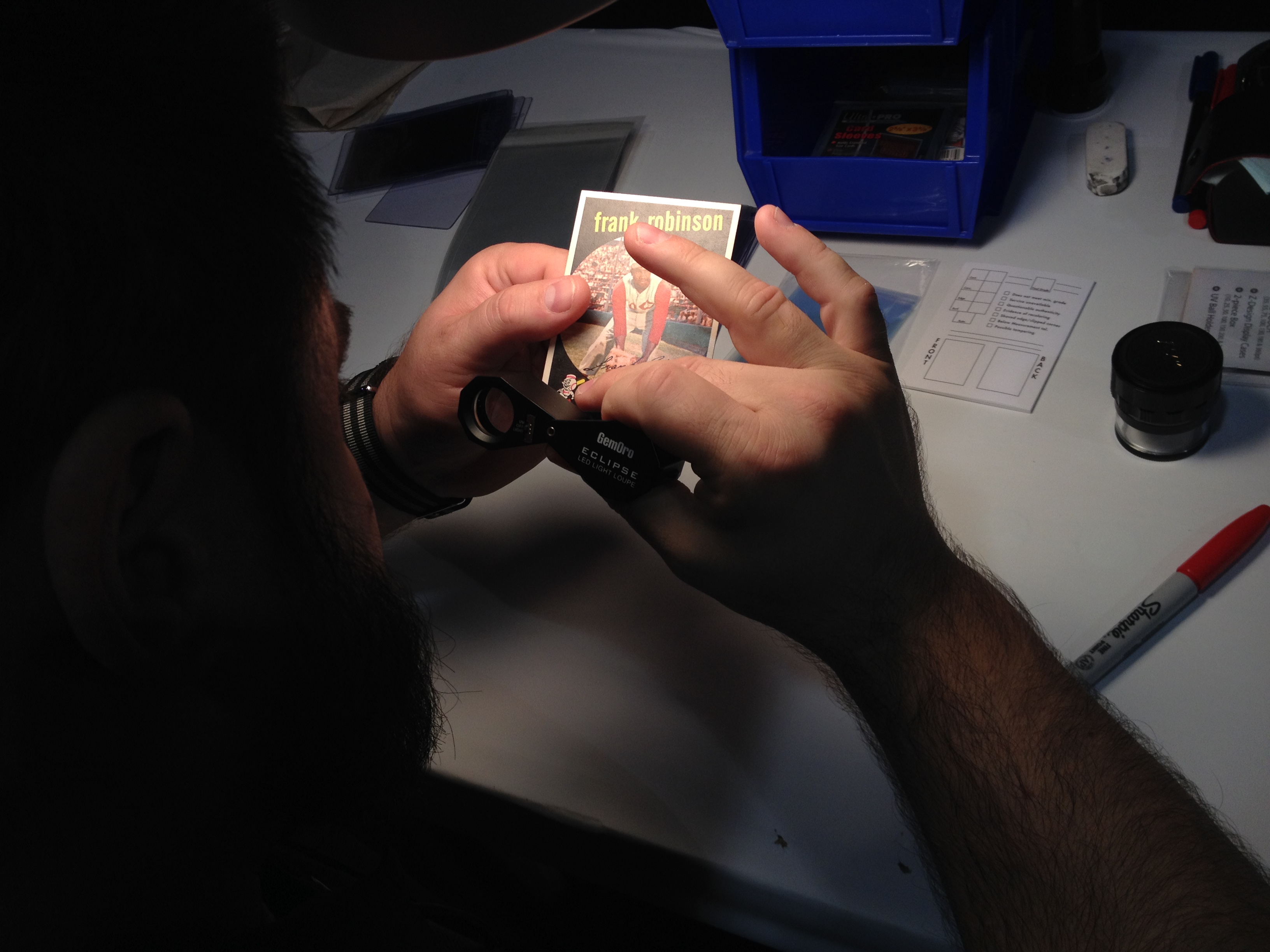 By Chris Olds | Beckett Sports Card Monthly Editor | Commentary
For the last few months, I've submitted a few cards a month to Beckett Grading Services to finally get some of the cards I like into slabs. Selecting which cards to submit has been easier said than done — and the results can be interesting, too.
Here is the batch I got back from BGS for June — so here is my latest BGS Diary entry. See which cards I decided to submit … after the jump.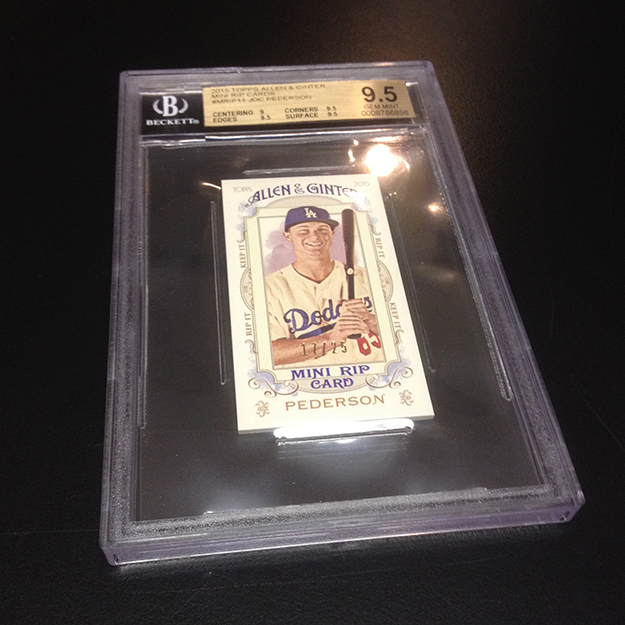 2015 Topps Allen & Ginter Mini Rip Cards #MRIP11 Joc Pederson, $N/A (unripped cards are not priced)
As you may have seen in my online video elsewhere here on Beckett.com, I pulled this one from a Double Rip card of two Kansas City Royals players in my first box of Ginter this year. After Ripping a Mini Rip last year with disappointing results, I opted to forever entomb whatever is inside my Pederson along with him. Why? Well, Pederson has been impressive at times — except for the batting average — for a big-market team as a rookie. Plus, most Rip Cards of any variety get sacrificed to solve the mystery of what's inside. I'll buck that trend — and I was happy about the grade, too.
Pop Report: It's the only copy graded. Not much of a shocker there.
—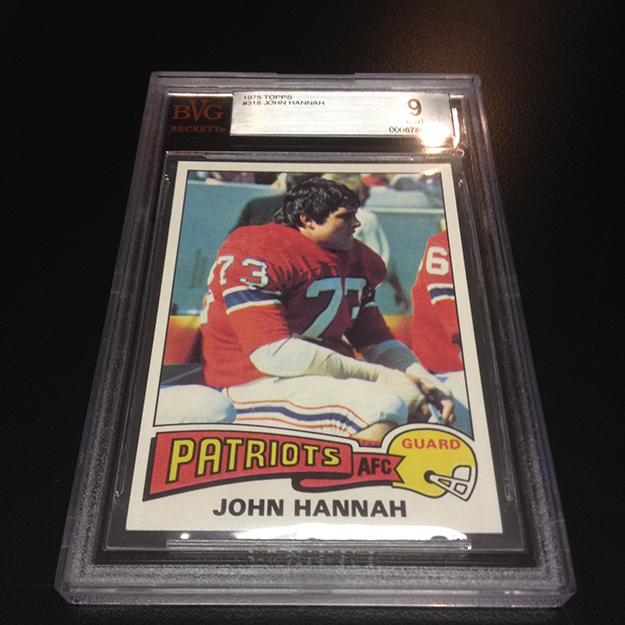 1975 Topps #318 John Hannah, $4
This isn't an expensive card and it's not even a Rookie Card, but it is a card of a former University of Alabama star (my school) and a member of the Pro Football Hall of Fame. Unlike most cards in my collection, I don't even remember where I picked up this card (it was years ago), but I did so precisely because of its condition. The card looked razor sharp then and it looks even better now in a BVG 9 case. Grading vintage is a challenge, so I felt like this was a big win.
Pop Report: Surprisingly, nine copies of this card have been graded — and five of them have received a BVG 9. None are higher, though.
—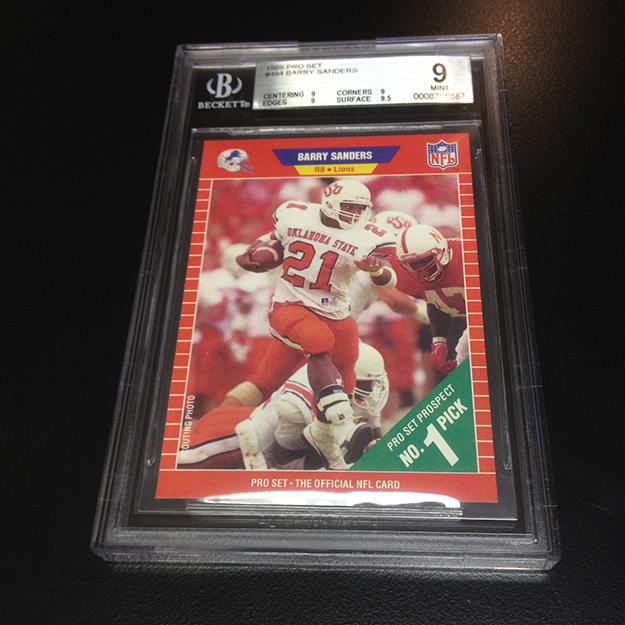 1989 Pro Set #494 Barry Sanders RC, $8
If you collected football cards in 1989 and 1990, you know the buzz that Pro Set generated. Of the players from those years, this guy was among the best. A few years ago, I busted a case of Series 2 and found upwards of 20 Sanders RCs inside. I recently found the stash going through boxes and figured I would submit one. I was a tad bummed about this grade — I had figured on a higher grade but am still ok with what it got. Believe it or not, there are a lot of ways cards could be damaged in those little pollybag wrappers.
Pop Report: There are 2,646 copies of the card graded but only 444 are higher than mine. There are just five BGS 10s in existence. The most-common grade for this card is a BGS 8.5.
—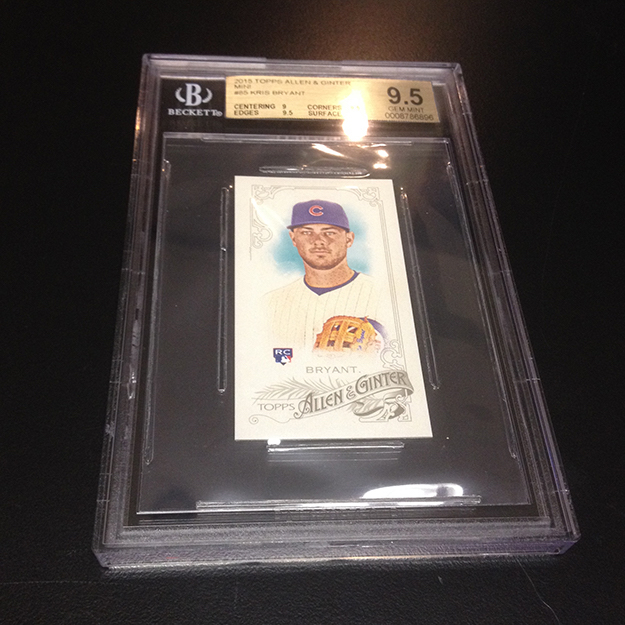 2015 Topps Allen & Ginter Mini A&G Back #85, Kris Bryant, $12
This year's Allen & Ginter has been pretty good to me, so I picked up a pair of boxes while at the National. My worst box of the bunch yielded this card, which is a bit cheaper than I thought it was but is still just as iconic for baseball cards this season. I've always had a soft spot for Ginter Mini RC parallels, so this was a natural one to grade when I saw it was clean and didn't have any corner issues from bouncing around inside a pack. (Minis can do that.)
Pop Report: This is the first copy of the card graded — and every other Bryant from the product has graded a 9.5, too.
—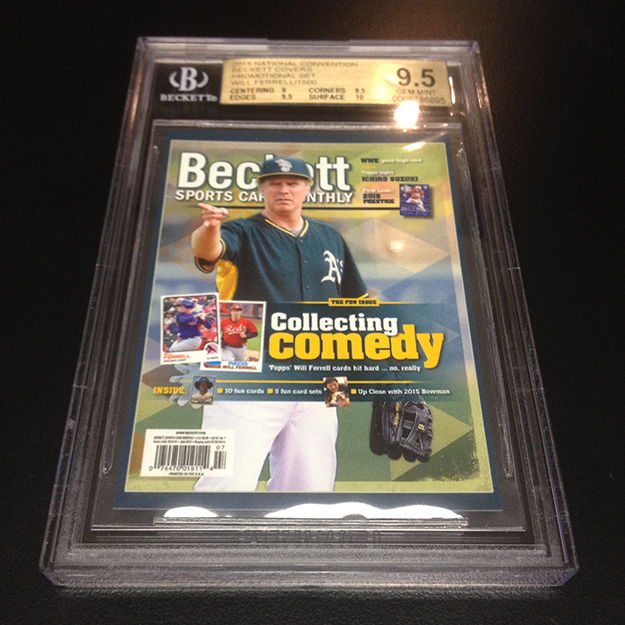 2015 National Convention Beckett Covers Promotional Set Will Ferrell /1,500, $N/A
Helping create the Beckett Covers set each year is a fun thing that pays off well when we see fans collect them all at the National to land their reward at the Beckett Media booth. This year's set included 15 past Beckett magazines on cards and Will Ferrell's recent appearance on a Beckett Sports Card Monthly cover was one that I was glad to see make the cut. This one is limited to 1,500 copies and was available to anyone who visited the Topps Bunt booth at the show. I stopped by and this is the result. The best part? Its serial-number is 19/1,500 — and that was Ferrell's uniform number when he played for my team. I haven't had his Oakland Topps Archives card graded yet, but I will. This one had to come first.
Pop Report: This has to be the only copy graded … right?
—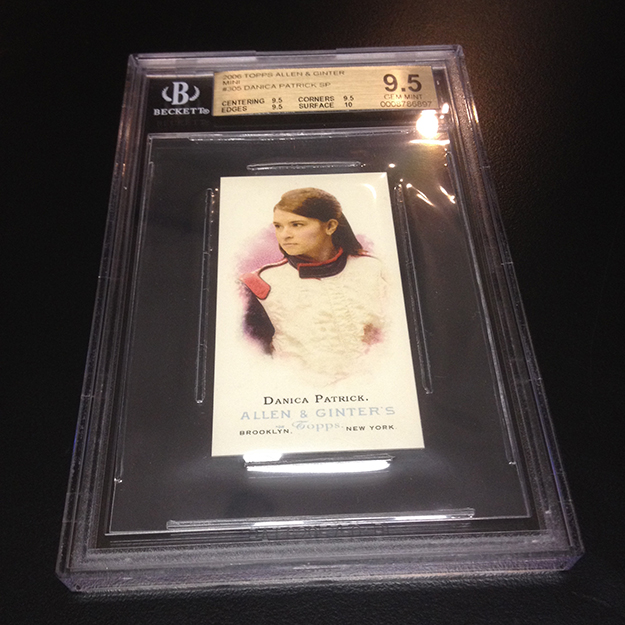 2006 Topps Allen & Ginter Mini #305 Danica Patrick SP, $30
Back when Allen & Ginter arrived in 2006, I bought a lot of the retro-styled brand. In fact, I bought more of that brand that year than maybe any other baseball card set ever. While I have probably 10 copies of her short-printed base card, I only have one Mini. It's just the standard one — I wasn't lucky enough to pull any rarer ones, which are much tougher as SPs — but it was a card that I decided finally needed a slab since I was so focused on Ginter this year.
Pop Report: Despite this being a landmark product and her being a marquee name, there are only 21 copies of this card graded. A dozen of those have my grade, but only one has graded a 10 in the decade since its release.
—
Also graded this time but not shown: 2015 Topps WWE Black #96 Paige (BGS 9.5), 1941 Play Ball #56 Johnny Vandermeer RC (BVG 4).
—
That's my latest BGS Diary … let me know what you think, or if you want to see more, in the comments below.
Chris Olds is the editor of Beckett Baseball and Beckett Sports Card Monthly magazines. Have a comment, question or idea? Send an email to him at colds@beckett.com. Follow him on Twitter by clicking here.
—
How did Beckett readers do with predicting this batch? Look for a new BGS Diary Predictor next month.
—
BGS Diary Predictor (Aug.): What will Olds submit? (Pick five)
1985 Topps WWF #7 Rowdy Roddy Piper (15%, 62 Votes)
2015 Topps Allen & Ginter Mini Rip #11 Joc Pederson /25 (11%, 47 Votes)
2012 Panini Cooperstown Signatures #64 Nolan Ryan /50 (8%, 35 Votes)
1962 Topps #350 Frank Robinson (8%, 32 Votes)
2015 Topps WWE Black #56 Paige (7%, 30 Votes)
1989 Pro Set #494 Barry Sanders RC (7%, 28 Votes)
1941 Play Ball #56 Johnny Vandermeer RC (6%, 27 Votes)
2015 Beckett Covers #15 Will Ferrell /1,500 (6%, 26 Votes)
2015 Topps Allen & Ginter Mini A&G back #85 Kris Bryant (6%, 26 Votes)
2015 Topps Archives Will Ferrell #WF1 Will Ferrell (6%, 25 Votes)
2012 Panini Cooperstown Signatures #70 Rickey Henderson /50 (6%, 25 Votes)
2006 Topps Allen & Ginter Mini #305 Danica Patrick (4%, 16 Votes)
1985 Fleer #533 Eric Davis RC (3%, 14 Votes)
1968-69 O-Pee-Chee #39 Ted Irvine RC (3%, 11 Votes)
1975 Topps #318 John Hannah (2%, 9 Votes)
1990-91 Upper Deck #55 Ed Belfour RC (2%, 7 Votes)
Total Voters: 103
Loading ...
—
PAST BGS DIARY POSTS
— October: Rookie Cards, Moneyball & Watergate
— November: Vintage, booklets Dr. Beckett & more
— December: Saban, Cerrano, Hawk, Animal & practice
— January: Bull Durham, Star hoops, "Macho Man" … and Bill Murray's baseball card?
— February: Chasing Amy, metal minis, USA Baseball green and, of course, Crimson Tide
— March: WWE Divas, The Killer, Koufax and a cardboard icon 
— April: Seeing gold, stickers … and furry autographs?
— May: A lone BGS 10 Michael Jordan, another Lana, a rare Yankee & one USA Baseball lineup
— June:  Vintage Pudge, Atomic Paige, Cooperstown autographs, Canseco & more
— July: Digging vintage, Kris Bryant, "Eight Men Out," Minis and The Dude
— August: Allen & Ginter Mini Rips, Danica Patrick, Kris Bryant, Will Ferrell and more make cut