So What Are These Ghostbusters Animation Cel Cards?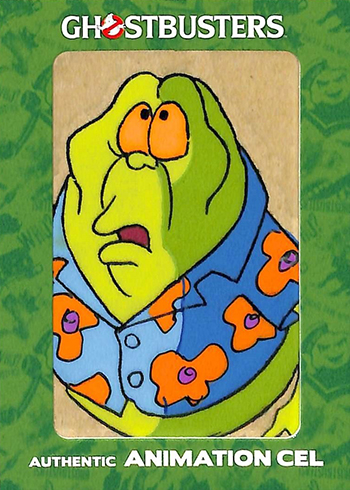 By Ryan Cracknell | Hobby Editor
Cryptozoic's Ghostbusters trading cards cover a lot of ground. Although the base set is dedicated entirely to the original film, the inserts reach out into the sequel, comics and even The Real Ghostbusters, the Saturday morning cartoon spinoff. It's tough to make a memorabilia card from an animated series but the product does something similar with original Ghostbusters Animation Cel cards.
Like a patch card in a set of sports cards, there's a sense of uniqueness about each of these Ghostbusters Animation Cel cards. They were actually used for a frame of the show, lending a similar level of appeal as a patch from a game-used jersey.
One second of a cartoon requires 24 frames. That's 24 different illustrations. Span that over a 20-minute episode and you've got lots of frames. But each is different. Some are more so than others, but that's the same with a lot of sketch cards.
The Cryptozoic Ghostbusters cel cards feature a piece of hand-painted artwork. They were done with more of a factory model of production, unlike sketches that are more artistically inclined. As a result, some might look more detailed than others. By their nature, the characters are all very consistent.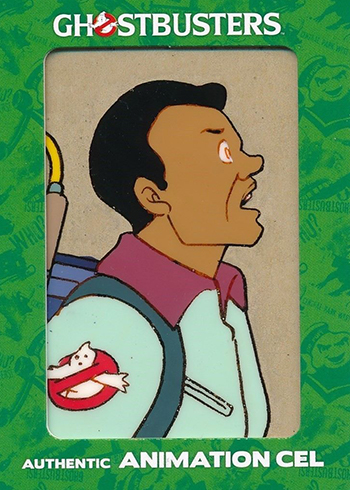 The cards don't use the entire cel. Those are usually 10 1/4 by 9 1/4 inches or panoramic. Rather, it looks as though Cryptozoic has carefully portions of the cels to make sure they focus on characters, faces and other iconic pieces. It's more interesting to get Slimer than a couch of a close-up of a sidewalk.
2016 Cryptozoic Ghostbusters Animation Cel cards are inserted 1:36 packs. While that's not quite one per box, they should still be somewhat easy to find. Like sketch cards, though, it's tough to say how many of certain characters there are. And because each is different, this could lead to premiums for some cards if they have someone popular or a nice shot.
If you're a fan of the cards, collecting full Real Ghostbusters animation cels is not hard. It's actually a very affordable way to decorate an office with original pop culture art. Cels are readily available on eBay, most for under $20. That's not much more than early prices on the cards. Usually you get a single cel with a colored copy of the background. That's because the cartoon was created using a layered approach. So while there might be dozens of similar cels for a couple seconds of conversation, the bottom background layer likely didn't change. Getting a full cel can cost much more due to their rarity.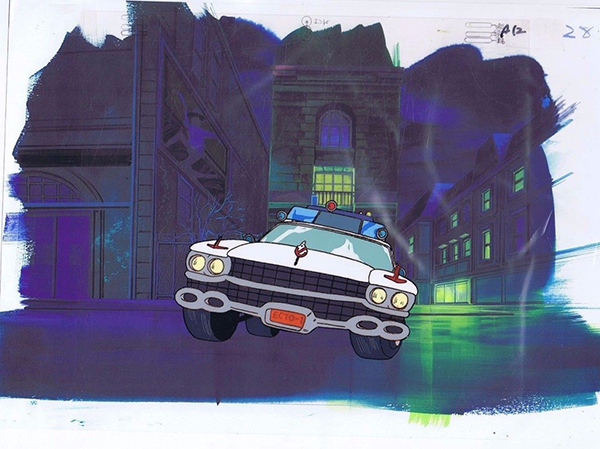 With so many full cels available, it's not hard to hold out for a favorite character or combination of characters.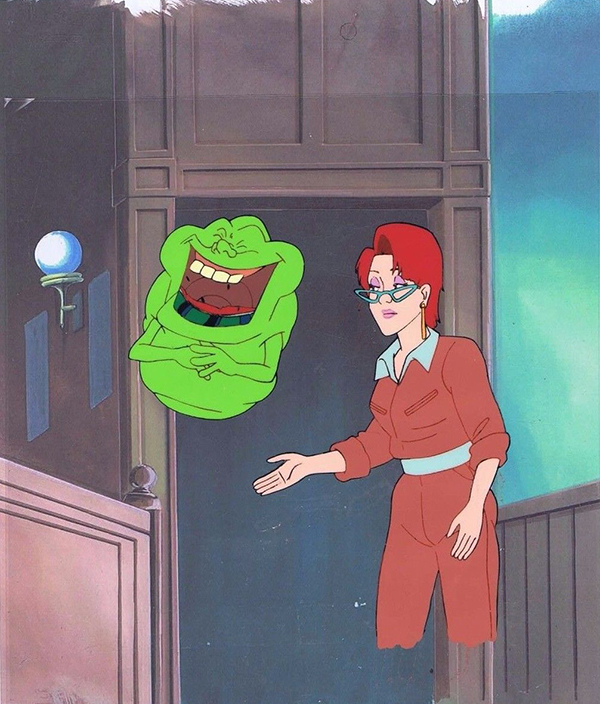 Comments? Questions? Contact Ryan Cracknell on Twitter @tradercracks.