2016 Cryptozoic Ghostbusters Dog Tags info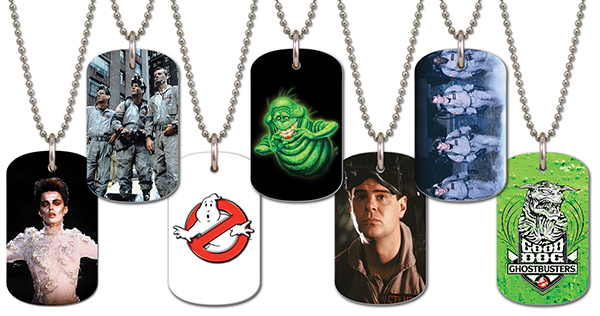 By Ryan Cracknell | Hobby Editor
First, Ghostbusters trading cards were announced. Now there are collectibles you can wear. 2016 Cryptozoic Ghostbusters Dog Tags take the trading card concept and apply it to something a little different.
The collection has a total of 24 tags, each with an image that's either from the original movie or an illustration that's based on it.
All four of the Ghostbusters (Peter, Ray, Egon and Winston) are included. However, they're not all. Even with a somewhat small checklist, Dana, Louis, Janine and Gozer all appear on their own tags. Slimer, Stay Puft and the Library Ghost are among the paranormal creatures in the product as well.
Each pack has one tag and a chain to wear it with. There's also an illustrated checklist.
2016 Cryptozoic Ghostbusters Dog Tags Checklist
1 Ghostbusters
2 Harold Ramis as Egon Spengler
3 Dan Aykroyd as Ray Stantz
4 Bill Murray as Peter Venkman, Dan Aykroyd as Ray Stantz, Harold Ramis as Egon Spengler
5 Library Ghost
6 Ernie Hudson as Winston Zeddmore
7 Rick Moranis as Louis Tully
8 Egon, Ray, Peter, Winston
9 Annie Potts as Janine Melnitz
10 Sigourney Weaver as Dana Barrett
11 Slaitza Jovan as Gozer
12 Egon, Peter, Ray
13 Ghostbusting
14 Terror Dog
15 Egon, Ray, Peter
16 No Ghosts – Ghostbusters Logo
17 Mr. Stay Puft
18 Slimer
19 Ecto-1
20 Egon, Winston, Peter, Ray
21 Venkman Patch
22 Spengler Patch
23 Stantz Patch
24 Zeddmore Patch
2016 Cryptozoic Ghostbusters Dog Tags at a glance:
Tags per pack: 1
Set size: 24 tags
Release date: TBA