First look: 2015 Topps baseball cards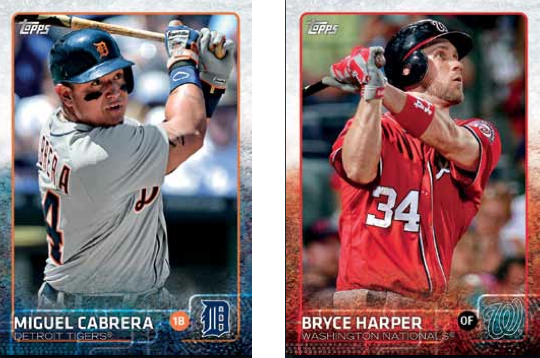 By Chris Olds | Beckett Baseball Editor
The new year is here.
Topps released the first glimpses and basic details for the 2015 Topps Series 1 baseball card set on Thursday, a base set that is the largest for the company in years with 350 cards in the initial release.
Set to arrive on Feb. 4, there will be 36 packs per hobby box with 10 cards per pack, while jumbos will have 50 cards per pack and 10 packs per box for HTA. There will be one auto or Relic in each hobby box and a guaranteed auto and two Relics in every jumbo as has been the pattern in recent years.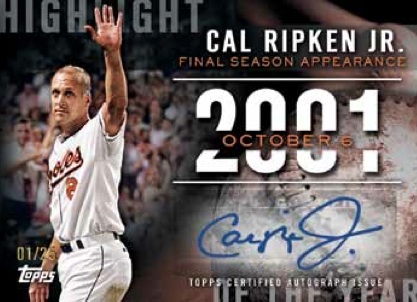 Each of the 350 cards in the set will have eight parallels while the standard cards will be found with borders accented with the player's team colors. The parallels are Gold (numbered to 2015), Snow Camo (/99), Black (/64; hobby- and jumbo-only), Pink (/50), Rainbow foil and 1/1 Platinum and printing plates. Also to be found one per case will be new silver-framed parallels that have a metal frame.
Among the insert cards will be Inspirations, a 15-card set pairing past and present players found four per box. Also to be found are Gallery of Greats cards two per box with a Gold parallel limited to just 99 copies. Also found four per box will be Free Agent 40, a look at some notable names in the 40-year history of free agency.
Another 25-card insert set will be Archetypes — players who were the model of consistency — found six per box, Highlight of the Year cards (nine per box), and stamped buyback cards two per box. A new crewation will be Baseball/History, a 30-card set that has baseball achievements linked to notable historic news such as the 1969 moon landing and what the Miracle Mets did that day.
Among the manufactured Relics, which will be found one per hobby case or one per jumbo box, will be three different types of cards. First up is the MLB Silhouetted Batter Logo Pin card, a metallic logoman card. Then there will be Future Stars Pins showcasing 10 players with the 1987 Future Stars logo. These will be limited to just 99 copies per player on its vintage parallel. Then there will be Birth Year Coin and Stamp cards with five versions to chase — a quarter, quarter with auto, a dime, a nickel and a penny version.
Autographed Relic cards will only be found in hobby and jumbo packs and there are eight different sets for collectors to chase. There are Archetypes auto Relics limited to 10 copies each as well as Highlight of the Year, Inspirations and Free Agent 40. Each of these sets will also be limited to just 10 copies per card. The Gallery of Greats auto Relics will be signed on-card and limited to just five copies per player. Also waiting to be found — and these will be a bit easier — are World Series Champion auto Relics and Postseason Performance auto Relics. Those will be limited to 50 copies per player, while Strata Signature Relics will return and be found with 25 signed-on-card copies per player.
For standard autographs, there will be 10 sets to chase — Career High, Archetypes, Highlight of the Year, Inspirations, Gallery of Greats, 1/1 Baseball/History Cut Signatures, Free Agent 40, World Series Champions, Postseason Performance and 1/1 Strata Cut Signatures. These sets will be limited to either 25 or 10 copies per card.
For Relics, the same lineup can be seen — Career High, Archetypes, Highlight of the Year, Inspirations Duals, Gallery of Greats, Baseball/History Stamps, Free Agent 40, World Series Champions and Postseason Performances. These will be limited to no more than 100 copies for all but the Career High cards with some limited to just 50 or 25 copies and some only found in hobby or jumbo packs.
Also to be found are 1/1 In the Name Relics with letters from MLB All-Star workout jerseys displayed on the card.
Last but not least, there will be two promotional programs coming with the new set. There will be online code cards found six per hobby box and a Pennant Chase program where every team will have 50 cards printed good for a prize if that team wins the pennant.
A preliminary checklist was not released.
Chris Olds is the editor of Beckett Baseball and Beckett Sports Card Monthly magazines. Have a comment, question or idea? Send an email to him at colds@beckett.com. Follow him on Twitter by clicking here.
—
Loading ...
—