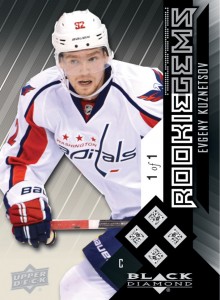 By Stephen Laroche | Beckett Hockey Editor
Expected to arrive just in time for the holidays, 2014-15 Black Diamond from Upper Deck should be one of this season's most talked-about releases.
Since the 1996-97 season, the brand has been quite popular with collectors and in recent years, it has delivered the hottest rookies along with some excellent hits that have made an impact on the secondary market.
After incredible collector response last season, Upper Deck has brought back the Golden Ticket Draft cards. These special redemption cards can be exchanged for a spot to draft from a selection of Quad Diamond Rookie Gems Relics that contain four princess cut diamonds. These one-of-one treasures are highly sought-after and coveted by many collectors.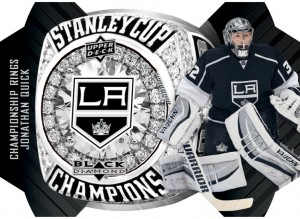 Memorabilia card enthusiasts can expect to find at least two Double Diamond Dual-Swatch jersey cards in each box of Black Diamond, but there are also some big hits seeded into cases. A typical case break will yield one Lustrous Rookie card, one Hardware Heroes acetate card, four die-cut PETG Championship Rings cards and four autograph cards (including such sets as Rookie Gems and Gemography).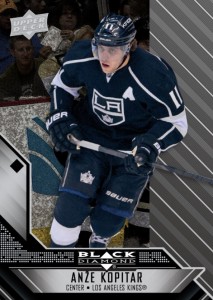 This season's release will once again feature a tiered base set. An average box break is expected to contain six Double Diamond Veterans, three Triple Diamond Veterans, three Triple Diamond Rookies, a Quad Diamond Rookie and a Quad Diamond Regular card. However, Upper Deck has increased the odds for Quad Diamond cards and an additional one from either subset will be found in every box to add even more value.
If that was not enough, there will also be several Light F/X parallel cards to collect. There are also autographed versions that sees some of the rookies limited to as little as five copies in addition to one-of-one cards.All told, there will be at least one parallel card per box.
Stephen Laroche is the editor of Beckett Hockey and Beckett Basketball magazines. Have a comment, question or idea? Send an e-mail to him at SLaroche@beckett.com. Follow him on Twitter @Stephen_Laroche.