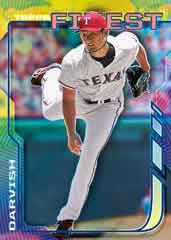 By Chris Olds | Beckett Baseball Editor
In 2013, Topps celebrated the arrival of Finest within its new packs of Finest — and with the new inclusions for 2014 the company is clearly hoping for the finest Finest yet.
It's added color, it's added nods to the past, it's added Hot Boxes and more. And it all arrives in 2014 Finest when it arrives in hobby shops on Aug. 13.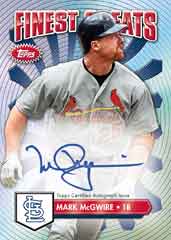 With eight boxes per case and two mini boxes inside each one — each packing an on-card autograph — the formula is largely the same. The 100-card base set will include 11 parallels — 1/1 Superfractors and printing plates along with Refractor and Xfractors with Green (/199), Blue (/125), Black (/99), Gold (/50), Red (/25), Magenta (/15), Atomic (/5) Refractors to chase, too.
This year, there will be Hot Boxes with every base card inside being an Orange Refractor, while a rookie redemption card program also will up the ante with those rookie autos limited to just 100 copies.
The autographed rookies will be found with eight parallels — 1/1 Supers and plates along with Xfractor (/149), Blue (/125), Black (/99), Gold (/50), Red (25) and Atomic (/5) versions to chase. The Autographed Finest Greats inserts will have the same rainbow and volume while showcasing notable players from the Finest years.
Insert-wise, this one turns back the clock to 1994 and 1996 with nods to Finest from those years. There will be 1994 Refractors using the base design limited to 25, while there also will be 1/1 Supers. The 1996 nod will be to the Sterling subset from that year with Gold Refractors limited to 50, Reds to 10 and 1/1 Supers also in the mix.
For inserts, there will be a few options for collectors with Finest Competitors, a nod to 1997, with Refractors limited to 50 and Golds (/25), Reds (/10) and 1/1 Supers. Autographed versions will be limited to 15 or fewer copies.  Also to be found with ties to 1997 are Warriors diecuts. These will be limited to 25 for Gold, 10 for Red and 10 or less for autos. There also will be 1/1 versions.
Finest Vintage inserts will showcase players from the 1950s to current with Gold (/25), Red (/10) and 1/1 Supers along with autographed versions as well.
A preliminary checklist was not released.
Chris Olds is the editor of Beckett Baseball and Beckett Sports Card Monthly magazines. Have a comment, question or idea? Send an email to him at colds@beckett.com. Follow him on Twitter by clicking here.