Players' use of social media at NFL PLAYERS Rookie Premiere might change things for the hobby
By Chris Olds | BSCM Editor | Commentary
In the days of instant gratification, the NFL PLAYERS Rookie Premiere autograph and photo shoot weekend is a must as collectors demand to see the players in their uniforms on their Rookie Cards as soon as possible.
But the players' use of social media — even in the days of uncertain labor strife where it can make a positive connection with fans — might make some higher-ups cringe.
And it's not really the advanced card collectors who might react badly — many know what goes on with event-used memorabilia at events like this — but the card companies and the league might not like seeing the future New Orleans Saints running back and former Heisman winner wearing enough jerseys to make him look like he's doubled (or more) in size on the chicken dinner circuit as he wears countless jerseys all at one time all in the name of event-used memorabilia.
"Haha I'm at the #rookiepremiere and I have on like 17 Saint[s] jerseys," wrote Ingram as he Tweeted the photo to his 45,976 followers. He later added a side view showing his girth below the jerseys to be used as a heavy component in all card products — high-end and low-end — this coming season.
An image like the one of Ingram destroys the perception of scarcity for even the rarest of rare patch cards to be found from jerseys such as these — something that the card companies probably don't like. Yet, at the same time, not much will quash demand for the key cards of rookies as this has been done for years, though with less publicity.
Sure, there will can only one 1/1 logo shield made from each jersey. But how many jerseys can a guy wear at once? How many times will a wearing like this take place for each of the card companies — Topps and Panini America that are there?
The same could be said for the large volume of autographs signed during the weekend, but, like the jerseys, they are spread out throughout the season so that helps soothe the burn when one might realize that there are a lot of other cards out there just like theirs. (Oh, and i's also worth noting that Ingram hasn't been assigned a uniform number … so the No. 80 jerseys will likely bug a few detail-minded collectors.)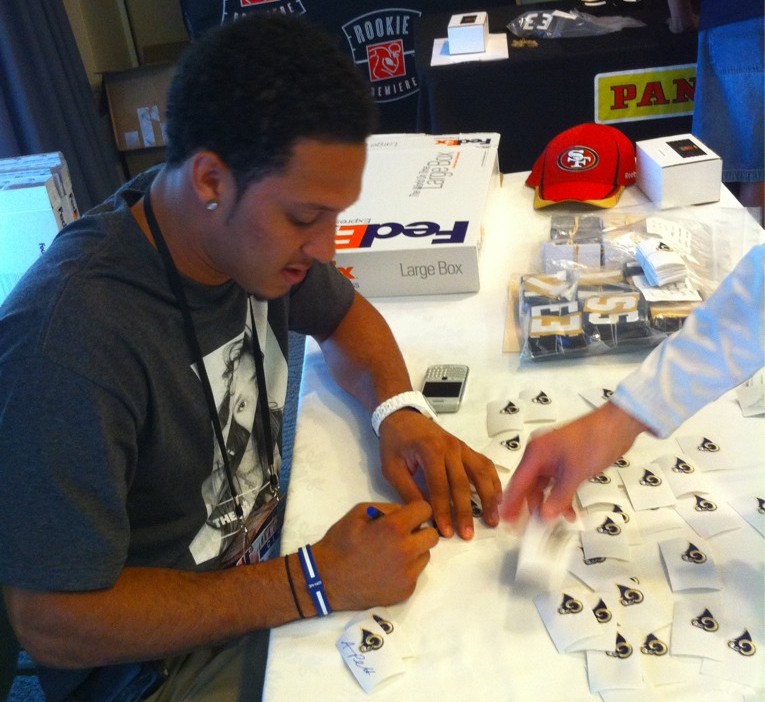 Before Twitter photos, all we got was a studio photograph of a few pieces of equipment on the backs of some Donruss cards — a move that vanished over time. Otherwise, one would never know what it's really like in the sausage factory of event-used memorabilia cards.
But, then again, there's an immense dollar savings by going the event-worn route vs. game-used. The cost of an Ingram game-used jersey during his rookie season — even if not Rookie of the Year caliber — would likely top the entire stack of jerseys he's wearing … plus some. While that would mean rarer — and likely more valuable — cards several months from now (if there's a season), there would have to be something else put into packs to satisfy the demands of collectors. (Oh, and autographs aren't a cheaper option.)
So, the alternative doesn't help that whole instant gratification issue …
Again, this is nothing new, but it's the kind of stuff that, while never shown before, was described in detail by one national writer in the past who was reportedly permanently uninvited to ever cover the event again despite working for a major news outlet. That kind of guarded atmosphere is one I perfectly understand from their perspective — the NFL and its licensees don't want to damage the brand or its image — but a ban also seems to be a bit much. However, it's going to be a lot harder to protect that image going forward with such unparalleled access coming straight from the players themselves.
On Saturday, Mark Ingram and the 35 other top prospects will suit up in the Los Angeles Memorial Coliseum in full uniforms to have their photos taken in various poses and stations for many — if not all — of the football cards you will find in packs this year. The uniforms from the not-open-to-the-public event probably won't hit the chopping block but their photos will appear right alongside the swatches from the jerseys that Ingram and others are wearing in bulk in the days before then.
So, while the NFL needs its players to connect with their fans more than ever before, the influence of social media will be a positive.
Yet, at the same time, there will be drawbacks, too. In other words, you really don't want to see how your sausage gets made.
Chris Olds is the editor of Beckett Baseball. Have a comment, question or idea? Send an e-mail to him at colds@beckett.com. Follow him on Twitter by clicking here.