It's a dirty job: Dave Hobrecht creates game-used art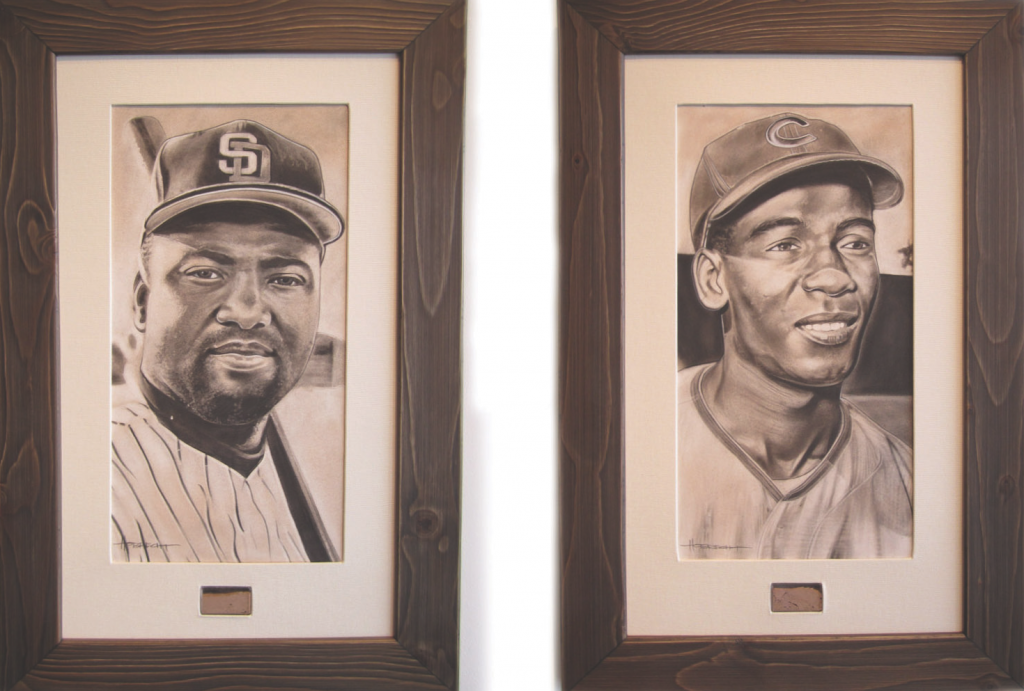 By Chris Olds | Beckett Sports Card Monthly Editor
If you've collected the last few years, you may have seen the work of California-based artist Dave Hobrecht in packs of cards such as National Chicle or his work on sketch cards.
Or, you might have seen his striking black-and-white pastel-and-charcoal pieces – but you haven't seen his latest.
It's game-used art.
What? It's game-used – as in artwork with actual game-used dirt from MLB stadiums ground and mixed into his charcoal and pastel pieces – a sort of sepia-toned version of his previous pieces with a bit more to them.
We caught up with Hobrecht for this Q&A about his newest creations …
Q: How did this idea come about?
A: I wanted to think of something that used my art but also combined my love for baseball cards. I always dug the game-used part of the business. Having something from a stadium or a player brings you back to that moment, the memory of our past trip. My past visits to Wrigley Field and AT&T Park are etched in my mind.
With game-used items like jerseys, bats, etc., getting into the mix at Topps over the past years, it led me to this idea. It's a perfect fit for me. I already paint in dust, charcoal and pastel, so using the infield dirt was a no-brainer.
Q: Does it make the piece harder or longer to do?
A: It actually does, although I like working with it. Prepping the dirt is the first step. Then painting with it is the next challenge. I dry apply it with brushes. I didn't want to lose the look and feel. The cool thing about my originals is that you can still touch and feel the dirt. If it was mixed with regular paint, you would lose that feel and texture so I was the right guy to use it.
Q: Do you have to grind down the dirt? Most MLB dirt pellets I have seen are almost like small rocks.
A: Yes, you are right. It does come to me as pellets. I take it in that form and use a simple pestle and mortar set. I grind it up to get the dirt into a more dusty feel. Once I have it the way I want, I dip my brushes and off I go! I don't add anything to make it get to that consistency. I just grind it down.
Q: Did you do any collaboration with MLB on this one — or obtain the dirt from them?
A: I did pre-buy all 30 stadiums' dirt. All my dirt is authenticated and has the hologram.
Q: How many pieces have you done in this style so far?
A: We just started painting on Opening Day. I will be painting 25 per month. Right now, I am at eight pieces completely finished with the rest in the works.
For more information about the artwork and lithograph options, visit Hobrecht.com.
Look for more on sports artwork like this in the upcoming Art Issue of Beckett Sports Card Monthly.
Chris Olds is the editor of Beckett Sports Card Monthly magazine. Have a comment, question or idea? Send an email to him at colds@beckett.com. Follow him on Twitter by clicking here.