First Look: 2014-15 SP Authentic Basketball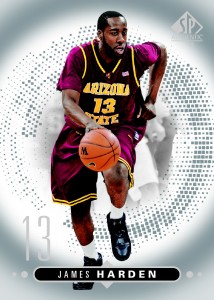 By Stephen Laroche | Beckett Basketball Editor
With Upper Deck's agreement with the Collegiate Licensing Company coming to a close, the company is looking to go out in a strong fashion with a 2014-15 SP Authentic Basketball.
Expected to arrive on card shop shelves on March 31, the main focus of this release will be all about prospects and autographs. Among the confirmed signers are Upper Deck mainstays Michael Jordan and LeBron James along with active talents like Stephen Curry, legendary stars such as Julius Erving and Shaquille O'Neal, and rookie sensations Nikola Mirotic and Aaron Gordon.
What else can collectors find in packs of 2014-15 SP Authentic Basketball? Find out after the jump.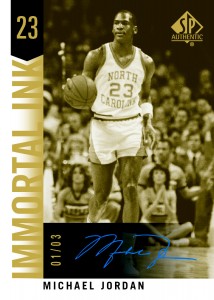 Each box of 2014-15 SP Authentic Basketball will contain three autograph cards on average and there is a wide variety of sets to collect. One of those three hits will be a Future Watch Rookie Autograph numbered to 475 copies or less. The freshman content is bolstered by the presence of Limited Rookie Autograph Patch cards (#'d to 50 or less) that could be heavy hitters on the secondary market.
As most collectors would expect, there will be Sign of the Times autographs to collect and they come in single versions (1:40 packs) in addition to Duals (1:280) and Triples (#'d to 20 or less). More favorites are also available, including SP Chirography (#'d to 75 or less) and Rookie Chirography (#'d to 99 or less). The design of Marks of Distinction (#'d to 50 or less) is sharp and Immortal Ink will be epic pulls since they are numbered out of three.
Upper Deck also dug into their own design archives and has created LeBron James 2003-04 SPA Tribute Autographs that features athletes from other sports on the card design from that season. Numbered to just 10 copies, the roster of signers includes Danica Patrick, Georges St-Pierre, Maria Sharapova and Johnny Manziel.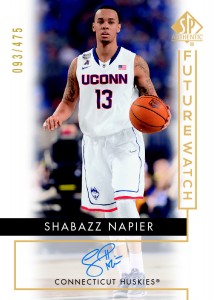 The SP Authentic base set will be made up of 50 regular cards along with 20 Authentic Moments which look back on memorable events in NCAA basketball history. There will also be five Authentic Moments Dual that depict two players that share a legendary accomplishment together. Some of the regular cards are expected to have an Emerald (#'d to 75) or Red (#'d to 3) Autograph parallel and the Limited Authentics Gold Autographs (1:253) and Dual Gold Autographs (1:3,360) will be tough to pull.
Perhaps the base cards that collectors will appreciate most are from the Rookie Extended Series with a lineup of 25 players. Falling eight times per box, finding them all will not be extremely difficult. The Red and Emerald Autograph parallels for these cards are limited to 225 copies or less and are split up into three tiers of scarcity.
Stephen Laroche is the editor of Beckett Basketball and Beckett Hockey magazines. Have a comment, question or idea? Send an e-mail to him at slaroche@beckett.com. Follow him on Twitter @Stephen_Laroche.