Hardcourt Hobby Heroes: Andrew Wiggins, Draymond Green & Jimmy Butler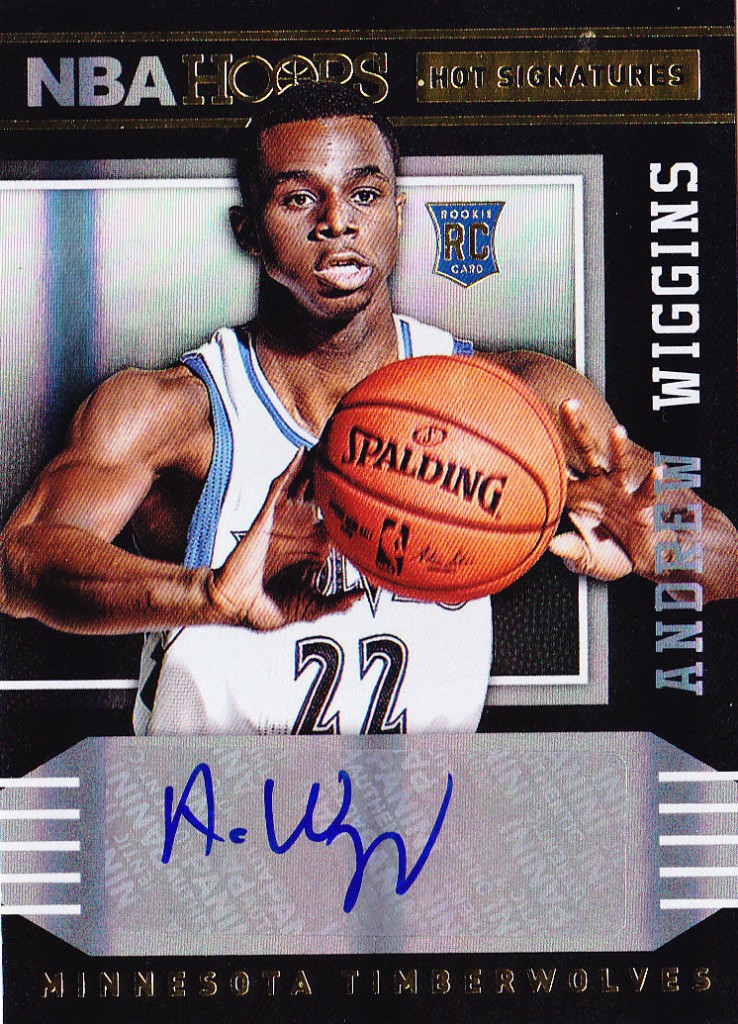 Each week, we will take a look inside the NBA and will give you the top three players of the week and provide a rundown on why collectors should take notice. Please feel free to leave your comments for a healthy debate!
By Derek Ficken | Beckett Basketball Analyst
Andrew Wiggins – SF, Minnesota Timberwolves
(Last 5 Games: 19.6 pts, 4.4 reb, .429 3-point percentage)
The No. 1 pick of this year's draft has certainly had his ups and downs throughout the first half of the season, not to mention changing teams. Wiggins has not disappointed NBA fans the least bit, most notably dropping a career-high 31 points in Saturday's win against the Denver Nuggets. He has finally come into his own in his rookie year and continues to impress fans and collectors alike. He is the obvious frontrunner to the Rookie of the Year, and we haven't even hit the half way point in the season yet. You would be lucky to find an autograph of his below $100, and signs are pointing up for this young kid. His average autograph is around $120, so if you really want to collect Wiggins, the time would be now to buy up and invest.
Key Cards To Collect
2014-15 Hoops Hot Signatures #66 ($200)
2014-15 Prestige Prestigious Premieres Signatures #PPAW ($150)
2014-15 Totally Certified Rookie Roll Call Autographs #RRCAW ($200)
Draymond Green – SF, Golden State Warriors
(Last 5 Games: 7.4 pts, 3.8 reb, 21.6 mpg)
The Warriors can attribute a lot of its early season success to this 2nd year man out of Michigan State. Green filled in nicely with early season injuries to All-Star David Lee and big man Andrew Bogut and posted numbers no NBA "expert" could have predicted. During his hot streak, he was posting double-doubles like it was going out of style, against teams like Toronto, Cleveland, and the Thunder. Collectors seem to have taken notice as his prices have gone through the roof on some of his key cards. With the return of Lee and Bogut, his stats will drop, but, collectors should stock up on Green's key cards, as he has made a name for himself to be a constant starter in the league for years to come! His autographs run somewhat cheap (i.e. 12-13 Panini Marquee Rookie Signatures at $5-$12), but expect to pay a little more for key cards in higher end sets. Good news though, don't expect his average autograph price to go past $50, as his position in the Warriors lineup looks to be towards a "journeyman" type, which doesn't translate in a high dollar amount.
Key Cards To Collect
2012-13 Panini National Treasures JSY AU/99 RC #156 ($150)
2012-13 Immaculate Collection JSY AU/99 RC #161 ($50)
2012-13 Exquisite Collection AU/199 #73 ($40)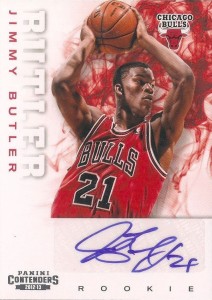 Jimmy Butler, SG, Chicago Bulls
(Last 5 Games: 15.2 pts, 4.4 reb, 3.8 ast)
Make no mistake, this 3rd year guy out of Marquette is the real deal. He will never be like MJ or even Scottie Pippen, but he will certainly turn heads throughout his career, whether it is in Chicago, or a city/team to be named later. He has strengthened his shot each year he has been in this league, and he continues to impress people, including myself, on how he can shine on a team with plenty of capable shooters like D. Rose, Joakim Noah, and Pau Gasol. His card values don't lie either as his prices have recently doubled in value over the past few months. Signs are pointing up for his young man to become a cornerstone for a team in the very near future. If you are a smart collector, you can find certain autographs at around $12-$30 like in 2012-13 Hoops, but hurry before he continues to shoot 20 points a night, because those prices will dwindle sooner rather than later.
Key Cards To Collect
2012-13 Immaculate Collection JSY AU RC #125 ($200)
2012-13 Panini National Treasures JSY AU/199 RC #127 ($700)
2012-13 Panini Contenders AU RC #254 ($80)