2015-16 O-Pee-Chee Platinum Hockey focuses on rookies and parallels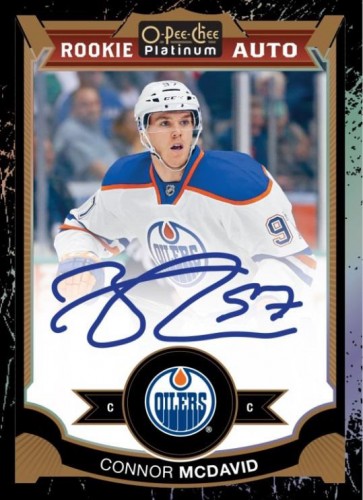 By Stephen Laroche | Beckett Hockey Editor
Back for a sophomore effort this season, 2015-16 O-Pee-Chee Platinum Hockey builds on its intriguing debut release with even more rookie and parallel power inside of packs.
Essentially a souped-up and shiny version of the traditional O-Pee-Chee set, there have been some minor changes made in order to satisfy collectors and certainly attract those who may have been reluctant to break some packs last year. The strong freshman crop in 2015-16 and on-card autographs are a couple of the primary focuses in 2015-16 O-Pee-Chee Platinum Hockey.
Get a fully sortable 2015-16 O-Pee-Chee Platinum Hockey checklist and price guide access.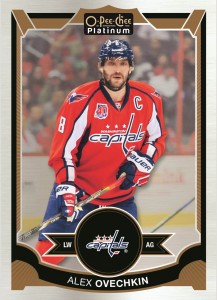 Base Set and Parallels
Like last year, there are 150 veteran players that are part of the 2015-16 O-Pee-Chee Platinum Hockey base set. A new twist has been added with 10 Legends of the Game and 30 Marquee Rookies. The smaller rookie card subset is an interesting idea as player selection is bound to be stronger and the set itself be smaller by 10 cards compared to 2014-15.
This release is truly the home of parallel madness as player collectors are sure to either cheer or curse the name of 2015-16 O-Pee-Chee Platinum Hockey. The chase begins with the Rainbow (1:5 for vets and rookies, 1:40 for Legends) and Traxx cards (1:10 and 1:160).
From there, the parallels bear serial numbers and scarcity becomes greater with color shifts like White Ice (/199 and /99), Red Prism (/149 and /75), Black Ice (/99 and /50), Blue Cubes (/75 and /35), Seismic Gold (/50 and /25), Purple (/25 and /15), and Emerald Surge (/10 for both). The scarcest parallels of all are the Golden Treasures that see only one copy printed for each player.
O-Pee-Chee Platinum Retro is back again this season, but this time, the design mimics that of the Retro cards packaged in the conventional O-Pee-Chee release instead of having a unique design of its own. A relatively easy pull at 1:5 packs, these cards have four different parallel editions called Rainbow (1:20), Gold Rainbow (/149), Orange Rainbow (/49), and Red Rainbow (/15). This is a partial parallel of the base set and there are 100 cards to collect. Upper Deck has also added a signed Blue Rainbow version to the mix with Rookie Retro Autos (1:200) and Legends & Vets Retro Autos (1:700).

Inserts
There are three different insert collections that have been announced for 2015-16 O-Pee-Chee Platinum Hockey and all of them are die-cuts. The easiest to pull are Team Logos (1:9) while Superstars are a bit more difficult to find at 1:37 packs. Trophied Talent (1:66) examines several award-winning players and it will be a greater challenge to locate them. While they combine to fall about three times per box, there are incredibly scarce autographed editions as well (Team Logos are 1:1,400, Superstars are 1:2,600, and Trophied Talents are 1:4,700).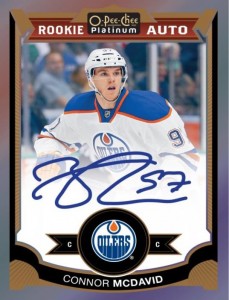 Autographs
The main focus of the autograph program here is, of course, Connor McDavid. By the time the product is released, he will be back in action for the Edmonton Oilers and there are likely to be several other Rookie Signatures that will be in demand. Collectors are certainly hoping to see some big names like Max Domi, Artemi Panarin, and Nikolaj Ehlers here, but they should remember that Jack Eichel will not be a part of this collection.
Basic Rookie Signatures cards appear once in every 45 packs on average, but there are many parallel versions to track down. The most desirable are the Rookie Auto Golden Treasures cards that are one-of-ones, but the other serial-numbered editions are Emerald Surge (/10), Purple (/15), Seismic Gold (/25), Blue Cubes (/35), Black Ice (/50), Red Prism (/75), White Ice (/99), and Traxx (/135). Rookie Auto Rainbow (1:140) will not be numbered.
See Also: 2015-16 O-Pee-Chee Platinum Hockey Autograph Short Prints
2015-16 O-Pee-Chee Platinum Hockey at a glance:
Packs per box: 20
Cards per pack: 4
Boxes per case: 16
Set size: 190 cards (including 30 rookies and 10 legends)
Release date: May 4, 2016
What to expect in a hobby box:
– 1 Autograph card
– 6 Parallels (colored, patterned or press plates)
– 5 Rainbow parallels
– 5 O-Pee-Chee Retro parallels
– 3 Die-cuts (Superstars, Team Logos, or Trophied Talents)
Stephen Laroche is the editor of Beckett Hockey, Beckett Basketball, and Beckett Sports Card Monthly magazines. Have a comment, question or idea? Send an e-mail to him at slaroche@beckett.com or follow him on Twitter @Stephen_Laroche.