2013-14 Fleer Retro Basketball Cards Details
Upper Deck is putting out 2013-14 Fleer Retro Basketball out in May with a new configuration.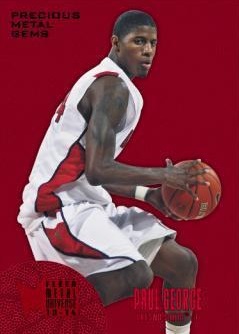 Each box will come with 18 packs and five cards in each pack. There will be two autographs in every box. Collectors will have a chance to find autographed buybacks.
The Fleer-branded inserts are some of the most popular cards from Fleer Retro. There will be four premium inserts in every box from the following list:
Precious Metal Gems (numbered to 150 or less)
Skybox Premium Star Rubies (numbered to 150 or less)
Maximum Metal (1:120)
Ultra Scoring Kings (1:120)
Skybox Premium Golden Touch (1:240)
Michael Jordan Career Highlights (1:80)
Fleer Team Leaders (1:60)
Final Four Stars (1:48)
Power in the Key (1:83)
Skybox Premium Meltdown (1:83)
Skybox E-Motion N-Tense (1:167)
Exclamation Points (1:240)
Ultra Star Power Supreme (1:240)
Upper Deck has included new players to appear on PMGs this season such as Paul George, Tim Hardaway Jr., Rajon Rondo and James Harden. The veterans and legends will appear on the 1995-96 design with rookies on the 1997-98 design.