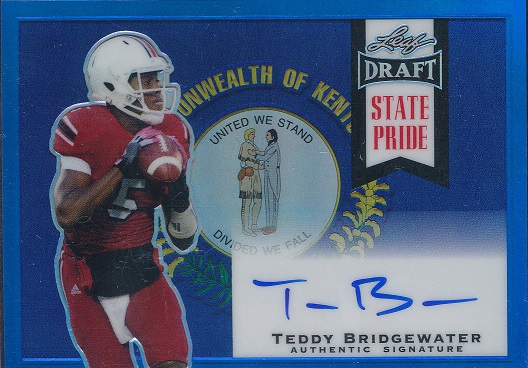 By Susan Lulgjuraj | Beckett Football Editor
That doesn't look like Teddy Bridgewater's autograph – that was the thought many had when seeing the former Louisville quarterback's signature in 2014 Leaf Metal Draft football.
The autograph was just two letters: "T" and "B" with two lines after each letter.
That looked nothing the signature he has maintained for the past couple of years where he signed nearly every letter of his last name.
However, Leaf CEO Brian Gray says that is indeed Bridgewater's new autograph, and will be his new sig moving forward. Gray had spoken to Bridgewater and his representative Abram Elam, who both said Bridgewater signed the Leaf Metal Draft cards.
"He started signing and realized there was no way he can do every  auto and accommodate every one in the time frame," Gray told Beckett Media on Friday. "He wants to have a consistent signature now. This is what he is going to sign."
Players like Bridgewater will sign thousands (likely more than 10,000) of autograph cards. For now, he's had to sign for Leaf, Press Pass, Sage and Upper Deck for pre-draft products, which are all scheduled to come out within the coming weeks. Then, it's on to Panini and Topps where he will have thousands more autographs to sign.
Below is a side-by-side image of Bridgewater's old autograph and the new one appearing in 2014 Leaf Metal Draft.

Susan Lulgjuraj is an editor at Beckett Media. You can email her here with questions, comments or ideas. Follow her on Twitter here. Follow Beckett Media on Facebook and Twitter.