First look: 2012 Topps UFC Bloodlines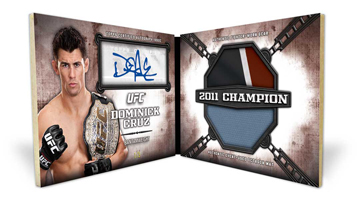 By Susan Lulgjuraj | Beckett Sports Card Monthly Editor
UFC is coming up on 20 years in the mixed martial arts world. In that time, hundreds of fighters have fought for the MMA company from dozens of countries. In fact, UFC airs in more than 150 countries and in 22 languages.
The company has an international appeal and not just for the fans. Fighters come from across the globe to participate in the largest MMA promotion company.
Topps is commemorating that international flavor with 2012 UFC Bloodlines, which highlights the heritage of athletes in UFC and Strikeforce.
The high-end product (pricing is not available yet) will feature pictures with fighters' names and home countries on the front of the cards.
There are 10 mini boxes in each display box and just one pack in each mini box. Each mini box contains two base cards, one parallel, one insert and one hit, and every box will have two relics, one jumbo of dual relic, one manufactured relic, three autographs and two autograph relics.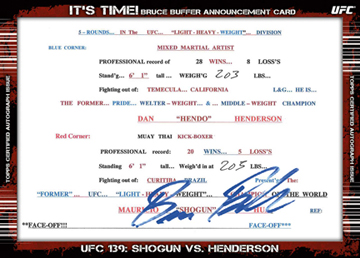 One of the highlights of Bloodlines will show up before the packs are ripped. Some lucky collectors will get special box toppers with Bruce Buffer's announcing cards, which are signed by Buffer. More than 100 of the cards are available.
The base cards will include 150 athletes, including a number of young fighters with promising futures. Parallels include Flags (numbered to 188), Black (numbered to 88), Red (numbered to 8), Platinum (numbered 1 of 1) and Printing Plates (1 of 1).
Along with base cards, parallels and inserts, 100 sketch cards will be included of fighters and personalities from UFC and Strikeforce.
The inserts include:
・ Bloodlines: 15 UFC and Strikeforce fighters highlighting their diverse nationalities.
・ Fighting Forefathers: A 10-card set with some of the earliest fighters.
・ The inserts also have Black (numbered to 88), Red (numbered to 8), Platinum (1 of 1) and Printing Plates (1 of 1) parallels
With one hit per mini box, the relics and autographs will be the highlights to Bloodlines.
The Fighter Relic Base Parallel features fighter worn shorts or shirts from 35 athletes, which are all numbered to 188. The Fighting Forefather Relics are a little harder to get. Just five fighters are in this insert containing fighter-worn gear, all numbered to 188.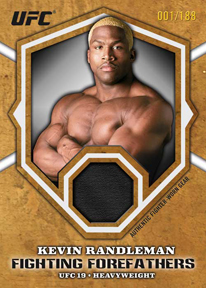 Parallels of these cards include Red (numbered to 8 ) and Platinum (numbered 1 of 1).
Thirty fighters will appear on Jumbo Fight Mat Relics – a piece of mat from which they fought (numbered to 88). Fighter Jumbo Relic Base Parallels highlight 40 fighters with jumbo-sized relics of fighter-worn shirts or shorts, which are numbered to 88.
Bloodlines Dual Relics will have 15 pairs of fighters who share a similar heritage. There will be fighter-worn shirt and shorts from each fighter and numbered to 88. Parallels of these include Red (numbered to 8), Platinum (numbered 1 of 1) and Printing Plates (numbered 1 of 1).
Manufactured Relics will also be placed in the product. International Airmail will pair 10 fighters with postage stamps from their country (numbered to 50). Patriotic Patches will pair 25 fighters with patches bearing symbols of their national heritage (numbered to 25).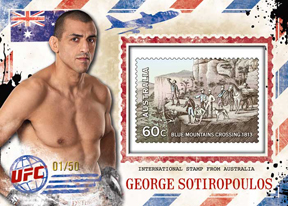 Autographs are always favorites of collectors, and Bloodlines has no shortage of autos.
More than 35 UFC and Strikeforce fighters have autographed versions of their base card. First-time signers will have "First Autograph Issue" stamped on them. Autographs parallels: Red (numbered to 8), Platinum (1 of 1) and Printing Plates (1 of 1).
Red Ink Autograph Parallels will feature 25 fighters who have signed their nicknames on cards numbered to 15. Five forefathers will also have autographs, which are numbered to 88. In addition, five fighters will sign Bloodlines Autographs, which are numbered to 88.
Some of the more rare autographs include International Incident Dual Autographs, Global Conflict Dual Autographs, Bloodlines Dual Autographs and Countrymen Quad Autograph Book Cards. There are five versions of each card, and all are numbered to five.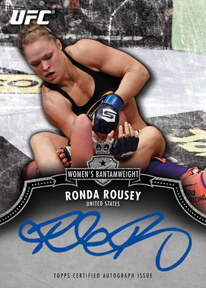 Well, what are autographs and relics if you can't combine them?
・ Bloodlines Dual Autographed Relic Cards: 10 pairs of fighters with autographs and relics from both players (numbered to 10)
・ Autographed Fight Mat Jumbo Relics: 20 subjects with autographs and a piece of mat from one of their fights (numbered to 25)
・ Autographed Patriotic Patch: 10 subjects with a manufactured patch and autograph (numbered to 99)
・ Bloodlines Fighter Autographed Relics: More than 30 fighters with an autograph and authentic worn item. Parallels include Red (numbered to 8), Platinum (1 of 1) and Printing Plates (1 of 1).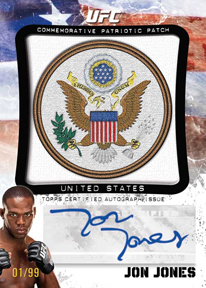 Book cards are included with only the top fighters: 2011 Champion Fighter Autograph Relic Book Card. All seven of the 2011 UFC Champions will have an autograph, fighter-worn relic and a mat relic booklet (numbered to 3).