First look: 2013 Topps UFC Knockout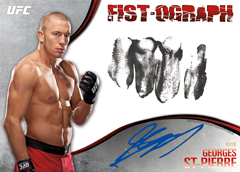 By Susan Lulgjuraj | Beckett Sports Card Monthly Editor
Fist-ographs made its debut in UFC Knockout last year. The autograph cards were so popular with collectors, it's back again in 2013 UFC Knockout.
The unique hit features an ink fist print of an MMA fighter along with their signature.
Topps doesn't stop there. There are two autographs, two autograph relics and four relic cards per eight-pack box. The Fist-ographs are box toppers.
Check out the extensive gallery below of 2013 UFC Knockout cards.
First the basics: 125-card base set with five parallels, including a Mat Parallel that features simulated mat stock. There is one parallel in every three-card pack.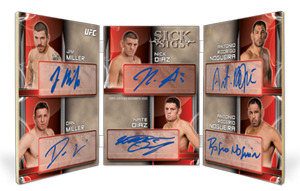 There are a number of different autograph subsets in UFC Knockout, including signatures from Brock Lesnar, Chuck Liddell, Anderson Silva, Dana White and Nick Diaz.
Notable Nicknames is one of the more amusing autograph subsets. The UFC fighter has signed his or her nickname such as "Uncle Creepy." There are about 20 cards in this subset, which some collectors will enjoy.
Topps also has combo autographs. A number of cards will have three signatures from fighters with commonalities. The SickSigs Autograph Book Card will feature six athletes on a tri-fold book card.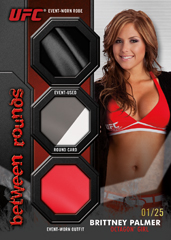 The relic cards contain pieces of fight-used mats from UFC or Strikeforce events, fighter-worn shirts or shorts and other gear.
Octagon Girls get special attention in UFC Knockout. Relic cards featuring these women will contain pieces of their outfit, round cards and robes.
Topps is also keeping with the tradition of getting the chance to get signed memorabilia. Collectors can pull one of 30 redemptions for a signed UFC glove.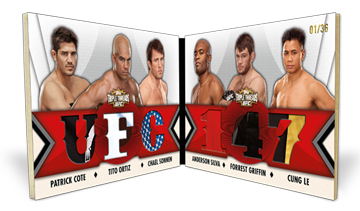 UFC Knockout gets the Triple Threads treatment, relic cards spelling out nicknames, catchphrases or important milestones from fighters such as Urijah Faber and Nick Diaz. There are Triple Threads booklets with as many as six fighters.
Other booklets include Triple Threads Glove Patch Cards with three swatches from a fighter-worn glove and a jumbo swatch patch piece. There are also autographed versions of these cards.
UFC Knockout is schedule to release in late February.
Susan Lulgjuraj is the editor of Beckett Sports Card Monthly. You can email her here with questions, comments or ideas. Follow her on Twitter here.