Cool cards, cool prices: Five memorabilia cards that won't break the bank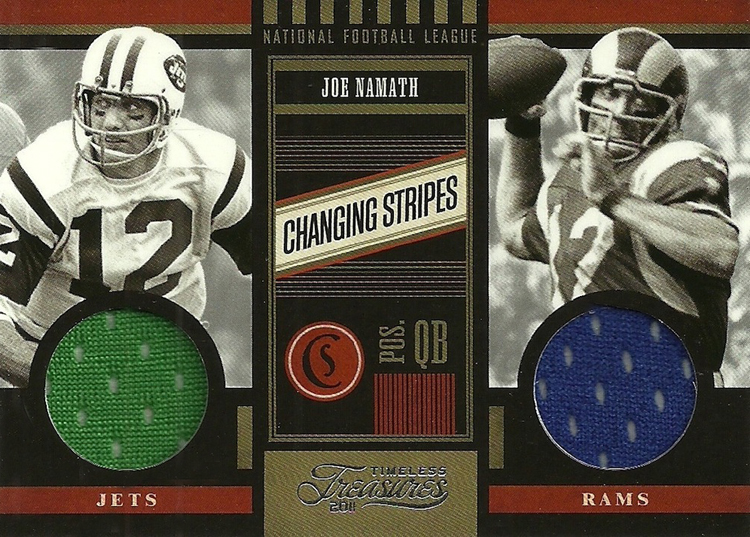 By Chris Olds | Beckett Sports Card Monthly Editor
We all know that not all game-used memorabilia cards are made alike.
After all, there only so many patches or tags on a uniform and there's not an endless supply of certain players' jersey swatches to go around – no matter how long they play or whether they are Sabathia-sized.
But memorabilia cards can be cool without being expensive, too, and here are five memorabilia cards that will cost you far less than $100 to own. In fact, $100 or less will get you all of them … and you'll probably have a few bucks left over for a few more mem cards – or maybe even a CC-style lunch.
Chasing Joe Willie
2011 Timeless Treasures Changing Stripes #14 Joe Namath /249, $25 (or less)
If you collect members of the Pro Football Hall of Fame or legendary quarterbacks, it's pretty much a guarantee that you have a Joe Namath game-used jersey card in your stash. What you might not find? A Namath card with a Los Angeles Rams jersey, and that's where he finished his career with a one-year stop in 1977. This card? It has both.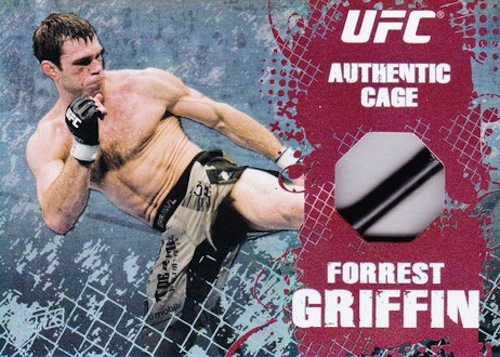 Get In The Cage
2010 Topps UFC Main Event Cage Relics #CRFG Forrest Griffin, $20 (or less)
Whether you're interested in UFC or other MMA organizations, there's no doubting the uniqueness that is the Octagon, the cage that the fighters compete in. While the steel cage has been around for decades in pro wrestling, there aren't any memorabilia cards for that essential. In UFC and this set from Topps in 2010, there is – and they are pretty plentiful.
—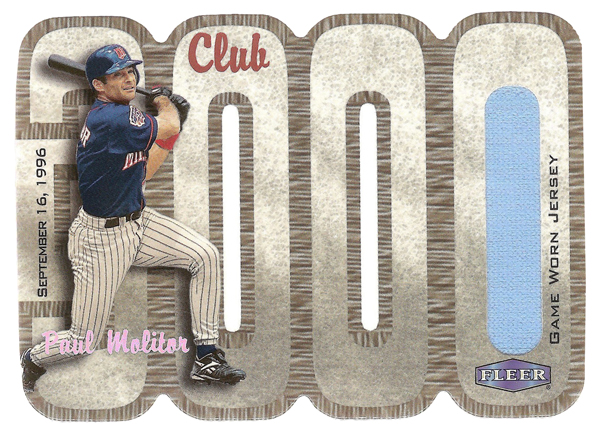 Unique In Its Time … Maybe Still Today
2000 Fleer Club 3000 Memorabilia #PM3 Paul Molitor Jersey /975, $10 (or less)
A diecut card of an elite-level player with an unusually shaped memorabilia swatch – and a cool color – should be enough to entice collectors. This insert celebrated some of the best players to reach 3,000 hits or strike out 3,000 opposing batters. They're not all that rare – which might explain the price – but you don't exactly see them languishing in game-used boxes out there often, either.
—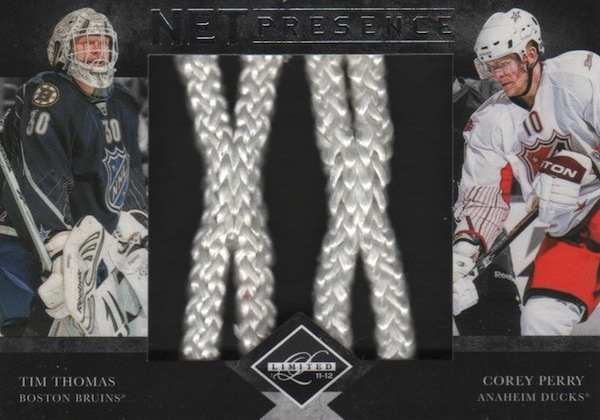 Still Unusual … Even Now
2011-12 Limited Net Presence Memorabilia #9 Tim Thomas/Corey Perry /99, $30 (or less)
The net is a simple presence at each and every NHL game – and is in the NBA too – but for some reason we just don't see enough of them cut up and put into cardboard. You'd see more but each of the cards in this set shows a pretty generous piece – and they're relatively affordable despite there being a lot of big names in the set. (This is one of the cheapest cards.)
—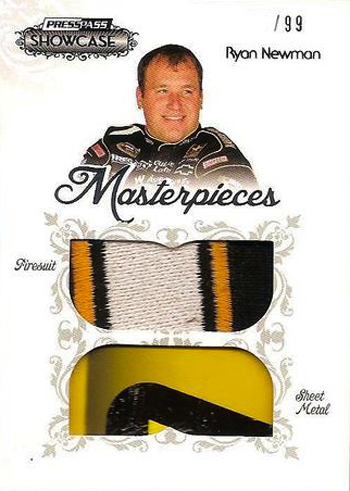 Automotive Affordability
2012 Press Pass Showcase Masterpieces Memorabilia #MPRN Ryan Newman /99, $15 (or less)
There has been a lot more high-end NASCAR memorabilia made the last few years – and it's always been a sport that offers a bit more opportunity for prime patches on cards. But the Press Pass Showcase Masterpieces are very, very affordable despite some seriously interesting possibilities on the memorabilia side. Newman is an affordable driver but even bigger names can be found with enticing prices.
How would you spend $100 on just memorabilia cards? Tell us in the comments below …

Chris Olds is the editor of Beckett Sports Card Monthly magazine. Have a comment, question or idea? Send an email to him at colds@beckett.com. Follow him on Twitter by clicking here.