Fanatics Collectibles Launches zerocool Brand to Explore Culture Through Trading Cards
zerocool is a new trading card brand from Fanatics Collectibles that is embracing a unique focus and distribution approach for its products.
Culture will be key in all zerocool products. That will be the underlying theme in every release they put out.

"It's all the important people in our lives —musicians, actors, fashion designers, artists, philanthropists, business people, politicians and all the brands that matter," said Josh Luber, Fanatics Collectibles co-founder and Chief Vision Officer. "It's truly about culture, not just about individual commercial products like traditional IP is."
A zerocool set could be an entertainment property, but it could just as easily be fashion, art or history.
Or it be a trading card adaptation of an NFT line.
Such is the case with zerocool's first release, which is a collaboration with VeeFriends, Gary Vaynerchuk's NFT collection.
Going Dutch
For all zerocool products, collectors will ultimately be the ones determining the price. At release, all will follow a Blind Dutch Auction format. It's that same one Luber used with 2019 Bowman Chrome X when he was CEO at StockX.
Whenever a new set launches, collectors determine what they're willing to pay on a zerocool box and submit a bid. Once the sales period ends, all offers are compiled. The clearing price is then determined by the lowest qualifying bid.
Say there are 1,000 boxes of a product and 1,500 bids. If all those bids were ranked from highest to lowest, the 1,000th highest is the clearing price. That's what everyone pays. Those who bid more still pay the same price as everyone else.
"This is the most fair way to sell any high-demand product but certainly for trading cards," Luber said. "Everyone has the same fair chance to get it and you let the market set the price."
The format is different from the one that Panini has been using for many of their online releases. They start out at the highest price and drop it at regular intervals. Collectors can jump in at any time while it's available. With this structure, prices can vary — sometimes by large amounts.
For zerocool, the initial price the same for all.
Luber said, "Everyone pays the same amount for the same product at the same time."
This structure will be part of all of the brand's trading card products.
zerocool VeeFriends
The first zerocool product, VeeFriends, is a premium set of trading cards that are on thick stock and include foil stamping. The checklist has more than 200 cards with additional chase elements including autographs and even sketch cards.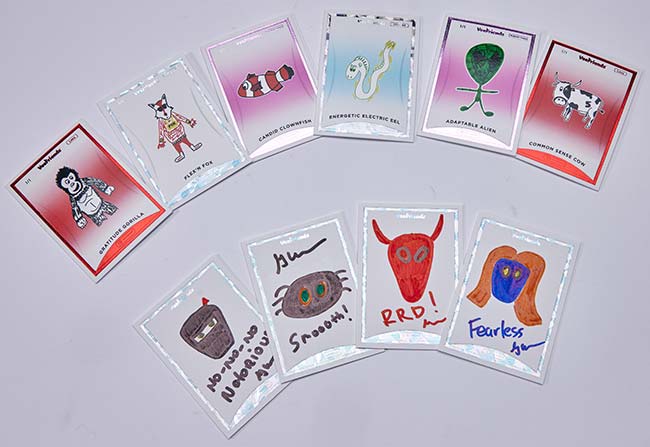 "VeeFriends, Gary, NFTs are the perfect example of an unbelievably important and impactful part of culture that, a year ago, no one would've talked about," Luber said. "That's kind of the beauty of it. We get to create and launch the whole company on one of the most important parts of culture at this exact moment and reflect that as a historical record."
Bidding for the Blind Dutch Auction is open now on the zerocool website and closes on Thursday, March 10 at 9 PM EST.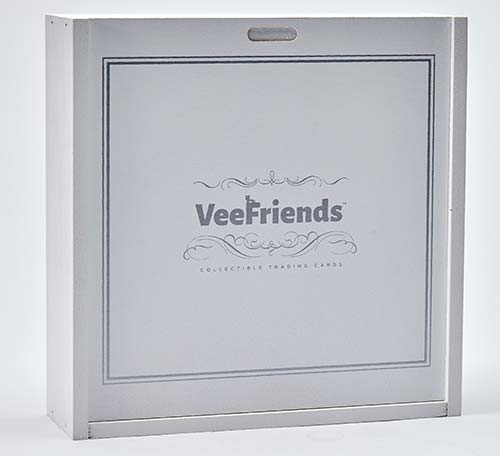 What About Topps' Entertainment Licenses?
With Fanatics Collectibles now owning Topps, some might be wondering what the launch of zerocool means to existing entertainment properties. For longstanding lines, likely nothing. Topps will continue to create entertainment products.
When it comes to launching new licenses and collaborations, though, it will depend.
Luber pointed to the Lil Wayne set that Topps did in 2021, saying that it would have probably been a better fit for zerocool if they were doing it now.
But Star Wars and Garbage Pail Kids will continue to be Topps products.
"Because Star Wars has been with Topps since 1977, it's highly unlikely that we would move that branding away," Luber said.
He did suggest that there could be times where characters crossover to a zerocool product if it's appropriate. The example he gave was if they were doing a product about important figures from a particular city or place, a Garbage Pail Kid might make the checklist, but only as a cameo, not as an entire brand shift.
Waking the Giant
Outside of traditional entertainment sets like TV and movies, Luber believes that culture in trading cards has been overlooked. It's also a big reason why many culture-driven cards have been exploding in both popularity and price in recent years. He points to the Jay-Z cards Topps put out in their 2005-06 basketball products or the handful of Kim Kardashian cards that exist.
"There hasn't been a company fully dedicated to it," he said. "It's harder. In sports you [usually] only need two licenses to make cards. For culture to make sense, it's much more complicated. Every set you have to go out and figure out what licenses you need."
When asked what his dream project would be for a culture-driven set of trading cards, Luber looked to designer Virgil Abloh. "He just touched on so many different parts of culture. He was an architect by trade and did all sorts of interesting things there. He then created clothing for all different brands from Nike to Louis Vuitton," Luber said.
Luber was tight-lipped on specifics as to future zerocool products.
"Everything will be a surprise until it's time to start talking about it."