2021 Pro Set Baseball Checklist and Details
When you click on links to various merchants on this site, like eBay, and make a purchase, this can result in this site earning a commission.
2021 Pro Set Baseball is a product that can evoke some nostalgia while looking to the future and maintaining an affordable price point.
Packaged in a blaster format, the general configuration is a simple one. Each box has a pair of components. The first is a 50-card base set. To this end, boxes are like a factory set.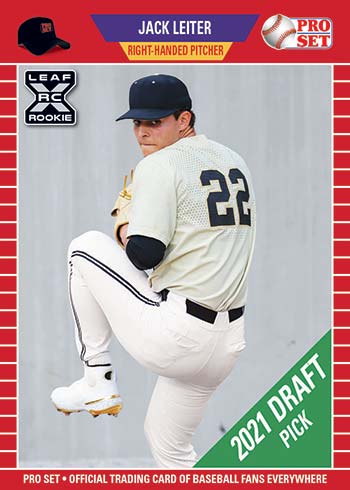 Also inside each blaster but packaged on their own are three autographs.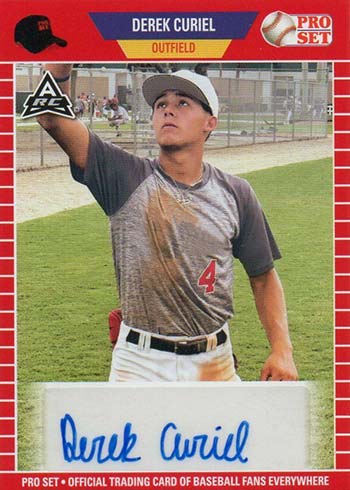 Both the base set and the autographs have Green parallels as well.
The set reaches into the brand's past. Cards mimic the original 1989 football design. As far as players go, the checklist includes draft picks and players working their way through the minors.
For collectors looking for only autographs and a more premium configuration, Leaf also has 2021 Pro Set Metal.
2021 Pro Set Baseball cards at a glance:
Cards per box: 53
Boxes per case: 20
Set size: 50 cards
Release date: March 8, 2022
Shop for 2021 Pro Set Baseball boxes on eBay:
What to expect in a blaster box:
50-Card Set
Autographs – 3
2021 Pro Set Baseball Checklist
You can also download a customizable spreadsheet copy of the checklist:
Please note that print runs for cards without serial numbers have not been announced.
Base
Base Set Checklist
50 cards.
Parallels:
PS01 Adley Rutschman
PS02 Bobby Witt Jr.
PS03 Brett Baty
PS04 Cristian Hernandez
PS05 Grayson Rodriguez
PS06 Jasson Dominguez
PS07 Jordan Walker
PS08 Luis Matos
PS09 Marco Luciano
PS10 Mick Abel
PS11 Nick Gonzales
PS12 Noelvi Marte
PS13 Nolan Gorman
PS14 Orelvis Martinez
PS15 Oswald Peraza
PS16 Riley Greene
PS17 Robert Hassell
PS18 Triston Casas
PS19 Zac Veen
PS20 Andrew Painter
PS21 Benny Montgomery
PS22 Blaze Jordan
PS23 Brady House
PS24 Bryan Acuna
PS25 Colson Montgomery
PS26 Colton Cowser
PS27 Frank Mozzicato
PS28 Gabriel Moreno
PS29 Gunnar Hoglund
PS30 Harry Ford
PS31 Hedbert Perez
PS32 Jack Leiter
PS33 Jackson Jobe
PS34 Jairo Pomares
PS35 Jordan Lawlar
PS36 Jordan Wicks
PS37 Jose Miranda
PS38 Jose Rodriguez
PS39 Jose Salas
PS40 Kahlil Watson
PS41 Marcelo Mayer
PS42 Matt McLain
PS43 Michael Harris II
PS44 Oscar Colas
PS45 Owen Caissie
PS46 Sal Frelick
PS47 Sam Bachman
PS48 Trey Sweeney
PS49 Will Bednar
PS50 Wilman Diaz
Autographs
2021 Pro Set Baseball Checklist – Autographs
Autographs Checklist
144 cards.
Buy on:
Parallels:
PS-AA2 Andrew Abbott
PS-ADC Adrian Del Castillo
PS-AG1 Anthony Gutierrez
PS-AH1 Alejandro Hidalgo
PS-AJS AJ Smith-Shawver
PS-AM1 Angel Martinez
PS-AP1 Andrew Painter
PS-AS1 Anthony Solometo
PS-AV1 Alexander Vargas
PS-AV2 Alexander Vizcaino
PS-AZ1 Aaron Zavala
PS-BA1 Bryan Acuna
PS-BB1 Brett Baty
PS-BB2 Brendan Beck
PS-BC1 Bubba Chandler
PS-BH1 Brady House
PS-BJ1 Blaze Jordan
PS-BK1 Ben Kudrna
PS-BM1 Benny Montgomery
PS-BR1 Brayan Rocchio
PS-BS1 Brock Selvidge
PS-BWJ Bobby Witt Jr.
PS-CC1 Colton Cowser
PS-CC2 Cameron Cauley
PS-CH2 Cristian Hernandez
PS-CJ1 Carter Jensen
PS-CK1 Cooper Kinney
PS-CM1 Cody Morissette
PS-CM2 Colson Montgomery
PS-CP1 Chase Petty
PS-CS1 Cristian Santana
PS-CW1 Carson Williams
PS-DC1 Derek Curiel
PS-DG1 Drew Gray
PS-DL1 Daylen Lile
PS-DN1 Doug Nikhazy
PS-DS1 Dylan Smith
PS-EG1 Eduardo Garcia
PS-EL1 Eddys Leonard
PS-ES1 Eric Silva
PS-EW1 Ethan Wilson
PS-FM1 Frank Mozzicato
PS-GH1 Gunnar Hoglund
PS-GM1 Gabriel Moreno
PS-GR1 Grayson Rodriguez
PS-GW1 Gavin Williams
PS-HF1 Harry Ford
PS-HP1 Hedbert Perez
PS-IC1 Irving Carter
PS-IL1 Ian Lewis Jr.
PS-IP1 Izaac Pacheco
PS-JA1 Jay Allen
PS-JB1 Joshua Baez
PS-JB2 Jose Butto
PS-JD1 Jasson Dominguez – Redemption
PS-JF1 Jake Fox
PS-JF2 Jesse Franklin
PS-JH1 Jaden Hill
PS-JJ1 Jackson Jobe
PS-JL1 Jack Leiter
PS-JL2 Jordan Lawlar
PS-JM1 Joe Mack
PS-JM2 Jordan McCants
PS-JM3 Jose Miranda
PS-JP1 Jairo Pomares
PS-JP2 Jose Perdomo
PS-JQ1 Jeferson Quero
PS-JR1 Jose Ramos
PS-JR2 John Rhodes
PS-JR3 Joe Rock
PS-JR4 Jose Rodriguez
PS-JS1 Jose Salas
PS-JT1 James Triantos
PS-JV1 Jake Vogel
PS-JV2 Jordany Ventura
PS-JW1 James Wood
PS-JW2 Jordan Wicks
PS-JW3 Jordan Walker
PS-KB1 Ky Bush
PS-KW1 Kahlil Watson
PS-LM2 Luis Matos
PS-LW1 Lonnie White
PS-MA1 Mick Abel
PS-MA2 Miguel Amaya
PS-MB1 Maddux Bruns
PS-MB2 Mitchell Bratt
PS-MH1 Michael Harris II
PS-ML1 Marco Luciano
PS-MM1 Manuel Mercedes
PS-MM2 Matt McLain
PS-MM3 Max Muncy
PS-MM4 Michael McGreevy
PS-MM5 Michael Morales
PS-MM6 Matt Mikulski
PS-MM7 Marcelo Mayer
PS-MN1 Mat Nelson
PS-MS1 Mitch Spence
PS-NG1 Nolan Gorman
PS-NG2 Nick Gonzales
PS-NM1 Noelvi Marte
PS-NM2 Noah Miller
PS-OC2 Oscar Colas
PS-OM1 Orelvis Martinez
PS-OM2 Orlando Martinez
PS-OP1 Oswald Peraza
PS-PH1 Peter Heubeck
PS-PP1 Pedro Pineda
PS-PW1 Peyton Wilson
PS-RC2 Ryan Cusick
PS-RC3 Roberto Campos
PS-RG1 Riley Greene
PS-RG2 Robert Gasser
PS-RH1 Robert Hassell
PS-RH2 Ryan Holgate
PS-RP1 Robert Puason
PS-RP2 Reginald Preciado
PS-RS1 Russell Smith
PS-RS3 Ryan Spikes
PS-RT1 Reed Trimble
PS-SB1 Sean Burke
PS-SB3 Sam Bachman
PS-SF1 Sal Frelick
PS-SH1 Steve Hajjar
PS-SM1 Samuel Munoz
PS-SM2 Simon Muzziotti
PS-SO1 Shohei Ohtani
PS-SS1 Spencer Strider
PS-SS2 Spencer Schwellenbach
PS-TB1 Tyler Black
PS-TC1 Triston Casas
PS-TM1 Ty Madden
PS-TM2 Tommy Mace
PS-TM3 Tanner McDougal
PS-TM4 Tyler McDonough
PS-TS1 Trey Sweeney
PS-TT1 Tahnaj Thomas
PS-TW1 Tyler Whitaker
PS-VM1 Victor Mesia
PS-WB1 Will Bednar
PS-WB2 William Bergolla
PS-WD1 Wilman Diaz
PS-WK1 Wes Kath
PS-YS1 Yolbert Sanchez
PS-ZG1 Zack Gelof