2017-18 Panini Court Kings Basketball Checklist Consists of Cardboard Works of Art
By Stephen Laroche
No other NBA release coming from Panini America this season should have the same artistic feel and spirit as 2017-18 Panini Court Kings Basketball and you do not have to be an art expert to appreciate the beauty of the cards inside each box.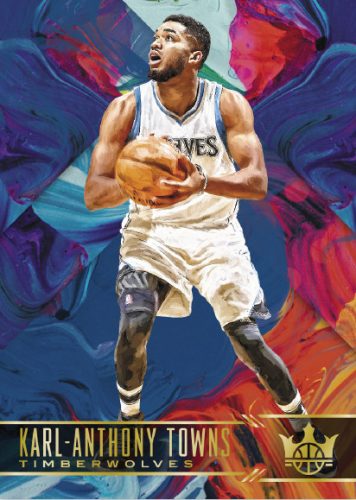 An autograph and a memorabilia card is inside each box along with two rookies and a box topper.
Base Set
With vivid and bright designs, the 2017-18 Panini Court Kings Basketball base set is something to behold. In previous years, the cards were printed on canvas-like stock and featured gold foil accents — a trend that continues.
Each box is going to have a pair of rookie subset cards inside and there are four levels to collect that are based on scarcity.
Inserts and Box Toppers
Panini always brings some great insert concepts to life in each Court Kings release and the 2017-18 edition is no exception to that trend. There is one insert inside each box from a list that include such themes as Points in the Pain, Emerging Artists, and Blank Slate.
Aurora returns as a short print case hit. The tough-to-find Le Cinque Piu Belle from previous years has been replaced with another set which is called Dieci Migliore that features ten of the world's best basketball players.
Each box of 2017-18 Panini Court Kings Basketball also contains an over-sized box topper card that measures 5″x7″. Some are autographed with a roster than includes big names like Kobe Bryant, Kevin Durant, Kyrie Irving, Damian Lillard, and Karl-Anthony Towns.
Autographs and Memorabilia
With both and autograph and memorabilia hit per box, expect to find names from the past and present on cards which stand out visually.
Art Nouveau returns for another season. With parallels, these come is a few different versions including Jumbo Nameplates.
As for the autographs, there is a strong rookie focus in Fresh Paint that are signed on-card. Fresh Paint Duals are even more impressive as a pair of freshmen are in the spotlight. Heir Apparent also features the 2017 class.
2017-18 Panini Court Kings Basketball at a glance:
Packs per box: 1
Cards per pack: 10
Boxes per case: 16
Set size: 232 cards
Release date: December 6, 2017
What to expect in a hobby box:
• Autographs – 1
• Memorabilia Cards – 1
• Inserts – 1
• Rookie Cards – 2
• Box Toppers – 1
2017-18 Panini Court Kings Basketball Checklist
Base
Autographs
Memorabilia
Inserts
Team Sets
Stephen Laroche can be found on Twitter @Stephen_Laroche.