2016-17 Panini Threads Basketball Checklist and Team Set Lists
Fans of one of Panini America's long-running brands are about to find it at their hobby shop once again with the release of 2016-17 Panini Threads Basketball.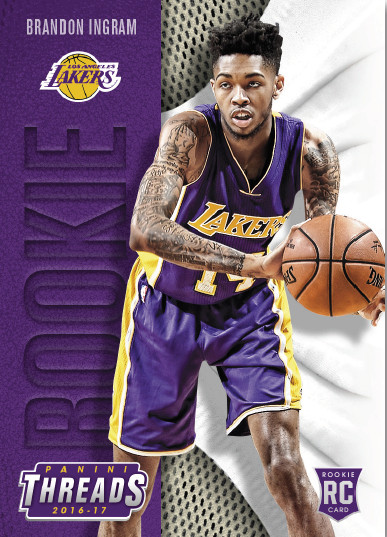 Last year, Threads was exclusive to Target stores. Its return to traditional card stores will include one autograph and one memorabilia card per box along with a pair of Leather Rookies that are exclusive to hobby packs.

Base Set and Inserts
The 2016-17 Panini Threads Basketball base set features the top names from the NBA. Collectors can look for 50 different base rookies as well along with 30 Leather Rookies which are seeded once in every 10 packs and printed on simulated leather card stock.
As for inserts, 2016-17 Panini Threads Basketball has a wide selection that is made up of 10 different collections. Early promotional information listed a pair of inserts, including Team Threads Die Cuts that are shaped like a player's jerseys and have both veteran and rookie signed versions. Century Stars will be the one that many are chasing, though, since they are seeded just once per case. Each box of Threads will feature 18 insert cards.

Autographs and Memorabilia
The autograph program in Threads begins with Signage, which turns the focus on veteran talent. For fans of the freshmen, there is Rookie Signage. NBA Legends Ink should also get plenty of attention. All three of those sets have Gold Proofs and Platinum Proofs.
Hobby packs of 2016-17 Panini Threads Basketball will potentially contain memorabilia cards from sets such as Authentic Threads, Debut Threads, and Century Collection Materials. Each of these sets will also have a highly sought-after Prime parallel (/25 or less).
2016-17 Panini Threads Basketball at a glance:
Packs per box: 20
Cards per pack: 6
Boxes per case: 20
Set size: 187 cards
Release date: May 17, 2017
What to expect in a hobby box:
– two Leather Rookies
– one memorabilia card
– one autograph card
– 18 inserts
2016-17 Panini Threads Basketball Checklist
Base
Autos
Memorabilia
Inserts
Team Sets
Stephen Laroche can be found on Twitter @Stephen_Laroche.