"Day with the Cup" insert back in 2011-12 Upper Deck Hockey Series 2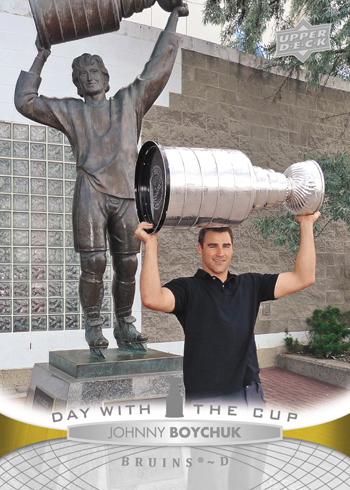 By Susan Lulgjuraj | Contributing Editor
One of the popular inserts from the first installment of 2011-12 Upper Deck Hockey is back for Series 2.
The card company worked with members of the Hockey Hall of Fame to get pictures of the Stanley-Cup winning Boston Bruins as they enjoyed their day with the Cup.
No hot tubs this time, but several of the Bruins took the Stanley Cup to interesting places. Series 2 features 11 new additions to join the 14 subjects from Series 1.
Some of the more interesting cards include Mark Recchi, who took his cup on the back of a horse, Johnny Boychuk emulating The Great One and Tim Thomas, who has a lot of hardware on a boat. Hopefully, he didn't use one of those trophies as an anchor.
Steve Kampfer brought the Cup back to Michigan, where he played in college, and Andrew Ference took his little baby on a bike tour.
These cards are difficult to pull with the odds appearing at 1:1000 for hobby, 1:2,500 in retail and 1:5,000 in blaster packs.
Susan Lulgjuraj is a contributing editor for Beckett Media. You can email Susan here. Follow her on Twitter here.