UD offers promo pack at Stanley Cup Finals game 4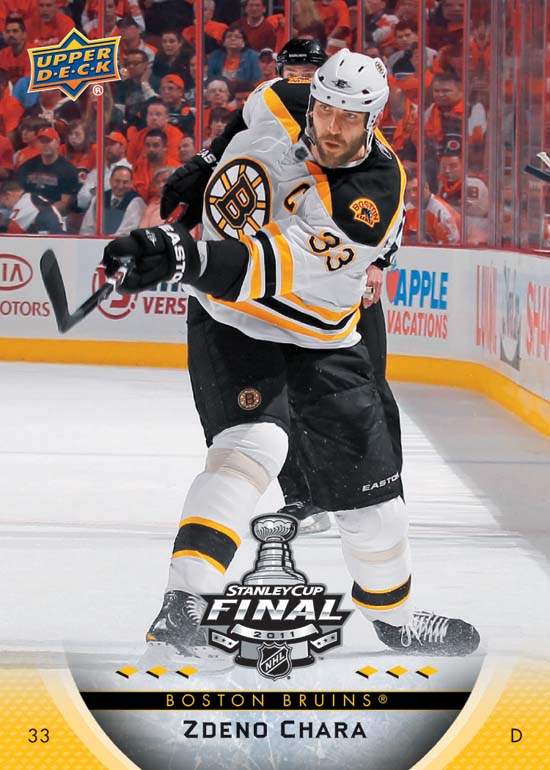 By Andrew Tolentino | Hockey Editor
Adding to its recent promotional efforts in the Stanley Cup Finals, Upper Deck announced yesterday yet another opportunity for attendees in Boston tomorrow night.
The hockey-hearted manufacturer will be handing out free promo packs on Wednesday's game four to all attending fans. Now, whether or not the recipients will be fans of the Bruin-centric pack is another thing.
Transplanted Canuck constituents  at TD Garden could use the cards for hexing purposes while home team supporters can further savor the occasion.
Each pack consists of:
Five Bruins — Milan Lucic, Brad Marchand, Tim Thomas, Patrice Bergeron and Zdeno Chara
One "Stanley Cup Memorable Moments" card
One checklist card
One "History You Can Hold" card — featuring Upper Deck's forthcoming Stanley Cup Championship box set
Randomly inserted chase elements include:
Five different "Stanley Cup Memorable Moments" cards featuring Ray Bourque, Wayne Gretzky, Patrick Kane, Bobby Orr and Alex Ovechkin (one per pack)
"Instant Winner" cards — redeemed for prizes at the Upper Deck booth during the game
"These cards will be a great way for fans to commemorate this exciting event. In addition, we are giving fans the opportunity to create their very own personalized trading cards while they are at the arena, all courtesy of Upper Deck," said the company's Director of Marketing Jodi Wasserman.
Upper Deck will be operating its P-Card Station on location, giving fans an opportunity to create custom Stanley Cup cards with personal photos.