Head of Beckett Grading Responds to Dak Prescott Panini Autograph Card Recall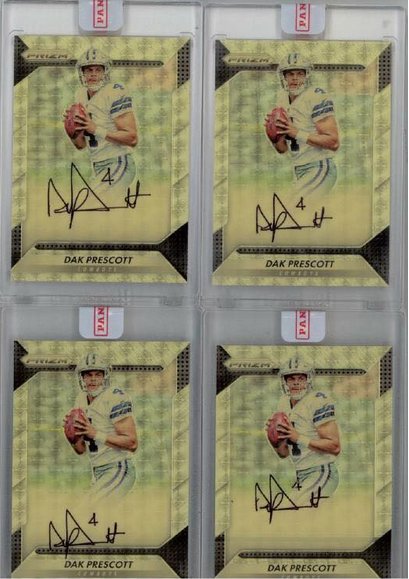 By Ryan Cracknell | Hobby Editor
Some inconsistencies with Dak Prescott's signatures in the 2016 Panini Prizm Football caused them to be flagged by the Beckett Grading staff and now some in transit to collectors have been recalled by the card maker.
When the first 2016 Panini Prizm Dak Prescott autographs were received by BGS, staff noticed that something was off as the cards appeared to have been signed by an autopen or some form of mechanical means. Beckett Authentication's Steve Grad noticed inconsistencies as well and the problem was brought to the attention of Panini.
In the following days, collectors who previously received notifications that their Dak Prescott autographs were on the way had their packages recalled by Panini before they arrived. These cards were being mailed because they were inserted in packs as redemptions.
"We were excited as the first wave of Dak Prescott autographed redemption cards started to come into the office but quickly noticed the autographs didn't match up to what we had seen in the past," said Jeromy Murray, Vice President, Beckett Grading & Authentication Services. "We know that autographs are not always going to look the same but these just didn't look right to us so we had our autograph authentication guys (BAS) take a look at the signatures.
"They quickly agreed that these did not look like authentic Dak Prescott signatures. The signatures looked to be from an autopen machine, simply based on the uniformed, non-flowing look we have seen from authentic Dak signatures in the past. We alerted the team at Panini America immediately so they could address it with Dak's representatives and the NFL Players Association."
Grad has also addressed the in-question autographs with ESPN's Darren Rovell.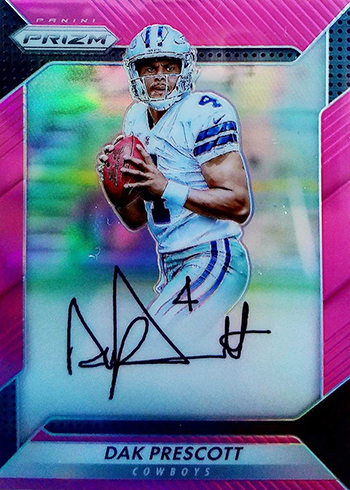 Currently, not many of the affected cards have made their way to the secondary market. A limited number of Gold Vinyl and Pink parallels, plus a couple of dual-signed cards with other players are the ones drawing attention. The extent of the issue is not yet known. Cards signed earlier in the season appear to have no issues.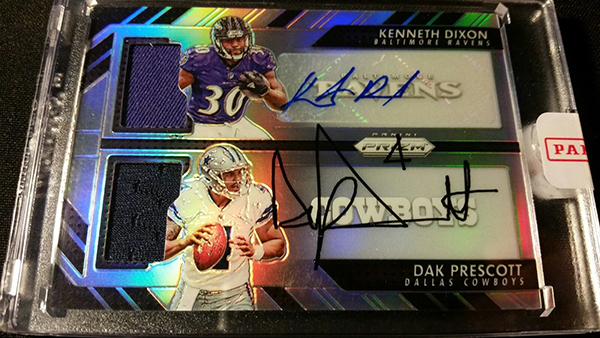 This is the second time in recent months that football players have submitted autographs to Panini that have come into question. In early May, the card maker recalled Takkarist McKinley autographs from 2017 Elite Draft Picks and 2017 Panini Contenders Draft Picks after it was discovered he didn't sign all of the autographs himself.
We have reached out to Panini and will update when we hear back from them. Karen Austin, the Assistant Vice President of Licensing at the NFLPA had no comment on the situation at this time.
Comments? Questions? Contact Ryan Cracknell on Twitter @tradercracks.