Cheap Wax Wednesday Box Breaks: 1991 Action Packed Football
When you click on links to various merchants on this site, like eBay, and make a purchase, this can result in this site earning a commission.
Action Packed started releasing football sets with a small test issue set in 1989. They continued releasing full football products from 1990 to 1997. In addition to the regular set they also produced some additional releases including Action Packed All-Madden ('90-'94), Action Packed Monday Night Football ('93-'95) and Action Packed Rookie Update ('90-'92).
Now that I have said that, I really need to try to track down some of these other boxes. All can typically be found pretty cheap, and this box of 1991 Action Packed Football was no exception.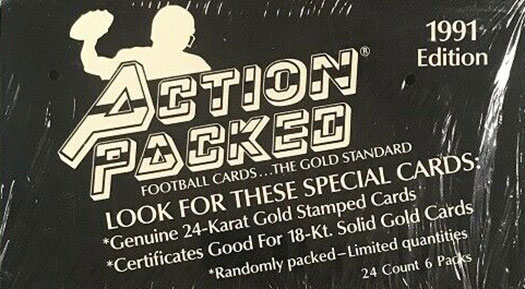 The 1991 set includes 280 base cards. While the hobby release has just the 280 base cards, a factory set was available that also included eight cards featuring braille on the backs.
All of the base cards feature gold foil accents and a raised or "sculptured" player on the front. As a parallel set, some cards were randomly inserted featuring genuine 24-karat gold stamping. Unfortunately I haven't been able to track down the pack odds for these).
To add some excitement, Action Packed also inserted 19 certificates that could be exchanged for 18-karat solid gold cards of Randall Cunningham. It has been reported that the first two solid gold exchange cards were delivered to the finders by armored truck.
1991 Action Packed Football Box Break
Cards per pack: 6
Packs per box: 24
Price paid: $9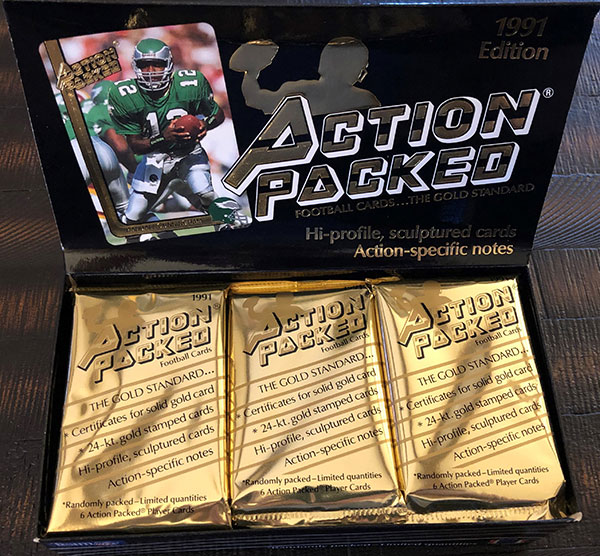 Pack 1 highlights:
Really no notable names to be found in the first pack, but here is a good look at the card design.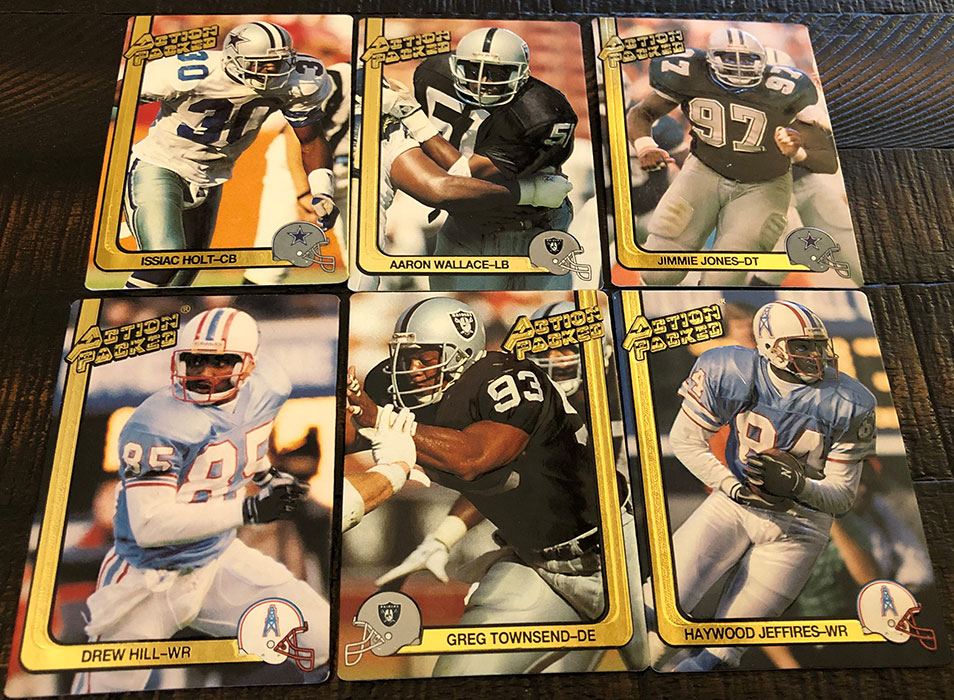 Pack 2:
Jerry Rice (check out the look on his face) & Ken Norton, Jr.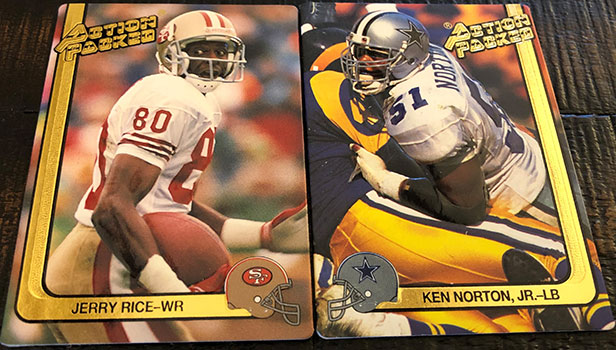 Pack 3:
A couple of kickers; Steve Christie & Pat Leahy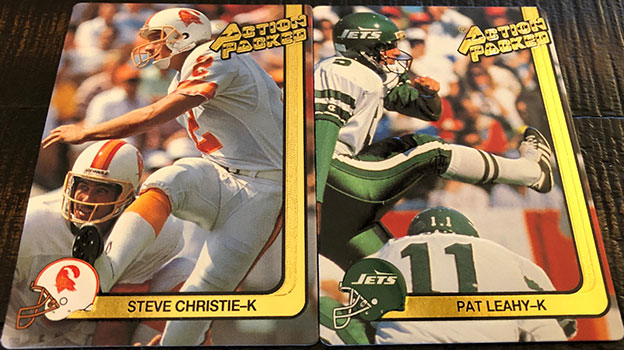 Pack 4:
2001 Pro Football Hall of Fame inductee Jackie Slater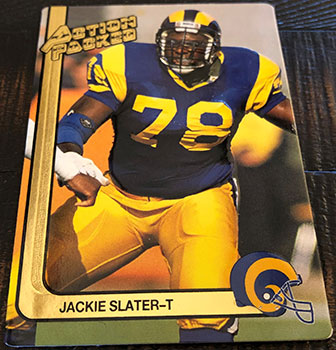 Pack 5:
Morten Anderson (this box was from an earlier print run because in later printings the fleur de lis in the Saints helmet logo was corrected to be black instead of white) & John Stephans (I miss those old school Patriots helmets)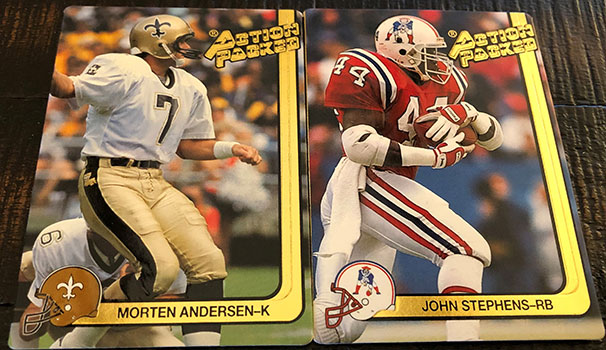 Pack 6:
Lawrence "L.T." Taylor. I once ran into L.T. at a casino during the 2016 National Sports Collectors Convention in Atlantic City, NJ.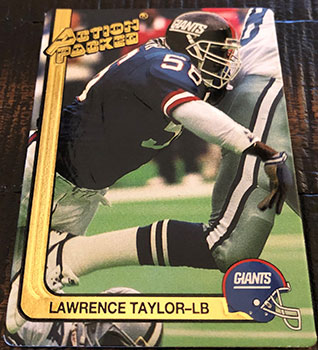 Pack 7:
Darryl Talley & Greg Lloyd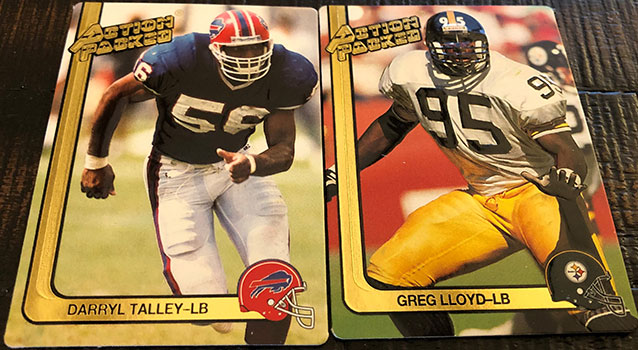 Pack 8:
Phil Simms & Kevin Greene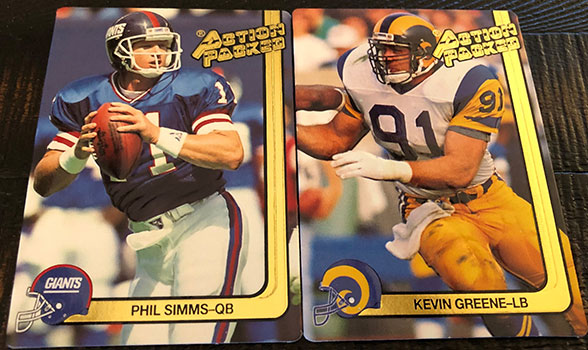 Pack 9:
Steve Atwater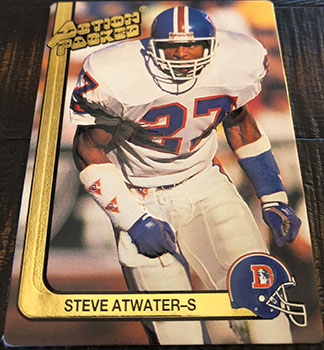 Pack 10:
Michael Irvin, Brian Jordan (yes, the long-time MLB outfielder) & Marion Butts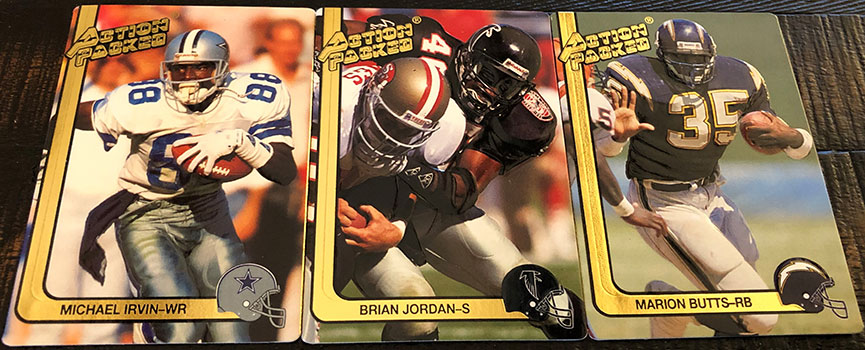 Pack 11:
Cortez Kennedy & Roger Craig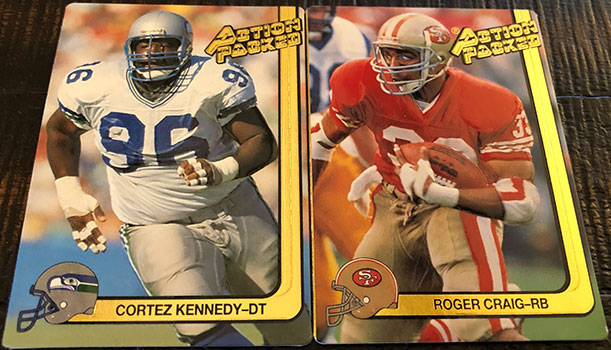 Pack 12:
Darrell Green & Craig "Ironhead" Heyward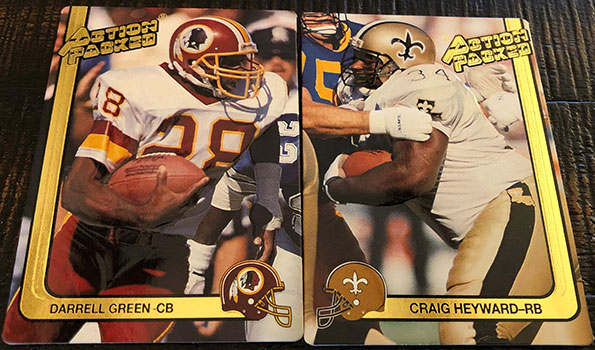 Pack 13:
Willie Anderson & Steve Tasker. Those early '90s Bills were good, but just not quite good enough to win a Super Bowl, losing four straight.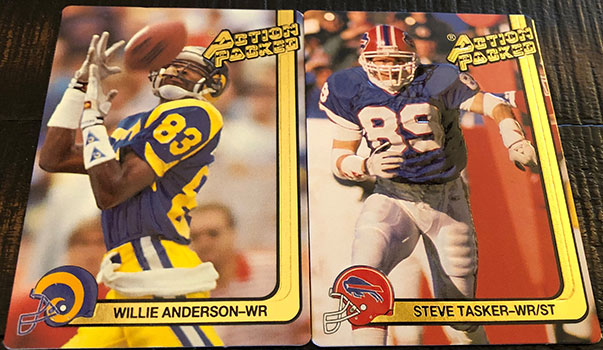 Pack 14:
Rod Woodson & Mel Gray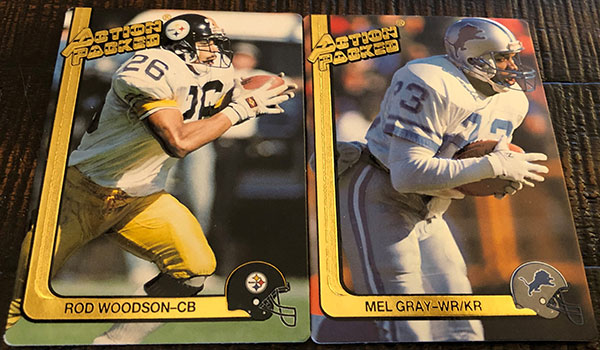 Pack 15:
Keith Byars
Pack 16:
Ozzie Newsome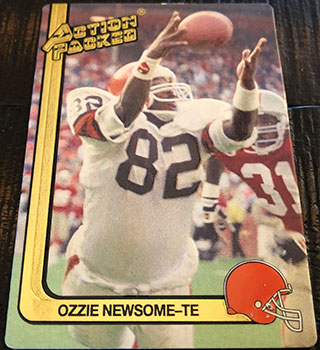 Pack 17:
Earnest Byner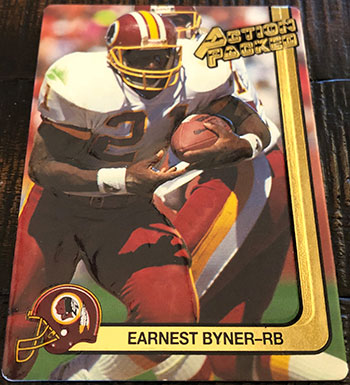 Pack 18:
Ricky Proehl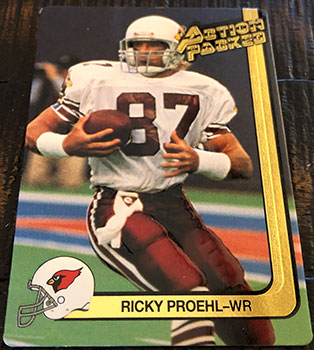 Pack 19:
Pat Swilling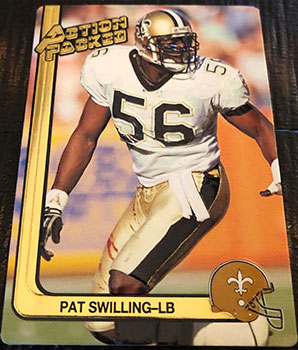 Pack 20:
Ickey "Shuffle" Woods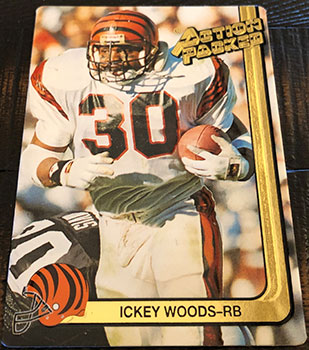 Pack 21:
Vinny Testaverde, Charles Haley, Ronnie Lott & Joe Montana

Pack 22:
Dan Marino, Marcus Allen & Derrick Thomas 24-Karat Gold Stamp! I wish I knew how often these cards were found.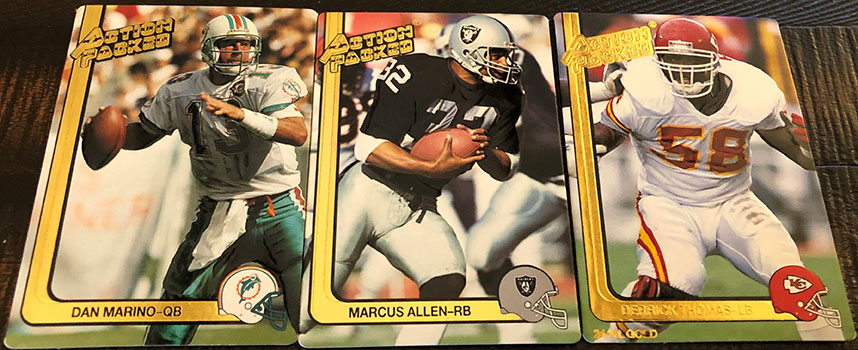 Pack 23:
Andre Rison, Deion Sanders, Boomer Esiason & Emmitt Smith

Pack 24:
Weird. Exactly the same as the last pack with Rison, Sanders, Esiason & Smith.

Lastly, the Emmitt Smith card back. My favorite part about the card backs is the Action Note. On each card it describes what is happening in the picture on the front, including the date it was taken. You don't see that very often anymore.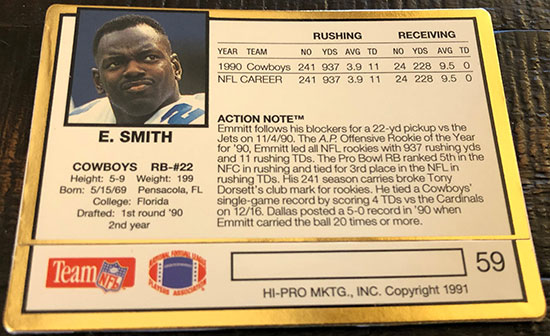 I'll buy just about any product that I haven't opened before if it's under $10. It's tough to beat that price. Action Packed would rank right near the top in super-cheap boxes. It is different, with the gold foil and the "sculptured" card fronts, ot to mention the 24-Karat gold parallels.
It's absolutely worth the price on this product, in my opinion. Now it is time to track down some more Action Packed products!
Shop for 1991 Action Packed Football on:
Want more installments of Shane Salmonson's Cheap Wax Wednesday? Check out his other breaks in the archives.