Cheap Wax Wednesday Box Breaks: 2000 Pacific Aurora Baseball
Once just a lone flagship brand, Pacific started releasing more and more sets in the late 1990s. By 2000, they were up to a dozen sets.Pacific released 12 different baseball sets.
2000 Pacific Aurora Baseball is one of them. It features 151 base cards. While the base cards were only numbered up to 150 cards, Ken Griffey, Jr. had two different base cards — one featuring him on the Mariners, and the other showing him on the Reds. Both cards are number 133.
All 151 base cards are horizontal and have white borders with team color-themed backgrounds. There are two player photos on the front, one color and one sepia.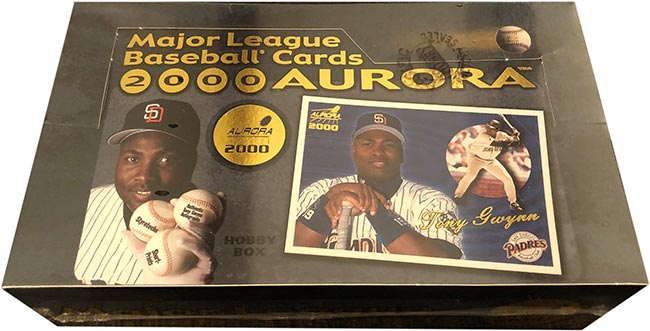 The set also has multiple parallels and five different insert sets. If that wasn't enough to chase, Tony Gwynn signed 150 total cards for this release, three different one-of-one parallels and 147 Pennant Fever base autographs.
Aurora debuted in Pacific's stable of products in 1998. While the design changed over its three-year run, a couple things stayed consistent like the two-photo design and attractive inserts.
2000 Pacific Aurora Baseball Box Break
Cards per pack: 6
Packs per box: 36
Price paid: $37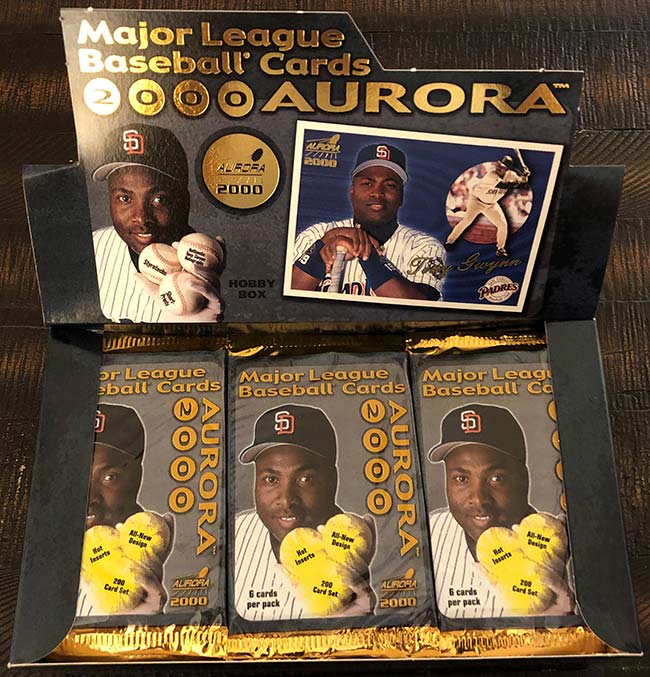 Pack 1 highlights:
Eric Chavez & Juan Gonzalez
Juan-Gone was traded to the Tigers following the 1999 season. In his lone season in Detroit, Gonzalez hit .289 with 22 home runs and 67 RBI. 

Pack 2:
Mike Mussina, Mike Piazza & Andruw Jones Pinstripes (1 in every 4 packs)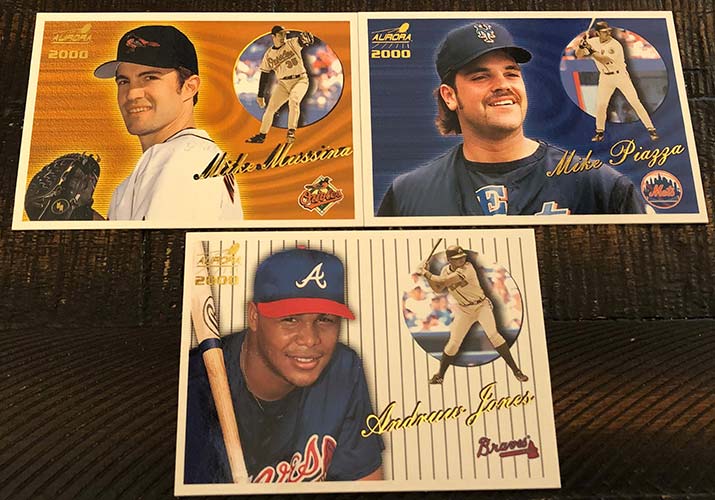 Pack 3:
Luis Castillo, Gary Sheffield & Greg Maddux Pennant Fever (4:37 packs)
Castillo had a 35-game hitting streak during the 2002 season. There has only been one streak longer than 35 since then, a Jimmy Rollins 38-game streak across the 2005 & 2006 seasons.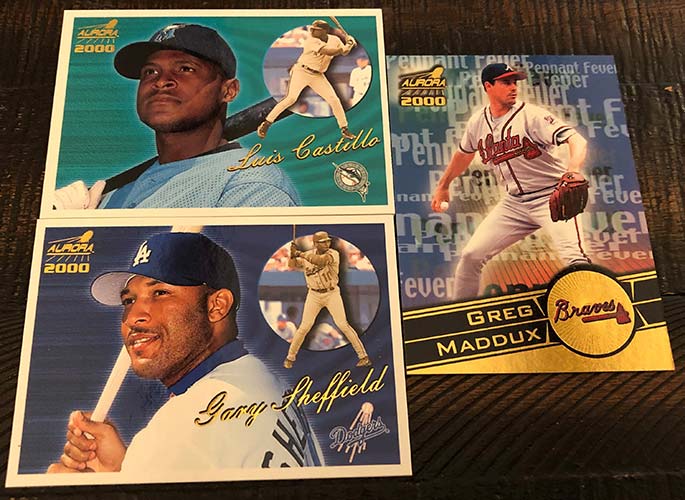 Pack 4:
Cliff Floyd, Randy Johnson, Ken Griffey Jr. & Fred McGriff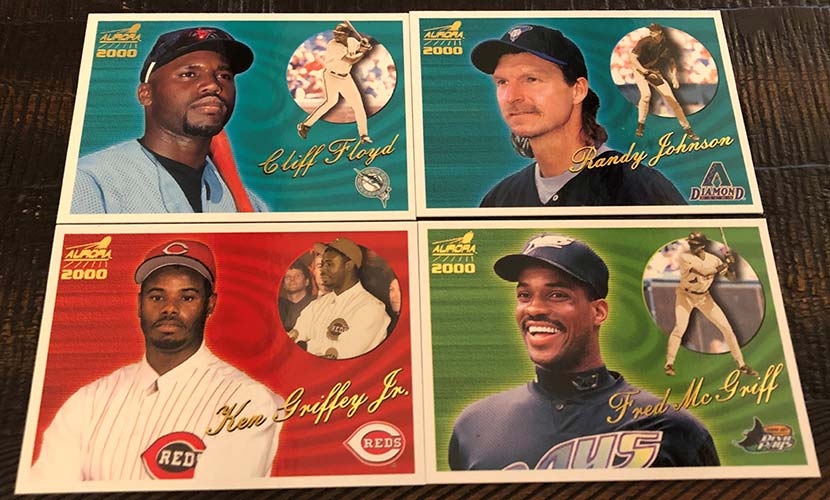 Pack 5:
Curt Schilling & Cal Ripken, Jr.
Everyone knows about Ripken's consecutive games played record of 2,632 games. He finished his career with 3,001 games played, 561 games behind the all-time record holder, Pete Rose. 

Pack 6:
Mike Lowell, Barry Bonds, Pedro Martinez Pinstripes (1:4 packs) & Jason Kendall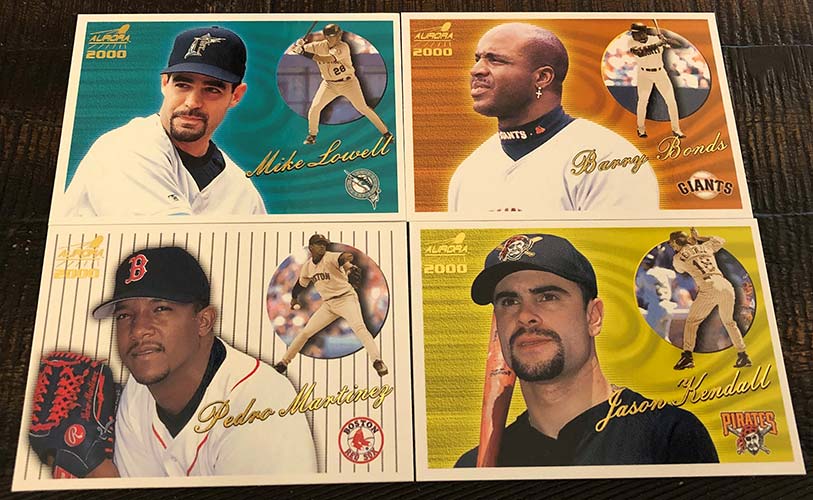 Pack 7:
A trio of first basemen; Mark Grace, Fred McGriff & Frank Thomas
It feels wrong to see McGriff as a Devil Ray. Would you be shocked to hear that McGriff played nearly as many games in Tampa as he did in Atlanta? Over two different stints, and parts of five seasons, McGriff played 577 games for Tampa Bay. He played 636 games for the Braves.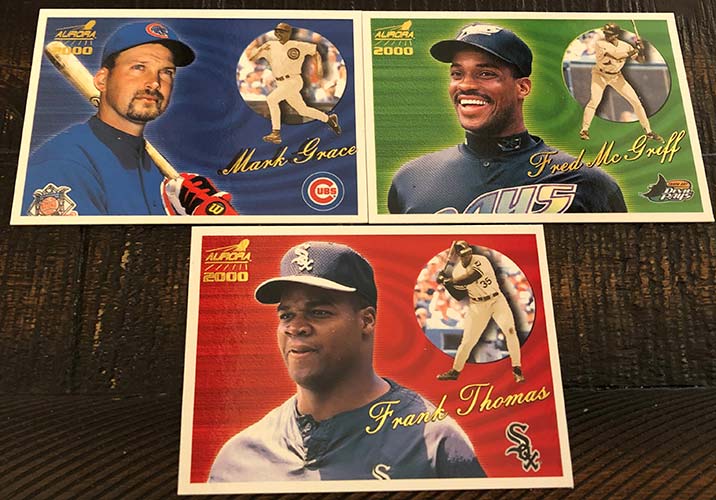 Pack 8:
Derek Jeter, Jim Thome, Jermaine Dye, J.D. Drew & Sean Casey Scouting Report (4:37 packs)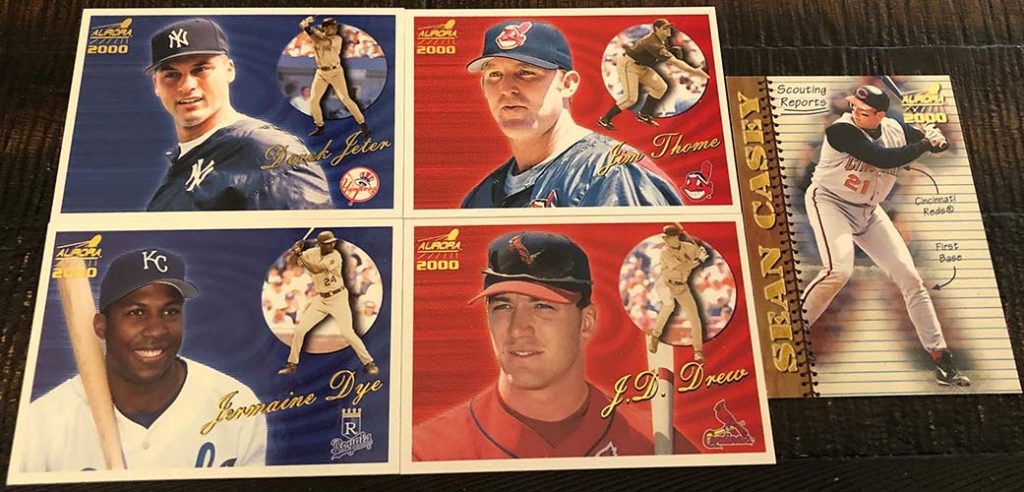 Pack 9:
Vladimir Guerrero, Craig Biggio & Tino Martinez
Guerrero made his second straight All-Star team in 2000. He finished sixth in the MVP voting, batting .345 with 44 HR and 123 RBI.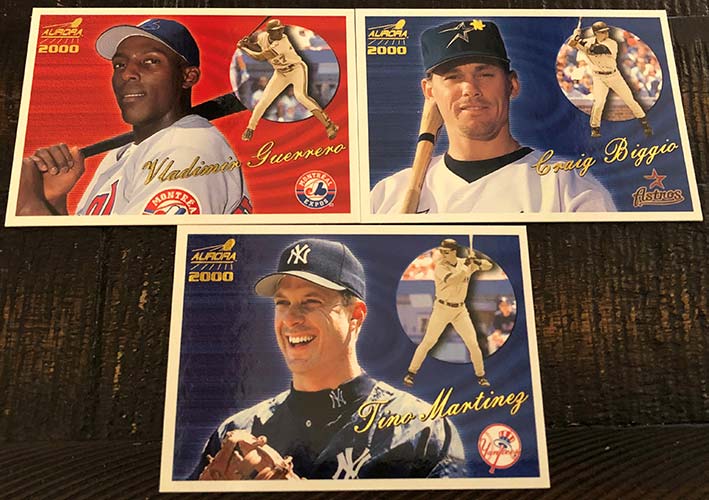 Pack 10:
Mike Cameron, Carlos Delgado, Barry Larkin Pinstripes (1:4 packs) & Jason Giambi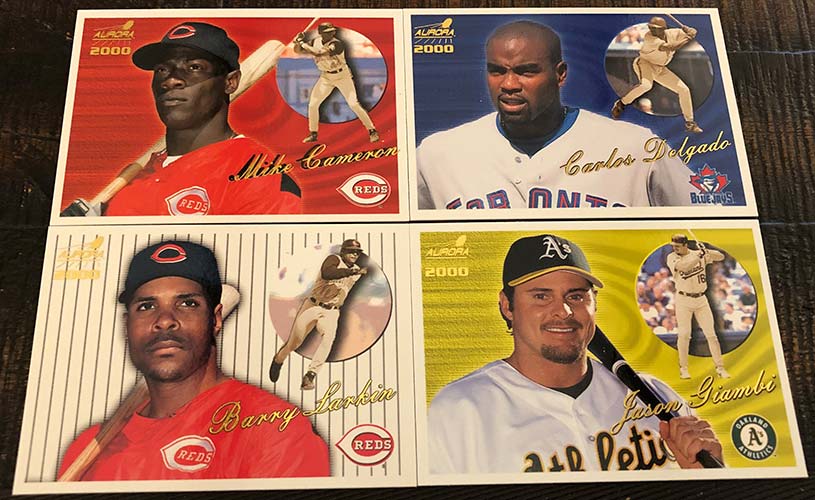 Pack 11:
Kevin Brown, Andruw Jones & Mark McGwire Dugout View Net Fusions (1:37 packs)
Now that is a good-looking insert. Pacific also released a similar Foul Pole Net Fusions cards similar to this one in their 2000 Revolution set.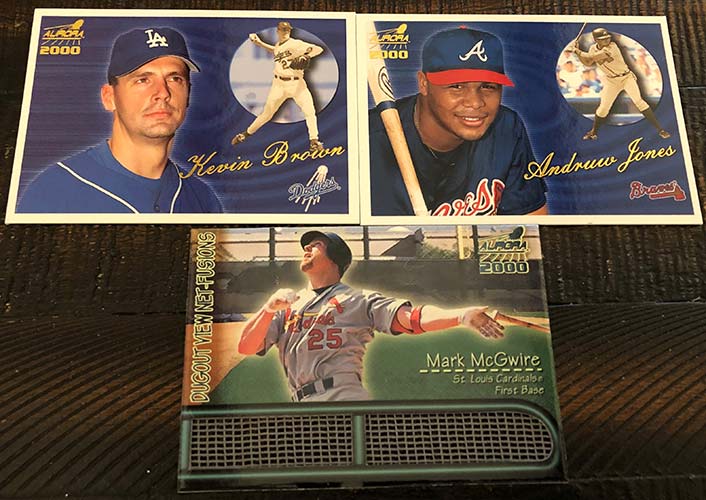 Pack 12:
Mike Lowell, Alex Rodriguez & Pedro Martinez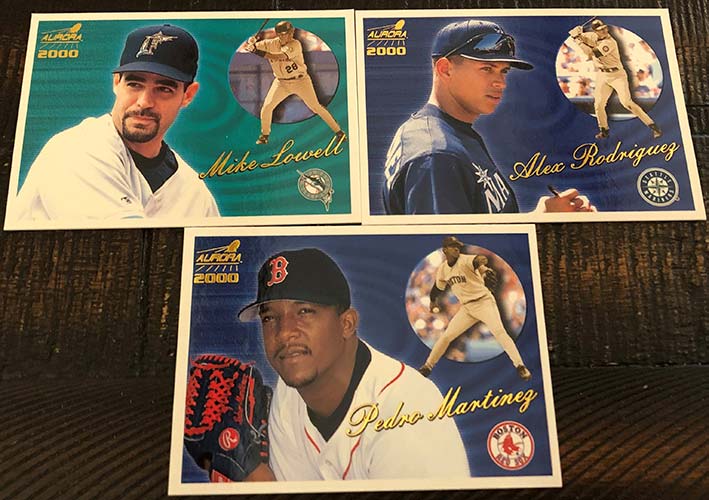 Pack 13:
Mark McGwire, Barry Larkin & Edgar Martinez
McGwire made his 12th (and final) all-star team in 2000. After back-to-back years of 70 and 65 home runs, he hit 32 long balls, playing in only 89 games.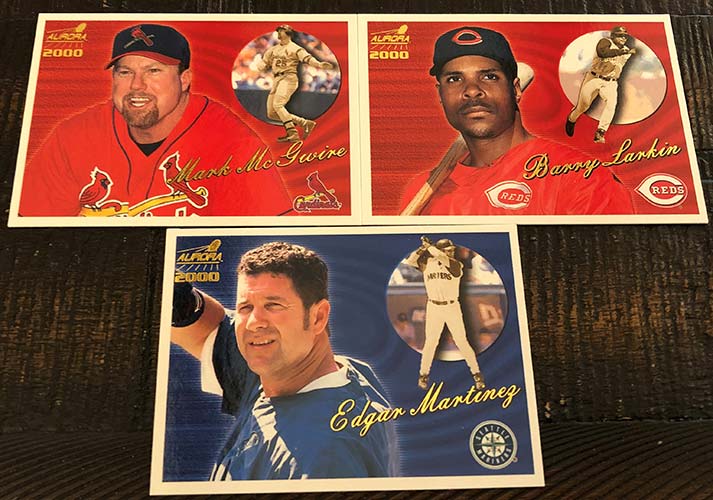 Pack 14:
Tim Hudson, Roberto Alomar & Larry Walker Pinstripes (1:4 packs)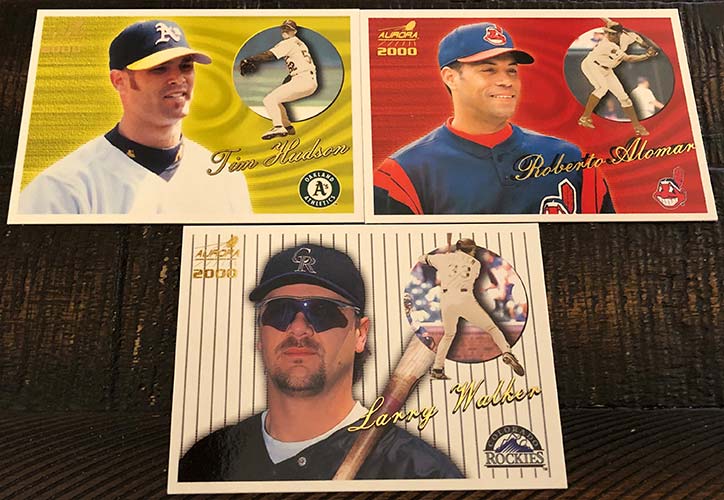 Pack 15:
Luis Gonzalez, Fred McGriff & Larry Walker
Luis Gonzalez is most known for one hit, his walk-off single to win the 2001 World Series. He racked up many more hits during his career, though, finishing with 2,591.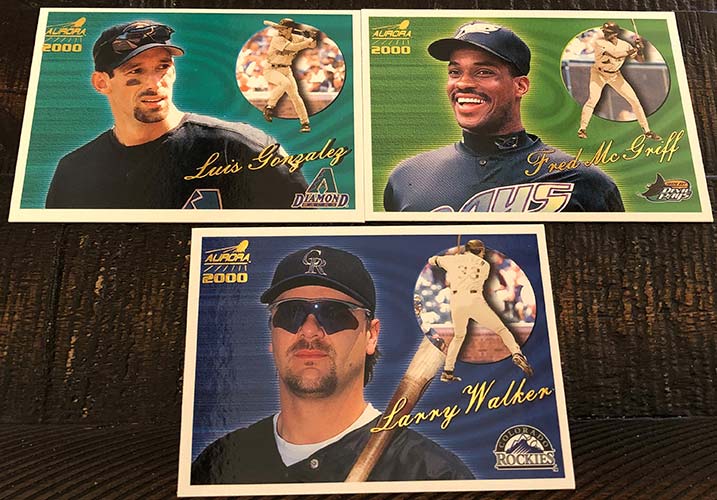 Pack 16:
Shawn Green, Raul Mondesi, Roger Clemens & Chris Singleton Premiere Date #ed 50/52 (1:37 packs)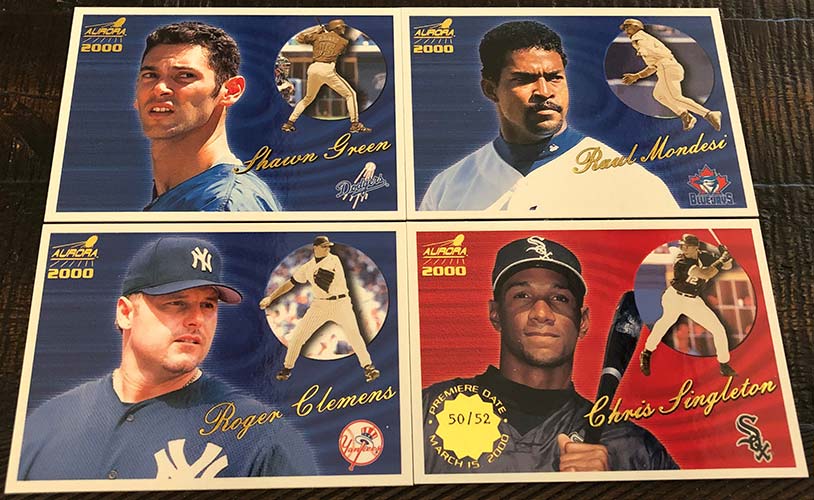 Pack 17:
Ken Caminiti, Brian Jordan, Shawn Green Pinstripes (1:4 packs), Jeff Kent, Vernon Wells & Jose Vidro
Jose Vidro was an underrated second baseman during the 2000s. He would finish a 12-year major league career with a .298 batting average.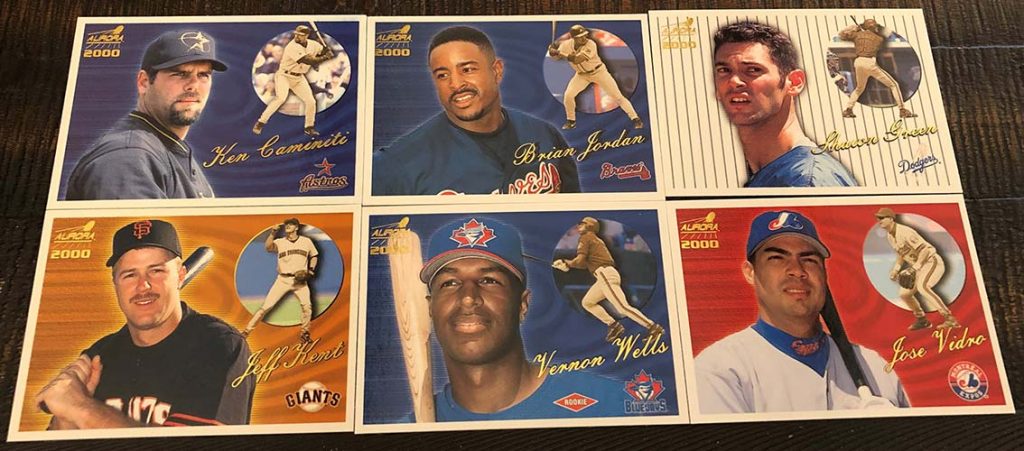 Pack 18:
Rafael Palmeiro & Mo Vaughn

Pack 19:
Tom Glavine, Albert Belle, Greg Maddux, Rondell White & Rafael Palmeiro Pennant Fever (4:37 packs)
Though both pitched elsewhere at some point in their careers, Glavine and Maddux combined to win 438 games for the Braves.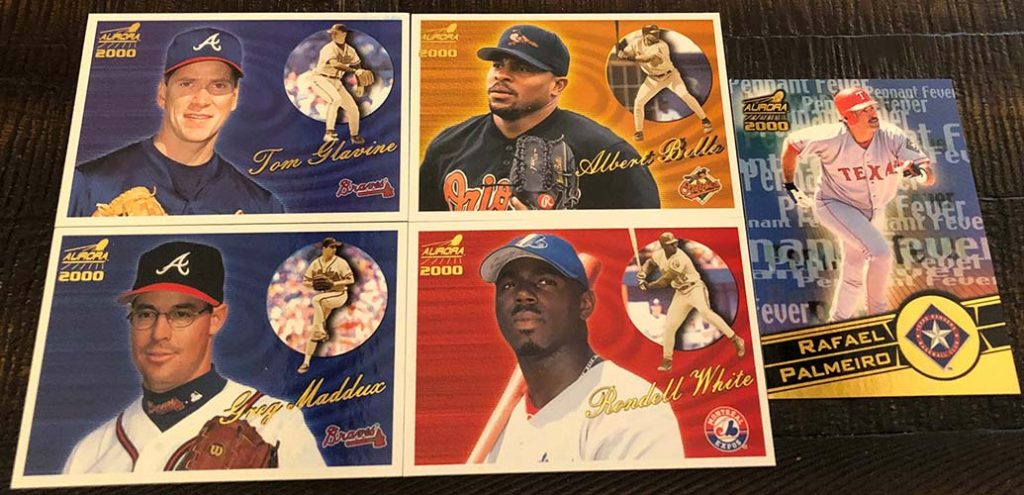 Pack 20:
Johnny Damon, Brian Giles & Magglio Ordonez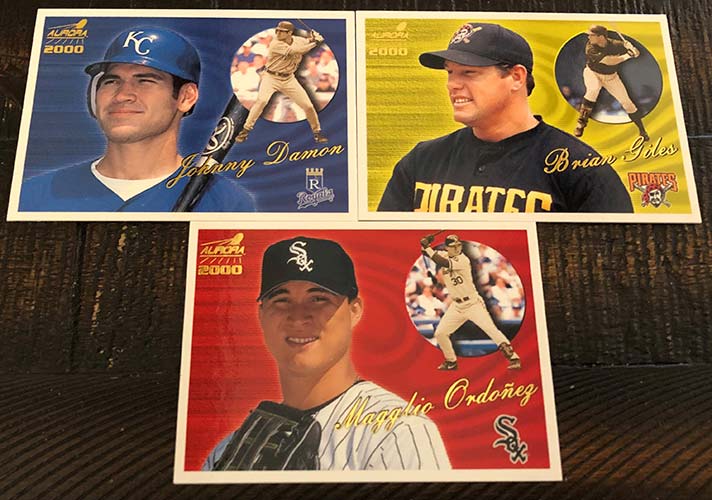 Pack 21:
Billy Wagner, Will Clark, Bernie Williams & Manny Ramirez
Will Clark played just two half seasons in Baltimore, and was traded to St. Louis at the 2000 trading deadline.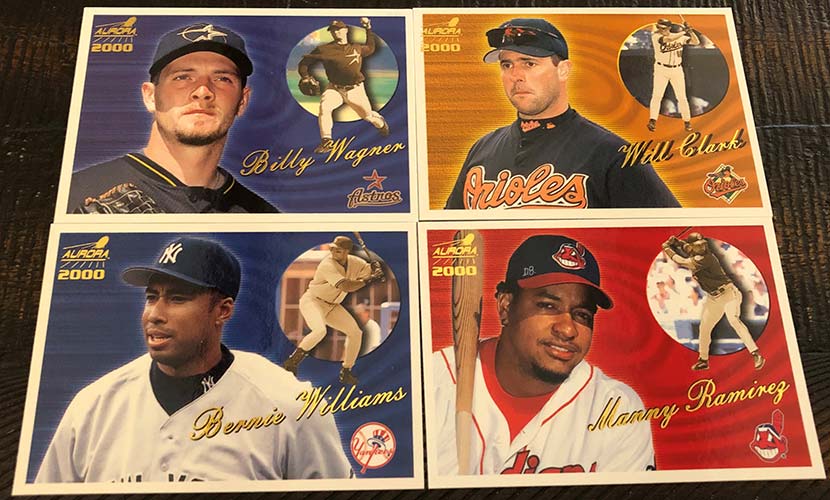 Pack 22:
Johnny Damon, Edgardo Alfonzo & Rafael Palmeiro Pinstripes (1:4 packs)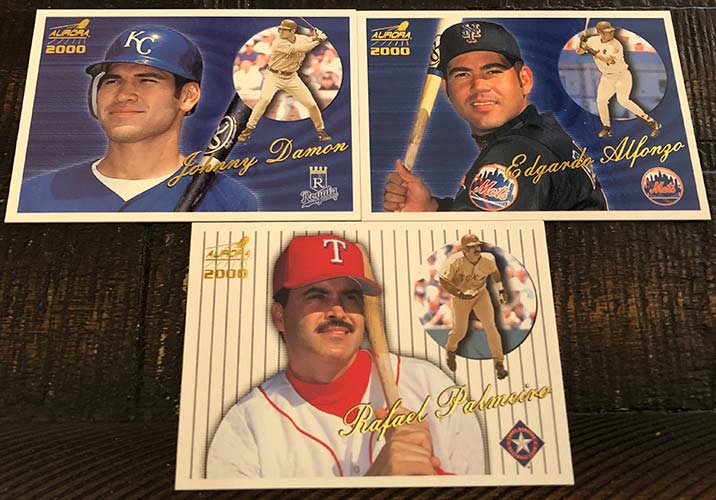 Pack 23:
David Justice, Kerry Wood, Jeff Bagwell, Trevor Hoffman & Pedro Martinez Pennant Fever (4:37 packs)
Pedro's time in Boston was really something. Over seven seasons, Pedro finished out of the top four in Cy Young voting just once, winning the award twice. Overall, Pedro was 117-37 for the Red Sox and posted a 2.52 ERA.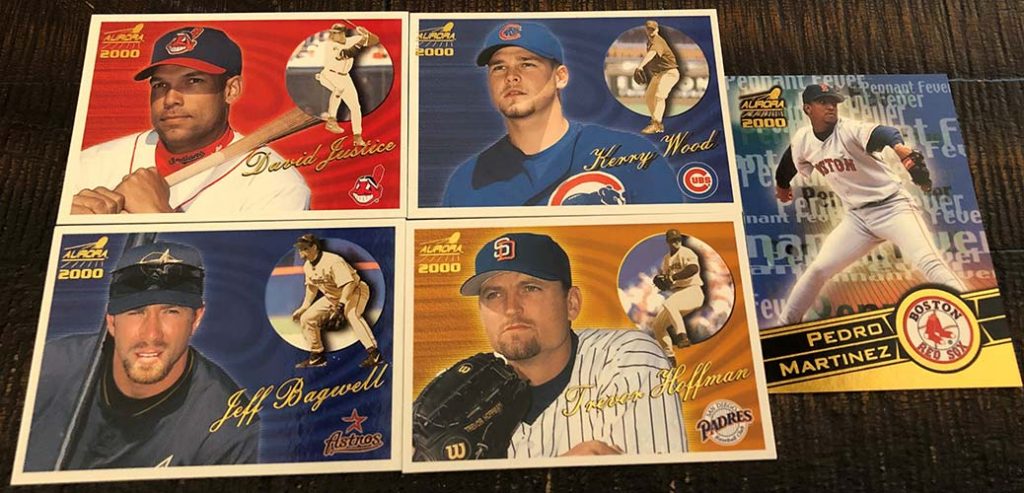 Pack 24:
Jose Canseco, Bobby Abreu, Matt Williams & Vladimir Guerrero Scouting Report (4:37 packs)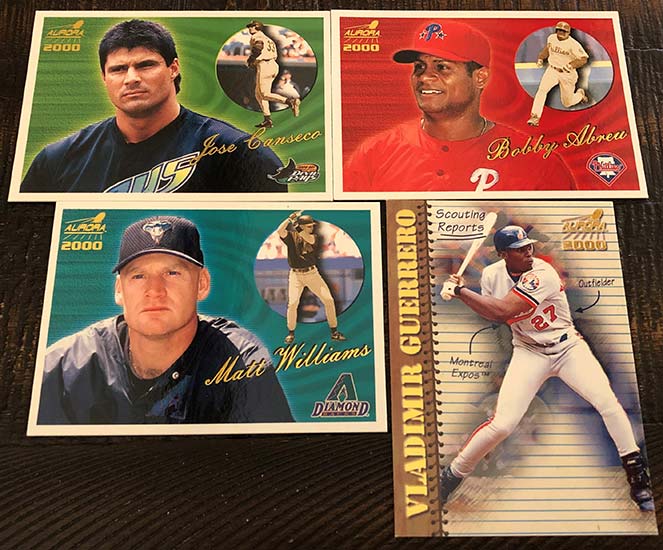 Pack 25:
Omar Vizquel, Ray Durham, Tony Gwynn & Nomar Garciaparra
Tony Gwynn was elected to the Baseball Hall of Fame in his first year of eligibility in 2007. Thirteen of the 545 ballots did not include a vote for Gwynn.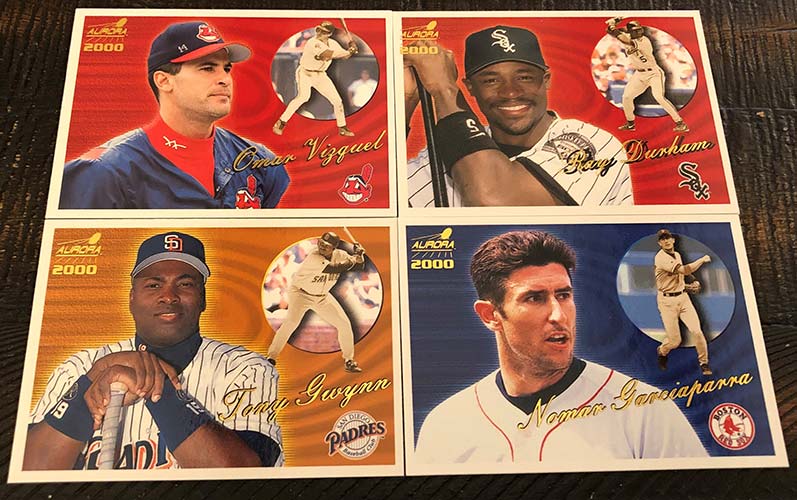 Pack 26:
Paul Konerko, Scott Rolen & Jeff Kent Pinstripes (1:4 packs)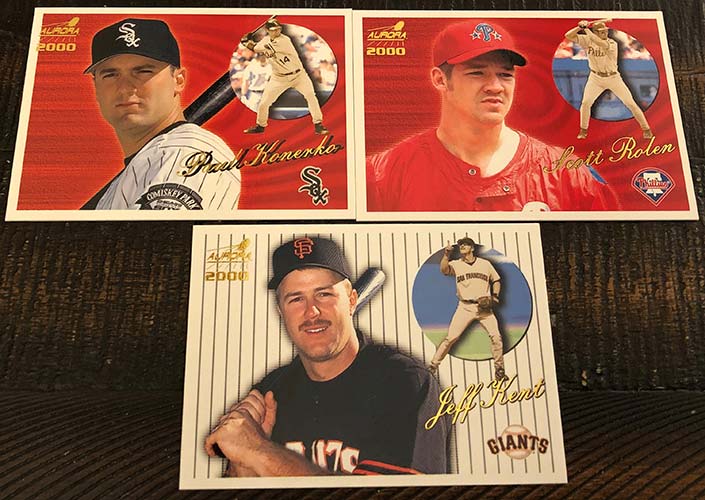 Pack 27:
Carlos Lee, Mike Piazza & Sean "The Mayer" Casey
Sean Casey put up some really respectable numbers during a 12-year major league career. He retired at 33-years old, with a .302 career batting average.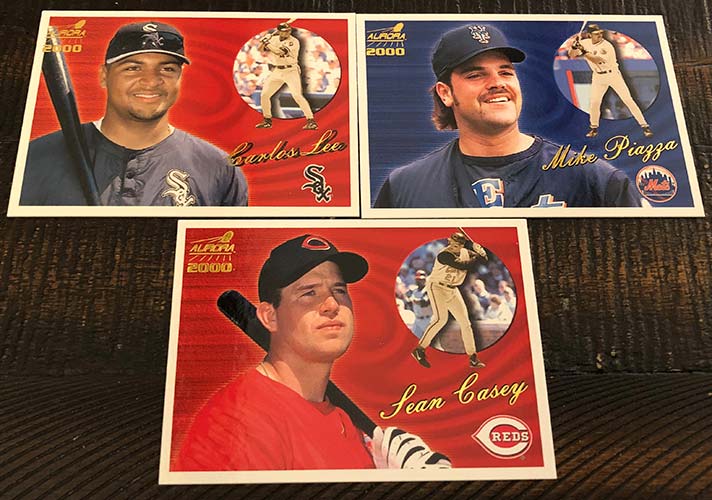 Pack 28:
Luis Castillo, Orlando "El Duque" Hernandez, Todd Helton & Cal Ripken, Jr. Scouting Report (4:37 packs)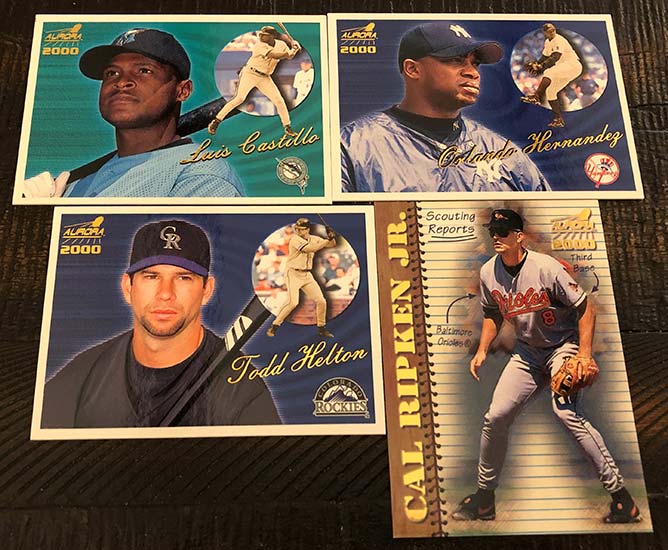 Pack 29:
Cliff Floyd, Darin Erstad (how is that color associated with the Angels??) & Carlos Beltran
Erstad really put it together during the 2000 season. He won a Gold Glove and Silver Slugger Award, while leading the AL with 240 hits.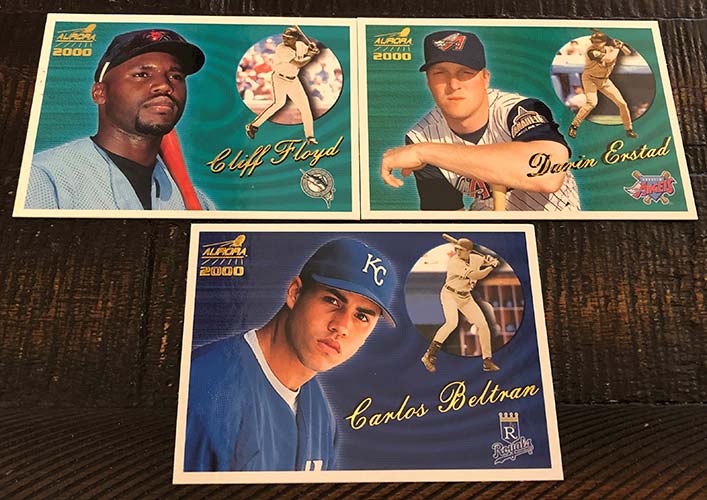 Pack 30:
Troy Glaus, Ivan Rodriguez, Jason Kendall & Brian Giles Pinstripes (1:4 packs)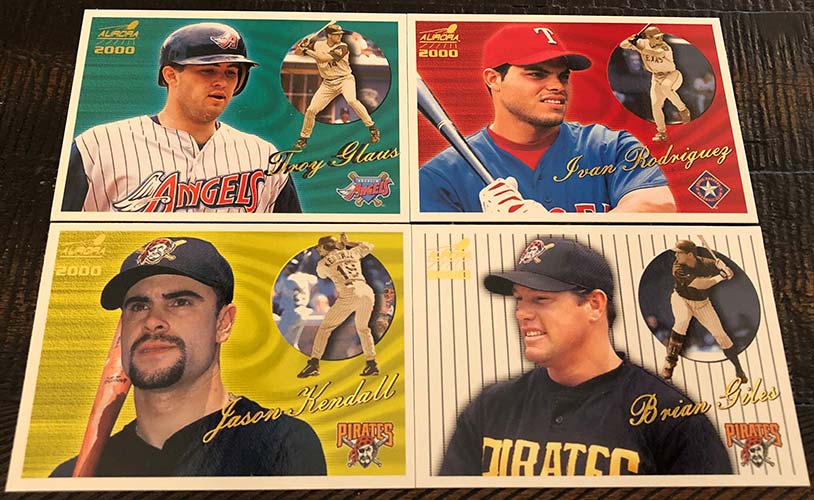 Pack 31:
Mike Lowell, Tim Salmon, Chipper Jones & Nomar Garciaparra Pennant Fever (4:37 packs)
While Mike Lowell was a doubles machine during his career, he rarely legged out a triple, finishing his career with just seven triples.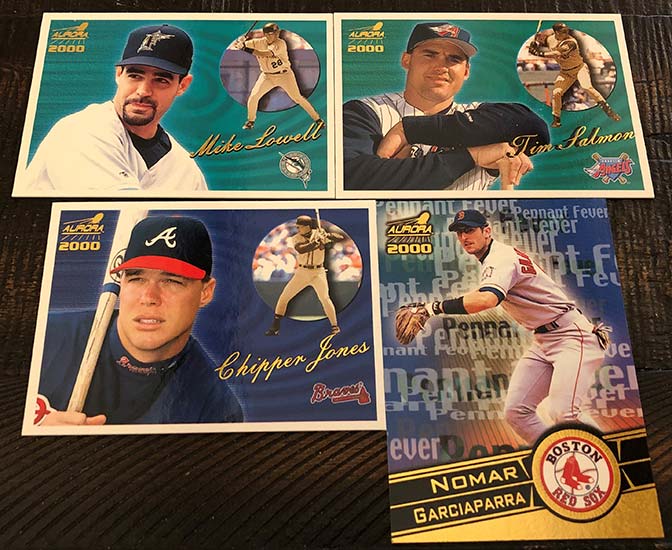 Pack 32:
Albert Belle, Ken Griffey, Jr. & Sammy Sosa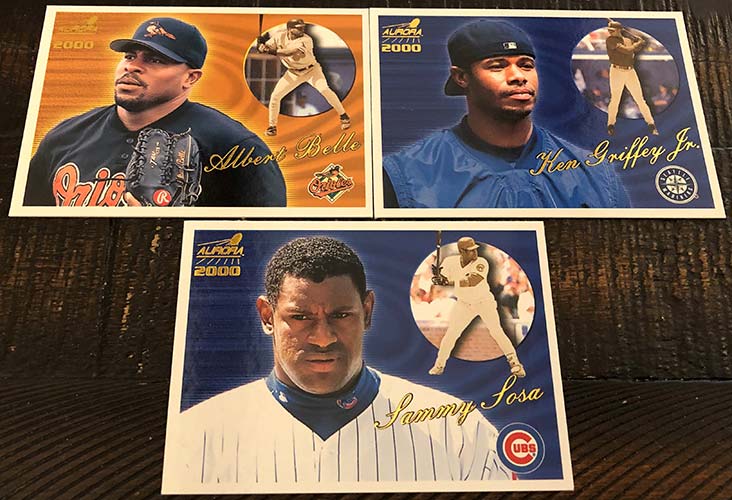 Pack 33:
Jermaine Dye, Rick Ankiel, Kenny Lofton & J.D. Drew
Ankiel finished second in the NL Rookie of the Year voting following the 2000 season. He finished the year with an 11-7 record and 3.50 ERA. He also hit .250.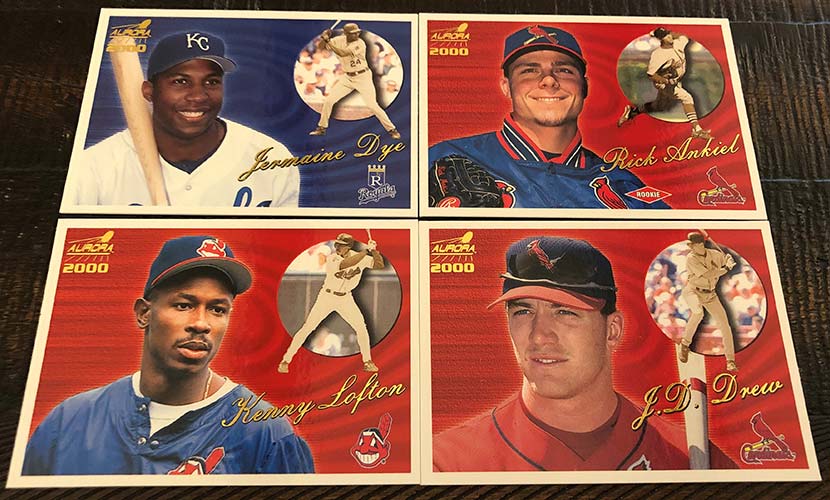 Pack 34:
Eric Chavez, Mariano Rivera & Bernie Williams Pinstripes (1:4 packs)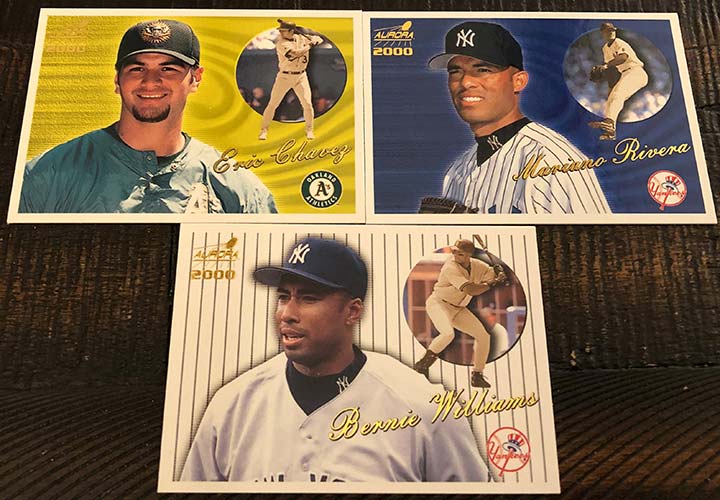 Pack 35:
Mike Mussina, Derek Jeter, Juan Gonzalez & Ellis Burks
Rarely talked about, Ellis Burks tallied 2000 major league games during an 18-year career. He had a .363 on base percentage during those 18 seasons.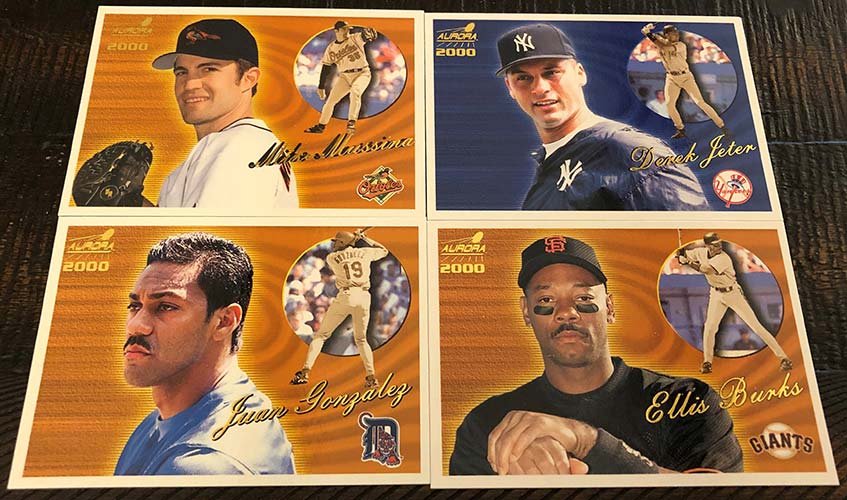 Pack 36:
Kevin Brown, Mike Pizza, Gary Sheffield, Ben Grieve & Andruw Jones Scouting Report (4:37 packs)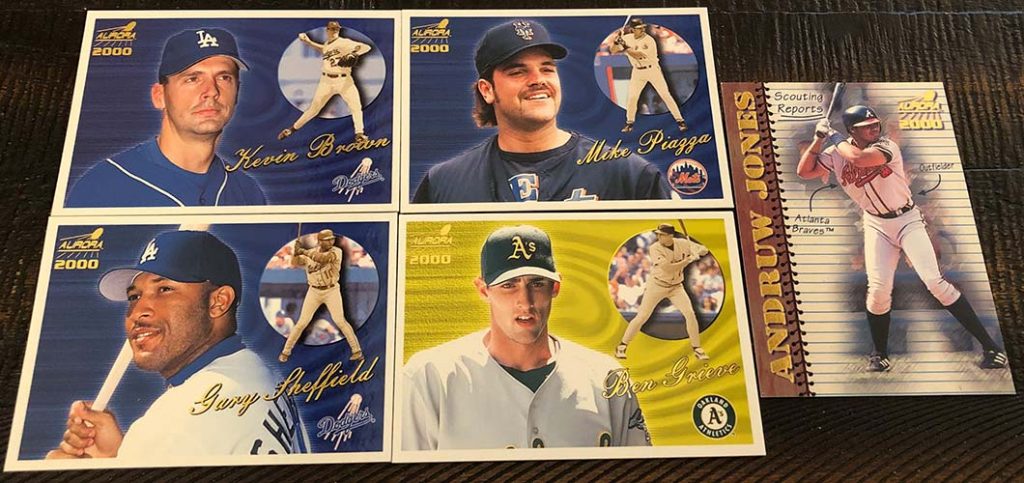 Lastly, the Griffey card back. One thing Pacific did that is very much appreciated is print the set name around the card number. This avoided any confusion when trying to identify what set a card came from.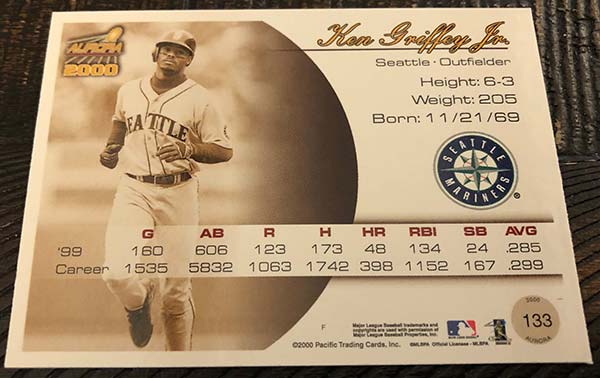 This box was pretty much as advertised. I hit everything I was supposed to and even pulled the awesome McGwire Net Fusions insert. I did miss out on the tough to pull Star Factor inserts (1:361 packs) and the helmet die cut Styrotech inserts that are numbered to 299 copies.
Shop for 2000 Pacific Aurora Baseball on:
Want more installments of Shane Salmonson's Cheap Wax Wednesday? Check out his other breaks in the archives.