The 2010s saw a lot of change in the world of sports cards. Things went exclusive. Prices on packs and boxes hit new highs. A thing called group breaking emerged.
While the landscape of the hobby may be a lot different than it was ten years ago, the cards themselves remain the foundation.
Here are 50 cards that help define the decade. We didn't simply go with what the most valuable cards are at this moment. While that's certainly one factor, just as important are things like the impression they made, how they pushed the world of sports cards forward and how they might influence things in the years ahead.
50 Most Important and Influential Sports Cards of the 2010s
50. 2010 Topps Heritage National Convention Stephen Strasburg #NCC1 /999
It seems like every year there are one or two rookies that drive a sport for an entire season. Sometimes they work out. Sometimes they don't. Often it's somewhere in between where, even if the player is a star and consistent All-Star, the reality has no chance of living up to the hype. At the start of the decade, baseball was all about Stephen Strasburg.
The peak came right around the time of the 2010 National Sports Collectors Convention. Topps capitalized on the excitement for the rookie pitcher by offering an exclusive that not only put Strasburg on his first Heritage card, but they numbered it to 999 as well. It led to long lines, some happy collectors and many feeling left out.
In the decade that followed, Strasburg lost a lot of his hobby hype. At the same time, he's been anything but a failure.
Buy on: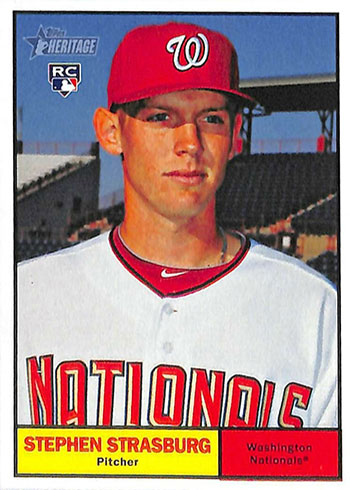 49. 2013-14 SP Game Used Nathan MacKinnon RC /29
Memorabilia cards might get top billing in SP Game Used Hockey, but the brand's Rookie Cards represent some of the toughest in the hobby as they're numbered to the player's jersey number. That means a max of 99 copies, although there are plenty that are even more scarce.
With Nathan MacKinnon, you get one of the best players in hockey and a RC numbered to a minuscule 29.
Buy on: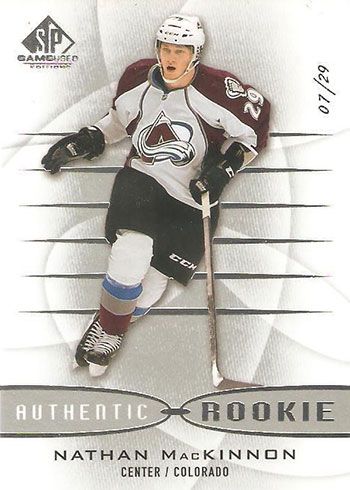 48. 2017 Leaf Inscriptions LaVar Ball #I-LB1
You might not like him. He may have annoyed you for that span of about a year that he was always showing up on TV. But you can't help but acknowledge there's a level of genius with LaVar Ball. Through outlandish claims and an endless run of one-liners, he was able to build a brand for him and his sons. Leaf recognized this, releasing a series of 200 inscription autographs featuring some of his most "memorable" quotes. The cards sold out instantly and garnered some mainstream attention. Prices soared.
Ball hasn't been getting much screen time of late and actual sales (asking prices can still be at their original peaks or higher) are significantly lower. That doesn't change the fact that these are some of the most memorable autographs of the decade.
Buy on: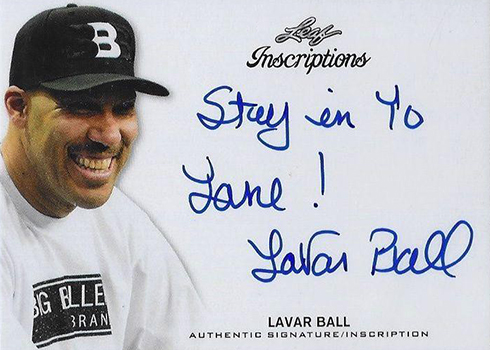 47. 2014 Panini Prizm World Cup Signatures Cristiano Ronaldo #S-CR
2014 Panini Prizm World Cup was not only one of the biggest sets that year but of the entire decade. The set was a smash all over the planet and helped pave the way to more soccer cards as well as a much broader mix of products. And Prizm did so without the promise of traditional hits in the form of guaranteed autographs and memorabilia cards.
It could be said that the product took a quality over quantity approach. Autographs were more rare but they were, generally, bigger players. Topping them all is Cristiano Ronaldo, the Ballon d'Or winner as the world's best player in the sport four times during the decade.
Buy on: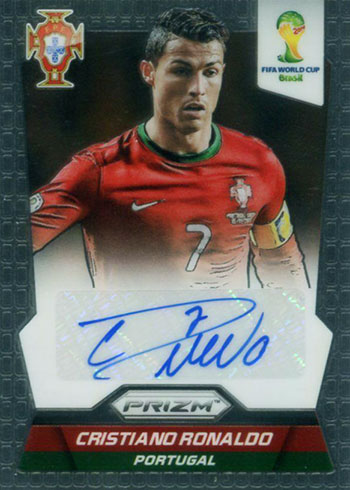 46. 2014 Exquisite Collection Rory McIlroy RC Auto Shirt #86 /99
It was a quiet decade for golf cards. Outside of when Tiger Woods was in his prime, the sport has long been outside of other major sports in the hobby. But there are some exceptions and the 2014 Exquisite Collection Rory McIlroy is a big one. Upper Deck brought its luxury line to the links with its usual mix of premium autographs and memorabilia. And in the base set are some rare Rookie Cards featuring both of the premium elements. Most have largely been forgotten but the McIlroy certainly hasn't. The card, which has 99 copies, comes with four-figure asking prices.
Buy on: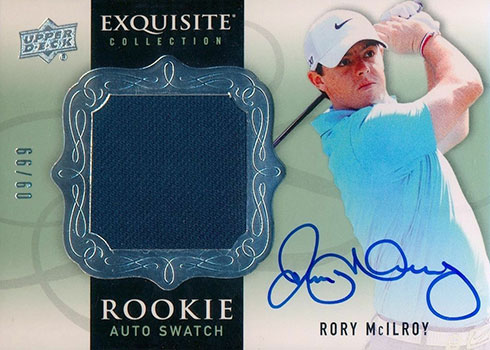 45. 2016-17 The Cup Auston Matthews RC Auto Patch #180 /99
Few cities are more passionate about their team than Toronto and the Maple Leafs. Stars who play there get elevated in the hobby. So when a top prospect and first overall pick gets drafted by the blue and white, it's a very big deal.
One of the biggest trends in the hobby over the course of the 2010s was the massive surge ultra-premium Rookie Cards saw. While it was once jaw-dropping to see a top RC sell for over $1,000. Now, the idea of "the best" has really taken hold, causing these cards to carry massive price tags.
Auston Matthews' 2016-17 The Cup RC is one of the most prominent examples in hockey during the decade. The actual Stanley Cup hasn't made its way back to Toronto, but if Matthews can help bring it back to the city after a more than 50-year drought, the kid will become a legend.
Buy on: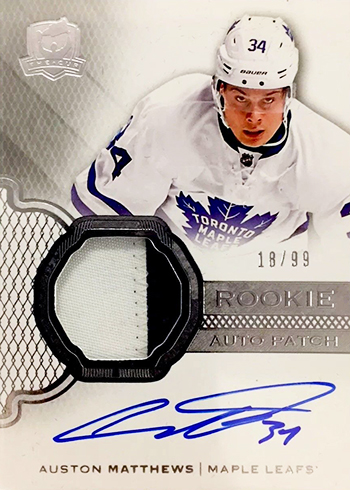 44. 2018 Panini Prizm Hailie Deegan
When 2018 Panini Prizm Racing came out, Hailie Deegan had just recently turned 17. Still a teenager, she's already one of the NASCAR circuit's most popular racers. Like other sports in Panini's portfolio, the "Prizm RC" is priming to be a key card for racing's youngsters like Deegan. With it comes a decent sized Prizms parallel rainbow, although not to the same extent as football or basketball.
Buy on: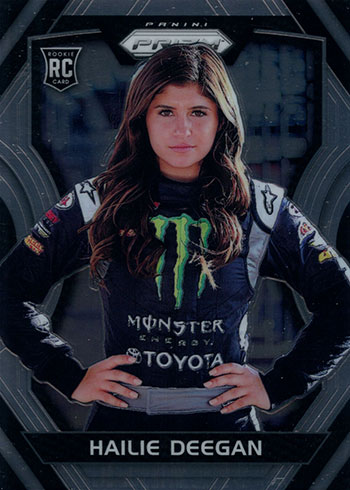 43. 2014 Topps Update Mookie Betts RC #US26
The Boston Red Sox are one of the most storied franchises in sports. As such, plenty of stars have called Fenway home over the years and decades. The team had some highs and lows in the 2010s, but one constant for several years was Mookie Betts. This culminated in 2018 with both American League MVP honors and a World Series.
Betts' Rookie Card from 2014 Topps Update is one of several from the line that have gained significant attention (and prices) in the last decade.
Buy on: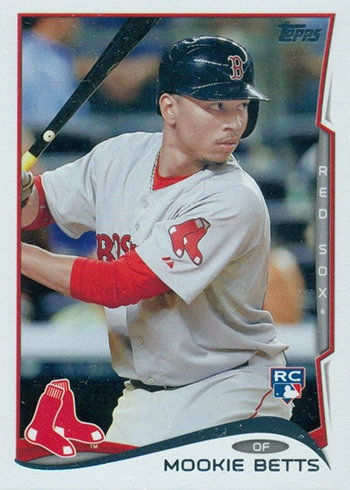 42. 2011 FCW Summer Slamarama Roman Leakee/Seth Rollins/Dean Ambrose
Are we cheating here by lumping three cards together? Maybe a little. But when it comes to wrestling cards, it's well earned. 2011 FCW Summer Slamarama is a tough set that has some of the earliest cards of several of the decade's best — including the trio that went on to be forever connected as The Shield.
Cards were handed out at a handful of live events and not a lot survived. Even fewer are available in top condition.
Buy on:
41. 2017 Bowman Chrome Draft Autographs Jo Adell #CDA-JA
There's a good chance that a revisit of this list in a few years might warrant Jo Adell's first Bowman Chrome autograph jumping a few spots. Entering the decade, he's one of baseball's top prospects and his MLB debut is imminent. If he lives up to expectations, not only will Adell be great but there could be some big things happening in Angel Stadium.
Buy on: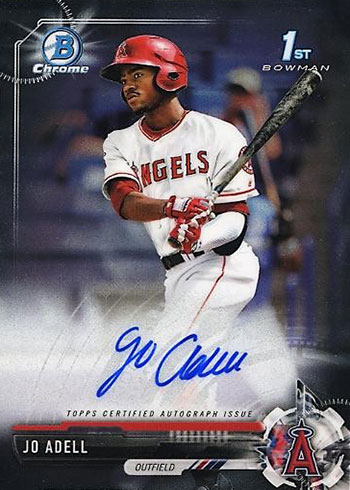 40. 2011 Topps Allen & Ginter Autographs George W. Bush
Presidential autographs are out there, but they're almost always in the form of cut signatures. 2011 Topps Allen & Ginter included the first on-card autographs of a former U.S. president with George W. Bush. His father, President George H.W. Bush, and mother, First Lady Barbara Bush, both have autographs in some Americana sets, but those use stickers and embedded signatures.
Buy on: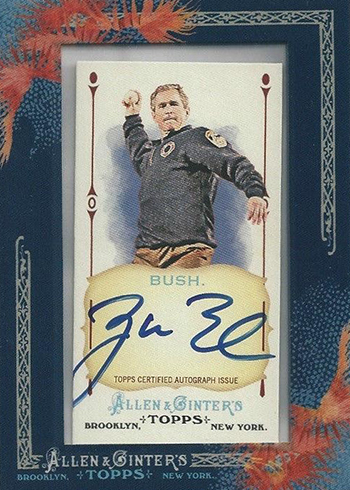 39. 2013 Topps Chrome Update Christian Yelich RC #MB-47
In Miami, Christian Yelich was an overlooked player that not a lot of people were talking about. But since coming to the Milwaukee, not only has he been putting up some big numbers but he's helped make the Brewers legitimate contenders. Understandably, his Rookie Cards have seen big gains as well.
At first appearance, the 2013 Topps Chrome Update Christian Yelich RC shouldn't be as expensive as it is. But there are a couple of factors. This card came in special retail-only Mega Boxes that had five 2013 Topps Update packs and two of the Chrome Update packs. There was no other way to get them. So even though the Mega Boxes weren't altogether rare at the time, they didn't deliver a lot of Chrome Update cards. That means there aren't a lot on the market today.
Another reason for the card's ascent may have to do with the fact that Yelich doesn't have a huge number of RCs. This helps elevate all of them to a certain extent and the biggest even further.
Buy on: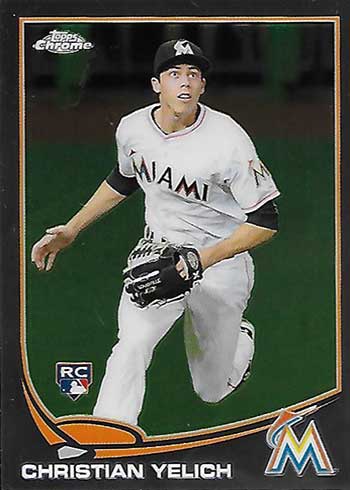 38. 2012 Americana Heroes and Legends US Women's Soccer Teammates Dual Autographs Carli Lloyd/Megan Rapinoe #5 /49
The 2010s saw the US Women's National Soccer Team win back-to-back World Cups. This card has autographs from not only two of the sport's biggest stars but the Golden Ball winners for top player in the tournament in 2015 (Lloyd) and 2019 (Rapinoe).
Buy on: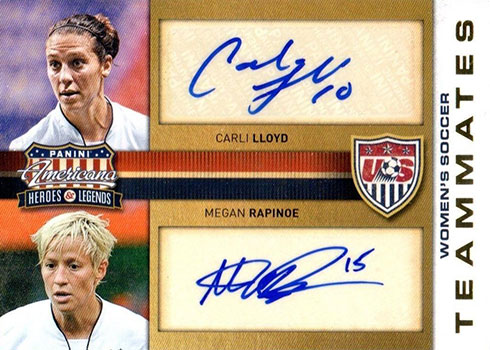 37. 2012 Topps Chrome Rookie Autographs Andrew Luck #1
If you ask football collectors which brand they miss since the NFL went exclusive, there's a good chance you'll hear Topps Chrome repeated over and over. The line was a juggernaut in the sport with its mix of shine, color, autographs and tradition. And that came through particularly with rookies.
His career may have been cut short, but Andrew Luck was still a major force in football cards in the early part of his career. Especially during his rookie season when he, Robert Griffin III and Russell Wilson helped send 2012 products soaring.
2012 Topps Chrome was one of the biggest sets that year and the Andrew Luck autograph was a card many were chasing. It's not an easy pull, particularly in its base form. Also, some have on-card signatures, others use stickers.
Today, one thing to check on is whether the card came from packs with an autograph or if it was signed (or forged) after the fact. At first glance, the autograph is virtually the same as the base Rookie Card. It even has the same number. On the back, autograph versions have a note below the stats, "The signing of all Topps autographs is witnessed by a Topps representative to guarantee authenticity."
Buy on: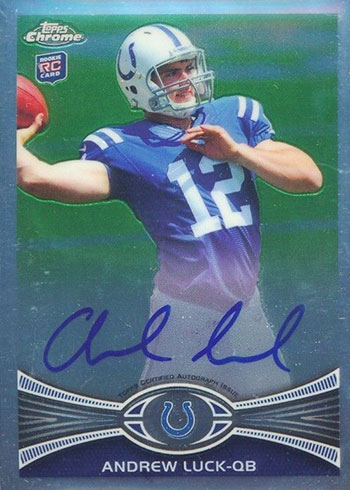 36. 2015 Topps WWE Undisputed NXT In Line Autographs Becky Lynch #NA-BL
The 2010s were big for women's wrestling. So much so that the main event of WrestleMania 35, pro wrestling's Super Bowl, closed with Becky Lynch, Ronda Rousey and Charlotte Flair. It was a culmination of sorts several years in the making. In the process, Lynch emerged as not just the biggest female on the WWE roster but, arguably, the biggest name in all of pro wrestling.
2015 Topps WWE Undisputed marked a new high-end turn for wrestling cards. Included on the checklist is the first Becky Lynch autograph. It's not a particularly rare card but prices have jumped significantly since her championship rise.
Buy on: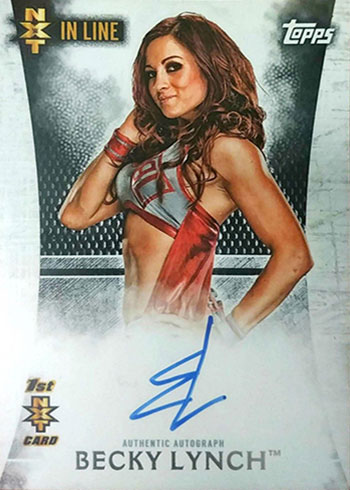 35. 2014 Topps Heritage Throwback Variation Derek Jeter #433
Some may claim that set collecting is dead. It's not but it certainly doesn't cover the same percentage of collectors as it may have in the past. Still, there are lines that are driven by set builders. Topps Heritage Baseball is one of them, which is appropriate since the target here is nostalgia.
Since Topps introduced the line in 2001, one of the big things has always been paying nods to the year they're focusing on. That meant variations galore. In recent years, the variations have continued to grow and their connection to the past has gotten a little looser. But in there, one particular theme has emerged as an early season juggernaut — Throwbacks.
The concept is simple: swap out the photo for one of the player wearing a throwback uniform. If that's not compelling, the huge odds are, especially when there are several out there working on Heritage master sets.
The 2014 Topps Heritage Derek Jeter Throwback comes from the year these variations debuted. It's one of 20 such cards with one landing every 3,175 hobby packs. Doing a little math, that's about 63,500 packs to land the card.
Buy on: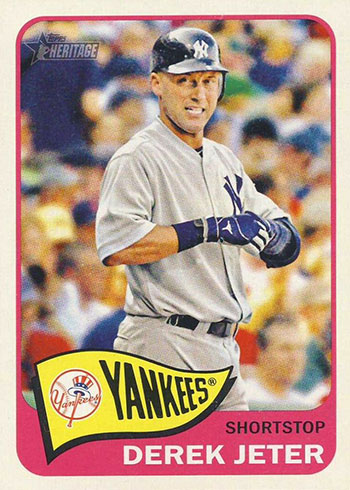 34. 2016 Bowman Chrome Draft Pete Alonso Autograph #CDA-PA
More often than not now, Bowman Chrome autographs have plenty of traction and attention when a player makes their MLB debut. For Pete Alonso, he was certainly getting on more peoples' radars heading into the 2019 season. But before that, this card was largely flying under it. A historic first season and rookie home run record later, and it's not anymore.
Buy on: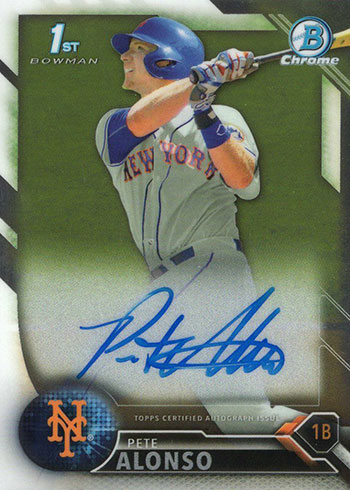 33. 2009-10 National Treasures James Harden RC Auto Patch #203 /99
Is it possible for James Harden Rookie Cards to still be overlooked? He has the dominant game, the charisma and swagger, the beard and global recognition. But there's still no ring. You have to get the feeling that even with this card dabbling in five figures, that it still hasn't reached its full potential, waiting in the shadows of the set's Stephen Curry RC.
Buy on: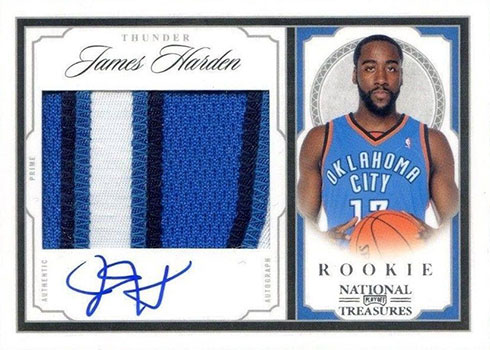 32. 2013-14 Exquisite Collection Signature Kicks Michael Jordan
Michael Jordan is bigger than basketball. Looking at how much attention he received when he tried his hand at baseball is a testament to that. But there's so much more than just sports. 2013-14 Exquisite Collection Signature Kicks highlight probably the one thing Air Jordan is known for outside of his days with the Chicago Bulls — Air Jordans. The cards use pieces of some of his most famous signature sneakers as a foundation for his autograph. There are several different versions and layouts for the card, depending on the part of the show it uses.
Buy on: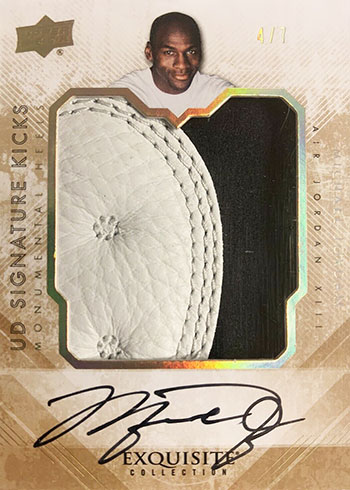 31. 2016 Topps Jose Bautista #96
Sports cards are more than photos and a collection of stats or short bios. They're a medium that can tell a story. At least the best ones can. The 2016 Topps Jose Bautista certainly does, capturing the infamous bat flip from Game 5 of the 2015 ALDS against the Texas Rangers. When 2016 Topps Series 1 came out, the card got tremendous attention throughout baseball, especially in Canada.
The moment may be but a memory now as the Blue Jays continue to transition into a new era but it's moment that will forever live on in baseball card form.
Buy on: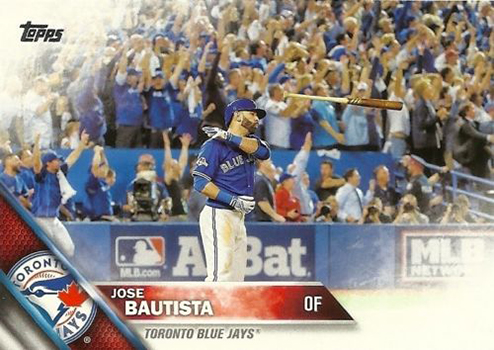 30. 2016 Bowman Chrome Prospect Autographs Juan Soto #CPA-JS
Over the next decade and beyond, Juan Soto is one of the players to watch in baseball. He's already one of the most exciting. Just days after his 21st birthday, Soto helped the Washington Nationals win their first World Series. And that was in his first full season as a major leaguer. While Soto has no shortage of Rookie Cards released in 2018 shortly after his Nationals debut, it's his 2016 Bowman Chrome Prospect Autograph that's his most coveted card. The card is part of the 2016 Bowman Chrome Baseball release.
Buy on: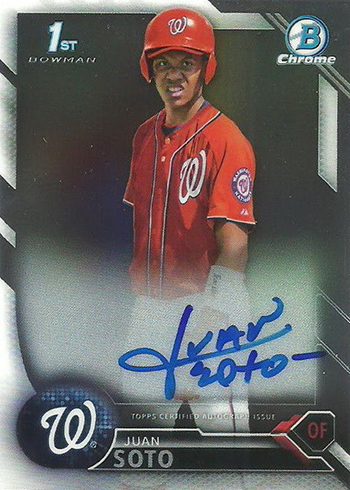 29. 2012-13 Panini Prizm Prizms LeBron James #1
Usually, unnumbered parallels from a player's tenth season don't make a big impact. But LeBron James isn't your average player and 2012-13 Panini Prizm Basketball isn't your usual set. The release marks the brand's debut. And while it wasn't the juggernaut it is now, this release provided the foundation.
In the years since, many are finding themselves going back and filling in gaps. In the process they're discovering that even the (Silver) Prizms aren't the easiest. Thus, veteran superstars like LeBron have been commanding big prices.
Also, without any NBA autograph cards from Panini, collectors need to look to other places for high-end cards of the three-time NBA Champion. Cards from cornerstone sets such as this fill that void.
Buy on: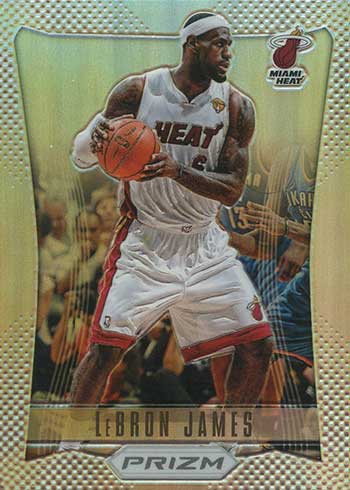 28. 2012-13 Panini National Treasures Anthony Davis RC Auto Patch #151 /199
Heading into the 2012-13 season, Anthony Davis was the big rookie in a loaded crop. And while he has shown at times that he was worthy of the billing and could be one of the NBA's best players, injuries slowed things. And after the initial hype, playing in New Orleans wasn't the biggest hobby hotbed.
Now that Davis is in Los Angeles with the Lakers, interest in his cards has taken a turn upward. As with many of his peers, National Treasures marks his top RC. And while 199 copies might be double what most NT RCs are, it's still not a lot.
Buy on: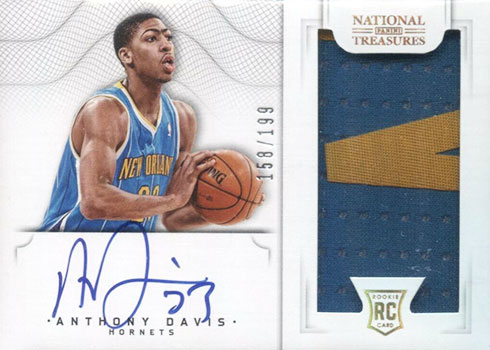 27. 2018 Topps Ronald Acuna Jr. #698
Following his Braves debut towards the end of April, Topps rushed to get Ronald Acuna Jr. into 2018 Topps Series 2 Baseball. He, along with Gleyber Torres, didn't make it onto the main checklist, however both got the short print variation treatment. After starting out strong, the card dipped in the offseason. However, there was a huge spike for the "Bat Down" card in 2019.
While it's a variation and not an RC in the traditional sense, it is Acuna's first flagship Topps card. That brings a different sense of tradition to it. It's also not an easy card to pull, despite Series 2's wide availability.
The fact that Acuna flirted with 40/40 in his first full season in the majors certainly brought something to the table as well.
Buy on: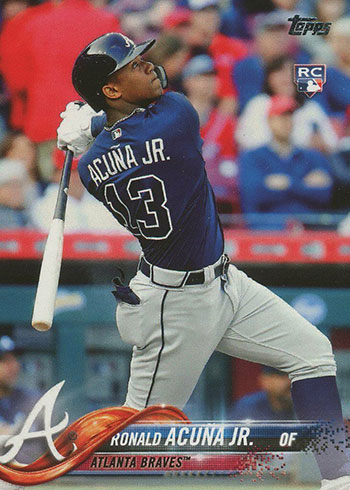 26. 2019 Bowman Chrome Wander Franco Autograph #CPA-WF
The stakes in high-level prospecting have become higher and higher. It seems like every year, there are one or two players who catch on and prices on their top early cards soar. For baseball, that almost always happens with their first Bowman Chrome autograph. And in 2019, none were bigger than Wander Franco.
Not only are the expectations for Franco high, but some are already looking to him to be a generational star along the lines of a Mike Trout or Ronald Acuna Jr. Of course, there can only be so many generational players, so maybe that line of thinking is off a little.
No matter what Franco's impact in the majors is, he's already made one on the hobby. Besides the base version of this card fetching hundreds there were the many limited Refractors that went even higher. The biggest? The one-of-one Superfractor that sold in a private sale for more than $60,000.
Buy on: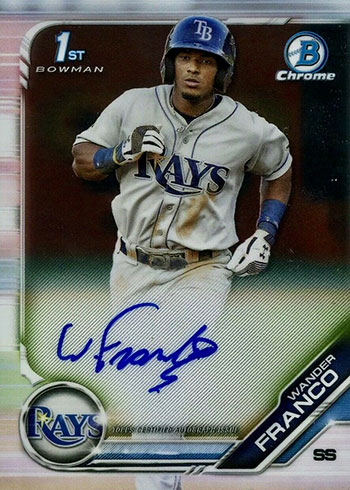 25. 2012 Topps Heritage Bryce Harper #H650 RC
Traditionally, Topps Heritage is one of those lines with widespread appeal and available at both hobby and retail. Not so with 2011 Topps Heritage High Number. It was an early online-exclusive from the card maker. Limited to just 1,000 factory sets, it was priced at about $100. At the time, that seemed high, even with the promise of an autograph. Over time, that's proven to be a bargain with the Harper alone still an easy sell at several times the original cost of the entire set.
It turns out that Heritage still had that mass appeal. But when it's treated more like a test issue, which this was at the time, it becomes something much more.
Buy on: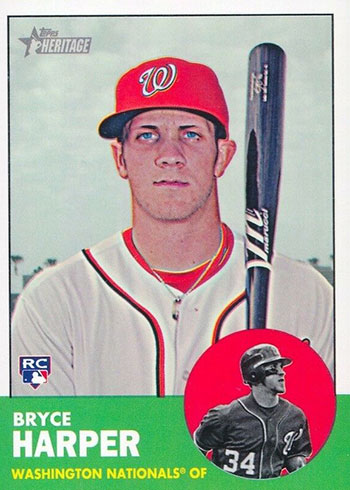 24. 2018-19 Panini Prizm Silver Prizms Luka Doncic #280
In the latter of the decade, collectors made it clear that Silver Prizms were one of the parallels of choice in the hobby. This was established as Luka Doncic was making his first impressions in the NBA. The combination was a perfect storm for the Prizm line to further establish it as basketball's key line with mass availability. On top of that, Doncic helped cement the importance of Silvers leading to a run on the product at both the hobby and retail levels.
Buy on: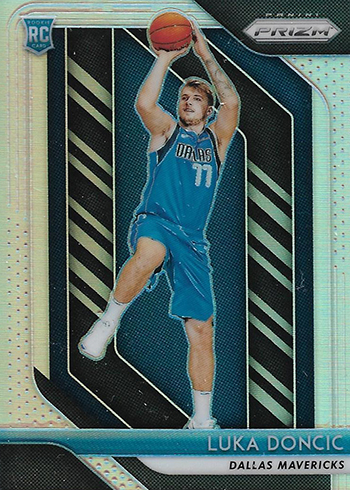 23. 2012-13 Panini National Treasures Kawhi Leonard RC Auto Patch #114 /199
In case you needed further justification of the stacked rookie crop in 2012-13 NBA products, here you go. Much like his ascent up the NBA ranks, Kawhi Leonard's National Treasures RC wasn't the iconic card it is now. We've known for a long time it was a good card on a crowded checklist but even since Leonard led the Toronto Raptors to the NBA Championship, it's become something greater. But that's the Kawhi Leonard way.
While a lot of collectors were looking to David, Lillard and Irving, Leonard was going about doing his thing. And starting his career with Tim Duncan and Tony Parker, it was hard to stand out even on his own team. Time, scenery and circumstance have all changed for Leonard and with those changes, his profile (and this card's) has continued to rise.
Buy on: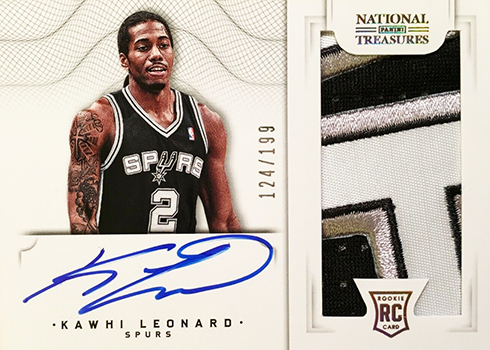 22. 2012 Topps Finest UFC Ronda Rousey Autograph #A-RR
Ronda Rousey is a trailblazer in the ring. Other women may have come before her and been stars in their own right, Rousey's popularity helped take UFC further into the mainstream and make women's fights main events on major cards. That carried over to professional wrestling where she, Becky Lynch and Charlotte Flair closed out WrestleMania 35 — a culmination of women's wrestling's growth.
Rousey is one of those stars where any autograph card is a good one. However, it's her first from 2012 Topps Finest UFC that sets the bar.
Buy on: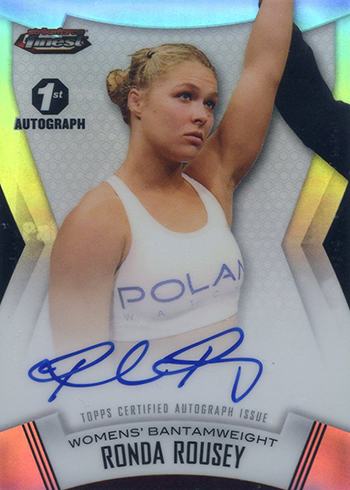 21. 2018 Panini National Treasures Lamar Jackson RC Auto Patch /99 #165
As we embark on a new decade, football is probably going to be undergoing a transition of sorts over the the next few years. The careers of Tom Brady, Drew Brees and Aaron Rodgers are likely winding down. The torch is already starting to pass to a new generation of exciting and dynamic quarterbacks. In his second season, Lamar Jackson showed he's one to watch, combining passing prowess with an awesome ground game.
Jackson's most expensive Rookie Card saw huge jumps in 2019, topping $10,000 several times.
Buy on: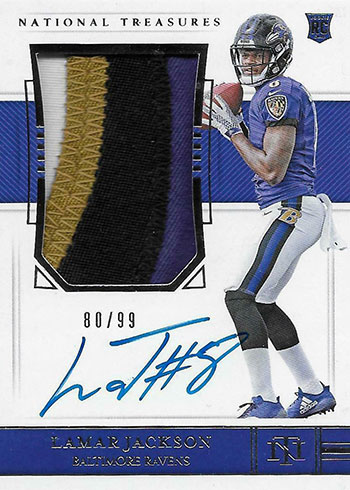 20. 2016 Topps Now Bartolo Colon #57
While sports cards evolved in many ways during the 2010s, the biggest innovation was likely the advent of print-on-demand products like Topps Now. After chugging along in its debut at the start of 2016, the concept came into the mainstream when cult hero Bartolo Colon hit an unlikely home run and the moment was immortalized on a baseball card within a few hours. To this day, it remains one of the best selling Topps Now baseball cards.
Buy on: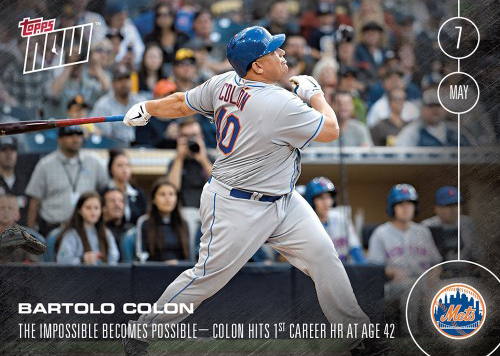 19. 2012 Panini Contenders Russell Wilson RC #225
Heading into the 2012 season, the NFL rookie class was headlined by a couple of quarterbacks. Initially, Russell Wilson wasn't one of them. Super Bowl rings and injuries have a way of changing things. Today, Wilson is a future Hall of Famer. The other two big 2012 rookie quarterbacks, Andrew Luck and Robert Griffin III, have not had the same prolonged success.
For Wilson, 2012 Panini Contenders is one of his top Rookie Cards. The quarterback definitely has autographs, but not a lot of them. And of those, on-card signatures are tougher. This RC has one as well as the popular Contenders name recognition. It's also an example of how sometimes cards don't need to be numbered to carry tremendous significance.
Buy on: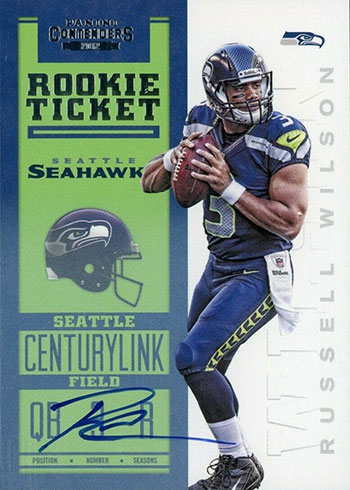 18. 2013-14 National Treasures Giannis Antetokounmpo RC Auto Patch #133 /99
Giannis Antetokounmpo cards didn't start off at the juggernaut levels they are now. As far as value goes, National Treasures dominates his RCs with a small print run, jumbo patch piece and on-card signature. The branding doesn't hurt, either.
Even with just 99 copies to start with, this has become a tough card to find of late as Giannis and the Bucks look like legitimate NBA Championship contenders. It could be that many have made their way into permanent collections or it could be added speculation. Either way, this is an elite-level card now with matching prices.
Buy on: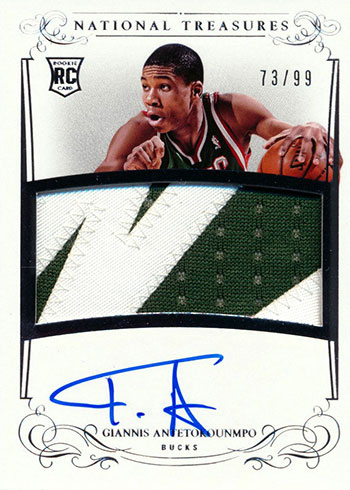 17. 2011 Topps Finest Rookie Autographs Mike Trout #84
2011 Topps Finest is one of just two MLB-licensed sets to have Mike Trout autographs from his first season in the bigs. Finest isn't the first to picture the outfielder in his Angels gear, but it is certainly a significant card. The 2009 Bowman Chrome Draft autograph is now out of reach to a lot. This card certainly isn't cheap, but it is still more accessible.
It comes with a clean design, on-card signature and plenty of pop. And like all things Finest, additional Refractors exist with smaller print runs and higher price tags.
Buy on: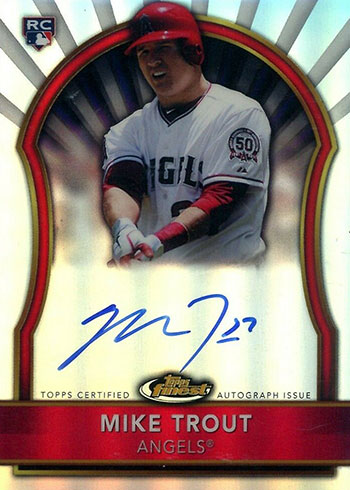 16. 2016-17 Upper Deck Exquisite Rookie Autographs Ben Simmons #09T-BS /99
It was a surprise to many when Upper Deck signed Ben Simmons to an exclusive autograph deal. The card maker no longer had the NBA license and Panini had a virtual exclusive with the college licenses as well. That has kept the number of Simmons autograph cards on the market to a minimum.
So it was a big deal when the 76ers star made an unannounced appearance in 2017 Upper Deck Goodwin Champions on an Exquisite Rookie Autographs card. Numbered to 99, it's signed on-card and carries a similar design to 2009-10 Exquisite Collection Basketball — the one Stephen Curry's RC is found on.
Despite no licensing or logos, the card soared on the combination of being a Simmons autograph with the high-end appeal of Exquisite.
Buy on: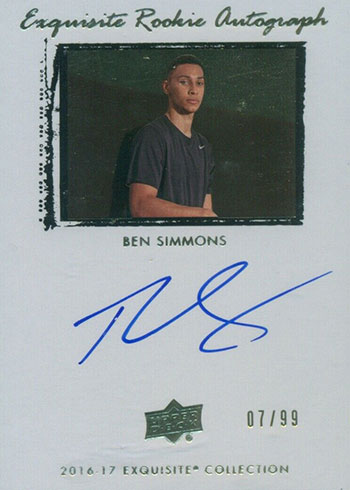 15. 2013 Bowman Chrome Draft Kris Bryant Autograph #BCA-KB
When is a first Bowman Chrome Autograph not actually the first? When it's the 2013 Bowman Chrome Draft Kris Bryant. As far as widely popular cards from the 2010s go, this is probably the most confusing one of all.
For starters, it didn't actually come out until the following year in 2014 Bowman Inception. They were a surprise addition made even more surprising by the fact that Bryant had a Chrome Prospect Autograph already in 2014 Bowman Baseball.
According to Topps, the 2013 cards were returned too late for inclusions in Bowman Draft. So they had a couple of options: destroy them or include them elsewhere. With Bryant driving the market at the time, they went with the latter.
But it wasn't just 2014 Bowman Inception that had 2013 Bowman Chrome Draft Kris Bryant Autographs. They popped up in other releases that year, including more base versions. And then, some Refractors not found elsewhere mysteriously showed up as replacements through Topps customer service.
Needless to say, keeping up with the card and its various versions was not a normal situation.
It took a while but, despite being the second on the market, the 2013 Bowman Chrome Draft version has become the more valuable between Bryant's two Chrome autographs.
Buy on: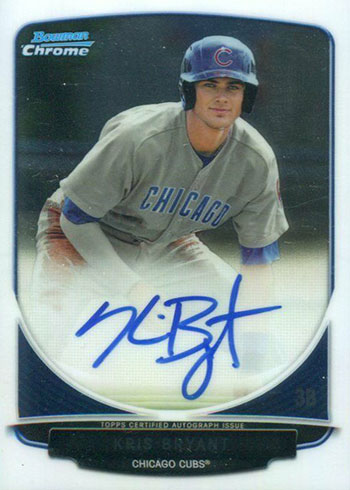 14. 2018 Bowman Chrome Rookie Autographs Shohei Ohtani #CRA-SO
It's not unusual for a card to drive a product. However, few have done it more than the Chrome Shohei Ohtani autograph found in 2018 Bowman Baseball. Despite his rookie season being riddled with injuries culminating in Tommy John surgery, Ohtani's first season in the majors was still a success. Coming to MLB from Japan, he had a built in fan base as soon as he arrived. Pair that with the sense of possibility that came with a two-way player who could pitch and hit and there was a lot of hype for Ohtani in the hobby.
His 2018 Bowman Chrome Rookie Autograph can best be compared to the Golden Ticket hunt in Roald Dahl's "Charlie and the Chocolate Factory." It all culminated with the one-of-one Superfractor being pulled weeks after the set's release. The card, which didn't sell until September — after it was known Ohtani would require surgery — sold for more than $184,000.
Buy on: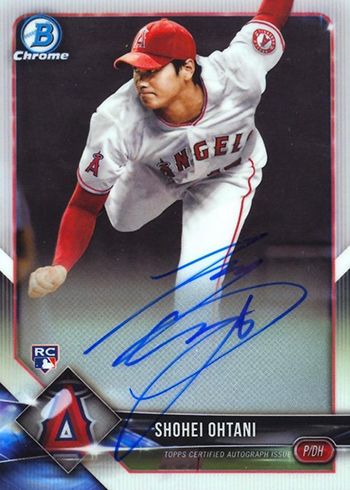 13. 2012 Topps Bryce Harper #661 RC
Between Sports Illustrated covers and lots of early cards, collectors were very familiar with Bryce Harper already by the time he made his debut with the Washington Nationals in April, 2012. While Topps was able to get the teenager into 2012 Topps Series 2, it was as a short print.
Unlike more recent short prints like Ronald Acuna Jr. and Vladimir Guerrero Jr., Harper's wasn't a variation, either. This means that it's an RC, further adding to its appeal.
It's not a totally straightforward card, though. In addition to the version included in packs, there are variations found in different factory sets. These are much more common, cheaper and don't have the same level of desirability.
In recent years, this card has gained a lot of traction and closed the price gap between it and another Bryce Harper RC short print found in 2012 Topps Archives.
Buy on: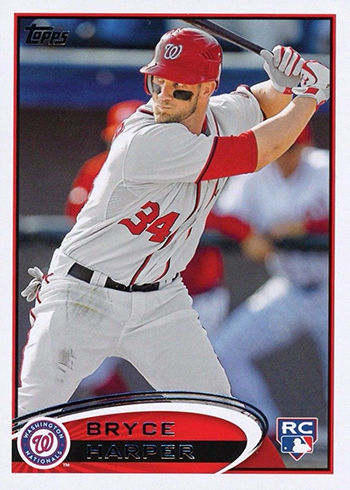 12. 2018 Panini Contenders Lamar Jackson RC Autograph #112
Lamar Jackson's National Treasures RC might have a little more glamor, but the quarterback's Contenders card also has a lot going for it. Contenders is one of those lines that sits between the high-end and the accessible. Most rookies have autographs but, save for a couple of instances over the years, they're not serial numbered.
Appealing to both Rookie Card collectors and set builders, another thing comes into play with Contenders — short prints. Often, SPs come from players who might not have prolific careers ahead of them, so it gives their cards a bump. But what about when one of the league's top young quarterbacks gets the short print treatment?
That's exactly the case here. Jackson's base 2018 Panini Contenders RC has a confirmed print run of just 90 copies — nine fewer than National Treasures.
Buy on: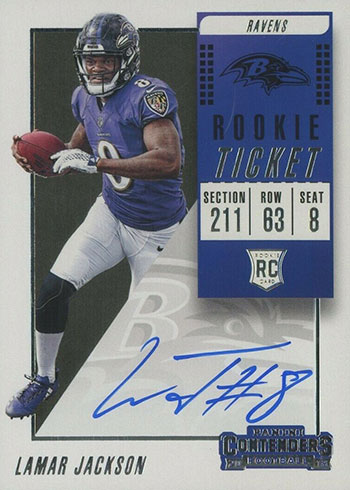 11. 2015-16 Upper Deck Connor McDavid RC #201
Upper Deck's Young Guns have been around since before Connor McDavid was born. There's a lot of history within the subset. And yet, the first overall pick in the 2015 NHL Draft elevated it even further. This isn't McDavid's most valuable card. However, you're not going to find any autographs or low numbering on it, either. In fact, it was one of his most readily available Rookie Cards. And yet, here we are.
The card is one of several released in the 2010s that symbolize that "rare" isn't the only thing driving Rookie Cards today. Set builders have a say. Speculators do, too. Tradition plays a big part, too, and in hockey cards today, there's no deeper history than Upper Deck's flagship set.
Simply put, the 2015-16 Upper Deck Connor McDavid transcends traditional boundaries and is one of the most popular hockey cards not just of the modern era, but all-time.
Buy on: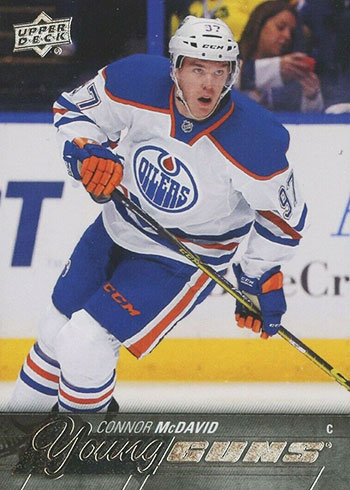 10. 2018-19 Panini National Treasures Luka Doncic RC Auto Patch #127 /99
For those who followed the international basketball scene, Luka Doncic's emergence as one of the NBA's best probably isn't much of a surprise. However, his ascent to one of the league's most popular players this fast probably is a bit of a surprise. So, too, is the fact that his top Rookie Card is now topping $30,000.
Buy on: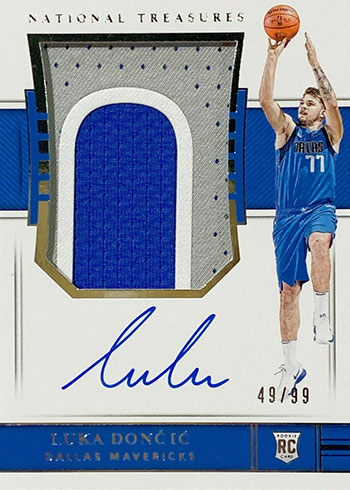 9. 2017 Bowman Chrome Prospect Autographs Ronald Acuna Jr. #CPA-RA
It hasn't taken long for Ronald Acuna Jr. to become one of the biggest players in baseball and the hobby. Collectors have quickly become enamored with his legit five-tool skill set, youth and charisma. And when it comes to Ronald Acuna Jr. cards, his 2017 Bowman Chrome Prospect Autograph is king.
Found in 2017 Bowman Baseball, it started out strong and has only gained momentum. Often, cards like this can peak as a player reaches the big leagues. Not so with Acuna Jr. Its rise has continued.
It's not a rare card, however most of the copies that come available on the secondary market are graded with top condition copies going for four figures. And that's just the base version. Some of the tougher Refractors can reach much higher.
Buy on: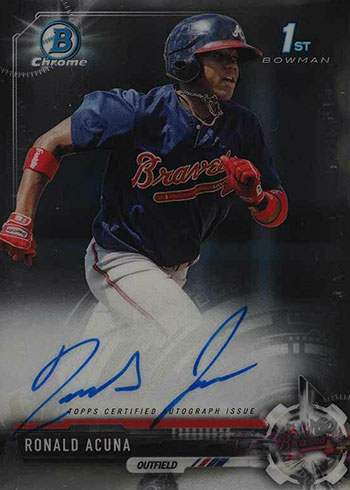 8. 2013-14 Panini Prizm Giannis Antetokounmpo RC #290
The 2013-14 Panini Prizm Giannis Antetokounmpo Rookie Card is probably the best card to point to if you want to explain the brand's rise and acceptance. It's not a short print, it's not autographed and it's from a set that was widely available. And yet, the base version now fetches hundreds of dollars.
Sure, some of that has come from Antetokounmpo's emergence as one of the NBA's most dominant and exciting players, but there is the added significance that Prizm has become the set to chase for the masses when it comes to basketball Rookie Cards.
Buy on: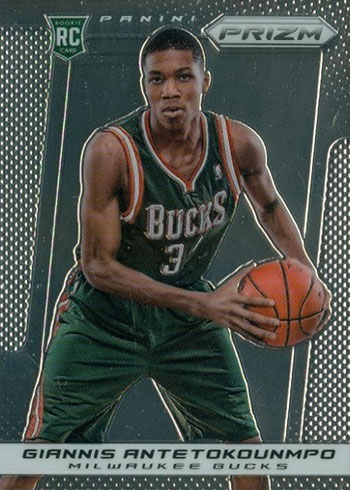 7. 2013 Bowman Chrome Draft Aaron Judge Autograph #BCA-AJ
The summer of 2017 was big for baseball. Not only did its hottest rookie play for the New York Yankees but Aaron Judge was out there hitting home run after home run. By the time the season ended, Mark McGwire's rookie record had been broken and baseball had a new superstar. It was a meteoric rise for Judge's cards as well, which dated all the way back to this one in 2013. It was also a reminder that when it comes to baseball cards, it's always good to go back and look through those prospects and rookies every once and a while.
Judge's home run record may have already fallen and injuries have slowed him the last couple of seasons, but he's still one of the faces of the game and biggest stars in the hobby.
Buy on: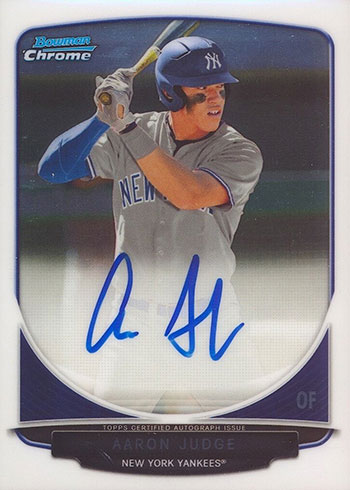 6. 2019-20 Panini Prizm Zion Williamson RC #248
Yes, this card came out in the final weeks of the decade. But even before its release, its legacy was set in the months before. More than the hobby world knew that Zion Williamson was going to be big for basketball. They hype surrounding him in the hobby hasn't been seen for years — in basketball, probably nobody since LeBron James. The closest comparison is probably Connor McDavid who brought floods of people over to hockey cards in 2015-16.
Why Prizm when Williamson has other cards before it? This is a set where collectors can come up big whether they're buying by the hobby box or retail hanger. It's a Rookie Card that carries clout simply for what it is, not any added elements. It won't go down as the most valuable Zion Williamson RC, but it is one that has mass appeal.
Like Williamson coming into the league, it was known ahead of time this was going to be a card to chase. Like McDavid, it brought in lots of collectors from elsewhere. And that gets even bigger when you consider basketball's global popularity, particularly in North America and Asia.
Some will point to his injury that started his pro career. And they may very well be right. Or Zion will end up living up to the hype and be the dominant player many expect him to be. That's for the 2020s to tell us. But what is known is that this was an extremely influential card to close of the 2010s.
Buy on: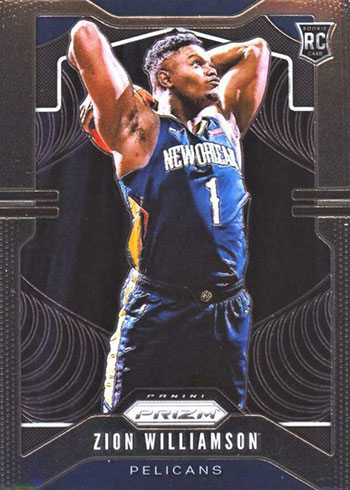 5. 2011 Bowman Chrome Prospect Autographs Bryce Harper #BCP111
So this card has taken a hit the past couple of years. In fact, it's had many peaks and valleys based on Harper's highs and lows. That said, the 2011 Bowman Chrome Prospect Autographs Bryce Harper remains an extremely influential card. Bowman Chrome and autographs have been around since 2001. They started out as base RCs before evolving as new rookie rules came into play. Enter the Prospect Autograph. Today, they're some of the biggest and most important in the hobby, leading a whole sub-section of collecting based on prospecting.
In its current form, it can be argued that this Harper kicked off the 1st Bowman Chrome Autograph craze. It was the card to chase at the time despite the fact that Harper was still a minor leaguer. Add to that the growing popularity and expansion of Refractors and you've got a card emblematic of the time, even if the card itself has seen a notable downturn.
Buy on: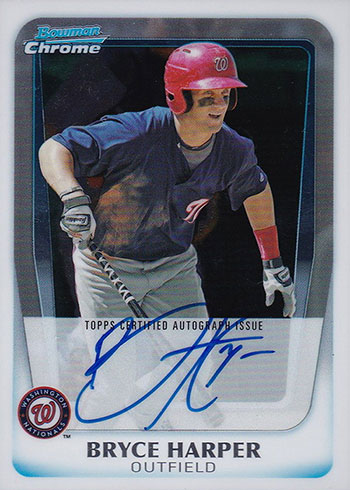 4. 2017 Panini National Treasures Patrick Mahomes RC Auto Patch #161 /99
Patrick Mahomes is just getting started. Barring a career-altering injury, it looks like we're seeing something special. His 2017 Panini National Treasures Rookie Card has already done some special things, especially when you consider Mahomes was a "second-tier rookie" during his first season with collectors more focused on Deshaun Watson. Even with this card already topping $10,000, Mahomes might just be getting started.
Buy on: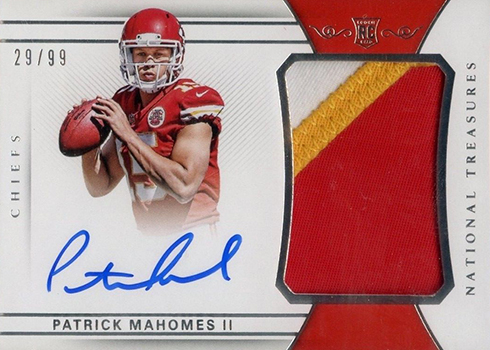 3. 2015-16 The Cup Connor McDavid RC Auto Patch #197 /99
Connor McDavid arrived in the NHL with lots of hype. And this is an instance where it was justified. Not only has he been one of the best players in hockey from the start, but his star power brought a lot of people into (or back to) the hockey card realm.
Of the many Connor McDavid Rookie Cards, 2015-16 The Cup is the clear leader when it comes to value and prestige. Limited to 99 copies, it boasts an on-card autograph and patch. Since its debut in 2005-06, it has also been hockey's premier brand much like National Treasures is in basketball and football.
The card consistently tops $20,000 with some of the highest grade copies selling for over $50,000.
Buy on: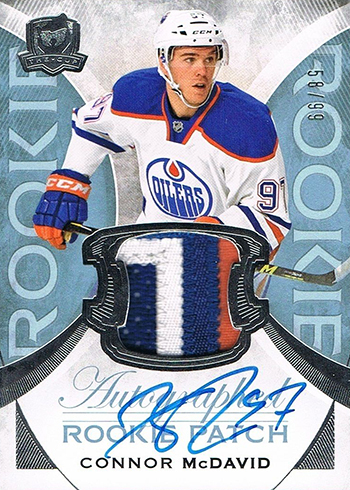 2. 2009-10 National Treasures Stephen Curry RC Auto Patch #206 /99
2009-10 marked a massive change to the basketball card landscape as the NBA moved to an exclusive with Panini. That meant the introduction of plenty of new basketball lines including the crown jewel of them all — 2009-10 Playoff National Treasures. The ultra-premium line essentially took the reigns from Upper Deck's Exquisite.
Just as National Treasures embodies the evolution of luxury-level Rookie Cards, the top rookie from the debut set embodies basketball in the 2010s. A two-time MVP, Stephen Curry led the Golden State to five straight NBA Finals appearances from 2015 to 2019. The Warriors came out on top three of those times.
Curry wasn't the first card to really pop in 2009-10 National Treasures. Blake Griffin was the early collector favorite. And who could forget that brief moment of Linsanity? However, the 2009-10 Playoff National Treasure Stephen Curry's place has established its place in hobby history. It's a classic basketball card that carries importance on multiple levels.
Buy on: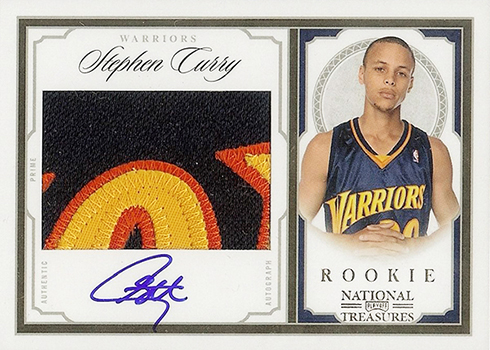 1. 2011 Topps Update Mike Trout RC #US175
We're at the point where we can start debating where Mike Trout stands on the list of baseball greats without using a lot of hyperbole. The Angels outfielder was the best player in baseball in the 2010s and there's really no debate. Since 2012, his first full season in the majors, Trout either won or was the runner-up for American League MVP every year except one. In 2017 he finished fourth.
But the lasting importance of 2011 Topps Update Trout is about more than on-field performance. It helped prove that big cards don't need to have autographs or minuscule print runs. Iconic cards can be gimmick-free, even in the modern hobby.
The card has also caused a ripple effect, not only in baseball but other sports as well, where some of the top-performing cards come from products all collectors have the opportunity to pursue. Sure, today any unopened 2011 Topps Update packs are going to cost a lot. But when they came out, they were readily available at hobby and retail at accessible price points.
So while the 2011 Topps Update Mike Trout Rookie Card is one of the most iconic baseball cards ever, its impact goes even further.
Buy on: