Cheap Wax Wednesday: 1998 Pro Line DC3 Football
Score Board arrived on the trading card scene in 1994 with the release of a couple different sets. 1994 Score Board National is a multi-sport set featuring basketball, football, baseball, and racing cards. That set consisted of just 25 cards. Their other release focused on college basketball players about to be drafted. 1994 Score Board Draft Day is a 13-card set highlighting just five different college stars. Later, Score Board would release other multi-sport and basketball sets, as well as covering football and racing. They even produced a lone baseball set in 1997, which featured 7-11 branded phone cards. Remember phone cards?
1998 Pro Line DC3 Football was a set perfect for the '90s as every card is a die cut/ 1998 marked the third, and final, release by this name. The base set features 100 cards in four different shapes. The product also has three different insert sets.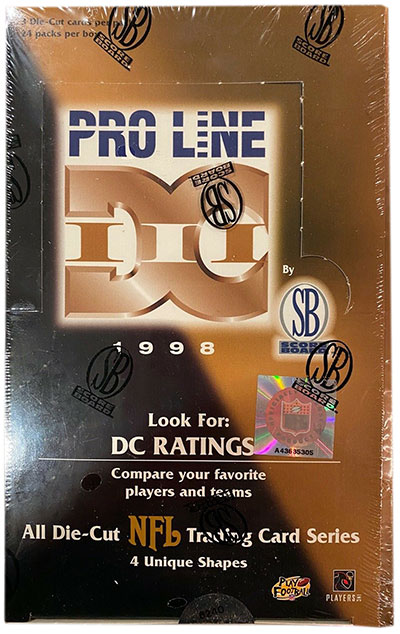 Hobby boxes are individually numbered. This specific box happens to be box number 1801 of 13200 produced.
1998 Pro Line DC3 Football Box Break
Cards per pack: 4
Packs per box: 24
Price paid: $39

Pack 1 highlights:
Antowain Smith & Junior Seau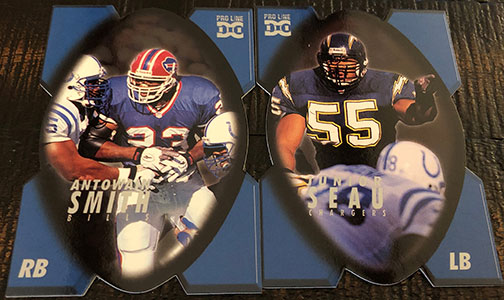 Pack 2:
Jake Plummer & Neil Smith/Shannon Sharpe Super Bowl Team Totals (1:16 packs)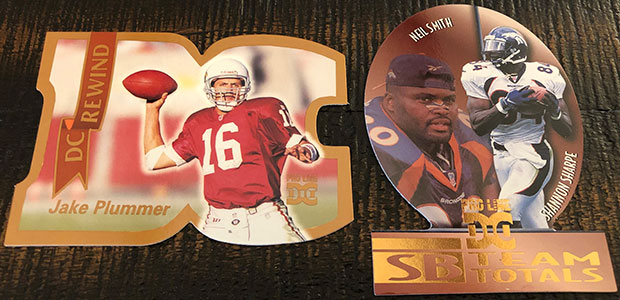 Pack 3:
Rod Woodson, Marshall Faulk & Curtis Martin

Pack 4:
Antonio Freeman & Ricky Watters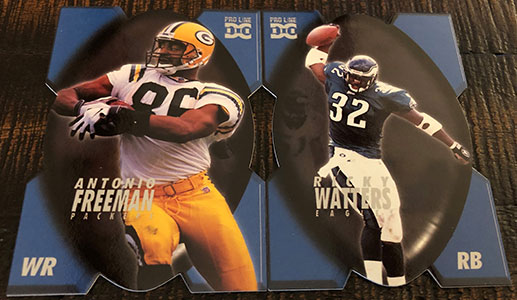 Pack 5:
Marcus Allen, Barry Sanders & Byron Hanspard. Hanspard wasn't exactly a highlight. I just wanted to show another die-cut design.

Pack 6:
Joey Galloway & Trent Dilfer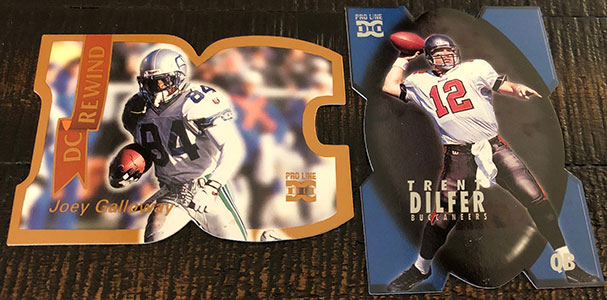 Pack 7:
Tony Gonzalez & Kerry Collins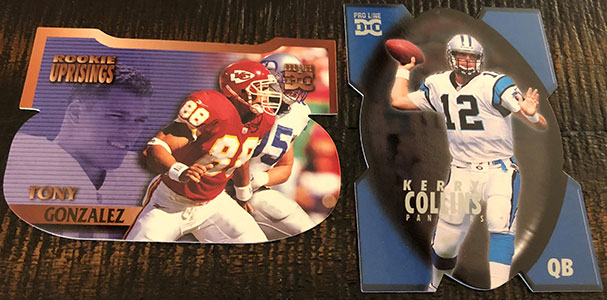 Pack 8:
Irving Fryar, Shannon Sharpe & Reggie White

Pack 9:
Mark Brunell & Eddie George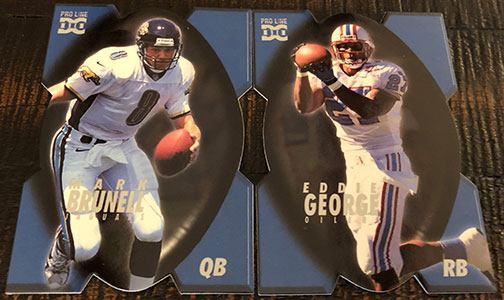 Pack 10:
Emmitt Smith & Jake Plummer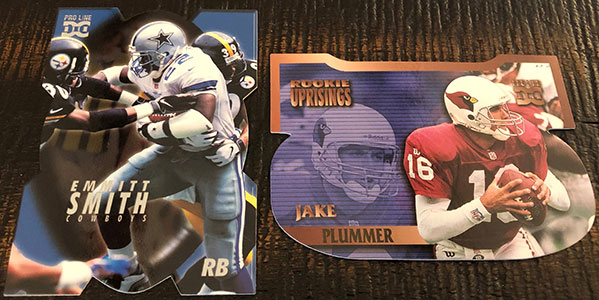 Pack 11:
Warrick Dunn & Herman Moore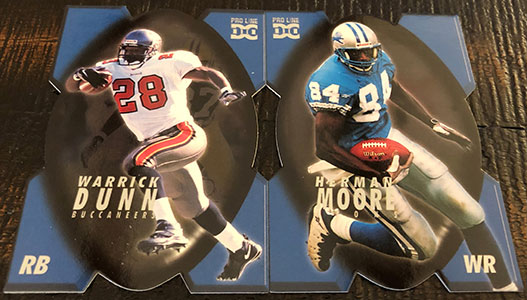 Pack 12:
Dorsey Levens & Jimmy Smith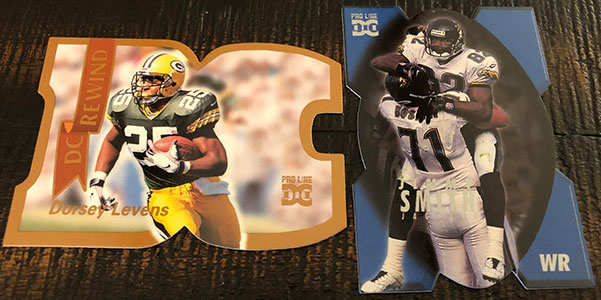 Pack 13:
Michael "Playmaker" Irvin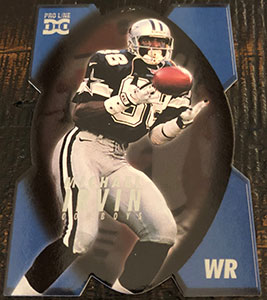 Pack 14:
Joey Galloway & Terry Allen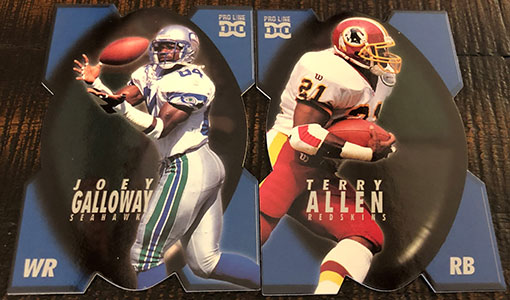 Pack 15:
Corey Dillon, Brett Favre & Jake Plummer

Pack 16:
Dan Marino & Deion Sanders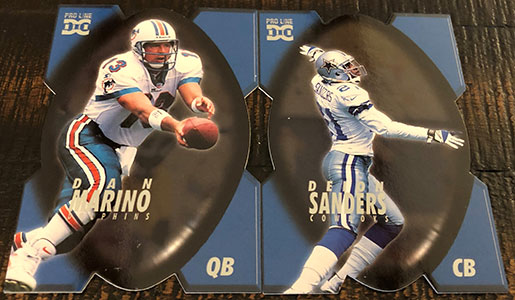 Pack 17:
Tony Gonzalez & Deion "Prime Time" Sanders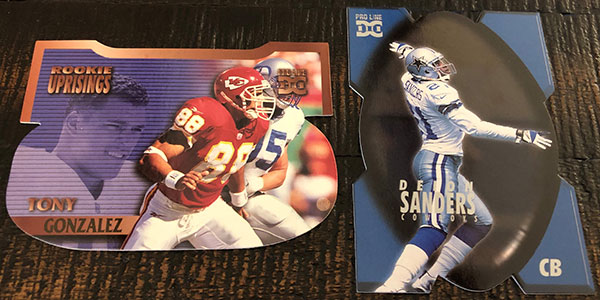 Pack 18:
Jake Reed & Antowain Smith/Bruce Smith Super Bowl Team Totals (1:16 packs)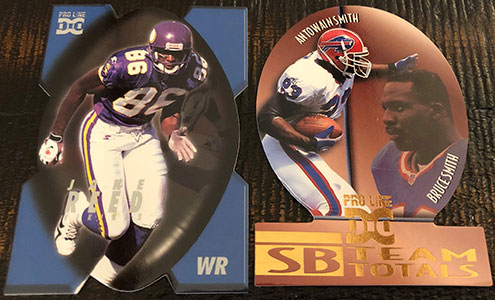 Pack 19:
Carl Pickens & Kordell Stewart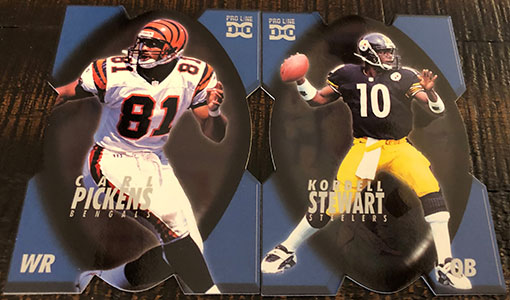 Pack 20:
Corey DIllon, Andre Rison & Dan Marino Choice Cuts (1:24 packs)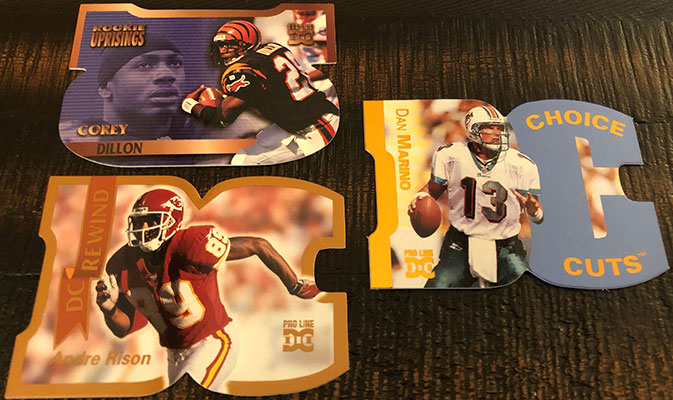 Pack 21:
Troy Aikman & Ben Coates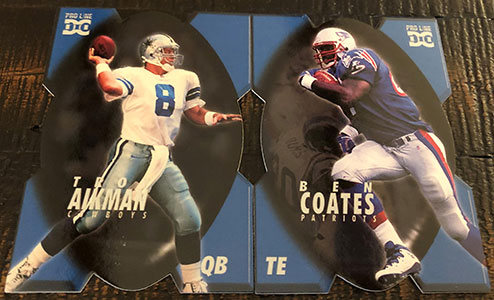 Pack 22:
Irving Fryar & Steve Emtman/Carl Pickens Decade Draft (1:48 packs)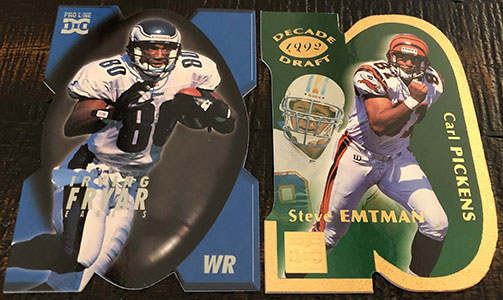 Pack 23:
Jerome "The Bus" Bettis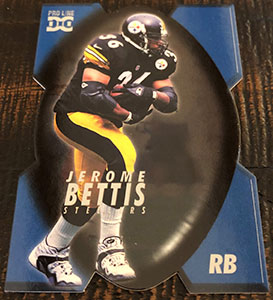 Pack 24:
Robert Brooks & Corey Dillon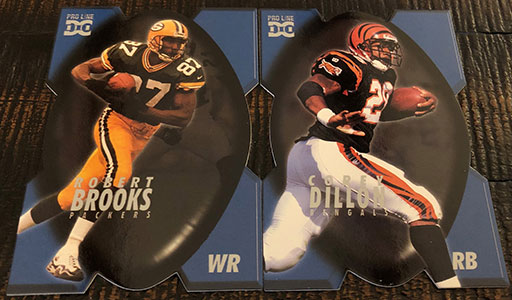 Lastly, the Aikman card back. Score Board created their own rating system for each player. I'm not sure who did the rating, or how they came up with the grades, but it is interesting to look at.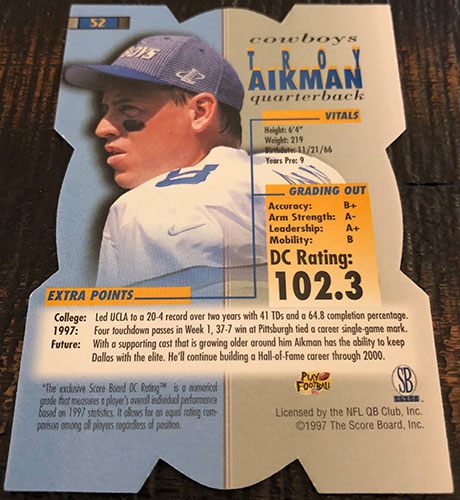 I don't mind the base set design, although after looking up the 1996 and 1997 releases I think this might be the worst design of the three. The inserts are pretty good and all have some kind of foil design element. However, they are not super easy to pull as I only pulled four total in this box. Even then, I was lucky to even pull that many. I did land the toughest insert, Decade Draft, which is found just once in every two boxes. It wasn't the best player combo on the checklist, but it could have been worse.
Overall, I am not sure I would buy another of these with the $39 price tag. I may, however, try to track down the 1996 and 1997 releases.
Want more installments of Shane Salmonson's Cheap Wax Wednesday? Check out his other breaks in the archives.