Cheap Wax Wednesday Box Breaks: 1990 Fleer Football
Fleer had been in the sports card business off and on since the famous 1959 Ted Williams release, but finally made the jump to football in 1990. 1990 Fleer Football is a simple set. It features a 400-card base set and just one insert set, All-Pro.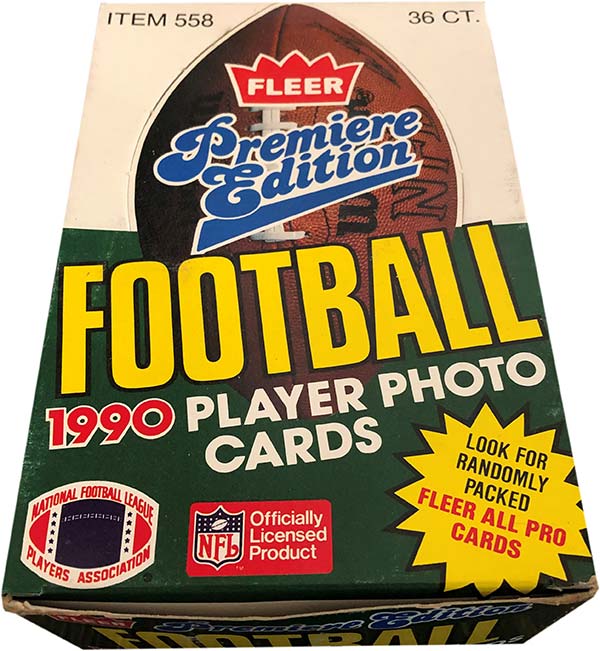 The base card design is actually not bad for 1990. The cards have white borders and team color-coordinated backgrounds. The All-Pro inserts are solid as well, showcasing two player photos on the card fronts, including one inside the NFL shield outline.
Though the set does feature 72 rookies, there was really only one of note, first overall pick Jeff George.
1990 Fleer Football Box Break
Cards per pack: 15
Packs per box: 36
Price paid: $7.50

Pack 1 highlights:
Marion Butts & Nate Newton
Butts was a two-time Pro Bowler, earning the honors following the 1990 and 1991 seasons.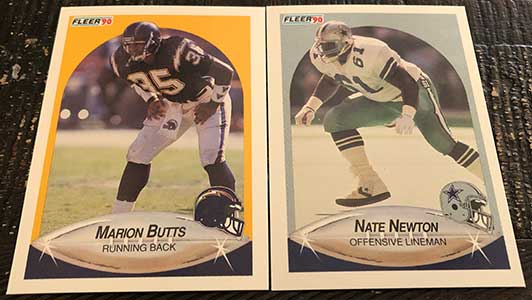 Pack 2:
Bruce Smith & Sterling Sharpe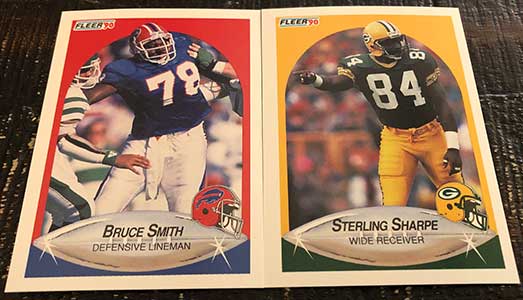 Pack 3:
Mark Carrier & Derrick Thomas All-Pro (1:7 packs)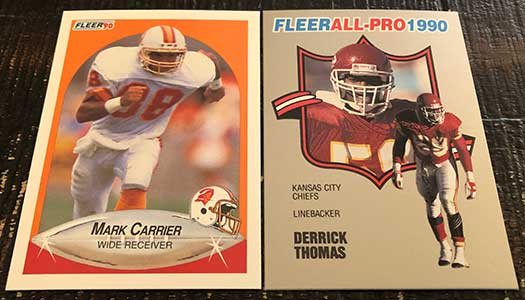 Pack 4:
Mike Singletary & Troy Aikman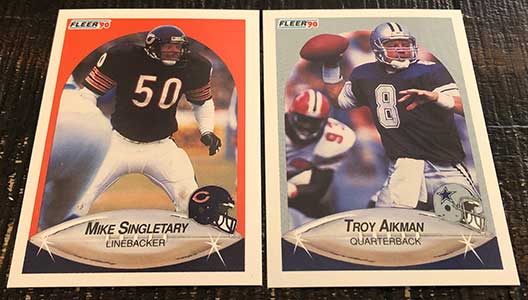 Pack 5:
Neal Anderson, Morten Andersen, Ottis Anderson & Charles Haley
Andersen ranks secnd all-time with 565 made field goals. The only kicker with more is Adam Vinatieri.

Pack 6:
Marcus Allen, Barry Sanders & Jerry Rice All-Pro (1:7 packs)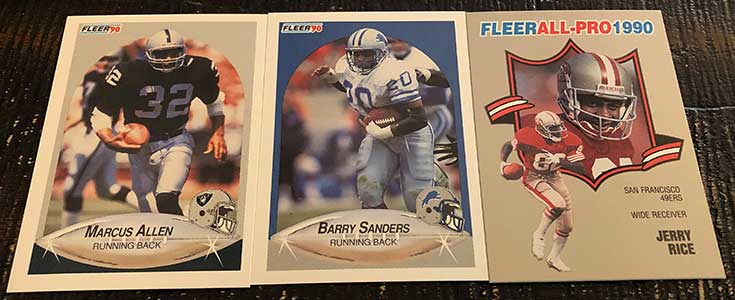 Pack 7:
Phil Simms, Clay Matthews & Steve Atwater

Pack 8:
Jim Kelly, Roger Craig & Warren Moon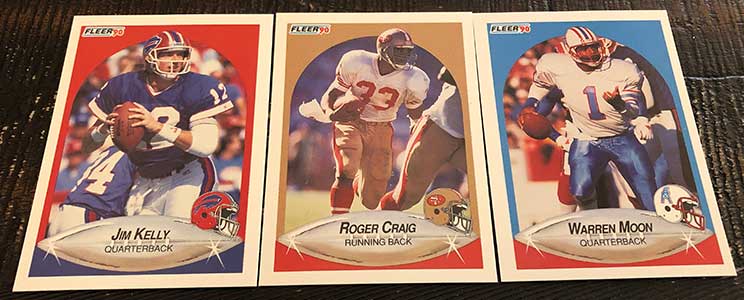 Pack 9:
Bo Jackson, Deion Sanders & Rod Woodson All-Pro (1:7 packs)
Bo and Deion were massive two-sport stars at this point in their careers.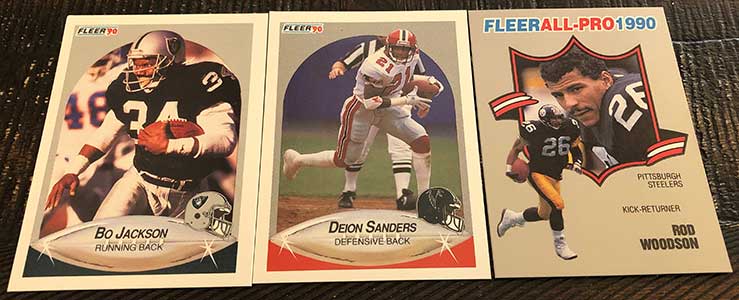 Pack 10:
Dave Meggett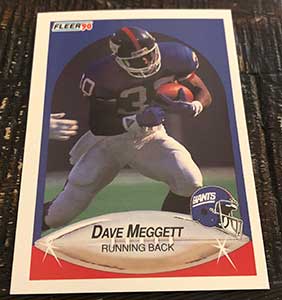 Pack 11:
Christian Okoye & Boomer Esiason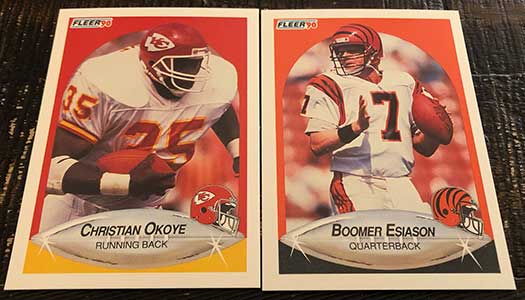 Pack 12:
Gerald Riggs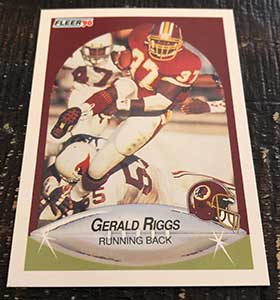 Pack 13:
Andre Rison
"Bad Moon" Rison caught 743 passes during his career, racking up 10,205 yards and hauling in 84 touchdowns.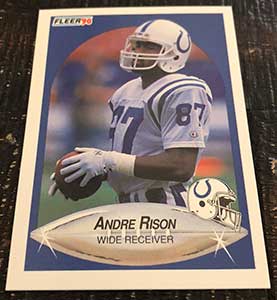 Pack 14:
Jerry Rice/Joe Montana, Andre Reed, Eric Metcalf & Joe Montana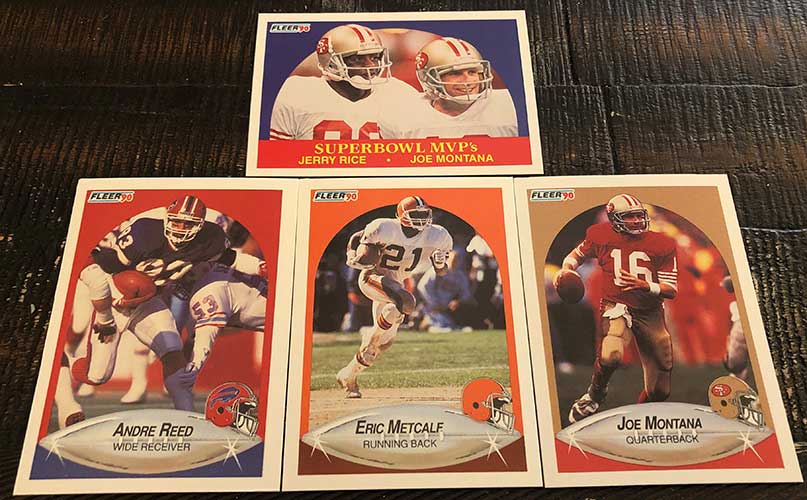 Pack 15:
Bernie Kosar & Jim McMahon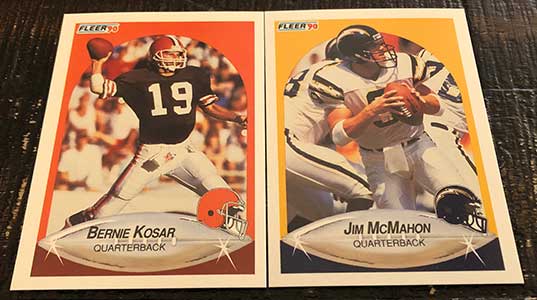 Pack 16:
Vinny Testaverde, Steve Young, Jim Harbaugh, Kevin Greene & Reggie White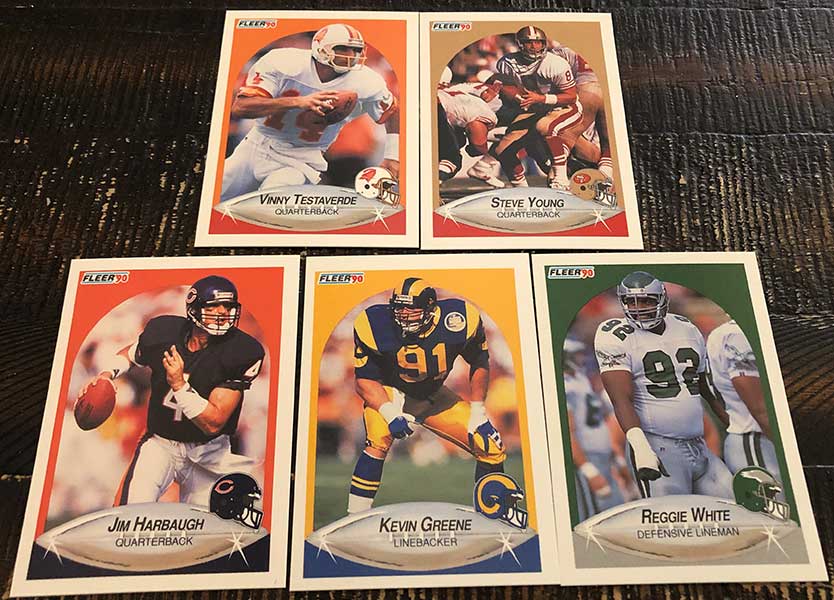 Pack 17:
Dave Krieg & Anthony Carter
Carter led the league in 1987, averaging 24.3 yards per catch.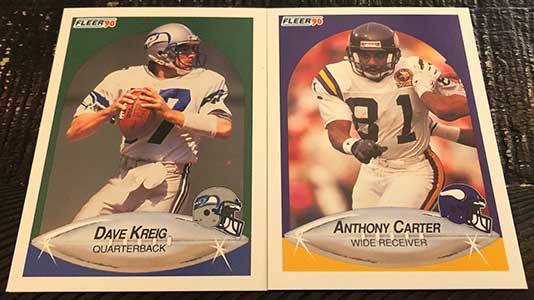 Pack 18:
Craig "Iron Head" Heyward, Cris Carter, Dan Marino & Ronnie Lott

Pack 19:
Anthony Carter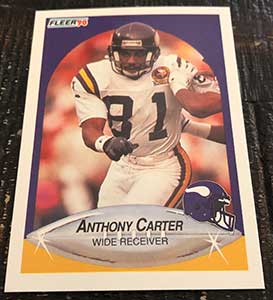 Pack 20:
Ronnie Lott & Anthony Miller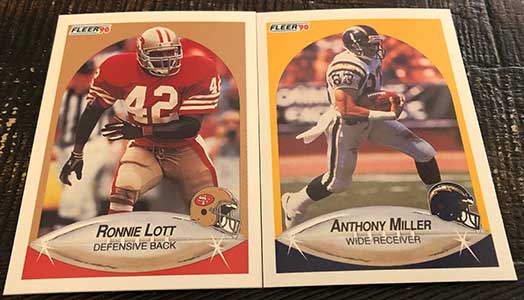 Pack 21:
Rodney Peete
Peete played for six different teams over a 15-year NFL career.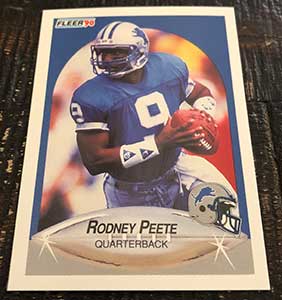 Pack 22:
Andre Reed All-Pro (1:7 packs)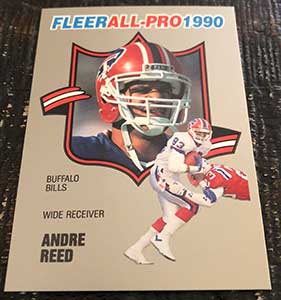 Pack 23:
Herschel Walker, Eric Allen, Jerry Rice & Lawrence Taylor

Pack 24:
Art Monk, Randall Cunningham, Mark Clayton & Howie Long

Pack 25:
Michael Irvin & Rich Gannon RC
Gannon was drafted in 1987, but didn't make it onto a card until 1990.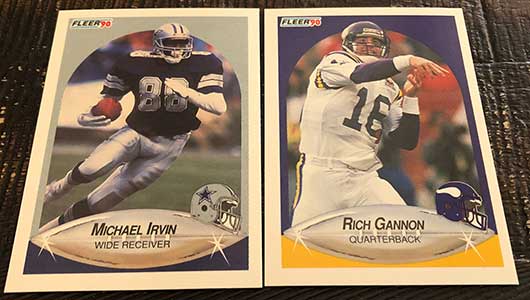 Pack 26:
Willie Anderson, Thurman Thomas, Derrick Thomas & Jeff George RC

Pack 27:
Rod Woodson, Ickey "Shuffle" Woods, John Elway & Steve Grogan

Pack 28:
Gary Anderson & Joe Montana All-Pro (1:7 packs)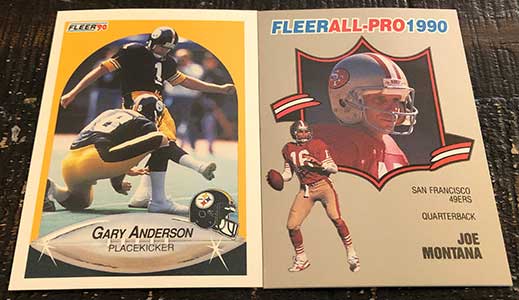 Pack 29:
Greg Lloyd
Lloyd was named a Pro Bowler for five straight seasons from 1991-1995. He finished top three in Defensive Player of the Year voting following the 1994 and 1995 seasons.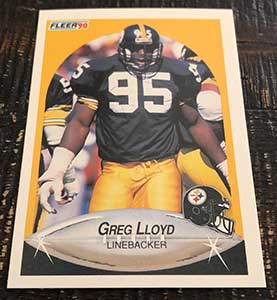 Pack 30:
Brian Blades, Eric Allen & Herschel Walker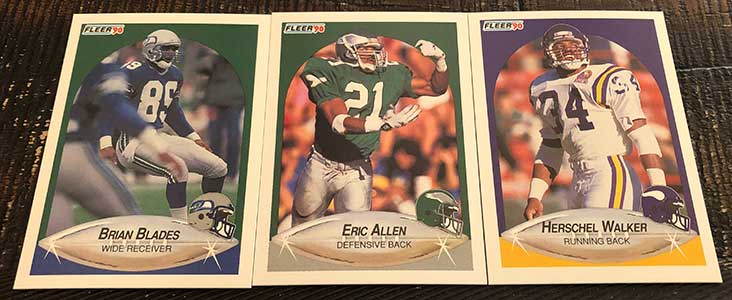 Pack 31:
Art Monk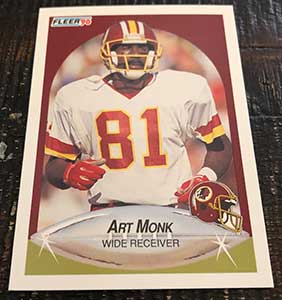 Pack 32:
Anthony Miller, Michael Irvin & Rich Gannon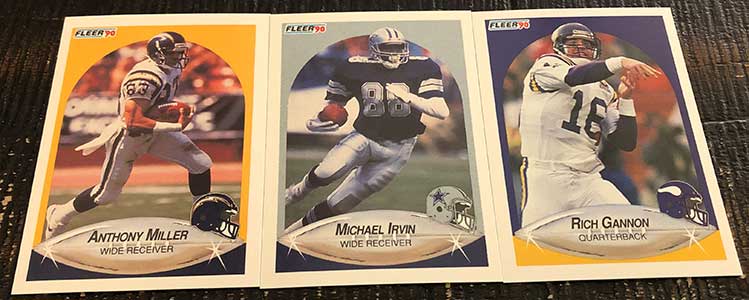 Pack 33:
Willie Anderson, Thurman Thomas & Derrick Thomas
Derrick Thomas played just 11 NFL seasons, but certainly made the most of it. The Hall of Famer was named to the Pro Bowl after his first nine seasons.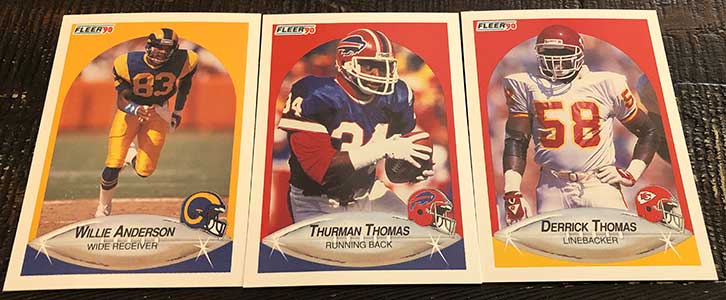 Pack 34:
Rod Woodson & Ickey Woods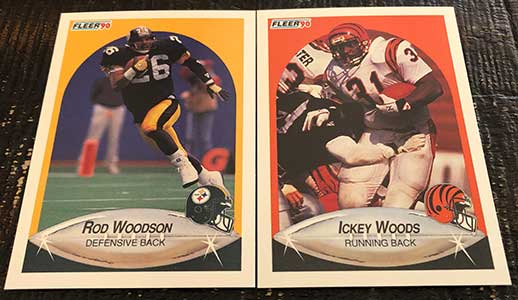 Pack 35:
Lawrence Taylor, Jerry Rice & Cornelius Bennett

Pack 36:
Randall Cunningham, Mark Clayton, Howie Long & Bruce Smith

Lastly, the Bruce Smith card back. Now this is exactly what you would expect to see on a 1990 card back.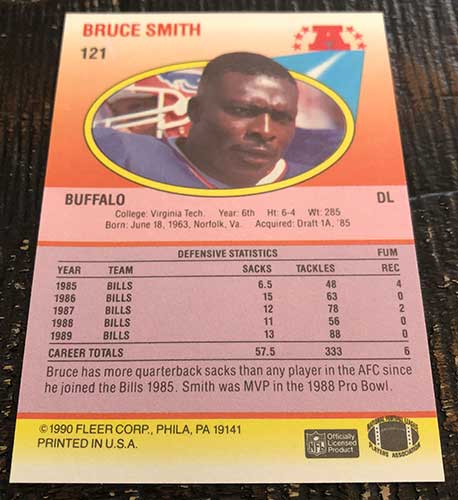 I grabbed this box from the LCS when they ran a closeout sale on junk wax. Absolute no-brainer buy at two for $15!
Like I said earlier, I like this set. There isn't much value and there aren't any big-name rookies to chase But, I am a fan of the team color backgrounds. Add in the fact you can find them dirt cheap and this is a must-buy.
Shop for 1990 Fleer Football cards on:
Want more installments of Shane Salmonson's Cheap Wax Wednesday? Check out his other breaks in the archives.