Cheap Wax Wednesday Box Breaks: 2000 Bowman Baseball
2000 Bowman Baseball is made up of a single 440-card series. Similar to recent years leading up to the release, veteran base cards have a red photo border and name plate, while the rookies and prospects feature blue. In addition to the base set, there are two parallels, four insert sets, and autographs to chase.
Autographs aren't nearly as plentiful as they are today, found just once in every six hobby boxes. The autograph checklist is 40-players deep and includes Rick Ankiel, Carlos Beltran, J.D. Drew and Kerry Wood.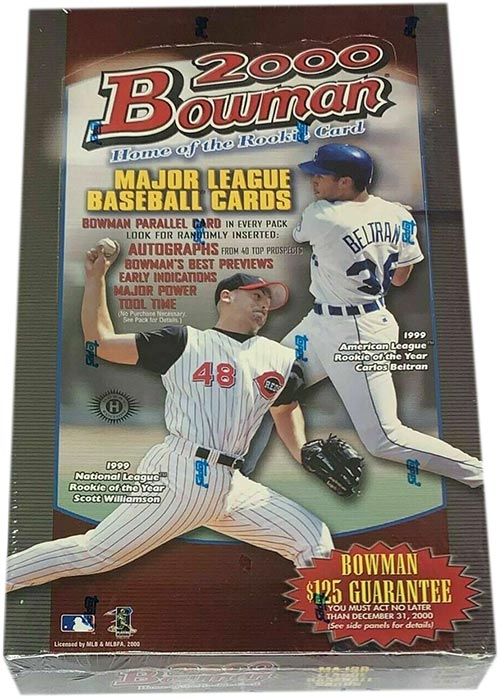 Bowman hasn't always been about prospects, and finding the next big thing's first card. Bowman sets can really be split up into three sections. Vintage Bowman had an eight year run starting in 1948. Then, after 34 years, Bowman Baseball returned in 1989. Though it has been an annual release since 1989, the makeup of the set has definitely changed. Starting in the mid 1990s, Bowman began focusing on prospects, and has continued that focus for the last 25 years.
2000 Bowman Baseball Box Break
Cards per pack: 10
Packs per box: 24
Price paid: $15

Pack 1 highlights:
Gary Sheffield, Vinny Castilla, Todd Helton & Bartolo Colon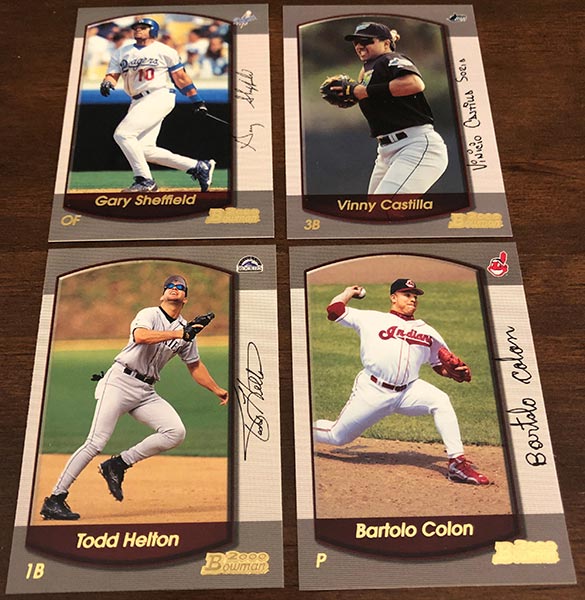 Pack 2:
Michael Cuddyer & Tony "The Tiger" Clark. Cuddyer was a top 10 draft pick for the Twins in the 1997 draft. He would go on to spend parts of 11 seasons in Minnesota, before playing his final four seasons for the Rockies and Mets.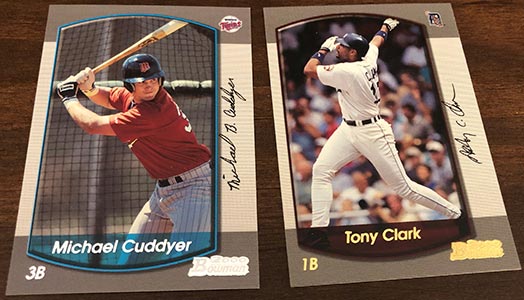 Pack 3:
Derek Jeter & Aubrey Huff Retro/Future (one per pack)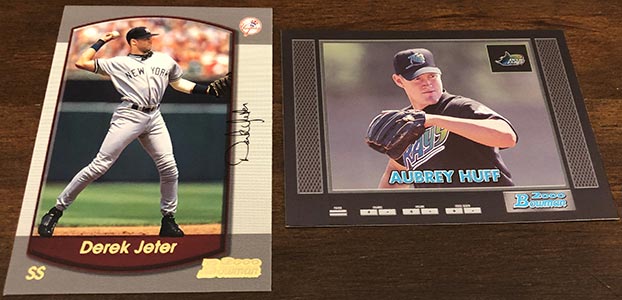 Pack 4:
Milton Bradley, Andruw Jones, Kevin Brown, Jose Vidro & Carlos Zambrano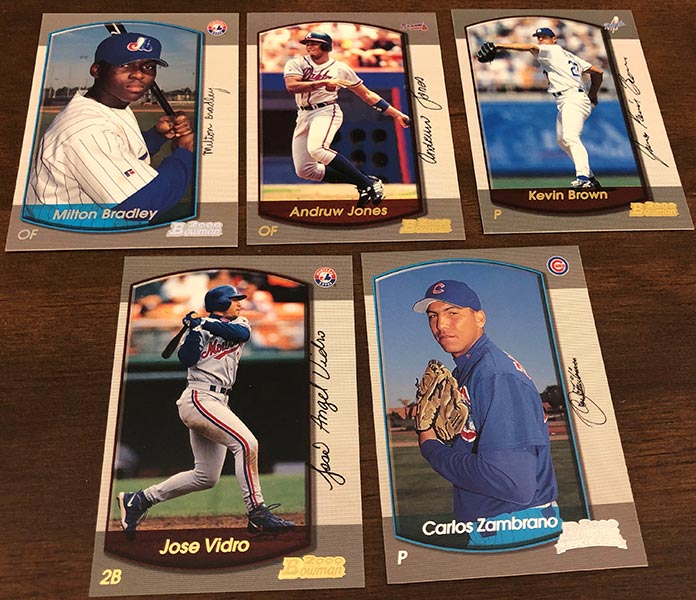 Pack 5:
Cliff Floyd, Ben Grieve & current Red Sox manager, Alex Cora Retro/Future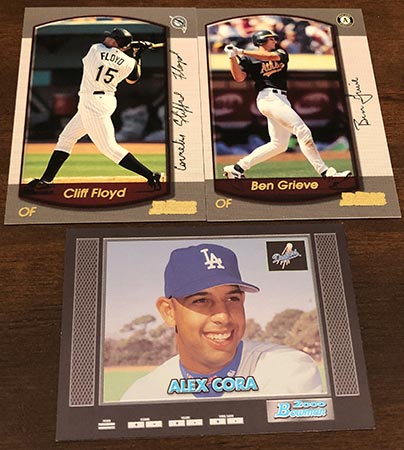 Pack 6:
Greg Vaughn & Rick Elder Gold (21/99) (1:64 packs). A first round pick of the Orioles in the 1998 draft, Elder never made the major leagues. He played five seasons in the minors, never rising above High-A.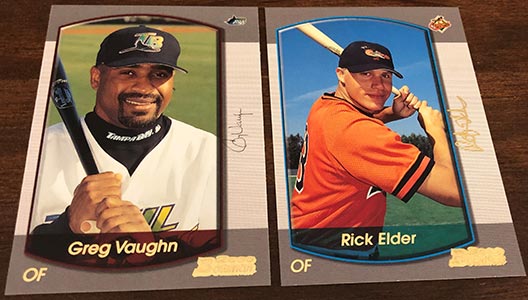 Pack 7:
Mark Grace & Michael Cuddyer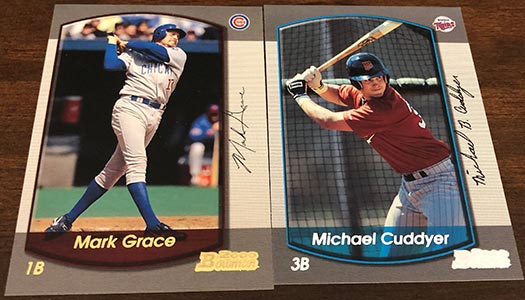 Pack 8:
A.J. Burnett, Ivan Rodriguez, Tim Hudson & Milton Bradley Retro/Future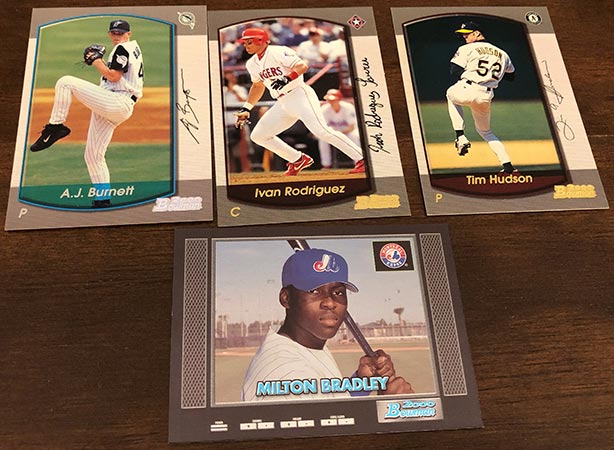 Pack 9:
A couple of Houston's Killer B's, Lance Berkman & Craig Biggio. No, Berkman wasn't an original Killer B in Houston but he did replace Derek Bell playing alongside Biggio and Bagwell.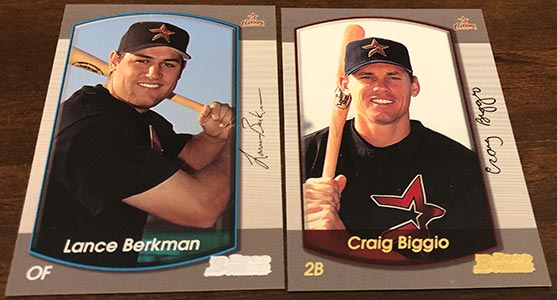 Pack 10:
Tony Gwynn & Bernie Williams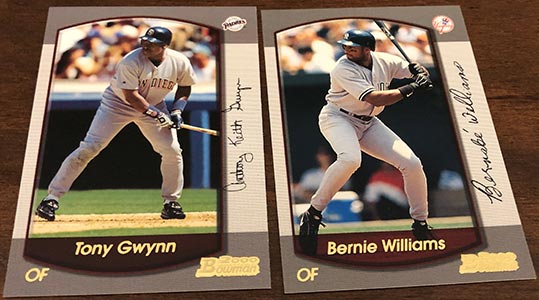 Pack 11:
Magglio Ordonez, Freddy Garcia & Ryan Langerhans Tool Time (1:8 packs). Freddy Garcia finished third in the AL Cy Young voting in 2001. He went 18-6 with a 3.05 ERA.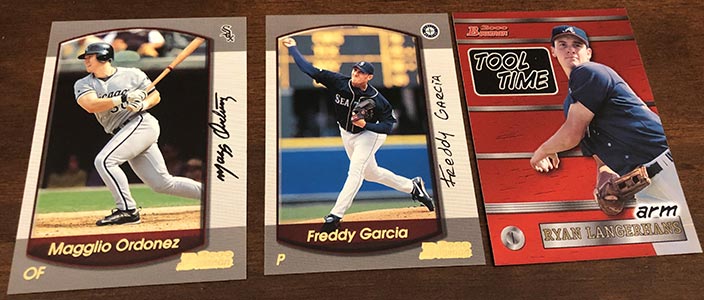 Pack 12:
Roy Oswalt, Mike Mussina & Mark McGwire 2000 Bowman's Best Previews (1:18 packs)

Pack 13:
Alex Rodriguez, Sammy Sosa, Derek Jeter & Ruben Mateo Tool Time (1:8 packs)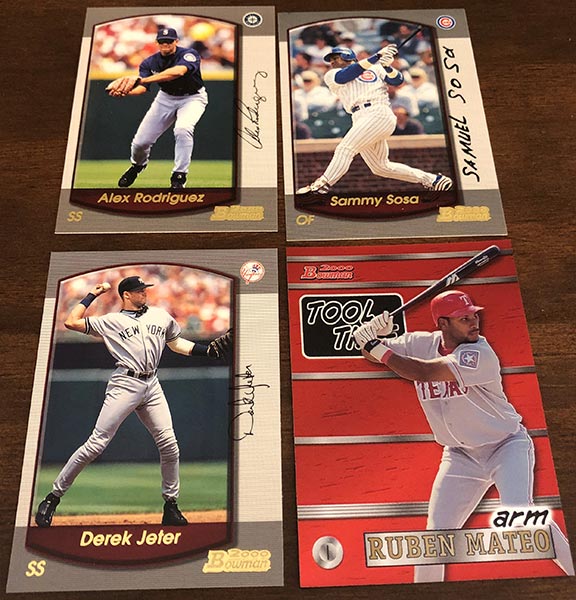 Pack 14:
Calvin "Pokey" Reese & Mike Hampton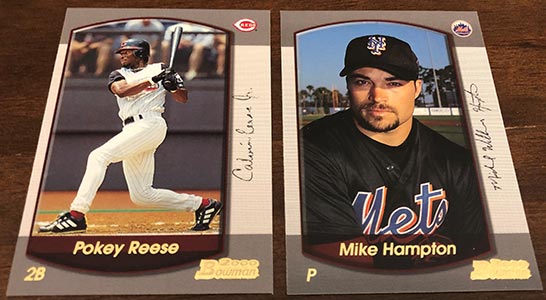 Pack 15:
Jim Thome, Rafael Palmeiro, Barry Zito RC & Derek Jeter Major Power (1:24 packs). Jeter was a strange choice to be featured in the Major Power insert set, as he averaged just 13 home runs per season in his career.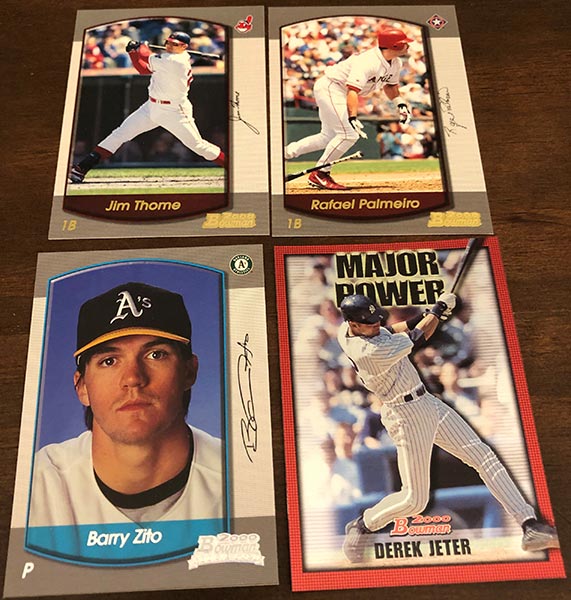 Pack 16:
Omar Vizquel, Jason Giambi & Rick Ankiel. Ankiel finished second in the 2000 NL Rookie of the Year voting, after a season in which he started 30 games and struck out 194 batters in 175 innings. Rafael Furcal edged out Ankiel in the ROY voting.

Pack 17:
C.C. Sabathia, Bobby Abreu, Brad Lidge & Mike Piazza Early Indicators (1:24 packs)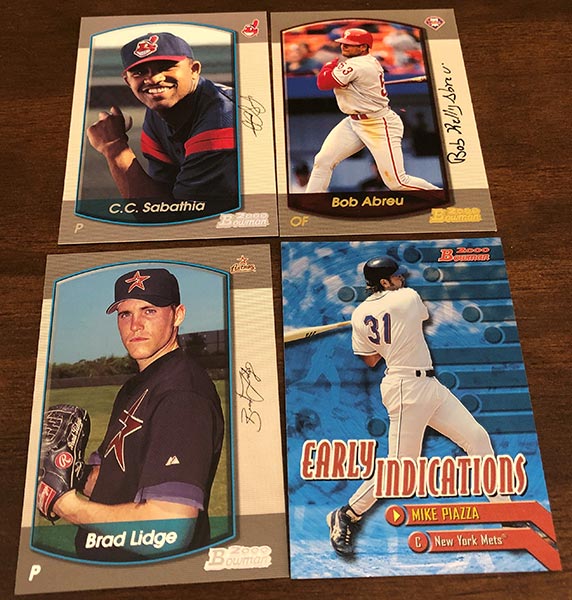 Pack 18:
Tino Martinez & Brian Jordan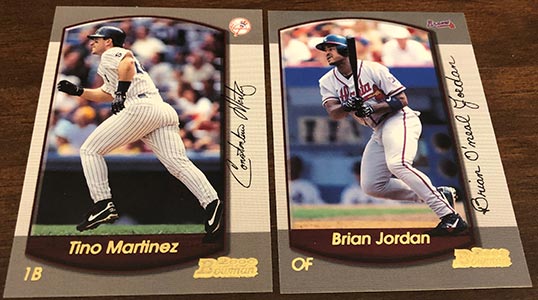 Pack 19:
Edgardo Alfonzo & Russell Branyan. Branyan hit 16 home runs as a rookie for Cleveland in 2000. He would go on to hit 194 homers, playing parts of 14 major league seasons for ten different teams.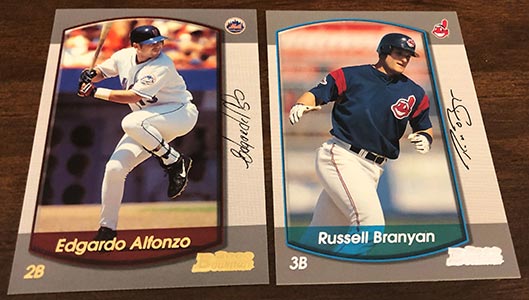 Pack 20:
A couple of guys known for playing for other teams, David Eckstein & Jose Canseco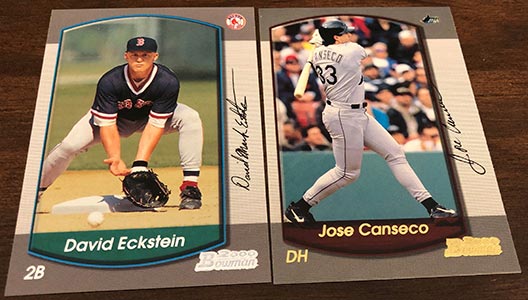 Pack 21:
Brandon Phillips, Orlando "El Duque" Hernandez & Corey Patterson Tool Time (1:8 packs)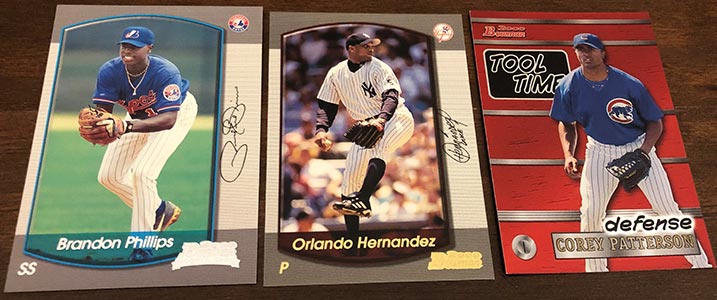 Pack 22:
Juan Gonzalez & Todd Walker. Gonzalez was traded to the Tigers following an incredible four-year run in Texas, totaling 173 home runs & 560 RBI.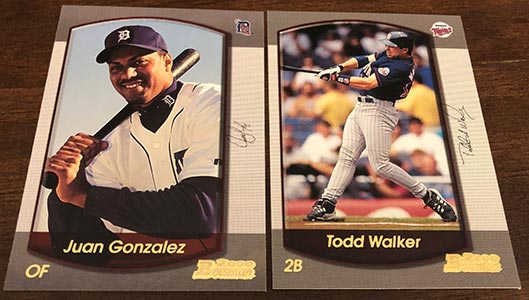 Pack 23:
Jason Grilli & Eric Karros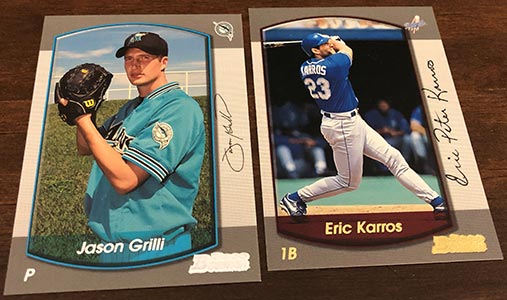 Pack 24:
Two former Red Sox first base prospects, Mo Vaughn & Jeff Bagwell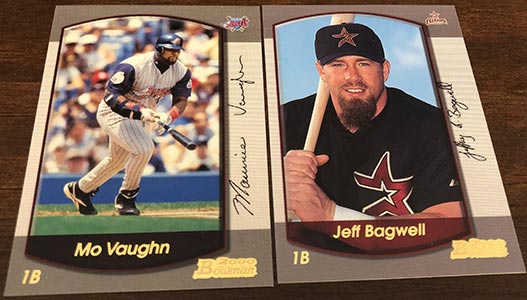 Lastly, the card backs. Here you can see the difference between the veteran and prospect backs.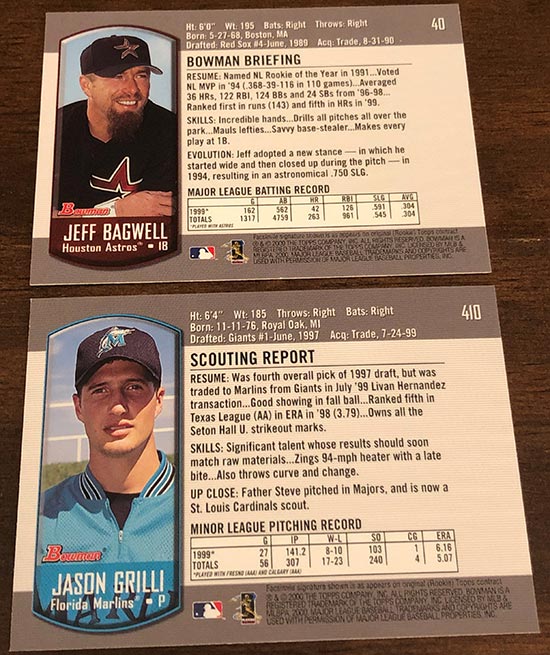 I didn't pull an autograph. No shock there, because they aren't easy pulls. Pulling the Gold parallel was a bonus, since those aren't all that plentiful, either. Unfortunately it wasn't a notable name.
I have always liked this design, with the facsimile autographs along the side. It was nice to pull some prospect cards of players who went on to have good careers. The best of the blues were Cuddyer, Burnett, Berkman, Oswalt, Zito and Sabathia.
These boxes, just like everything in this hobby, have come up in price lately. While you can't find them for the $15 I paid a couple of years ago, they are selling for under $50 if you look hard enough.
Shop for 2000 Bowman Baseball on:
Want more installments of Shane Salmonson's Cheap Wax Wednesday? Check out his other breaks in the archives.