Cheap Wax Wednesday Box Breaks: 2005 Topps Chrome Series 1 Baseball
2020 Topps Chrome released recently and it is hot! Hobby box prices have skyrocketed and retail shelves have been completely cleared off. Topps Chrome has always been a favorite of mine, so I went out and found an older box to bust to get that chrome fix!
Topps debuted its Chrome brand in 1996, and has released the product every year since. The base set design is identical to the Topps flagship release of the year, with the added chrome element.
2005 Topps Chrome Baseball is split into two series. Each series had a checklist of First Year Player cards, some autographed and some not. The chase Autographed First Year Player card in 2005? Justin Verlander, though he appears only in Series 2. 2005 Topps Chrome also marked the debut of the one-of-one Superfractor.
This box was an eBay find, and happens to be a retail box.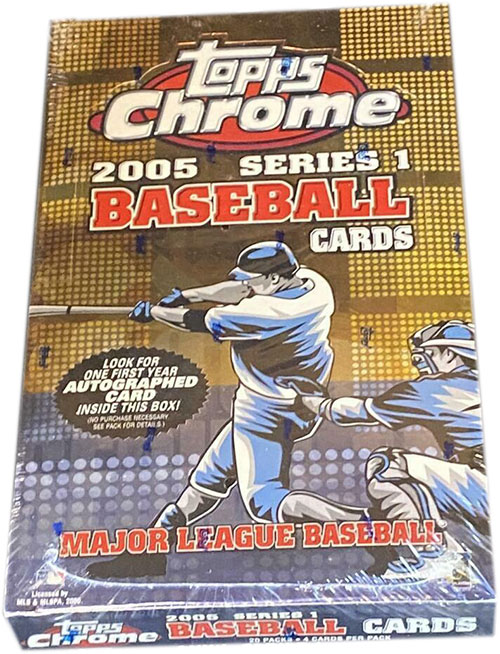 Fun Facts are provided by Bleacher Report National MLB Columnist Joel Reuter. You can follow Joel on Twitter (@JoelReuterBR) and check out his work at Bleacher Report.
2005 Topps Chrome Series 1 Baseball Retail Box Break
Cards per pack: 4
Packs per box: 20
Price paid: $35

Pack 1 highlights:
Derrek Lee, Preston Wilson & Dmitri Young Refractor (1 in every 4 packs). The Refractors in this box were really tough to photograph well. They look much better in person than they come across here.
Pack 1 fun fact: Derrek Lee made a run at the Triple Crown in 2005, winning the NL batting title (.335) while finishing in the top 10 in home runs (46, second) and RBI (107, seventh). He also led the NL in hits (199), doubles (50), slugging (.662) and OPS+ (174).

Pack 2:
John Lackey & Sean Marshall RC
Pack 2 fun fact: Sean Marshall won the No. 5 starter job for the Cubs out of spring training in 2006, making his MLB debut that season and starting 24 games. He eventually transitioned to the bullpen and emerged as a quality late-inning option.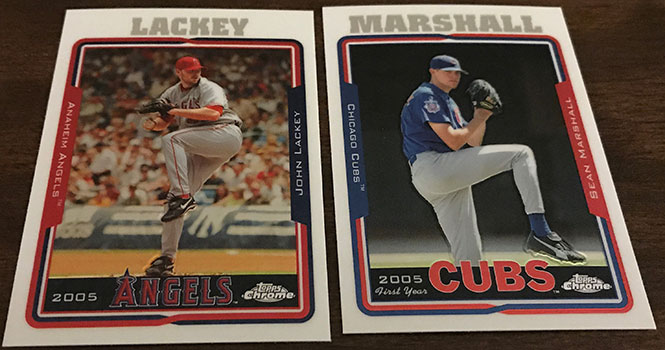 Pack 3:
Rich Harden & Rafael Belliard
Pack 3 fun fact: Rich Harden only topped 150 innings once in an injury-plagued nine-year career. When healthy, he was dominant, posting a 3.76 ERA with 949 strikeouts in 928.1 innings.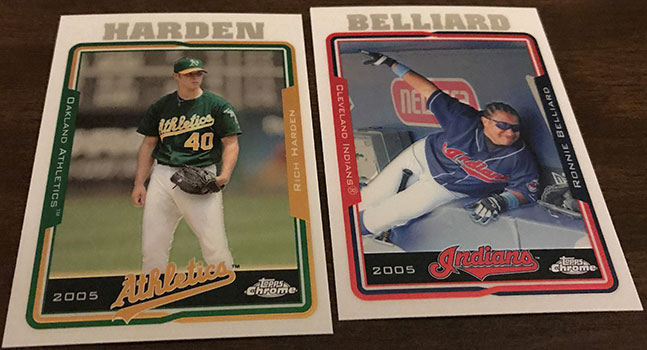 Pack 4:
Greg Maddux, Carl Pavano & Andruw Jones
Pack 4 fun fact: Carl Pavano signed a four-year, $39.95 million contract with the Yankees after the 2004 season. He made a grand total of 26 starts and posted a 5.00 ERA over the course of that four-year pact.

Pack 5:
Juan Uribe & Scot Shields Refractor (1:4 packs)
Pack 5 fun fact: Scot Shields averaged 69 appearances and 85 innings pitched during the five-year stretch from 2004 to 2008. He posted a 3.11 ERA and 9.1 K/9 during that span while helping bridge the gap to All-Star closer Troy Percival.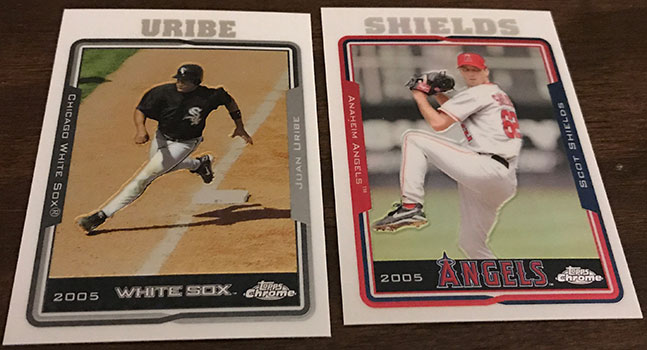 Pack 6:
Tom Glavine & Bill Mueller (one of my favorite non-star Red Sox players)
Pack 6 fun fact: The three-year, $6.7 million contract that Bill Mueller signed with the Red Sox prior to the 2003 season stands as one of the best bargains in club history. He won the AL batting title in his first year in Boston and helped them win a title in 2004.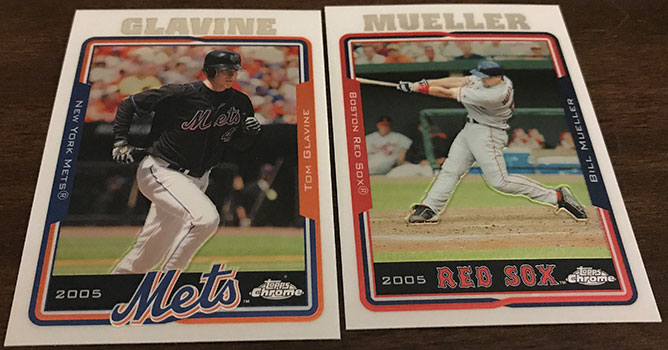 Pack 7:
Barry Zito & Roy Halladay
Pack 7 fun fact: Roy Halladay only made 19 starts during the 2005 season before suffering a broken leg. Despite that, he still led the AL with five complete games.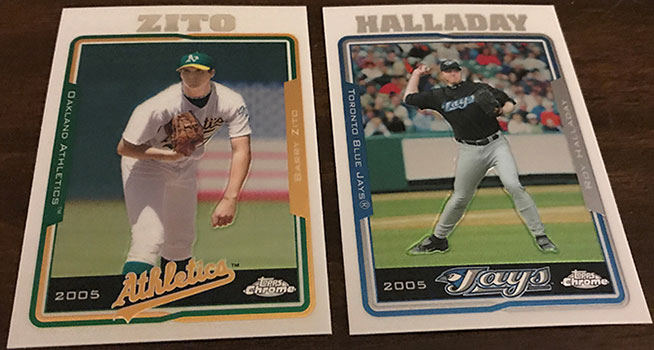 Pack 8:
Mike Sweeney, Brad Radke & Jason Giambi Refractor (1:4 packs)
Pack 8 fun fact: Jason Giambi led the AL in walks (108) and on-base percentage (.440) during the 2005 season while also slugging 32 home runs. He ranks in the top 50 all-time in both walks (1,366, 32nd) and home runs (440, 43rd).

Pack 9:
Raul Ibanez & Bobby Higginson
Pack 9 fun fact: Bobby Higginson played 10 games in 2005 in the final season of an underrated 11-year career. He posted a 113 OPS+ with 187 home runs and 709 RBI playing for some awful Tigers teams.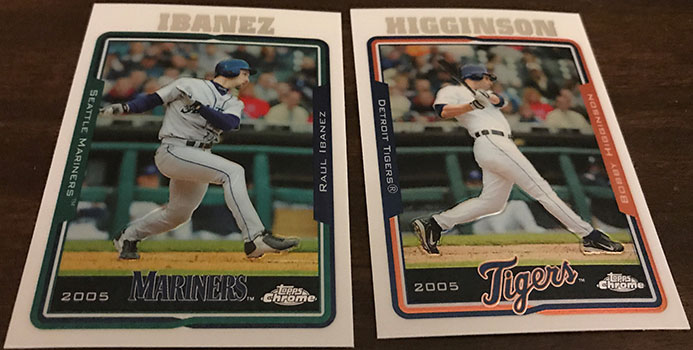 Pack 10:
Not exactly a star-studded pack; Kazuo Matsui, Scott Podsednik, Jarrod Washburn & Johnny Estrada
Pack 10 fun fact: Johnny Estrada was coming off a huge 2004 season where he hit .314/.378/.450 with 36 doubles, nine home runs and 76 RBI. He was an All-Star and Silver Slugger winner, finishing 18th in NL MVP balloting.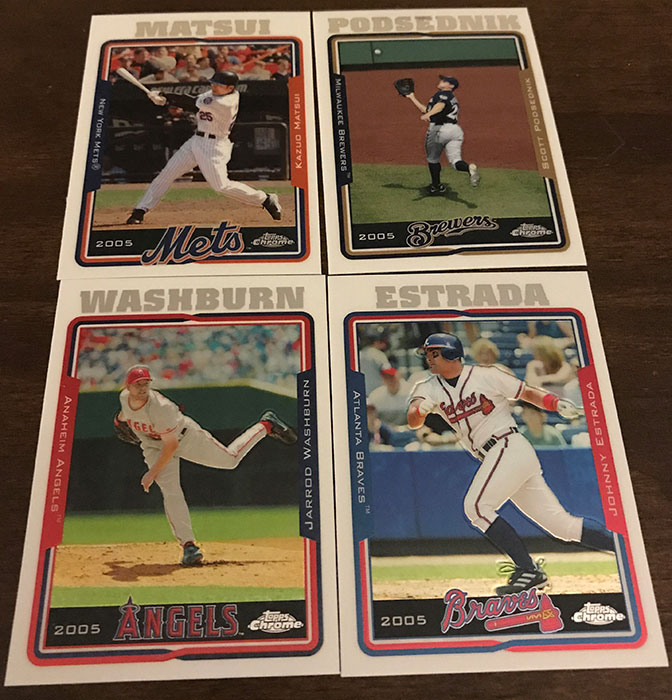 Pack 11:
Travis Hafner, Livan Hernandez & Tom Gordon Black Refractor #ed 162/225 (1:20 packs)
Pack 11 fun fact: Livan Hernandez led the NL in innings pitched for the third straight year in 2005 when he tossed 246.1 frames and earned a spot on the NL All-Star team.

Pack 12:
Rafael Furcal & Al Leiter
Pack 12 fun fact: Rafael Furcal stole a career-high 46 bases in 2005. His 314 career steals are good for 155th on the all-time list.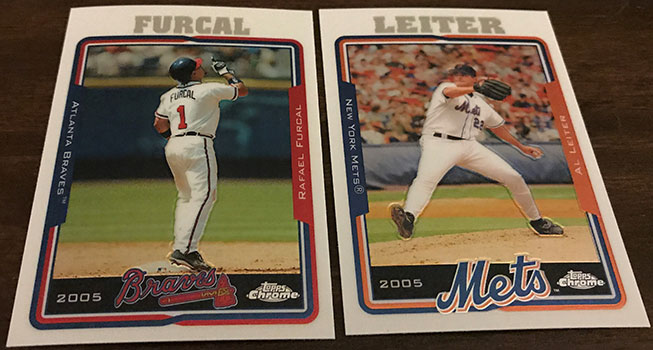 Pack 13:
A pair of catchers; A.J. Pierzynski & Jason Kendall
Pack 13 fun fact: The Pirates traded Jason Kendall to Oakland prior to the 2005 season in exchange for Mark Redman and Arthur Rhodes. He hit .306 with a .387 on-base percentage in nine seasons in Pittsburgh.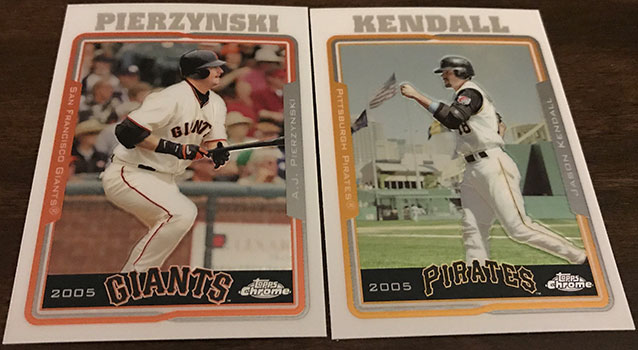 Pack 14:
Albert Pujols, Miguel Cabrera, Chan Ho Park & Jim Edmonds Refractor with a fitting photo choice (1:4 packs).
Pack 14 fun fact: Still just 22 years old in 2005, Miguel Cabrera hit .323/.385/.561 with 43 doubles, 33 home runs and 116 RBI to finish fifth in NL MVP voting.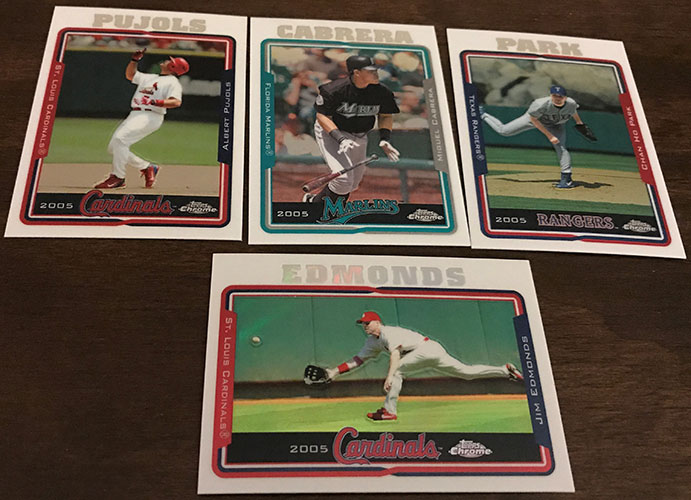 Pack 15:
Jason Giambi, Bartolo Colon & Jose Guillen, a rocket-armed outfielder.
Pack 15 fun fact: Bartolo Colon won AL Cy Young honors in 2005 when he went 21-8 with a 2.48 ERA, 1.16 WHIP and 157 strikeouts in 222.2 innings for a 95-win Angels team.

Pack 16:
Jose Vidro, Miguel Tejada & Trevor Hoffman
Pack 16 fun fact: One of the most underrated players of the 2000s, Jose Vidro hit .298/.359/.445 for a 108 OPS+ while earning three All-Star selections and winning one Silver Slugger Award in 12 seasons.

Pack 17:
Alex Rodriguez, Bill Hall & Shawn Green Refractor (1:4 packs)
Pack 17 fun fact: Alex Rodriguez won his second of three AL MVP awards in 2005 when he hit .321/.421/.610 while leading the league with 48 home runs. His 9.4 WAR that season was tied for his second-highest single-season total.

Pack 18:
Melvin Mora, Ben Sheets & Johnny Damon
Pack 18 fun fact: Johnny Damon hit .316 with 117 runs scored in 2005 in the final season of a four-year, $31 million with the Red Sox. He then jumped ship and signed with the Yankees.

Pack 19:
Vernon Wells & Ian Kinsler RC. Kinsler is the top non-autograph Rookie Card found in Series 1.
Pack 19 fun fact: Ian Kinsler hit .345/.428/.575 with 51 doubles, 20 home runs, 98 RBI, 103 runs scored and 23 steals while reaching Double-A in 2004. Not bad for a guy who was selected in the 17th round of the 2003 draft.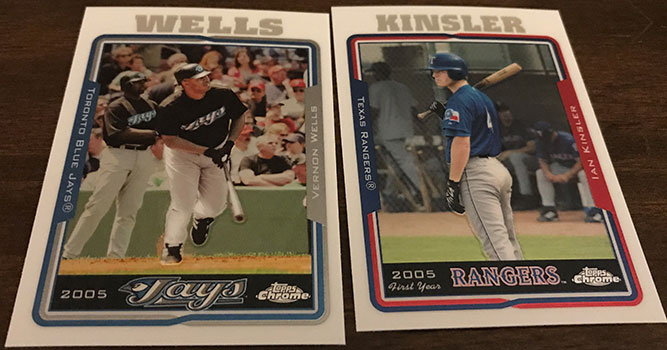 Pack 20:
Byung-Hyun Kim, Bobby Abreu & Kevin West Autographed First Year Player Refractor (350/500) (1:118 packs)
Pack 20 fun fact: Kevin West played his way onto the prospect radar when he hit .290/.351/.548 with 43 doubles, 29 home runs and 109 RBI between Double-A and Triple-A in 2004. He played nine pro seasons but never reached the majors.

Now I know Kevin West isn't exactly a household name, but the Refractor Autographs are still tough pulls. The Series 1 autograph checklist wasn't full of big names, either. The only players to have productive major league careers were Andre Ethier, Brandon Moss, and Melky Cabrera. So it's not exactly an all-star lineup.
I did pull some decent Refractors and certainly could have done worse than Jason Giambi, Jim Edmonds & Shawn Green. Tom "Flash" Gordon, former Red Sox closer, isn't a bad pull for my Black Refractor, either. I have always loved Chrome, and I don't think that will ever change. If I am able to find boxes at this price, I will continue to pick them up.
Buy 2005 Topps Chrome Baseball on:
Want more installments of Shane Salmonson's Cheap Wax Wednesday? Check out his other breaks in the archives.