Cheap Wax Wednesday Box Breaks: 1996 Topps Finest Series 2 Baseball
The recent release of 2020 Topps Finest marks the 28th straight year for the brand. Topps debuted the "super premium" chromium Finest brand in 1993 and it has been around ever since. On release day in 1993, Finest packs would cost you about $4 each, a hefty sum back then. That certainly didn't stop people from buying them, though, and packs were soon selling for over $20 each. It remains one of the decade's most expensive sets.
1996 Topps Finest Baseball is a two-series release, with Series 2 containing 168 cards. Topps made it tough on set collectors with this release, including silver and gold cards in the base set, not as parallels. With Series 2 having 22 gold cards, which fall just once in every box, imagine how difficult it is be to build the base set.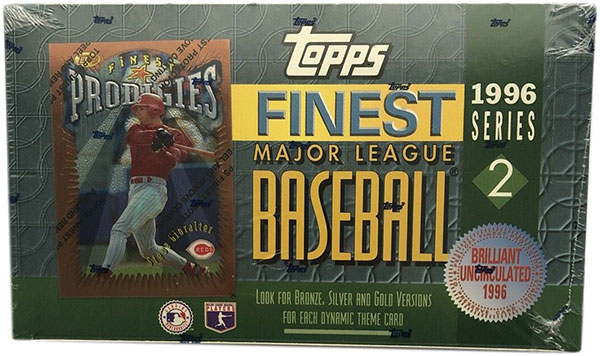 1996 Topps Finest Series 1 ended up being a costly release for Topps. The company advertised in the product's sell sheet that only 150 copies of each Gold Refractor card would be produced. This was proven not to be the case when one collector managed to buy 220 copies of the Greg Maddux Gold Refractor card. That collector, Dr. Joseph Sentef sued Topps, and ended up receiving an undisclosed settlement from the company outside of court.
Fun Facts are provided by Bleacher Report National MLB Columnist Joel Reuter. You can follow Joel on Twitter (@JoelReuterBR) and check out his work at Bleacher Report.
1996 Topps Finest Series 2 Baseball Box Break
Cards per pack: 6
Packs per box: 24
Price paid: $40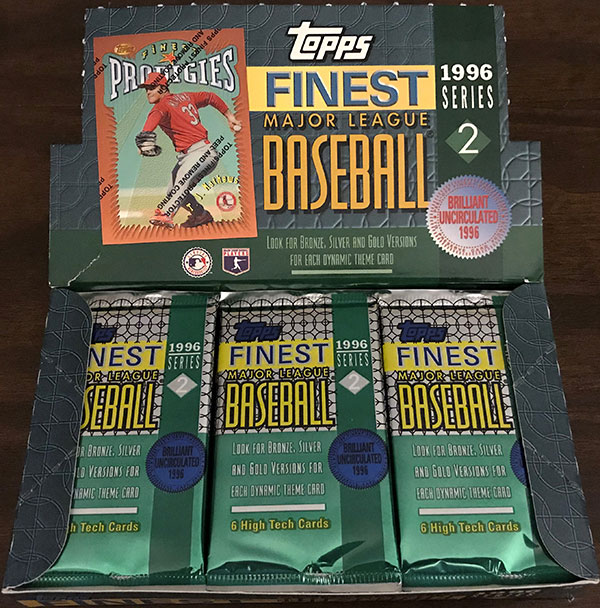 Pack 1 highlights:
Will Clark, Mark McGwire, Mo Vaughn, Will Clark again, Robin Ventura & Barry Bonds
Pack 1 fun fact: Robin Ventura led all third basemen in WAR (46.1) during the 1990s, yet he only made one All-Star team during the decade.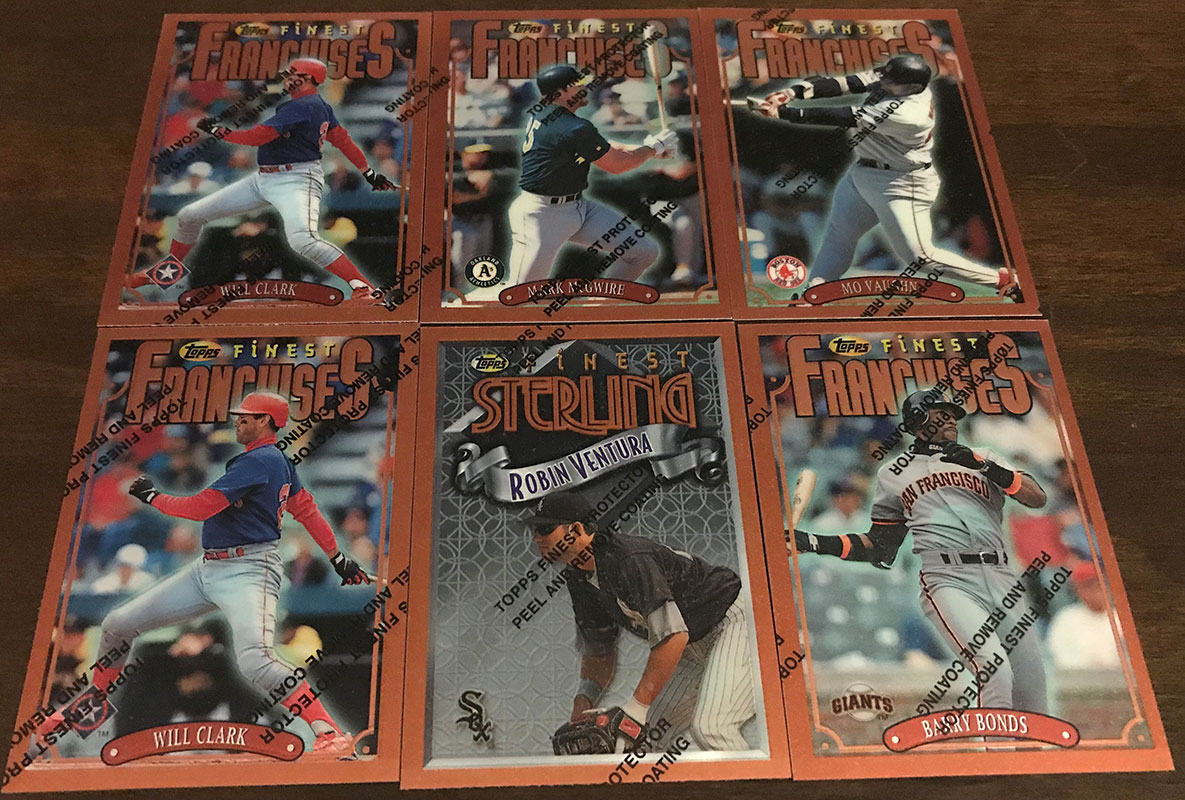 Pack 2:
Ivan Rodriguez, Robin Ventura, Jay Buhner, Rodriguez again (I sense a trend, do you?), Mark Grudzielanek & Heathcliff Slocumb
Pack 2 fun fact: In one of the most lopsided deals in MLB history, the Boston Red Sox sent Heathcliff Slocumb to the Seattle Mariners at the 1997 trade deadline in exchange for Derek Lowe and Jason Varitek.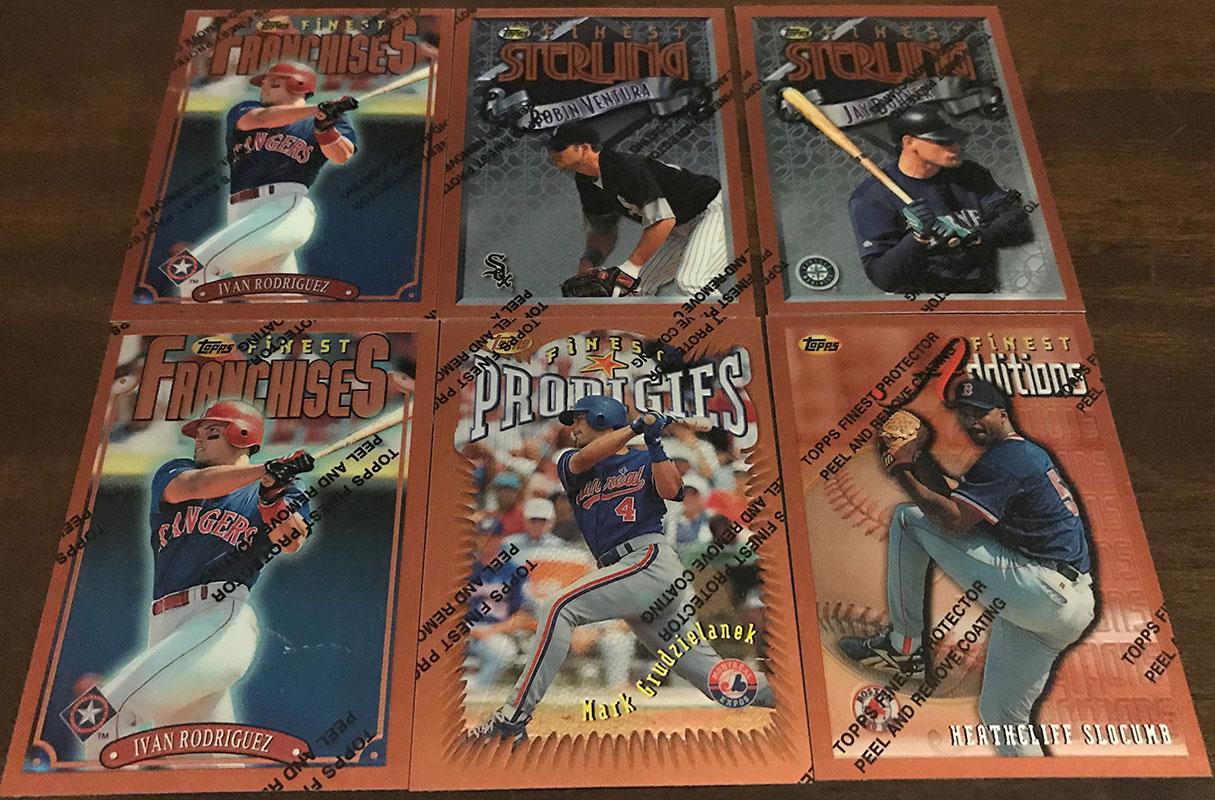 Pack 3:
Frank Thomas x2, Kenny Lofton, Kenny Rogers & Ernie Young Silver (1 in every 4 packs)
Pack 3 fun fact: Ernie Young played parts of 13 seasons at the Triple-A level and he hit 319 home runs total over the course of a 17-year minor league career.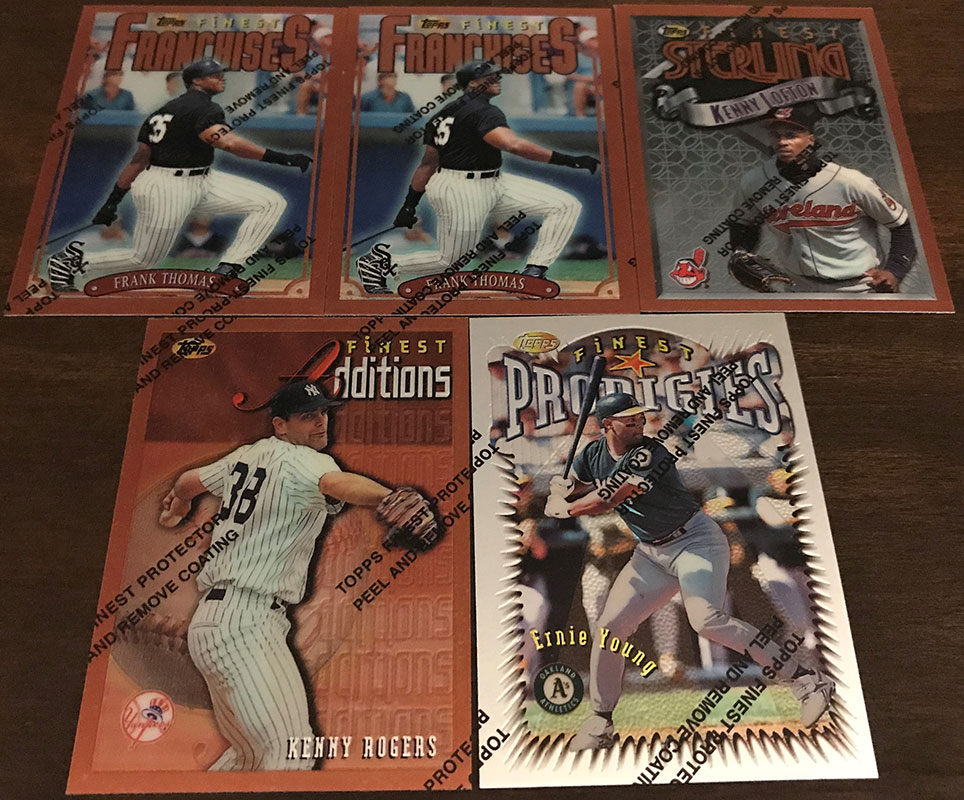 Pack 4:
Tony Gwynn x2, Reggie Sanders, Edgar Martinez & Ugueth Urbina
Pack 4 fun fact: Tony Gwynn (4) and Edgar Martinez (2) combined to win 30 percent of the batting titles during the 1990s.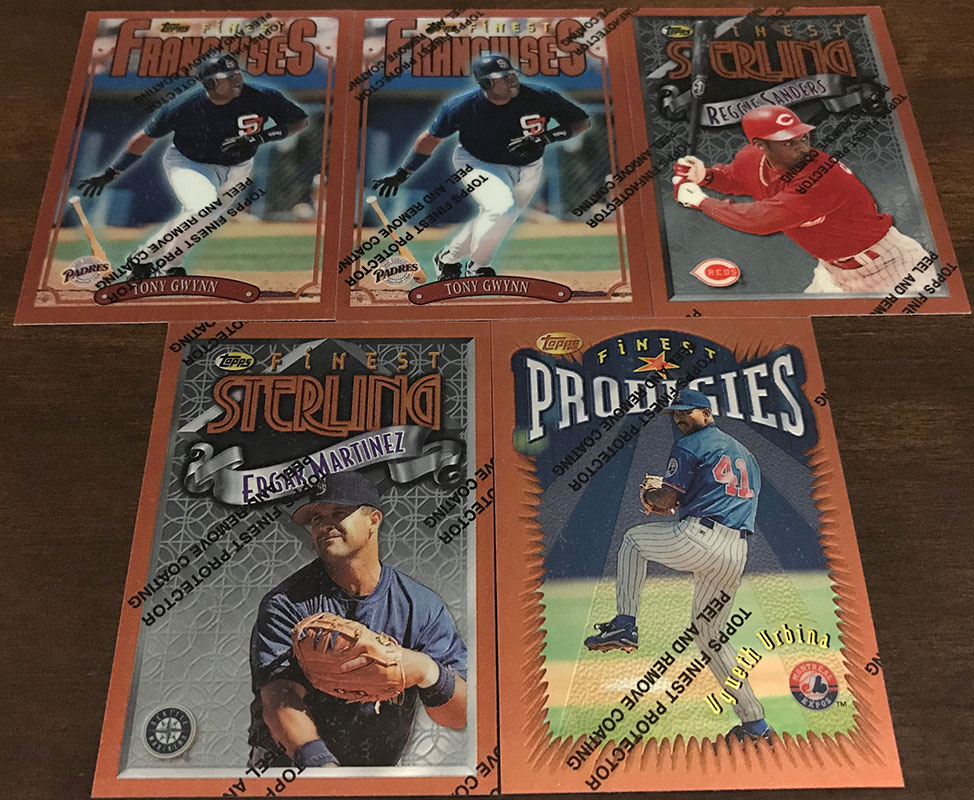 Pack 5:
Marty Cordova x2, Ivan Rodriguez, David Justice & Sterling Hitchcock Silver (1:4 packs)
Pack 5 fun fact: Marty Cordova was fresh off AL Rookie of the Year honors in 1995 when he hit .277/.352/.486 with 24 home runs and 20 steals to beat out Garrett Anderson, Andy Pettitte, Troy Percival and Shawn Green for the award.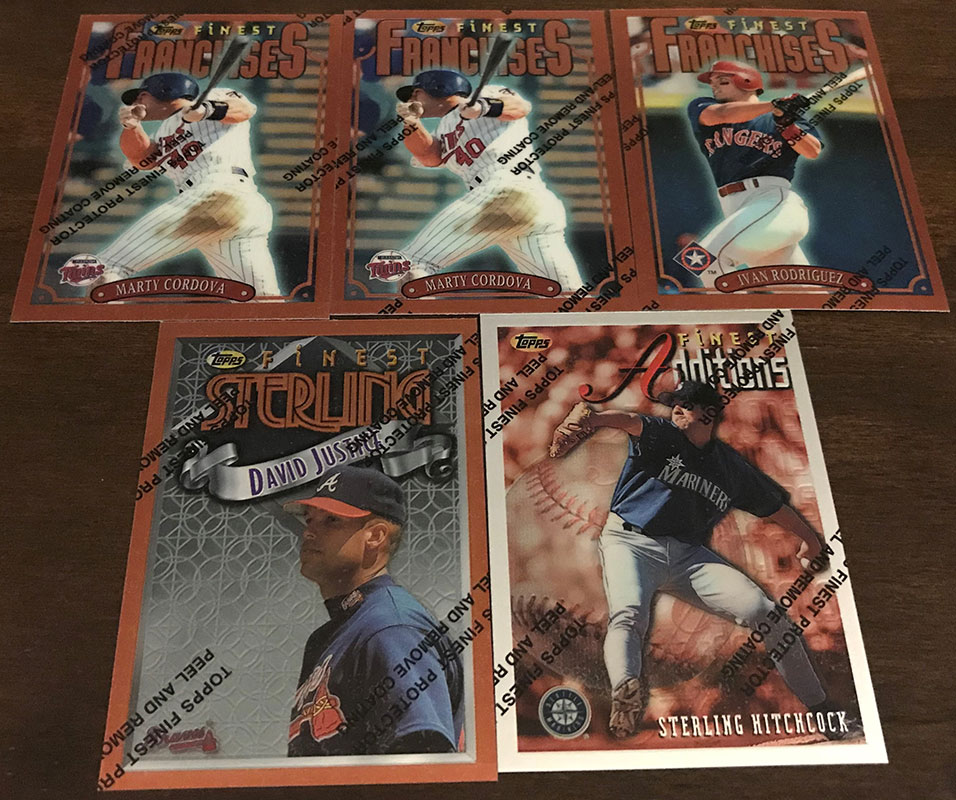 Pack 6:
Barry Bonds x2, Frank Thomas, Will Clark & Gary Gaetti
Pack 6 fun fact: Gary Gaetti joined the St. Louis Cardinals for the 1996 season after slugging a career-high 35 home runs with the Kansas City Royals in his age-36 campaign the previous year.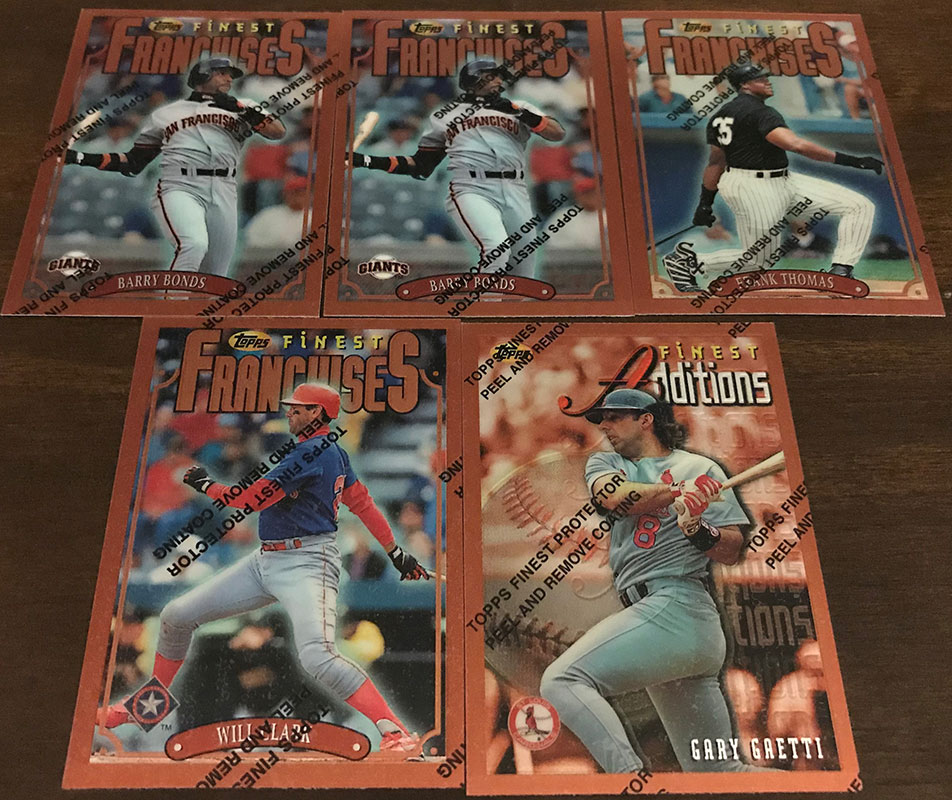 Pack 7:
Albert Belle x2, Tony Gwynn, Moises Alou, Jim Edmonds & Rich Hunter Refractor (1:12 packs)
Pack 7 fun fact: Rich Hunter went 19-2 with a 2.73 ERA, 1.01 WHIP and 143 strikeouts in 184.1 innings in 1995, reaching Double-A in his age-20 season. He had a 6.49 ERA with more walks (33) than strikeouts (32) in 69.1 innings as a rookie in what would be his only MLB action.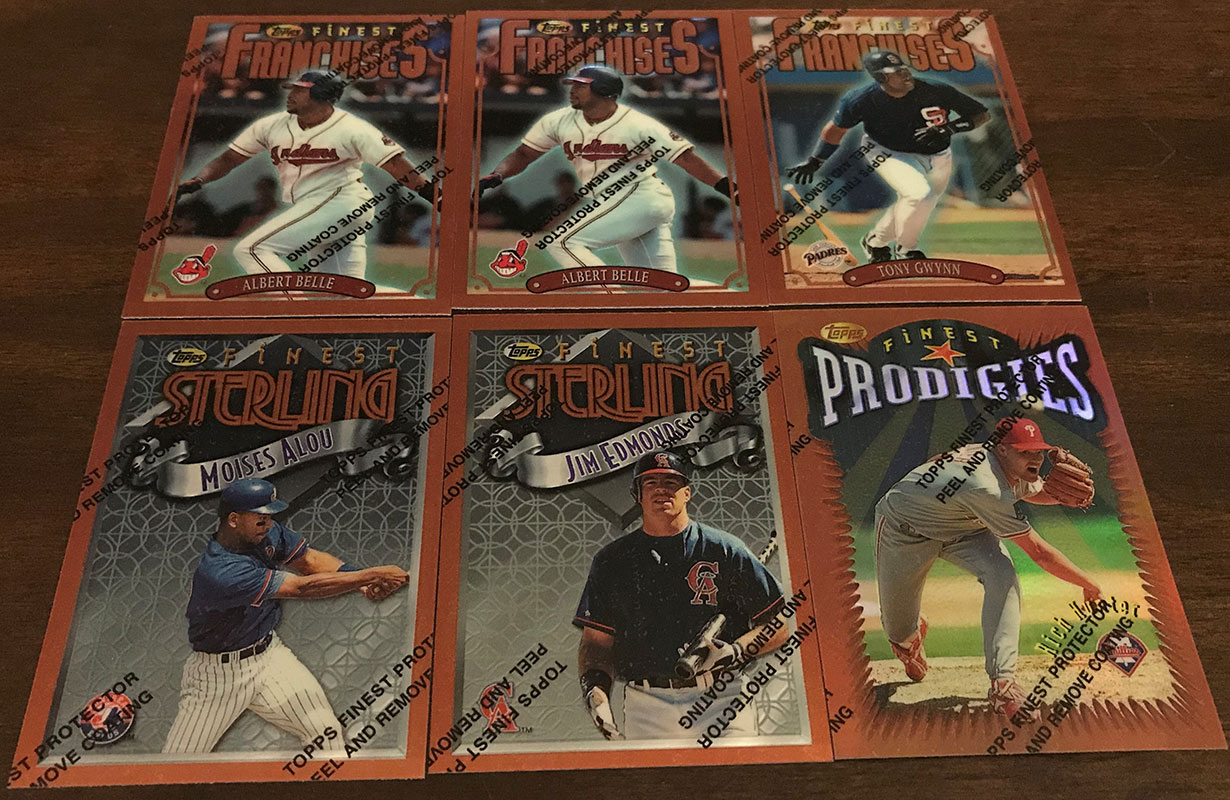 Pack 8:
Gary Sheffield x2, Barry Larkin, Wade Boggs & Ernie Young Silver Refractor (1:48 packs)
Pack 8 fun fact: After an injury-plagued 1995 season, Gary Sheffield led the NL in on-base percentage (.465), OPS (1.090) and OPS+ (189) while tallying 42 home runs and 120 RBI in 1996 to finish sixth in NL MVP voting.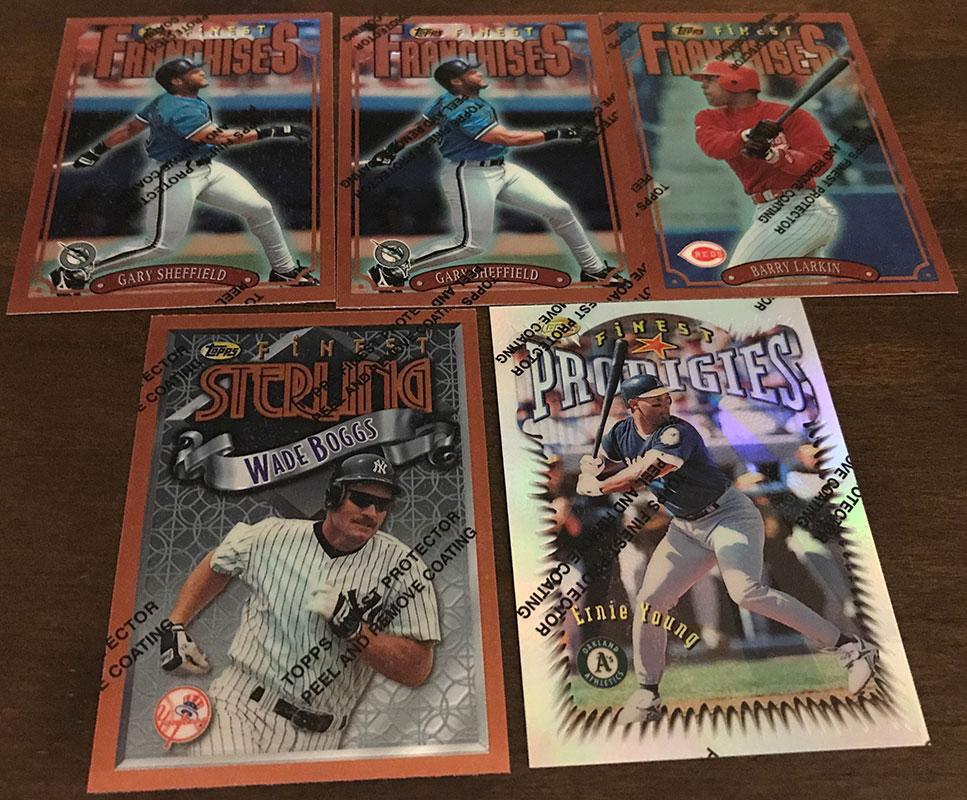 Pack 9:
Justin Thompson x2, Juan Gonzalez, Mike Piazza & Tim Raines
Pack 9 fun fact: After debuting in 1996, Justin Thompson was a surprise AL All-Star in 1997 when he went 15-11 with a 3.02 ERA and 1.14 WHIP in 223.1 innings. Injuries limited him to just 103 career appearances after a promising start to his career.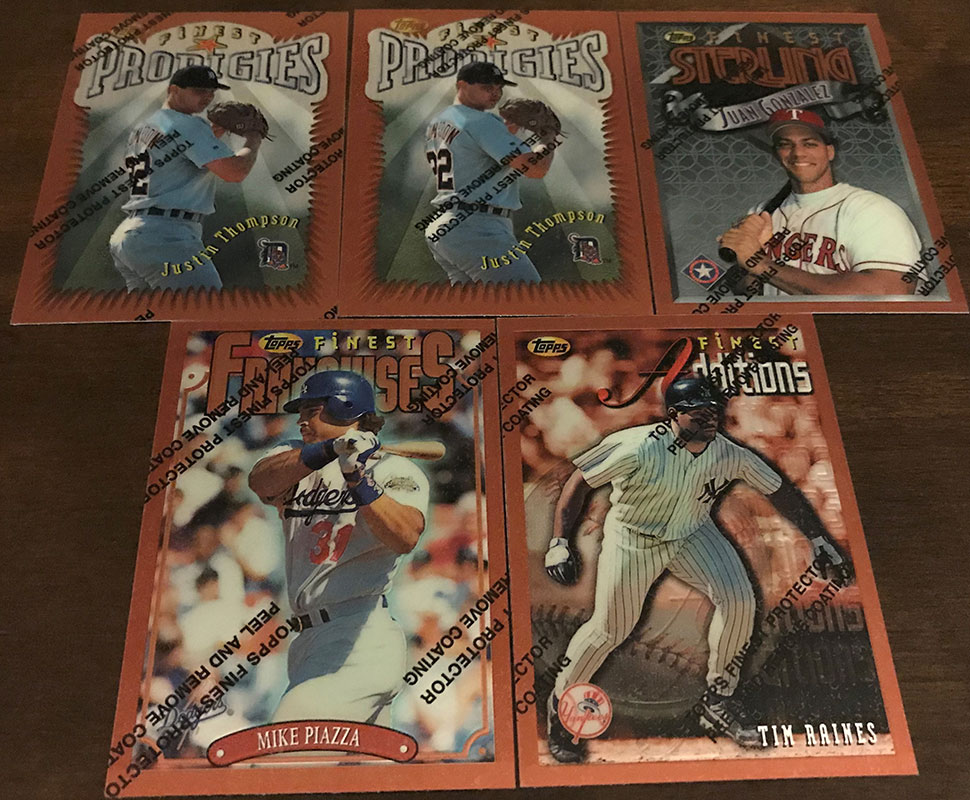 Pack 10:
Ron Coomer x2, Edgar Renteria, Craig Biggio & Checklist Refractor (1:12 packs). Checklist Refractors? Not super exciting.
Pack 10 fun fact: Considering Ron Coomer was already 28 years old when he made his MLB debut on Aug. 1, 1995, his inclusion under the "Prodigies" subheader is a bit of a head-scratcher.
Pack 11:
Jose Herrera x2, Ray Lankford & Tim Salmon Gold (1:24 packs)
Pack 11 fun fact: Over his first six full seasons in the majors, Tim Salmon hit .297/.398/.535 for a 140 OPS+ while averaging 30 home runs and 98 RBI. One of the most underrated players of the past 30 years for sure.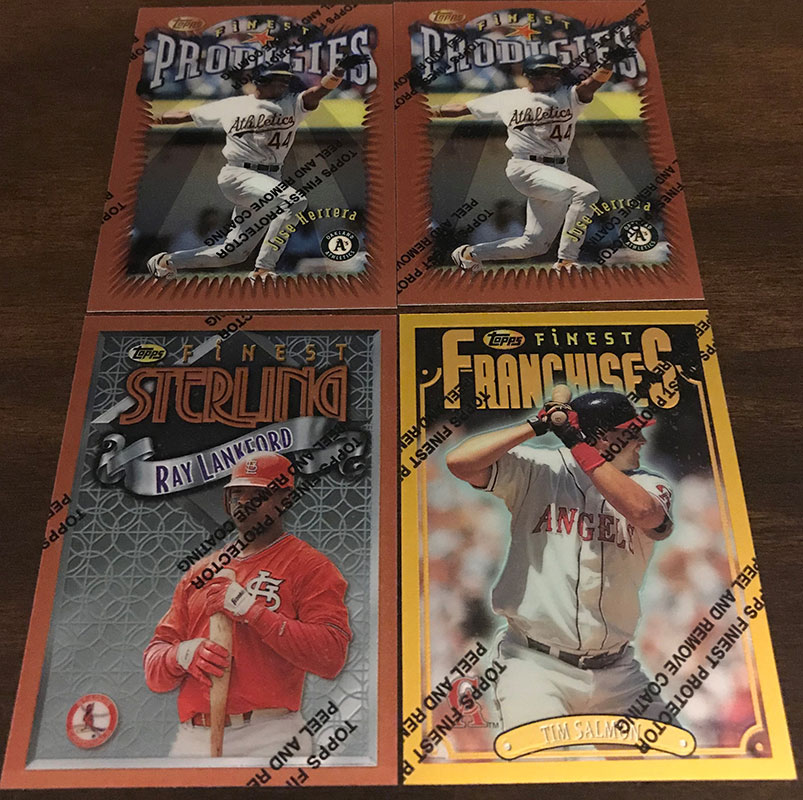 Pack 12:
Roger Salked x2, Jeff Bagwell, Ron Gant & Jack McDowell
Pack 12 fun fact: In his first season with the St. Louis Cardinals in 1996, Ron Gant hit a team-high 30 home runs for a squad that won 88 games and reached the NLCS.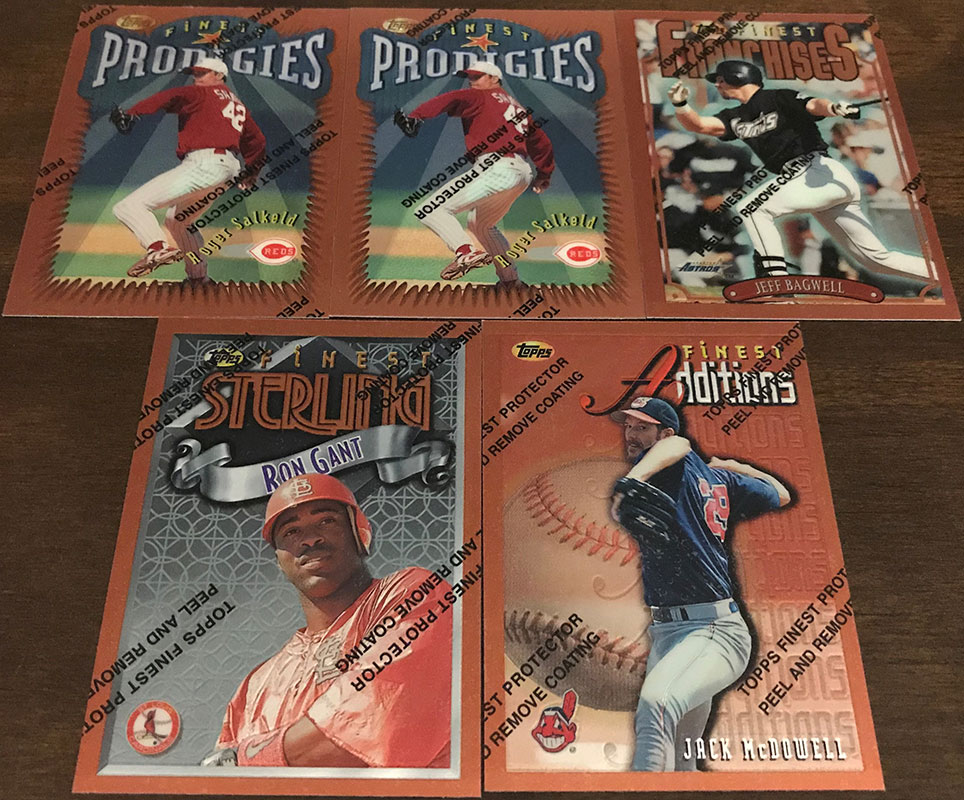 Pack 13:
Tony Clark x2 & Roberto Alomar
Pack 13 fun fact: The 6'8" Tony Clark also played basketball at Arizona and San Diego State, averaging 11.4 points and 4.8 rebounds in 28 games with the Aztecs.

Pack 14:
Mark Grudzielanek twice, Joe Girardi & Jose Canseco
Pack 14 fun fact: Mark Grudzielanek joined Pedro Martinez and Henry Rodriguez as Montreal Expos players on the NL All-Star team in 1996. He hit .306 with 33 steals and 99 runs scored in what was his first full season in the majors.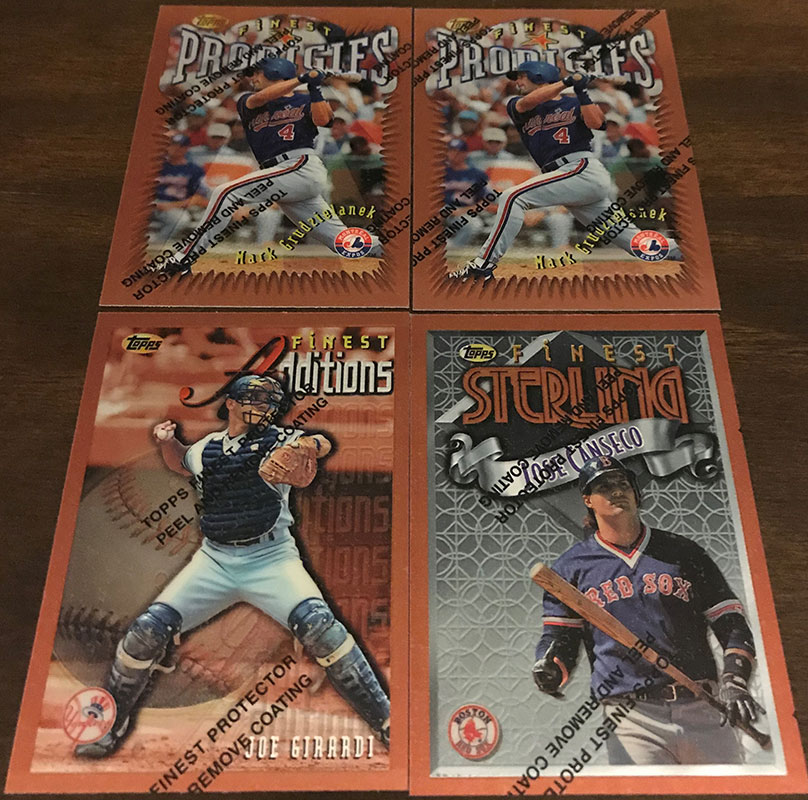 Pack 15:
Dan Naulty x2, Raul Mondesi & Mark Grace Silver (1:4 packs)
Pack 15 fun fact: Dan Naulty had a 5.18 ERA in eight starts and 36 relief appearances at Triple-A in 1995, so his inclusion in this set was surprising. He had a 4.54 ERA in 130 relief appearances over the course of a four-year MLB career.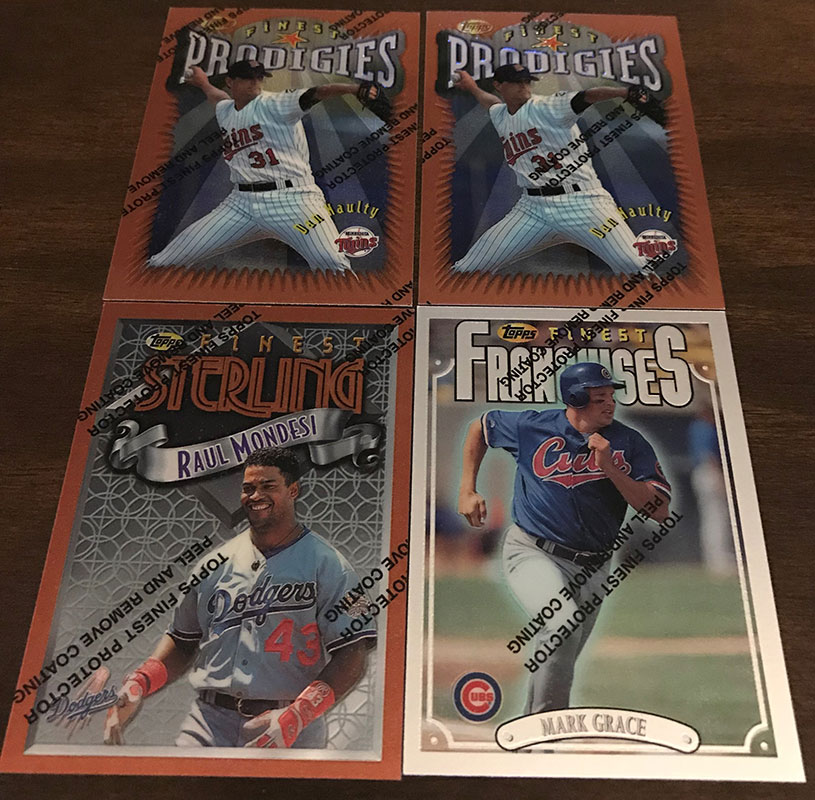 Pack 16:
Ugueth Urbina x2, David Wells, Cecil Fielder & Paul Molitor
Pack 16 fun fact: Cecil Fielder was traded to the New York Yankees at the 1996 trade deadline in exchange for Ruben Sierra and Matt Drews. He hit 13 home runs in 53 games following the trade and went on to win a World Series title that October.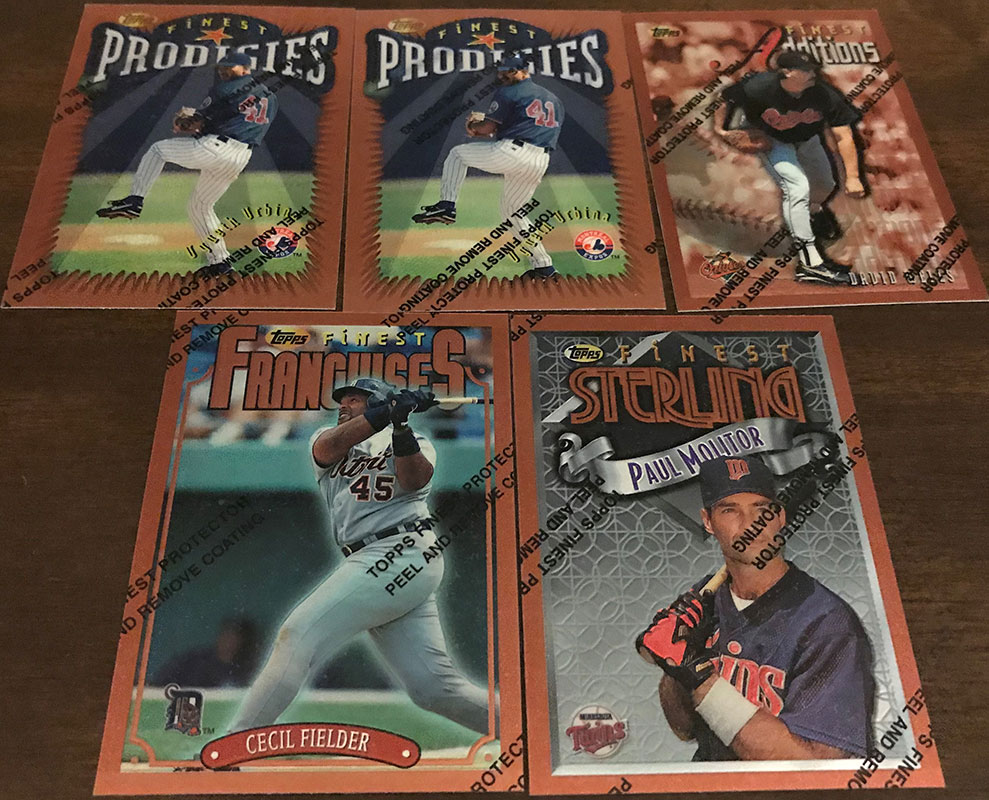 Pack 17:
Kirby Puckett x2, Barry Larkin, Harold Baines & Roger Cedeno
Pack 17 fun fact: Roger Cedeno hit .313/.396/.408 with 66 steals and 90 runs scored for the New York Mets in 1999 in what was by far the most productive season of his MLB career.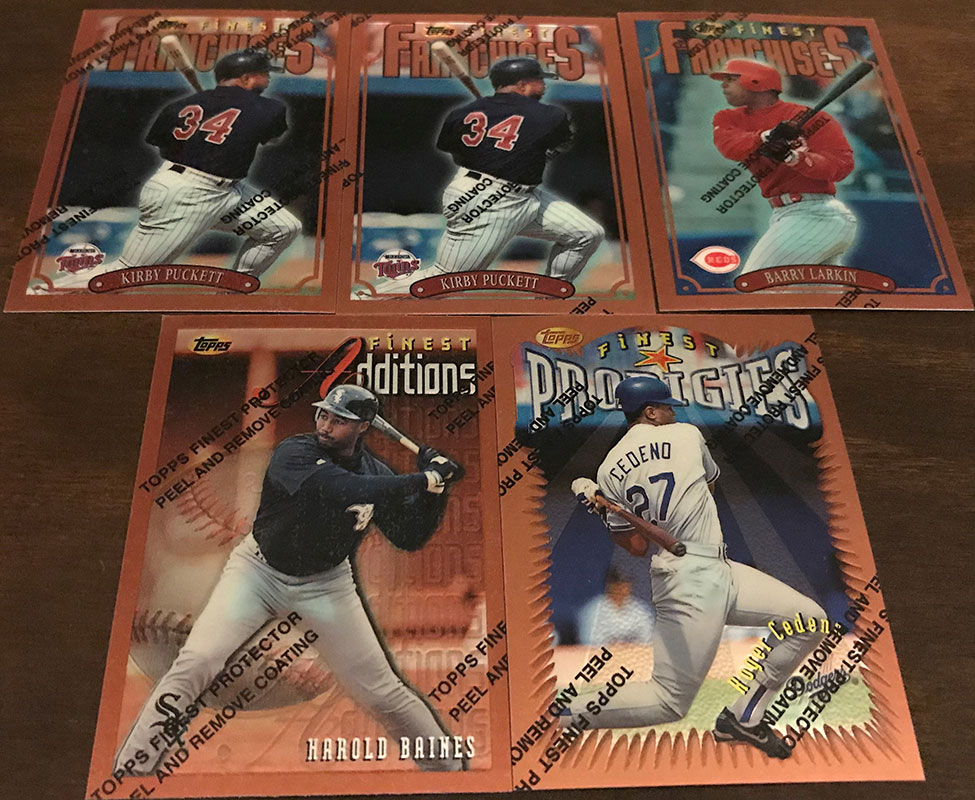 Pack 18:
Sammy Sosa x2, Mo Vaughn & Rey Ordonez
Pack 18 fun fact: Rey Ordonez finished fifth in NL Rookie of the Year voting in 1996, then rattled off three straight Gold Glove wins as a no-bat, all-glove shortstop for the New York Mets.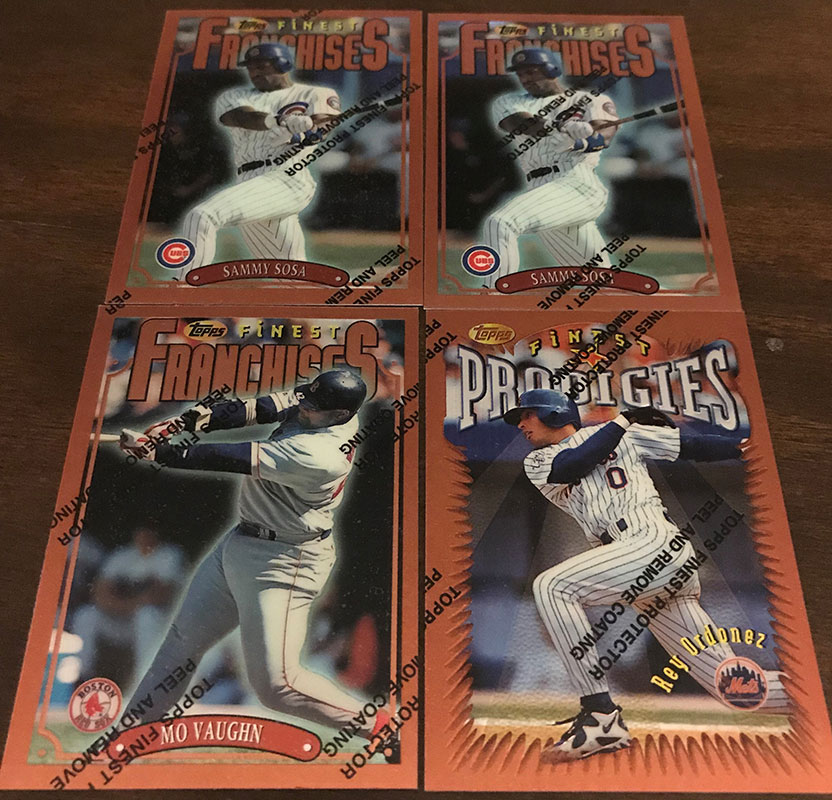 Pack 19:
Mark McGwire x2, Carlos Baerga & Kenny Lofton Silver (1:4 packs)
Pack 19 fun fact: Mark McGwire slugged 52 home runs during the 1996 season while hitting .312/.467/.730 for a 196 OPS+. It was his final full season in Oakland before he was traded to St. Louis midway through the 1997 campaign.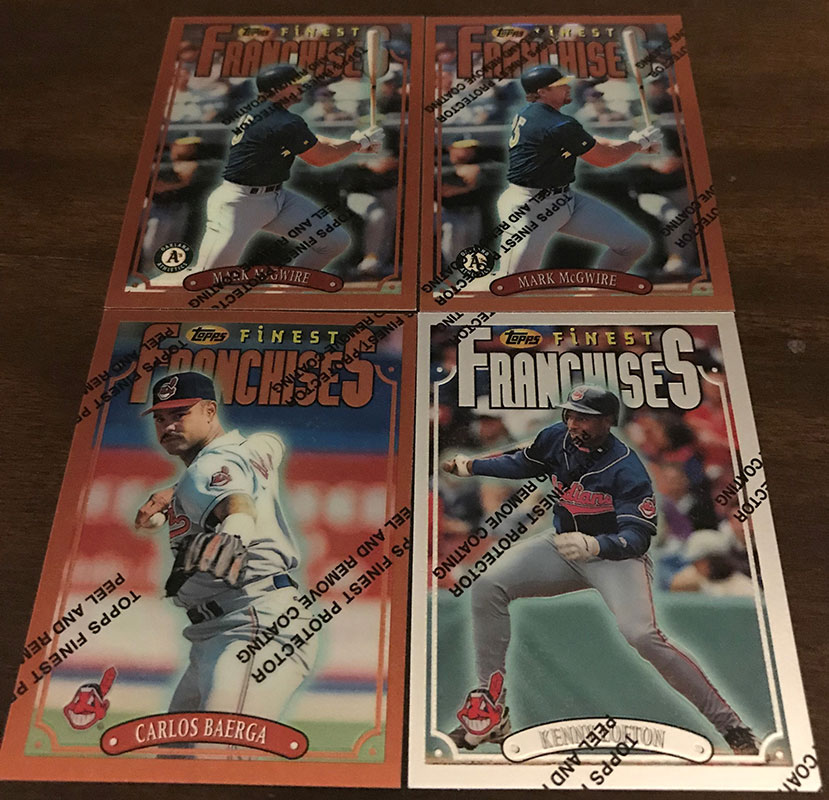 Pack 20:
Jeff Bagwell x2 & Kirby Puckett
Pack 20 fun fact: Jeff Bagwell was in the prime of his Hall of Fame career in 1996, hitting .315/.451/.570 with 48 doubles, 31 home runs, 120 RBI, 111 runs scored and 21 steals in a 7.5-WAR season.

Pack 21:
Andres Galarraga x2 & Sammy Sosa
Pack 21 fun fact: Fresh off a 30-30 season, Sammy Sosa reached the 40-homer plateau for the first time in his career in 1996.

Pack 22:
Rich Aurilia x2, Matt Williams, Mark McGwire & Chan Ho Park Silver (1:4 packs)
Pack 22 fun fact: After pitching eight combined innings in the majors in 1994 and 1995, Chan Ho Park served as a valuable swingman for the Los Angeles Dodgers in his first full season. He posted a 3.64 ERA with 119 strikeouts in 108.2 innings spanning 10 starts and 38 relief appearances.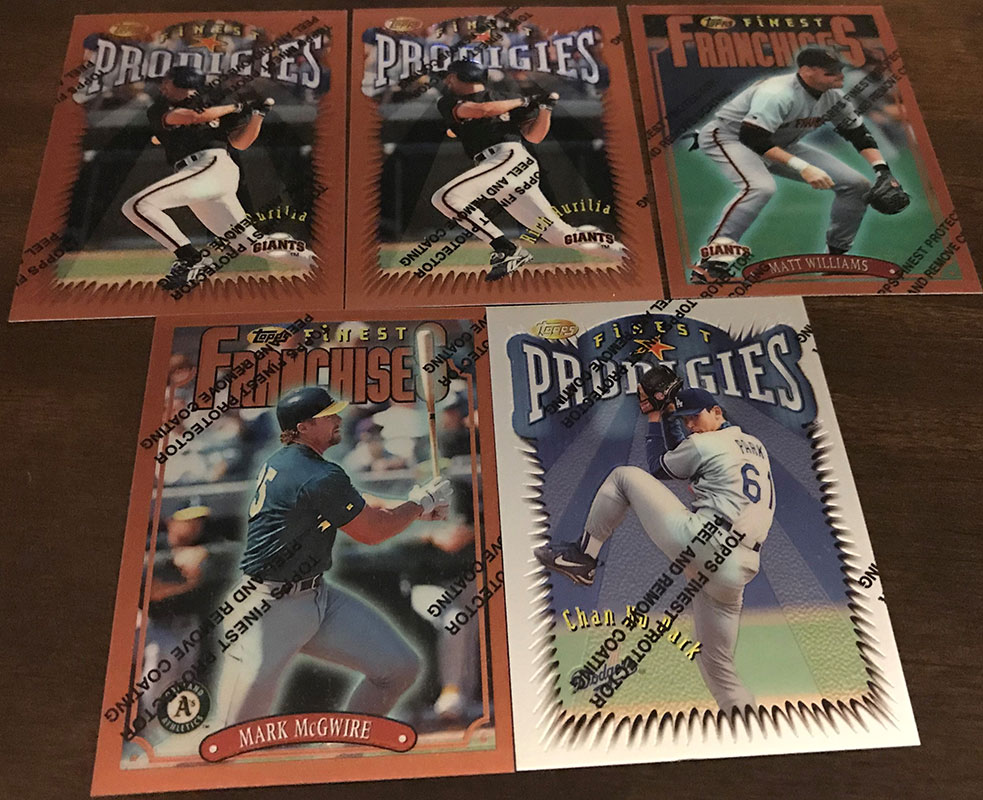 Pack 23:
Edgar Renteria dupes, Jeff Bagwell, Al Leiter, Rafael Palmeiro & Manny Ramirez
Pack 23 fun fact: Al Leiter went 16-12 with a 2.93 ERA and 200 strikeouts in 215.1 innings to earn his first All-Star selection in 1996. The following season he was a key cog for a World Series champion.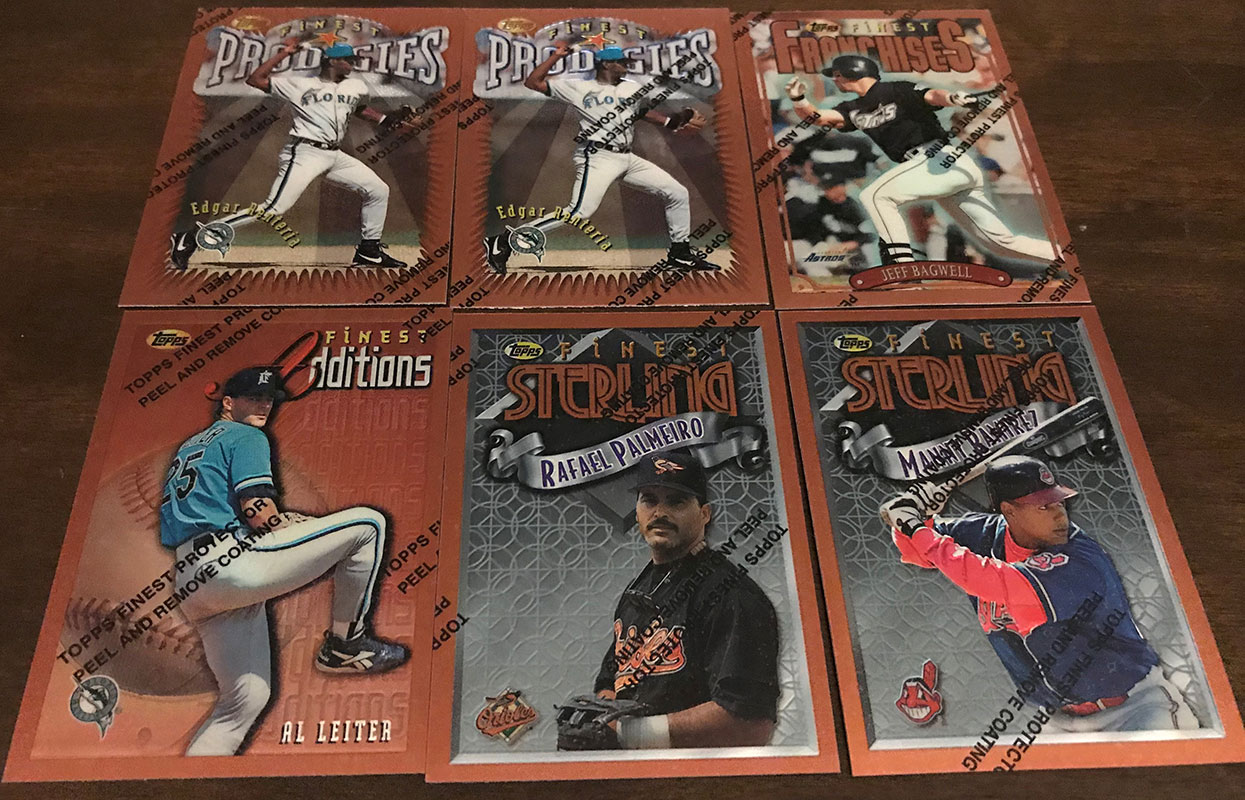 Pack 24:
Ruben Rivera x2, Andres "Big Cat" Galarraga, Eric Davis, Mark Grace & Kevin Mitchell Silver (1:4 packs)
Pack 24 fun fact: After spending the 1995 season in Japan, Kevin Mitchell returned stateside in 1996 and hit .316/.420/.505 with eight home runs and 39 RBI in 64 games at the age of 34.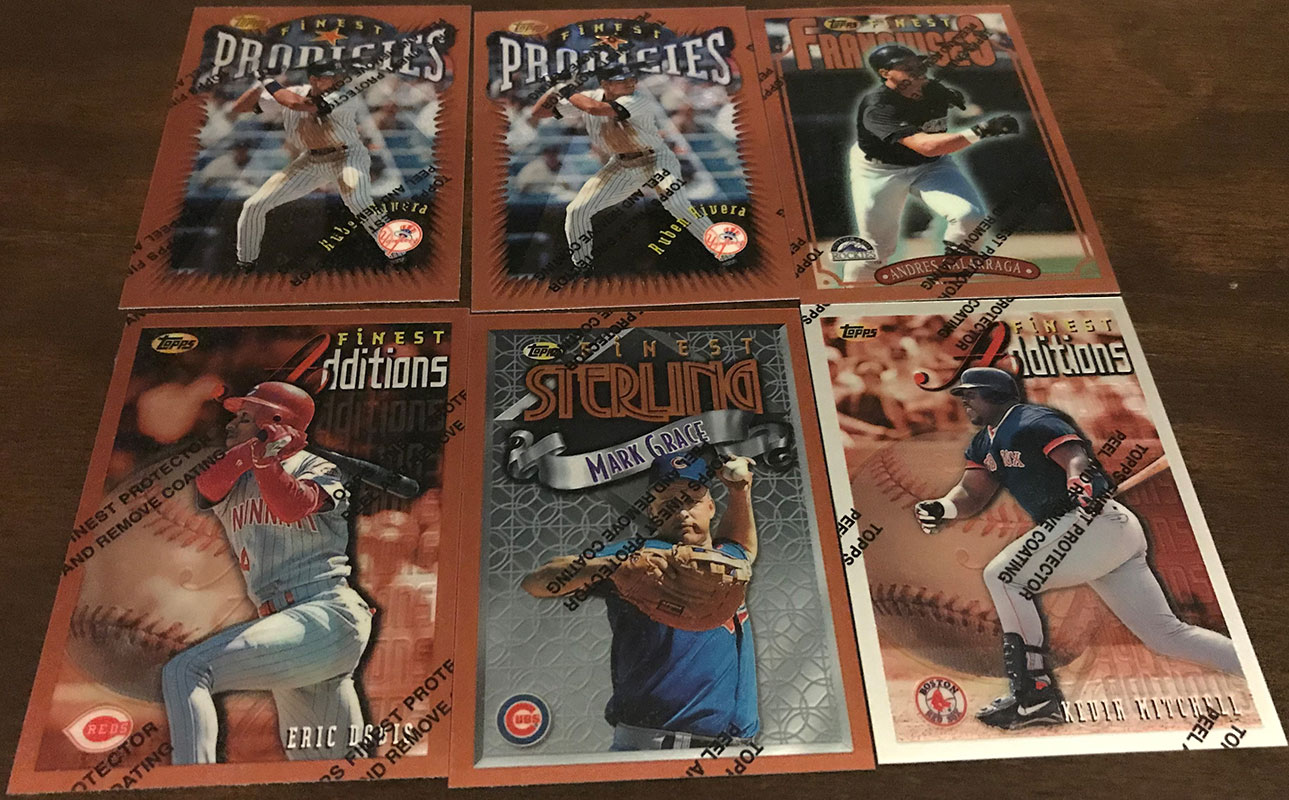 Lastly, a card back. As you can see, Topps used quite the numbering system for this one. This Rich Hunter card was overall card #207, the 21st card in the Prodigies set, and a bronze card which made it "common." Silver cards received an "uncommon" label, and gold cards are labeled "rare."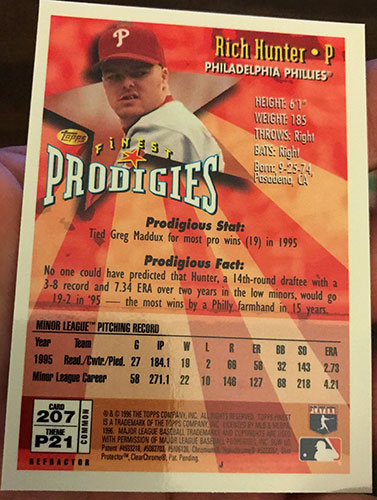 I have always been a big fan of Finest. My favorite subset, by far, in this release is Sterling. These are, without a doubt, the best looking base cards in the set. The Silver and Gold cards are also really nice. Throw in some Refractors and we really have something here.
That really only leaves one question. The protective coating. Are you a peeler or a non-peeler? I choose to leave the coating intact, but it certainly is tempting.
Shop for 1996 Topps Finest Baseball cards on:
Want more installments of Shane Salmonson's Cheap Wax Wednesday? Check out his other breaks in the archives.