2017-18 Upper Deck Series 1 Hockey Checklist, Team Set Lists and All the Young Guns
For many, hockey card season does not truly begin until Upper Deck releases its flagship brand each year in November with the latest crop of Young Guns Rookie Cards. It is a hobby tradition that continues to run strong in 2017-18 Upper Deck Series 1 Hockey.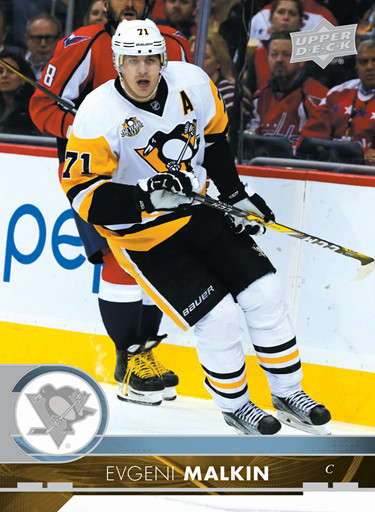 Base Set and Parallels
Once again, collectors can find 200 base cards along with 50 Young Guns (1:4) in packs of 2017-18 Upper Deck Series 1 Hockey. With a strong carryover class of rookies and potential cards from players debuting in the first few days of the upcoming season, the Young Guns feature some names that will make a major splash in the hobby.
Each of the 250 cards in the full set will have three parallels in hobby packs. Old favorites like Exclusives (/100) and High Gloss (/10) return. Clear Cut parallels are back for another year and drop once in every three hobby boxes on average (1:72).
While the UD Canvas (1:7) cards are not a true parallel version of the set in a sense, there are 90 cards featuring veteran players plus scarcer Young Guns Canvas (1:48) cards that include some rookies not appearing in Series 1 packs.
Inserts
Recent editions of the flagship set have stuck to a relatively consistent formula when it comes to non-memorabilia inserts. While some collectors may be nonplussed by some of these concepts, like Shining Stars (Centers 1:16, Left Wingers 1:24, Goalies 1:48) and UD Portraits (1:7 for vets, 1:60 for rookies), there is a new addition to the lineup in the form of Centennial Standouts (1:5) that looks at the history of the NHL.
Shining Stars will have tougher Red parallels while UD Portraits have something tougher to chase with Gold (/25 vets, /99 rookies) and Platinum Blue editions (/5 vets, /25 rookies). Centennial Standouts have rare photo variations (1:1,000), too.
Long-odds inserts will also add some value for breakers. The Second Six (1:1,000) takes a look back at the NHL's great expansion from 1967 and there are some returning sets that are already confirmed like Ceremonial Puck Drop (1:2,000) and Day With The Cup (1:2,000). Some of the Ceremonial Puck Drop cards will have an autographed version (1:16,000). The 2017 NHL Draft SP also is an extremely tough hit again, coming once in every 12,000 packs, but it has a variant that is even more difficult to pull (1:72,000).
Clear Cut acetate inserts are back with several strong themes. Clear Cut Superstars (1:400) are joined by Clear Cut Foundations Duos (/25) and Trios (/10). Clear Cut Leaders (/10) will prove a challenge to find and the Clear Cut Honoured Members Update (/100) add more cards to a set that has slowly expanded over time. These acetate cards tend to fall once per case on average.
Autographs and Memorabilia
The autograph and memorabilia program in 2017-18 Upper Deck Series 1 Hockey is not terribly elaborate, but it has some promise.
UD Game Jerseys are the easiest pulls at a 1:36 pack ration and these cards have a Patch parallel numbered to 15 copies each. The multi-year A Piece of History collection also continues forward here. These cards pay tribute to new additions and occasionally established members of the 300 Win (1:7,200 jersey, /10 patch), 500 Goal (1:7,200), and 1,000 Point (1:2,400) Clubs.
Signature Sensations (1:288) are a case hit and UD Canvas Signatures will be limited to a player's uniform number.
2017-18 Upper Deck Series One Hockey at a glance:
Packs per box: 24
Cards per pack: 8
Boxes per case: 12
Set size: 250 cards
Release date: November 8, 2017
What to expect in a hobby box:
– six Young Guns Rookie Cards
– four UD Canvas cards
– four UD Portraits
– four Centennial Standouts
– three Shining Stars
– one Shining Stars Red parallel
2017-18 Upper Deck Series 1 Hockey Checklist
Base
Autographs
Memorabilia
Inserts
Team Sets
Stephen Laroche can be reached on Twitter @Stephen_Laroche.