2017 Topps Archives Signatures Series Postseason Edition Focuses on Retired Players
2017 Topps Archives Signatures Series Postseason Edition Baseball is the second set of autographed buybacks of the year. Arriving not too long after the release of an active player product, this one revolves around retired players who were standouts in October and November.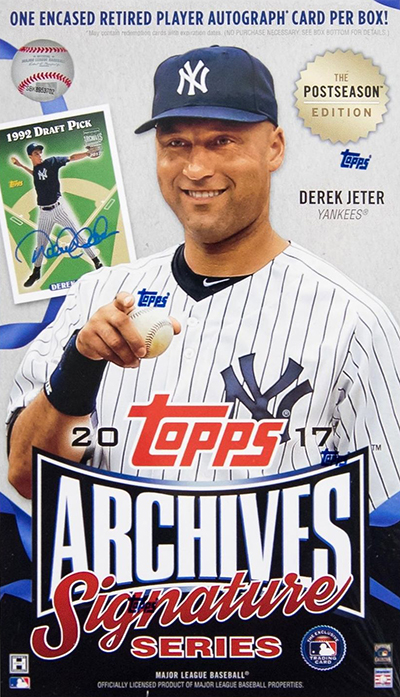 Each 2017 Topps Archives Signatures Series Postseason Edition box comes with just one card, an autographed buyback of the featured player. These are original Topps cards from the past that have been repurchased by Topps and signed by the player.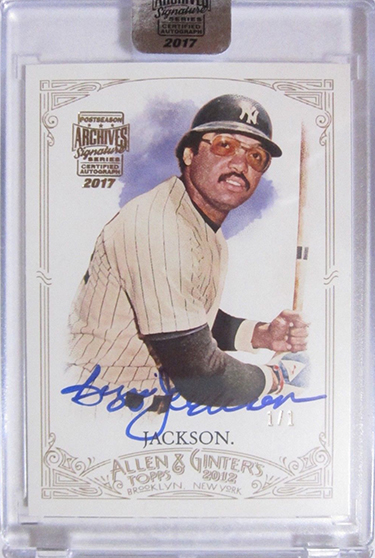 Like other Topps Archives Signature Series releases, there's an added foil stamp put on the card. Not only does it highlight the card being a certified buyback, but it's a potential safeguard against fakes. The stamp also notes that the card is from this specific Postseason release.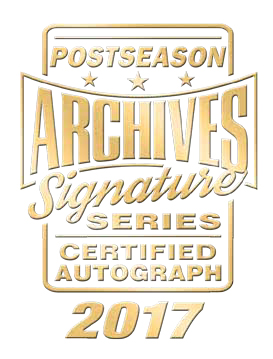 Among the signers in the product are a couple of players who haven't had many signed cards from the company in several years. Before 2017, Jim Thome's last autographed Topps cards came out in 2009. There's also Japanese great Hideki Matsui who didn't have a Topps autograph between 2011 and 2016. And even then, he had a very limited number to begin with.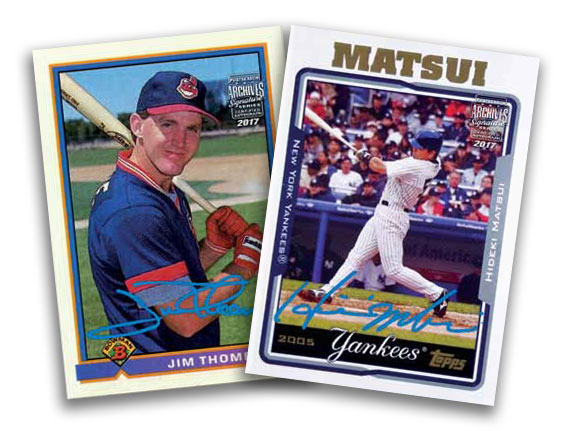 2017 Topps Archives Signatures Series Postseason Edition Baseball at a glance:
Packs per box: 1
Cards per pack: 1
Boxes per case: 20
Release date: November 8, 2017
What to expect in a hobby box:
• Autographed Buyback Cards – 1
2017 Topps Archives Signatures Series Postseason Edition Checklist
Topps has not released a full checklist of every individual card in 2017 Topps Archives Signatures Series Baseball Postseason Edition. Here is the list of the 67 players who did sign for the product: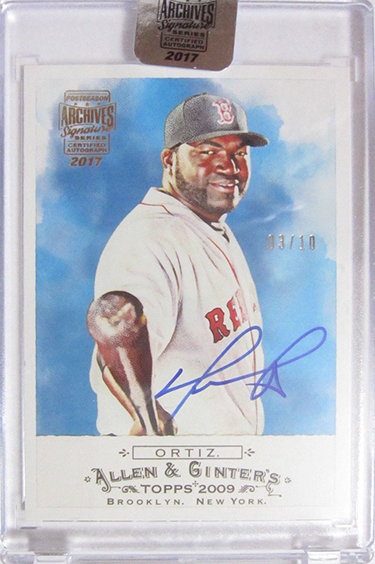 Hank Aaron
Sandy Alomar Jr.
Steve Avery
Pat Borders
Ron Cey
Roger Clemens
Jeff Conine
Johnny Damon
Eric Davis
Lenny Dykstra
Dennis Eckersley
David Eckstein
Jim Edmonds
Cecil Fielder
Rollie Fingers
Carlton Fisk
Keith Foulke
Tom Glavine
Juan Gonzalez
Roy Halladay
Charlie Hayes
Rickey Henderson
Kent Hrbek
Reggie Jackson
Derek Jeter
Andruw Jones
Chipper Jones
Cleon Jones
David Justice
Ray Knight
Paul Konerko
Sandy Koufax
John Kruk
Tony La Russa
Barry Larkin
Tommy Lasorda
Derek Lowe
Edgar Martinez
Hideki Matsui
Paul Molitor
Paul O'Neill
Jesse Orosco
David Ortiz
Tony Pena
Andy Pettitte
Lou Pinella
Tim Raines
Edgar Renteria
Jose Rijo
Cal Ripken Jr.
Brooks Robinson
Alex Rodriguez
Chris Sabo
Ryne Sandberg
Manny Sanguillen
Curt Schilling
John Smoltz
Jim Thome
Luis Tiant
Jason Varitek
Frank Viola
Omar Vizquel
Tim Wakefield
Bernie Williams
Matt Williams
Tony Womack
Kevin Youkilis
Comments? Questions? Contact Ryan Cracknell on Twitter @tradercracks.