1981 Kellogg's Baseball cards went with a mantra that bigger is better. Both the checklist and the cards themselves grew in size that year, but the cornerstone 3-D effect remained the same. There was also a major change in how the set was distributed.
1981 Kellogg's Baseball Cards Overview
The checklist features 66 cards, up a modest six cards from the previous two installments. By normal set standards, that's not a lot. But this is food-issue release.
With the smaller checklist, it shouldn't be a surprise that there are plenty of stars — at least stars at the time. A second-year Rickey Henderson, Nolan Ryan's first Kellogg's card in an Astros uniform and George Brett are the headliners. Reggie Jackson, Dave Winfield, Jim Palmer, Johnny Bench and Eddie Murray are a few of the set's other Hall of Famers.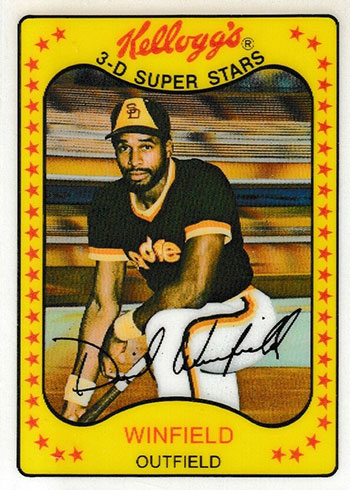 Fronts have the usual 3-D effect, which worked surprisingly well throughout the Kellogg's run. A white outer border gives way to an inner border that's a bold a bright yellow with red stars.
Like other sets of Kellogg's baseball cards, backs are loaded with info. Career stats are squished into one side and are joined by lengthy bios and highlights. The header not only has vital stats (including players' hobbies), but there's still room for both the team logo and Tony the Tiger.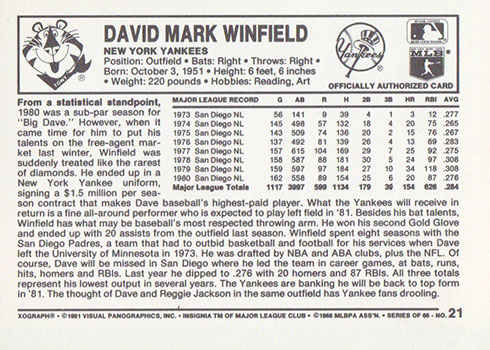 The cards are a traditional 2 1/2″ by 3 1/2″ instead of the noticeably smaller 1 7/8″ by 3 1/4″ size used in 1979 and 1980. Another difference can be found with the stock used to create the cards. Intended or not, 1981 Kellogg's Baseball cards have withstood the test of time better than some of their predecessors, which were marred by curling and cracking.
Mailing It In
There was a catch with the 1981 Kellogg's Baseball set as the cards themselves weren't actually packaged with the cereal like usual. Rather, it was part of a special mail-in offer printed on specially marked boxes. Collectors could send in a pair of proofs of purchase along with $3.50 to get a complete set. Two boxes of Corn Flakes is a lot easier to get through rather than the traditional one box at a time method.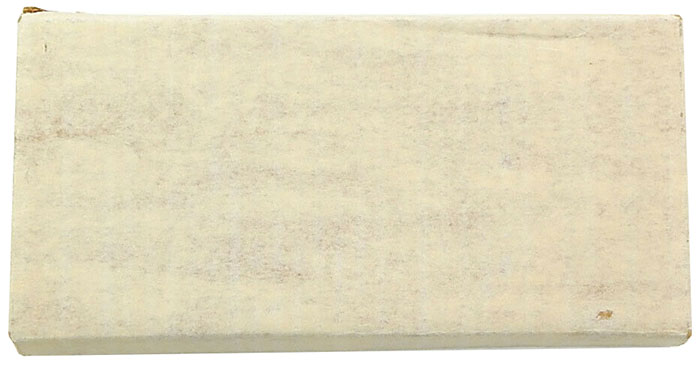 This new distribution means that both full sets and singles are still fairly easy to come by. It probably doesn't help that leftover sets from the promotion made their way to the secondary market as well.
Checklist
1981 Kellogg's Baseball Checklist
66 cards.
Buy 1981 Kellogg's Baseball cards on: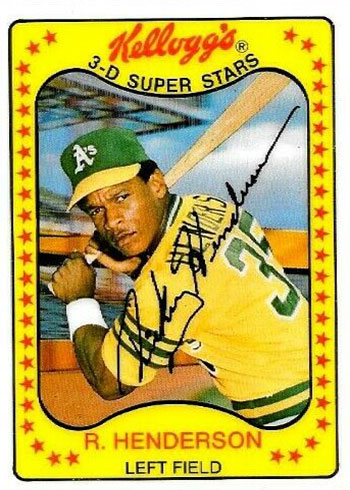 1 George Foster
2 Jim Palmer
3 Reggie Jackson
4 Al Oliver
5 Mike Schmidt
6 Nolan Ryan
7 Bucky Dent
8 George Brett
9 Jim Rice
10 Steve Garvey
11 Willie Stargell
12 Phil Niekro
13 Dave Parker
14 Cesar Cedeno
15 Don Baylor
16 J.R. Richard
17 Tony Perez
18 Eddie Murray
19 Chet Lemon
20 Ben Oglivie
21 Dave Winfield
22 Joe Morgan
23 Vida Blue
24 Willie Wilson
25 Steve Henderson
26 Rod Carew
27 Garry Templeton
28 Dave Concepcion
29 Dave Lopes
30 Ken Landreaux
31 Keith Hernandez
32 Cecil Cooper
33 Rickey Henderson
34 Frank White
35 George Hendrick
36 Reggie Smith
37 Tug McGraw
38 Tom Seaver
39 Ken Singleton
40 Fred Lynn
41 Rich Gossage
42 Terry Puhl
43 Larry Bowa
44 Phil Garner
45 Ron Guidry
46 Lee Mazzilli
47 Dave Kingman
48 Carl Yastrzemski
49 Rick Burleson
50 Steve Carlton
51 Alan Trammell
52 Tommy John
53 Paul Molitor
54 Joe Charboneau
55 Rick Langford
56 Bruce Sutter
57 Robin Yount
58 Steve Stone
59 Larry Gura
60 Mike Flanagan
61 Bob Horner
62 Bruce Bochte
63 Pete Rose
64 Buddy Bell
65 Johnny Bench
66 Mike Hargrove
Team Sets
1981 Kellogg's Baseball Team Set Checklists
Want to know what cards your favorite team has in 1981 Kellogg's Baseball? Here's the checklist broken down by team. Scroll through or click below to go directly to that team.
Atlanta Braves Checklist
12 Phil Niekro
61 Bob Horner
Baltimore Orioles Checklist
2 Jim Palmer
18 Eddie Murray
39 Ken Singleton
58 Steve Stone
60 Mike Flanagan
Boston Red Sox Checklist
9 Jim Rice
17 Tony Perez
40 Fred Lynn
48 Carl Yastrzemski
California Angels Checklist
15 Don Baylor
26 Rod Carew
49 Rick Burleson
Chicago Cubs Checklist
47 Dave Kingman
Chicago White Sox Checklist
19 Chet Lemon
Cincinnati Reds Checklist
1 George Foster
28 Dave Concepcion
38 Tom Seaver
65 Johnny Bench
Cleveland Indians Checklist
54 Joe Charboneau
66 Mike Hargrove
Detroit Tigers Checklist
51 Alan Trammell
Houston Astros Checklist
6 Nolan Ryan
14 Cesar Cedeno
16 J.R. Richard
22 Joe Morgan
42 Terry Puhl
Kansas City Royals Checklist
8 George Brett
24 Willie Wilson
34 Frank White
59 Larry Gura
Los Angeles Dodgers Checklist
10 Steve Garvey
29 Dave Lopes
36 Reggie Smith
Milwaukee Brewers Checklist
20 Ben Oglivie
32 Cecil Cooper
53 Paul Molitor
57 Robin Yount
Minnesota Twins Checklist
30 Ken Landreaux
Montreal Expos Checklist
The Montreal Expos have no cards in 1981 Kellogg's Baseball.
New York Mets Checklist
25 Steve Henderson
46 Lee Mazzilli
New York Yankees Checklist
3 Reggie Jackson
7 Bucky Dent
41 Rich Gossage
45 Ron Guidry
52 Tommy John
Oakland Athletics Checklist
33 Rickey Henderson
55 Rick Langford
Philadelphia Phillies Checklist
5 Mike Schmidt
37 Tug McGraw
43 Larry Bowa
50 Steve Carlton
63 Pete Rose
Pittsburgh Pirates Checklist
11 Willie Stargell
13 Dave Parker
44 Phil Garner
San Diego Padres Checklist
21 Dave Winfield
San Francisco Giants Checklist
23 Vida Blue
Seattle Mariners Checklist
62 Bruce Bochte
St. Louis Cardinals Checklist
27 Garry Templeton
31 Keith Hernandez
35 George Hendrick
56 Bruce Sutter
Texas Rangers Checklist
4 Al Oliver
64 Buddy Bell
Toronto Blue Jays Checklist
The Toronto Blue Jays have no cards in 1981 Kellogg's Baseball.