2017 Panini Immaculate Football Checklist and Team Set Lists
No matter the sport or set, Immaculate is a brand that has found its way and identity. To that end, 2017 Panini Immaculate Football doesn't have any major surprises. It has some new inserts here and there, but the focus on clean designs alongside high-end autographs and memorabilia remain the anchors.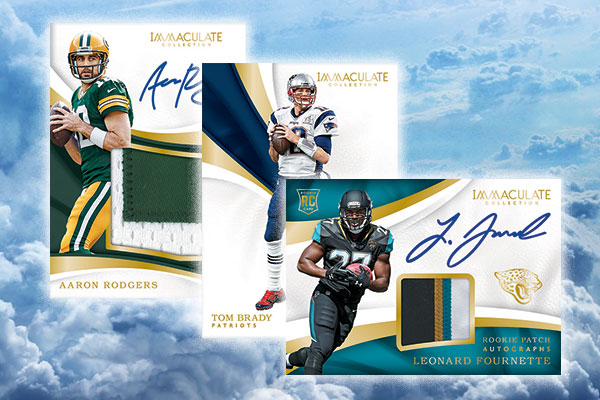 Each 2017 Panini Immaculate Football hobby box has just six cards. Five of those of the hit variety, delivering signatures, swatches and relics from different types of gear and equipment.
On the autograph end, many of the set's themes have on-card signatures.
It stars with the traditional Rookie Patch Autographs. Base versions come numbered to 99 and parallels go down from there. NFL Shield and Laundry Tag are among the one-of-ones.
Not only are large swatches part of the  Premium Patch Autographs design, but veterans are part of the checklist.
Immaculate Moments has a rather large checklist with 75 cards. Numbered to 25 or less, each is not only hard-signed but features a career highlight from current and retired stars.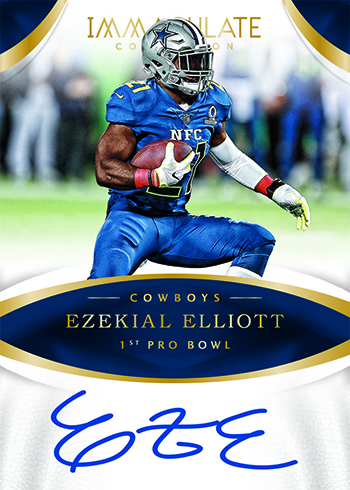 Super Bowl Moments Autographs (/25 or less) look back on some of the major players from the NFL's biggest stage. According to Panini, these are the only cards of the year with the Lombardi Trophy.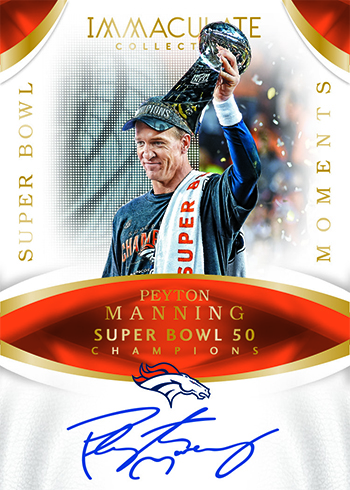 Other on-card autograph inserts include Shadowbox Signatures and Immaculate Honors. Hard-signed memorabilia cards come in Immaculate Signature Patches and Immaculate players Collection Autographs.
Immaculate Dual and Trio Autographs still have on-card signatures despite the fact that they feature multiple players.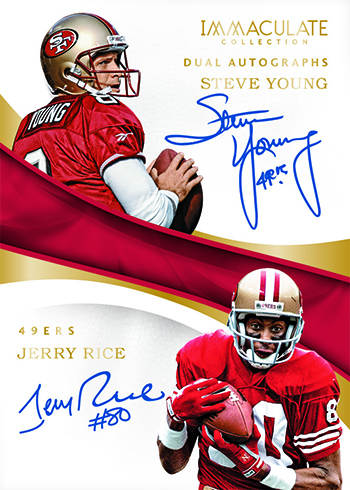 Another insert with multiple autographs is Immaculate Eye Black Duals. Instead of regular labels that a lot of products use to hold signatures, these come signed on eye black stickers. Parallels come in gold ink.
The Immaculate name means more than just autographs. From the brand's beginnings, a particular focus has been paid to different varieties of memorabilia. An example of this is Pigskin Logo, which take up virtually the entire front of the card. Similar inserts are available with things like gloves, shoes and helmet pieces. Laundry tags, team logo patches and jersey numbers can also be found.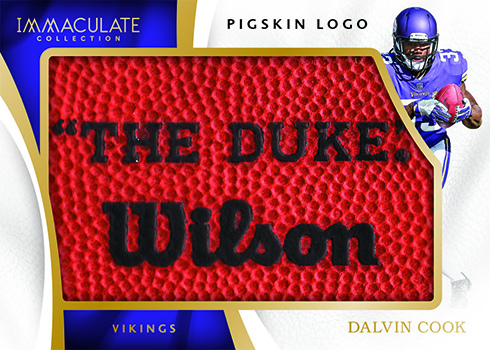 The 2017 Panini Immaculate Football shell set has 100 cards. Base versions are numbered to 99 while parallels come in Gold (/5) and Platinum (1/1).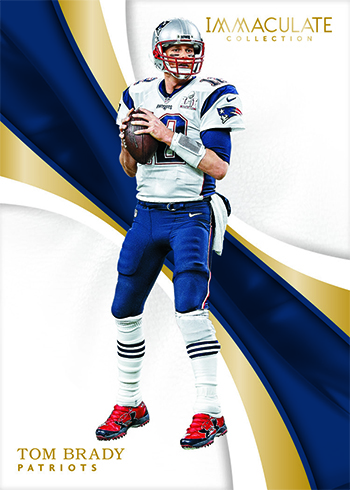 2017 Panini Immaculate Football at a glance:
Packs per box: 1
Cards per pack: 6
Boxes per case: 6
Set size: 164 cards
Release date: November 8, 2017
What to expect in a hobby box:
• Autographs or Memorabilia Cards – 5 Total
• Base Cards or Parallels – 1
2017 Panini Immaculate Football Checklist
Base
Autographs
Memorabilia
Updates
Team Sets
Comments? Questions? Contact Ryan Cracknell on Twitter @tradercracks or by email.