Caitriona Balfe Autographs Coming in Cryptozoic's Outlander Season 3
Through their first two Outlander trading card sets, Cryptozoic covered pretty much all of the show's main cast as far as autographs go. But there was one notable exception, Caitriona Balfe. That's changing with Outlander Season 3.
Balfe is one of the first autographs Cryptozoic confirmed for the release.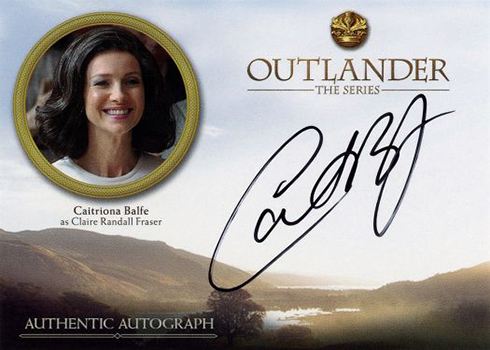 She plays Claire, the central character that the time-traveling romance series revolves around.
It's hard to say how these first autograph cards from the actress will be received. However, if they're anything like previous sets, don't expect them to come cheap. Key single-signed cards from the Season 1 and 2 sets go for a couple hundred or more.
The Outlander line has brought in new collectors who are extremely passionate about both the show and the cards so these Balfe autographs fill a major gap.
Cryptozoic Outlander Season 3 still does not have a firm release date. The set is the cover feature in the latest issue of Non-Sport Update. Each copy comes with one of three different exclusive promo cards as well.